SPD Technologies Expands Through New Acquisitions And Product Development
Since becoming an independent company as a result of a management buyout from Gould Inc. in the spring of 1987, SPD Technologies has experienced significant growth through new product development and important acquisitions under the guidance of George M. Gordon, the firm's president and chief executive officer.
SPD, one of the world's largest manufacturers of military circuit breakers for Navy ships and a leader in electrical systems protection technology, has enhanced its leadership in the field with a series of developments during the past year.
Some of the milestones achieved by SPD include the development of the first electronically controlled 100-amp circuit breaker for military applications and a new state-of-theart all-cell computerized battery monitoring system.
The company experienced significant growth by expanding internationally, with additional staff and representation worldwide, and by acquiring the Navy Switchgear Division of Brown Boveri, which increased capacity and cost efficiency in the production of electrical distri- bution switchgear for military applications.
The firm also established a nationwide network of service centers for the repair and overhaul of circuit breakers, switchgear and related electrical protection systems and installed new state-of-the-art automatic production machinery and test equipment to further enhance high quality product standards.
For more than 70 years, engineers at SPD and its predecessor companies have been responsible for a host of significant technological breakthroughs which have enhanced the performance, functionality and cost-effectiveness of electrical protection systems on naval vessels.
From the original introduction of electronics in military circuit breakers to the discovery of new lighter weight, higher durability materials, SPD has a remarkable history of "firsts" in electrical protection systems technology.
Some of the significant company developments over the years have included: the first shock-hardened circuit breaker; spray-tight switchgear for use on submarines; an electronic sensing overload device for use on Navy combatant vessels; the first stored-energy, spring-charged breakers for naval vessels; the first use of glass reinforced polyester for insulation and support material in Navy switchgear; and a three-pole DC circuit breaker for low magnetic signature application.
In 1988, SPD introduced the Xactron 102, which provides a new level of reliability for Navy combatants, and paves the way for a whole new generation of circuit breaker technology.
The Xactron 102 offers a combination of shock and vibration resistance, reduced temperature sensitivity and protection selectivity. The Xactron 102 is interchangeable with Navy-type thermal-magnetic 100amp breakers now in use.
The key to the development of the Xactron 102 is the application of a simplified electronic circuit which meets the demanding size restrictions of the 100-amp casing.
According to SPD, the integration of electronic controls also leads to a significant reduction in moving parts, which provides for increased reliability over thermal-magnetic breakers.
The development of Xactron 102 comes on the heels of another important breakthrough for SPD—an advanced new computerized all-cell battery monitoring system for use oon diesel and nuclear-powered submarines and other critical battery power situations.
The advanced BMS-100 system offers a combination of functional and cost efficiency never before available in MIL-SPEC battery monitoring systems for submarine use, where precise measurement of power status is critical.
Key elements in the advanced system are a unique new digital transponder probe amd proprietary computer software to provide a new standard in data acquisition, predictive capability, reliability and ease of operation.
Responding to increased worldwide demand for its products, SPD has expanded its international marketing and technical staff and added to its role of distributors around the world.
In 1988, SPD experienced a major breakthrough in the international market when the firm was contracted to develop a special design version of its new all-cell battery monitoring system for Canada's Department of National Defense.
In addition, SPD is working closely with the Norwegian Navy on the application of new advances in electronic circuit breaker design on their fleet.
SPD now has distributors and representatives in 15 countries around the world.
With a concentrated focus on serving the naval market and a strong capital position, SPD has mounted an aggressive acquisitions program, The acquisition of Brown Boveri's Naval Switchgear Division in June 1988, adds significantly to SPD's total systems capabilities, solidifying its position as the nation's largest developer and producer of electrical distribution and protection systems for naval ships.
Additional capacity to produce high-quality switchgear also enhances SPD's cost efficiency and provides additional opportunities to diversify.
Furthermore, the addition of repair and overhaul installations in San Diego, Calif., and Groton, Conn., established the framework for a nationwide complex to provide on-site services at primary U.S.
Navy homeports.
Other SPD repair and overhaul installations are in Philadelphia, Pa., and Virginia Beach, Va.
For free literature fully detailing SPD's circuit breakers and electrical systems protection equipment Circle 14 on Reader Service Card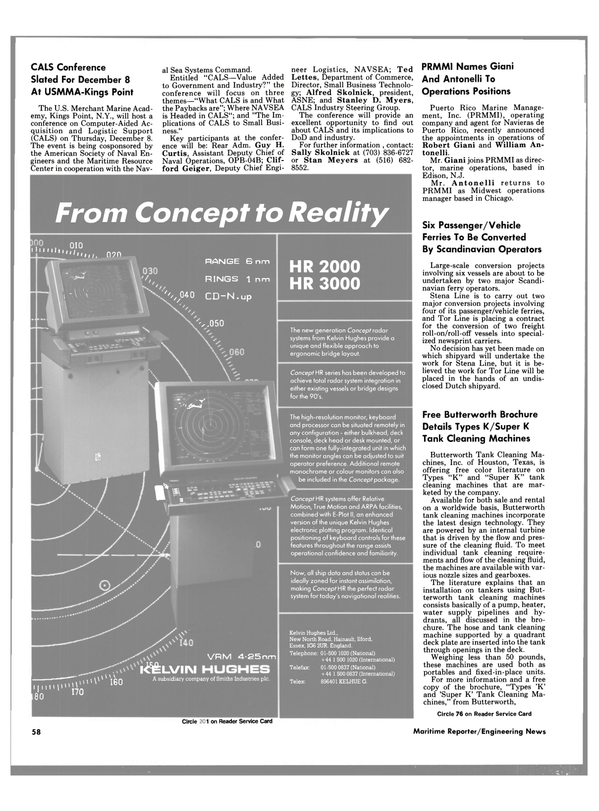 Read SPD Technologies Expands Through New Acquisitions And Product Development in Pdf, Flash or Html5 edition of November 1988 Maritime Reporter
Other stories from November 1988 issue
Content