China: Growing Influence in All Matters Maritime
China's importance in the world maritime market has accelerated rapidly over the past decade, but it appears that current and near future growth will prove even more prolific.
Chinese shipyards for 10 years have continued to dent the market share numbers of major shipbuilders in Japan.
Korea and Europe, and it appears that the shipyards will continue to scoop up ship repair and new ship construction business. It emerged this year as the third largest shipbuilding country in the world, with about seven percent of worldwide business as measured by compensated gross tonnage (cgt).
According to a recent report from Drewry Shipping Consultants. China's shipbuilding capacity is set to increase threefold, to 3.5 million cgt. by 2005/2006.
As is the case with China in many other respects, the sheer magnitude of the market is staggering. The Drewry Report found more than 1,200 shipyards, building everything from river boats to ULCCs. But the report, dubbed "Chinese Shipyards." focuses on the 70 shipyards that handle much of the country's oceangoing international business.
While its shipyards continue to grow rapidly, so does the country's shipowning side. China shipowners currently (as of July 1. 2003) rank number five in the world in terms of Tonnage Owned (1.000 gt and greater), with 2078 ships totaling 44.915.000 gt. according to statistics from the U.S. Maritime Administration. (See chart p. 99) The biennial Marintec China is the largest and arguably the most important maritime trade exhibition in China.
Since its inception in 1981. Marintec China has developed into an important forum at which senior executives from across the global maritime industry gather. Scheduled from December 2-5.
2003 at the new Shanghai New International Expo Centre (SNIEC) in the Pudong district.
Marintec China 2003 will be the largest event ever in all its 22 years history.
with an exhibition spanning more than 17.000 sq. m., a 30% increase from the last event in 2001.
The exhibition is organized by CMP/Seatrade and the Shanghai Society of Naval Architects & Marine Engineers (SSNAME).
This year's event will feature exhibitors from 28 countries and regions. To date, more than 100 Chinese companies from 16 provinces and cities have confirmed to exhibit, including Jiangnan Shipyard (Group), Hudong- Zhonghua Shipbuilding (Group) and Shanghai Waigaoqiao Shipbuilding, just to name a few.
China's flourishing economic and export businesses have prompted the demands for better maritime services in all dimensions.
Shipbuilding giant Germany, one of the world's largest exporter of high-tech marine equipment, has confirmed 57 companies in its national pavilion, the largest ever. As in the past, Germany will present the largest national group to demonstrate their technical know-how to the maritime community in China.
Once again Port China will be incorporated into Marintec China 2003. The port industry in China has developed in an unprecedented pace in past few years in tandem with the escalating traffic generated by trading activities both within the country and with other parts of the world. In 2002, Shanghai port, the busiest port in China, has become the world's third largest container port for the first time. The port's momentum runs through into 2003 and its container throughput for the first half of this year exceeded 5,200,000 TEUs, representing a 35.6% increase on the same period of 2002. Shanghai port will well overtake Pusan to become the third busiest port in the world this year. The remarkable performance of Shanghai port is just the manifestation of the robust increase of the cargo throughputs of the various ports of China that saw the throughput of seven of its ports exceeding 100 million tons. Port China will feature various port services and products that help enhance operation efficiency.
Chinese Growth: Is it too fast, too soon?
Staggering trade and industrial output figures from booming China are for the first time hinting at excessive rates of growth that could threaten the country's future economic stability. Industrial output increased by 17.1 percent in August, figures show, up from 16.5 percent in July and 16.9 percent in June.
Meanwhile, despite the effects of the SARS virus, China's economy - now number six in the world - grew by more than eight percent in the first half of the year. Forecasts for full-year GDP indicate growth of nine percent. Concern that the country's economy could be on a heading to overheat is a worry for the shipping industry because Chinese demand is the principal factor that is fueling the buoyant shipping markets.
Indeed, there appears to be no let-up in demand. Chinese requirements have underpinned the tanker market in recent months and. despite a temporary blip during July and first-half August as the market adjusted to large delivery volumes.
rates have now recovered substantially as charterers hurry to fix the limited supply of large, long-haul tonnage that is still available.
Asia generally is of increasing importance in the VLCC trades but cargoes bound for China are an important individual factor in this dynamic trade.
According to International Energy Agency figures. Chinese oil demand hit 5.59m barrels a day (b/d) in July, up almost a fifth year on year. And. according to U.S. government figures. China will overtake Japan this year to become the world's second largest oil consumerDemand for iron ore, meanwhile, is a key catalyst in the current dry bulk market boom. Chinese iron ore imports rose last year by a quarter, following a staggering rise of 32% in 2001. Reports from the Far East describe highlystressed, over-worked but commissionhappy Capesize brokers working round the clock to meet demands from the mainland. Spot Capesize rates are exceeding $30,000 a day on some routes but, brokers say, the is no mere temporary blip - the market is expected to continue its bull run for months yet. A Capesize owner was recently overheard in a smart London hotel describing his six-month Capesize fixture at $26,000, while a modern 170,000 dwt unit was reported fixed for three years, at $23,500. Other owners are believed to be negotiating with Far Eastern builders to switch newbuilding contracts from tankers to bulkers.
According to Frontline vice president Tor Olav Tr0im, speaking at the recent Lehman Energy Conference, seven of the company's eight Suezmax OBOs are now working the dry bulk market which, he said, had reached historic highs.
Grain demand and China were the two principal reasons for the booming market.
he said, pointing out that the oneyear timecharter rate was sufficient to repay debts on the OBOs in just two years. Not only is China the principal fueling factor for the freight markets, it has been steadily muscling in on the shipbuilding sector recently too. Now, latest news is that China has become a source of competitively priced ship spares and, we are told. Hong Kongbased shipping companies are investing time and money to develop supply sources on the mainland. Other shipbuilders have an eye on that market too: one such is Japanese builder Tsuneishi which has announced that it plans to source more parts in China. According to a company statement. Tsuneishi is constructing ships' components in China "to make our productivity more competitive".
The shipyard is reported to have 97 ships on order, including 88 bulk carriers in the 52,000 - 82,000 dwt range and eight Aframax tankers.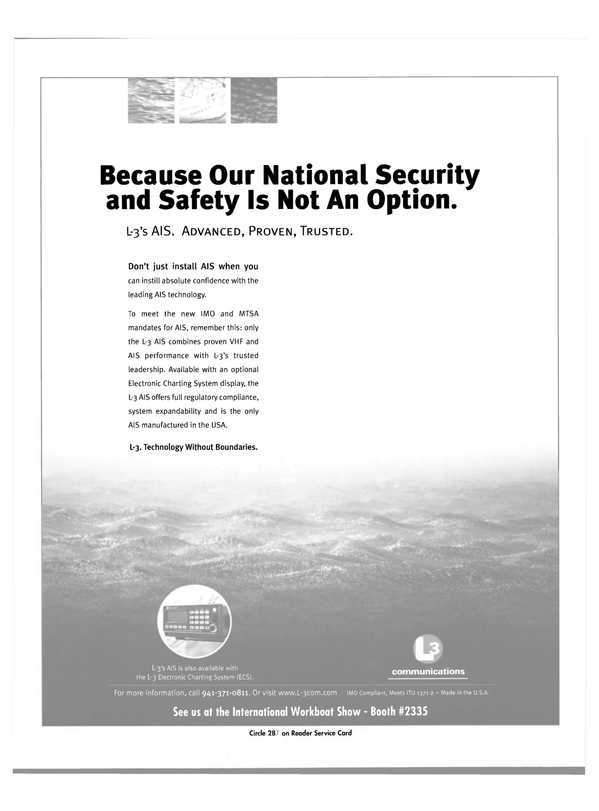 Read China: Growing Influence in All Matters Maritime in Pdf, Flash or Html5 edition of November 2003 Maritime Reporter
Other stories from November 2003 issue
Content