New Potency in Electronic Control
German predilection for technological advance permeates all areas of primary business and industrial activity, to the undoubted benefit of the competitive standing of its international market players.
In the maritime domain, a clear appreciation of the long-term operating benefits promised by the application of electronic regulation to massively powerful.
two-stroke propulsion engines is denoted by Hapag-Lloyd's selection of K98ME diesels for its next generation of linehaul vessels.
In explaining some of the rationale in opting for electronically controlled.
'cathedral' engines of the largest size produced to date, an article in a recent edition of the in-house publication Hapag-Lloyd New s illustrated the pragmatic approach to state-of-the-art technology.
The group's endorsement of a step change in engine design acknowledged the gains achievable through increased plant efficiency and performance level, all of which has a signal bearing on unit cost competitiveness and service dependability in the rigorous business of liner shipping.
Each of three 8.145-THU boxship newbuilds at the Hyundai yard will be powered by a single, 12-cylinder K98ME engine, for a maximum output of 93,360-bhp (68,640-kW). With the ME design, MAN B&W's Copenhagen two-stroke technicians have eschewed conventional camshaft drive in favor of electronically-controlled fuel injection and exhaust valve actuation. The arrangements will enable engine settings to be exactly matched to changing operating requirements throughout the voyage profile, offering the prospect of reduced overall fuel consumption, greater operational flexibility and lessened environmental impact.
One benefit will be the lower sailing speeds obtainable for restricted water transits as a consequence of the possibility to safely run the engine at extremely Circle 319 on Reader Service Card low crankshaft speeds. "As little as four knots are possible, and precisely this will mean greater maneuverability in the Sue/ Canal," pointed out Klaus Marek, head of Hapag-Lloyd's ship technology and inspection department. By comparison.
the company's four 7,500-TEU Hamburg Express-class vessels, fitted with conventional camshaft 12K98MC engines, have a minimum speed of six knots.
"The special plus of the electronically regulated main engine is that it uses two-percent less fuel," observed Marek.
The report in Hapag-Lloyd News indicated a potential annual saving for the nascent trio of 8.145-TEU containerships as around 3,000-tons, or $360,000.
More conservant use of heavy fuel oil, both in absolute terms and per unit of cargo volume, obviously has environmental as well as economic benefits, and Nox (oxides of nitrogen) engine exhaust emissions are expected to come down to 12.3 grams per kW-h (kilowatt-hour) as a result of the nomination of I2K98ME plant. "We have opted for diesel engines with electronic control systems because, in the future, we want to be able to react more flexibly to environmental requirements," Marek added.
MAN B&W's recent inclusion of a still wider-bore, new engine design in its ME program, in the shape of the mighty K108ME-C type, provides liner operators with an electronic, single-engine option for unit power requirements up to an astonishing 132,300-bhp.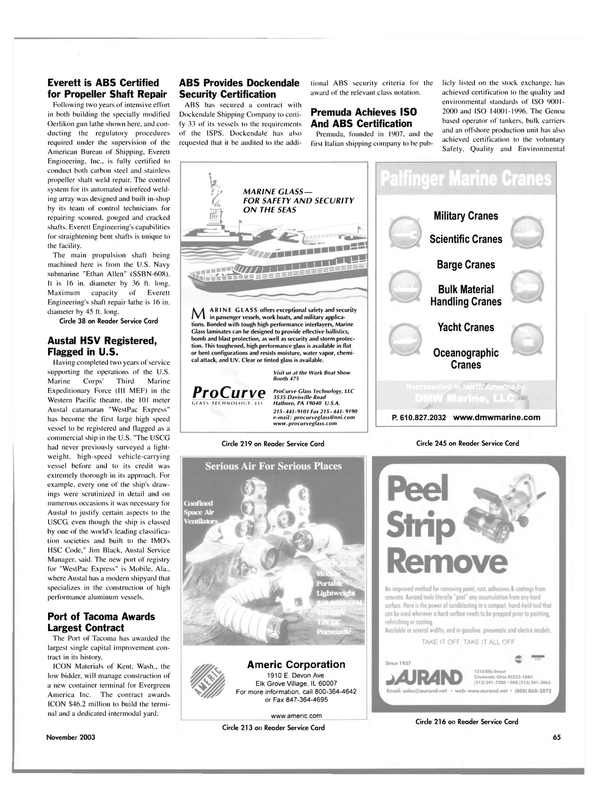 Read New Potency in Electronic Control in Pdf, Flash or Html5 edition of November 2003 Maritime Reporter
Other stories from November 2003 issue
Content