1,000-Foot Bulk Carrier M / V Lewis Wilson Foy Joins Bethlehem Steel's Great Lakes Fleet
The newest 1,000-foot vessel on the Great Lakes, Bethlehem Steel Corporation's M/V Lewis Wilson Foy was recently placed in service.
Designed and constructed by Bay Shipbuilding Corp., Sturgeon Bay, Wis. 54235, a subsidiary of The Manitowoc Company, Inc., the Foy is the second 1,000-foot bulk carrier delivered by Bay Shipbuilding, the f i r s t being American Steamship Company's M/V Belle River.
The ship was christened by Mrs. Lewis Wilson Foy, wife of the chairman/chief executive officer of Bethlehem Steel Corporation, after whom the vessel was named. Mrs. F. Arnold Heller and Mrs. Joseph W. Karaman, daughters of Mr. and Mrs. Foy, acted as matrons-of-honor. Mr. Foy was principal speaker at the christening, which was attended by the top officials of the participating companies, officers of the U.S.
Coast Guard, American Bureau of Shipping representatives, and other invited guests.
The Foy, whose keel was laid on October 8, 1976, and was launched on April 8, 1977, made her maiden voyage on June 8, 1978. The vessel will haul pelletized iron ore between the upper Lakes ports of Taconite Harbor, Minn., and Superior, Wis., and Bethlehem's steel plants at Burns Harbor, Ind., and Lackawanna, N.Y.
The Lewis Wilson Foy is the seventh vessel in Bethlehem Steel Corporation's Great Lakes Steamship Division. The vessel, which has a 1 0 5 - f o o t width, 56-foot depth and an operating draft of 27y2 feet, has a deadweight tonnage of 68,880 short tons. Although specifically intended to carry pelletized ore, it is also well suited to handle other freeflowing bulk cargoes such as coal, limestone or wheat. The vessel is fitted with self-unloading equipment consisting of a 114-inchwide hold-loop belt conveyor and a 250-foot boom conveyor, all complete with idlers, electric-drive mechanisms of 3,150 horsepower, hoist and swing mechanism and cargo hold gates. It is capable of discharging 10,000 short tons of coal or 10,000 long tons of iron ore pellets per hour.
The propulsion machinery is located aft and consists of four 3,500-shaft-horsepower diesel engines and two reduction gears driving two controllable-pitch propellers at approximately 120 rpm for a total of 14,000 horsepower and a speed of 16 mph. The plant is arranged so that one engine can drive each propeller shaft continuously at a reduced load. The system's design includes bridge control, and is suitable for operation with machinery surveillance by only one person on watch in the engine room. A central control station is located in an air-conditioned and n o i s e - p r o o f control room in the engine room with necessary remote c o n t r o l s and monitoring and alarm devices.
Two generators of 2,500-kw, 4,160-volt, 3-phase, 60-cycle, a-c, are driven one each by the outboard propulsion engines. Either generator can furnish all power required for either the 3,150-hp unloading machinery or the bow and stern thrusters of 1,500 hp each, and the other generator serves as a standby. Two ship's service diesel-driven generator sets, each 600-kw, 480-volt, 3-phase, 60-cycle, a-c, are installed to furnish power for ship's services.
The crew is housed in quarters located in the deckhouse at the after end of the vessel. All rooms have private baths, and the entire crew space, including the pilothouse and galley is air-conditioned.
The hull is built of higher strength steel which has a yield point of 51,000 pounds per square inch, and the use of this steel saves about 15 percent in the weight of the hull, as compared to ordinary strength hull steel.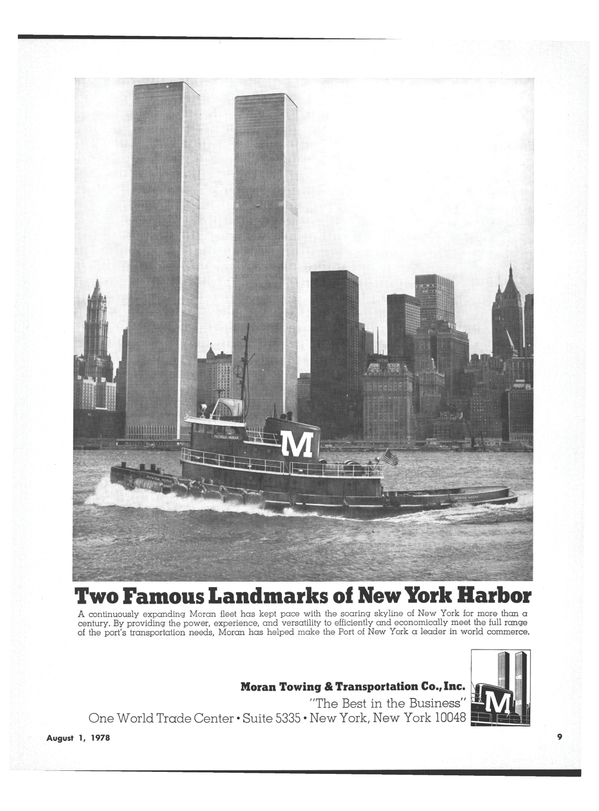 Read 1,000-Foot Bulk Carrier M / V Lewis Wilson Foy Joins Bethlehem Steel's Great Lakes Fleet in Pdf, Flash or Html5 edition of August 1978 Maritime Reporter
Other stories from August 1978 issue
Content