Admiral Synnot Compliments Todd Shipyards At Launching Of Frigate For Australian Navy
The HMAS Adelaide, the first of three guided missile frigates to be built for the A u s t r a l i a n Government, was recently launched at Todd Pacific Shipyards Corporation Seattle (Wash.) Division. Five others of the same design are being built at Todd- Seattle for the United States Navy.
The principal speaker for the launch ceremonies was Vice Adm. Anthony M. Synnot, Chief of Naval Staff, for the Royal Australian Navy.
Mrs. Elizabeth Anne Synnot, wife of Admiral Synnot, christened the ship, accompanied by her matron-of-honor, Mrs. Jocelyn Loosli, wife of Commodore R. Geoffrey Loosli, Australian Naval Attache at the Australian Embassy. Miss Leesa Garbutt, daughter of Mr. John M. Garbutt, Deputy FFG Program Manager, served as flower girl to the launching party.
Admiral Synnot complimented Todd Pacific Shipyards Corporation, Seattle Division, for the skilled workmanship and innovative and competent management which has produced the HMAS Adelaide. Admiral Synnot also noted that Todd Pacific Shipyards Corporation has been able to launch the HMAS Adelaide one month ahead of schedule.
Admiral Synnot commented on Australian involvement in the FFG program which began in 1973 when Australia was examining options for new destroyers. The Memorandum of Arrangement signed by the United States Government and the Australian Government in 1974 has subsequently led to a unique arrangement whereby Australian officers have been "totally integrated into the U.S. Navy (FFG) Program Office, to work on the overall acquisition program of FFGs." Admiral Synnot also stressed the important features of the FFG-7 class ship—in particular, the minimum manning concept.
This concept was most prominent in the minds of the Australian Defence Department when they were selecting the most suitable ship to "meet Australia's needs in years ahead, because manpower is expensive as is the lengthy and demanding training required to prepare crews to serve on such ships." Admiral Synnot went on to note that the advanced technology of the FFG-7 class ship included gas turbine propulsion driving a single large propeller with variable-pitch, centralized machinery control in a remote position, a totally integrated weapons system heretofore unrealized in other ships, and two helicopters which will "be the eyes of the ship to provide the over horizon information needed to find, identify and direct long-range weapons to their targets." The frigates are multipurpose combatants of 3,600 tons displacement, 445 feet in length, with gas turbine propulsion of 40,000 horsepower transmitted through a single shaft and variable-pitch propeller system. The ships are outfitted with guns, missiles, torpedoes, and antisubmarine helicopters, and are capable of 28-knot speeds. The HMAS Adelaide is designed for a complement of 176 officers and men.
Keel-laying for the HMAS Adelaide occurred in late July 1977, with the placement of a 35-ton hull section. In the brief span of 11 months, hull sections were fabricated and joined together to form a structurally complete steel hull and aluminum superstructure, ready for launch and outfitting.
Other speakers at the event included Arthur W. Stout Jr., president, Todd Shipyards Corporation; Sir David L. Nicolson, member of the board of directors, Todd Shipyards Corporation and chairman of Rothmans International, Limited, London, England; the Honorable T.M. Casey, Member of the Legislative Council of the South Australian Parliament and Minister of Tourism, Recreation and Sports, who represented and extended special greetings from the City of Adelaide; Eugene Hintz, International Representative of the International Association of Sheet Metal Workers; Capt. S.P. Passantino, Supervisor of Shipbuilding, Conversion, and Repair, Thirteenth Naval District; and Vice Adm. C.R. Bryan, Commander, Naval Sea Systems Command, Washington, D.C.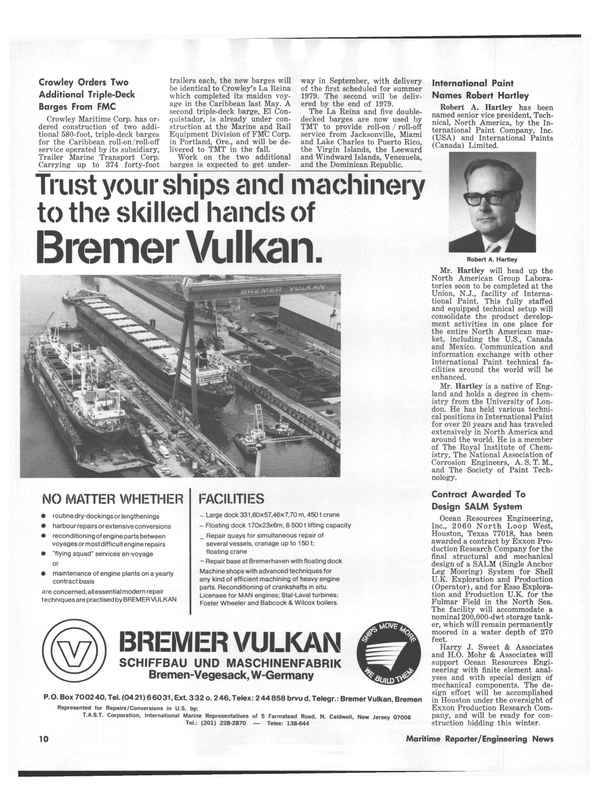 Read Admiral Synnot Compliments Todd Shipyards At Launching Of Frigate For Australian Navy in Pdf, Flash or Html5 edition of August 1978 Maritime Reporter
Other stories from August 1978 issue
Content