Jakobson Shipyard Delivers Innovative Oil Skimmer Catamaran To Lagoven, C.A.
Jakobson Shipyard, Inc. of Oyster Bay, N.Y., recently delivered an important and innovative Ocean Service Oil Skimmer Catamaran to Lagoven, C.A. of Venezuela, that c o u n t r y ' s successor to Creole/Exxon on Lake Maracaibo.
While classed by ABS for ocean service, the Limpia Mar (Quiet Sea) will primarily serve on Lake Maracaibo, and has a potential recovery rate in excess of 20,000 bbls. per 24 hours. Of this, approximately 1,400 bbls. can be retained aboard, with the balance being d i s c h a r g e d d i r e c t l y by Wilden air pumps to an accompanying barge. Thus, the catamaran acts as a large portable transfer pump as well as the actual recovery device.
According to George J. Hossfeld Jr., president of Jakobson Shipyard, the basic concept was established several years ago by the American Petroleum Institute and Shell Laboratories, with the design implemented by Pascagoula naval architect Robert Macy. Lagoven, C.A., with Exxon Company U.S.A. as agent, is the first major oil activity to build such a large catamaran—at a cost of approximately $1,150,000.
Mr. Hossfeld further noted that during construction, the design was constantly reviewed by a Lagoven/ Exxon/Jakobson team as new oil recovery equipment became available, with resultant design changes developed by Jakobson.
While the basic catamaran can accommodate various types of recovery equipment, Lagoven has equipped this prototype vessel with eight continuous dieseldriven recovery ropes, designed and manufactured by Centrifugal Systems, Inc. of Houston Texas.
Equipped with duplicate engine rooms, the catamaran is fitted with Detroit GM 12-V71 main engines, 40-kw GM electric generator sets, 40-hp Joy air compressors, and New England Trawler and Johnson deck machinery.
The vessel can be deployed in several ways, positioned downwind or downstream of a spill with its three Danforth anchors and with its floating booms extended from each bow, or by operating the vessel at low speeds through the spill. The recovery system works on a "relative" speed concept, ranging from 0 to 4V2 knots vessel speed.
As a result, course stability, low speed control, and minimum ' t w e e n hull disturbance were prime concerns. All were successf u l l y demonstrated during sea trials. By using either or both main engines and the independent control of each rudder, full vessel control at a speed of 1% knots was demonstrated, together with an ability to turn within the vessel's own length.
The power components of the steering were supplied by Skipper Hydraulics of New Orleans, La., and the highly flexible electrical steering controls by Electro-Nav of New Jersey, who also furnished the electronic navigation devices.
The catamaran design, while classed by ABS for ocean service, permits shallow water recovery— an important environmental concern.
This in turn lead to semitunnel sterns and the use of inboard turning s t a i n l e s s - s t e e l propellers, manufactured by Columbian Bronze.
In quoting similar catamarans to other users, Mr. Hossfeld notes that such a design offers the advantages of low initial cost, operational and maintenance simplicity, and a high degree of outfit flexibility— inorganic zinc coatings, expandable hull length, crewed or day boat operation, drift-collector equipment, supply vessel functions, and alternate powerplants.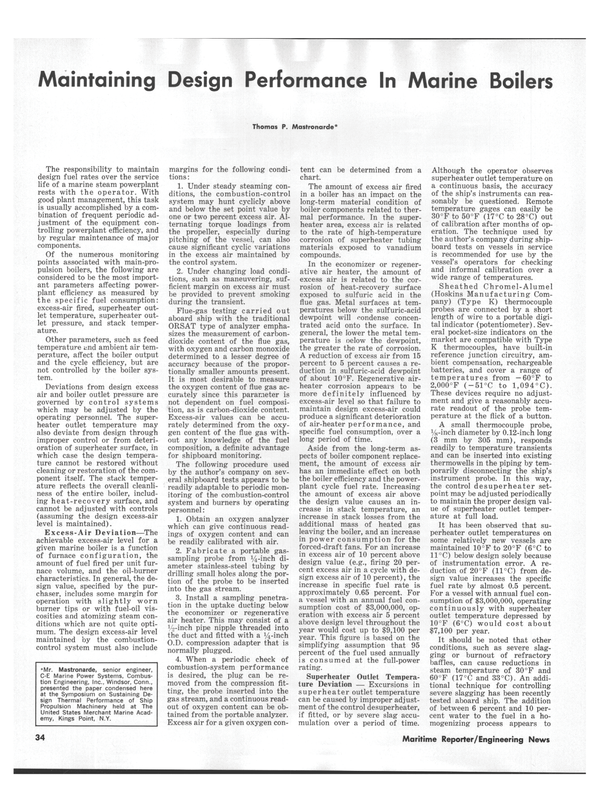 Read Jakobson Shipyard Delivers Innovative Oil Skimmer Catamaran To Lagoven, C.A. in Pdf, Flash or Html5 edition of August 1978 Maritime Reporter
Other stories from August 1978 issue
Content