Ocean Minerals Recovered From Floor Of Pacific By OMCO
The research and survey ship Governor Ray has completed its first survey and exploration cruise, and has recovered several thousand pounds of manganese nodules from 18,000 feet on the Pacific Ocean Floor, according to Ocean Minerals Company (OMCO), 465 Bernardo Avenue, Mountain View, Calif.
OMCO is developing technology to commercially mine the nodules, and will use the samples for continued processing tests and ore assay.
The Governor Ray is being used for a series of cruises to plot and sample the rich nodule fields between the Hawaiian Islands and Baja California. The nodules contain manganese, nickel, copper, and cobalt, and are so abundant that known ocean deposits could last for centuries.
Conrad G. Welling, OMCO vice presidentprograms, said: "Two types of areas are being explored by the Governor Ray. The first measures thousands of square nautical miles and is being surveyed to obtain general data on the characteristics of nodules and exact locations of the vast mineral reserves. The second survey concentrates on an area approximately 100 square nautical miles which has a dense population of nodules and is suited to tests of a mining system.
"Approximately 450 nodule samples were taken by free-fall samplers—torpedo-like objects which are dropped to the ocean floor and return automatically once the sample has been scooped. Data from such samples are used to determine the abundance, ore grade, metal content, and physical characteristics of the nodules." Some of the free-fall devices were equipped with cameras and sediment samplers to gather additional visual and physical data on the ocean floor environment.
"Two-foot-square sections of the ocean floor (approximately 18 inches thick) will be recovered using a tripod-shaped device called a box corer. Additional visual data on nodule abundance and ocean floor obstacles are being gathered with a tethered camera that automatically takes still photos 18,000 feet below the surface. Data from these instruments will be used to provide information on the characteristics of the mine area. This in turn will provide information for the proper operation of the bottom miner which will travel on the ocean floor and gather nodules. The sediment is known to be extremely soft and can withstand only slight pressure in supporting objects such as a bottom miner," he added.
OMCO has leased the mining ship Glomar Explorer and plans to conduct initial development operations with a test miner later this year. At the start of these tests, the miner will be lowered more than three miles to the ocean floor from the Explorer's huge 200-foot by 74-foot floodable well. Thirty-foot sections of pipe will connect the miner and the ship, and lowering operations alone are expected to take a few days. After the test miner is on the bottom, it will sweep a precharted mining site to collect nodules and bring them through the pipe to the surface.
OMCO is a partnership formed in November 1977 by Ocean Minerals Inc. and Amoco Ocean Minerals Co., a subsidiary of Amoco Minerals Co., Chicago, 111., which in turn is a subsidiary of Standard Oil Company (Indiana).
Shareholders in Ocean Minerals Incorporated are: Billiton B.V., a member of the Royal Dutch/Shell Group; BKW Ocean Minerals B.V., a subsidiary of Royal Bos Kalis Westminster Group N.V.; and Lockheed Missiles & Space Co., a subsidiary of Lockheed Corporation.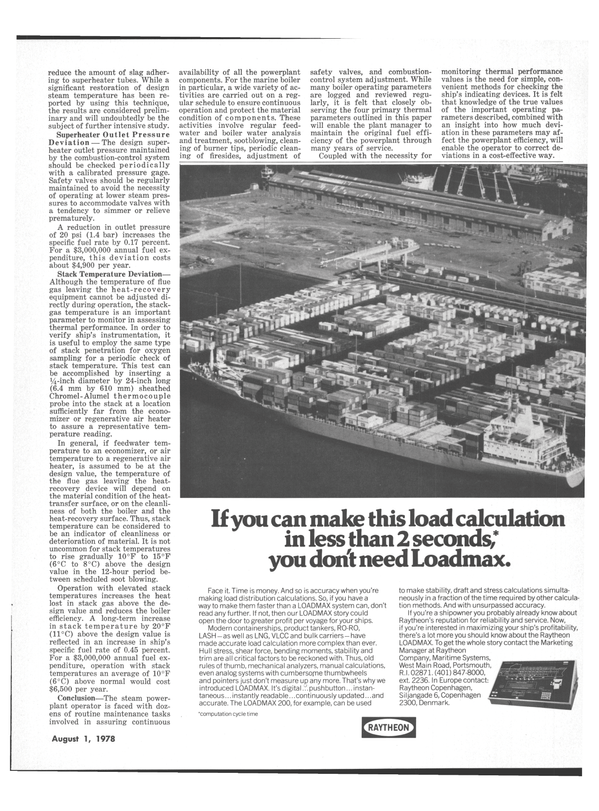 Read Ocean Minerals Recovered From Floor Of Pacific By OMCO in Pdf, Flash or Html5 edition of August 1978 Maritime Reporter
Other stories from August 1978 issue
Content