McDermott Delivers Tug/Supply Vessel To Int'l Mooring & Marine
International Mooring & Marine, Inc. recently took delivery of a new 180-foot 3,000-horsepower tug/supply vessel from McDermott Shipyards, New Iberia Division.
The M/V Inmar Duke is the second of a four-boat package being constructed for International Mooring & Marine, Inc. and its affiliate, First Inmar of Texas, Ltd.
International Mooring & Marine, Inc., P.O. Box 1553, New Iberia, La. 70560, founded in June 1976 by Charles Mann, Harry Wilson and Wilton Helveston, primarily as an anchor-handling company f u r n i s h i n g personnel, equipment and tools for mooring offshore floating-type drilling vessels.
The company also designs and fabricates various types of o o r i n g systems. International Mooring & Marine, Inc. is also engaged in platform repair and maintenance. Another major service is the fabrication and installation of platform boat bumpers.
The company has developed its own boat bumper design and is presently applying for a patent.
In christening ceremonies for the M/V Inmar Duke, held at Simplicity is the key to the Demco packaged sewage treatment plant.
And your key to low maintenance operation that is fast, effective, reliable and economical.
Simple Low Maintenance Operation.
Raw sewage enters the plant and passes through aeration chambers by gravity. What could be more simple than that? There are no pumps or intricate mechanisms to clog or break down. Wastes are reduced by aeration and consumed by an exclusive mixture of bacteria-enzymes.
Final disinfection is by dry soluble chlorine tablets.
Fast. Special bacteria-enzymes accelerate degradation and maintain a viable biology. In a day's operation, the Demco system will process as McDermott Shipyards on June 4, 1978, Mr. Mann stated that these are the first boats of this type ever built at the Port of Iberia.
The Port of Iberia is expected to become a major Gulf Coast port due to its centralized location, proposed deepwater channel, space for expansion and natural protection from hurricanes and floodings.
much as 25% more sewage than competitive designs. Standard Demco units process from 325 to 12,500 GPD. Larger systems are available for special applications.
Effective. Demco system design treats all degradable wastes including difficult materials like paper, grease, oil, detergents and garbage processed through a disposal with impressive results. When operated using recommended procedures, Demco sewage treatment plants will remove 85-95% of BOD and suspended solids. The effluent contains a minimum chlorine residual of 1 mg./ liter and 1,000 or less coliform bacteria per 100 milliliters.
Reliable. Demco sewage treatment plants perform. Performance that Mr. Mann also stated that International Mooring & Marine, Inc. has a 190-foot, 5,000-horsepower tug/supply vessel under construction at Bourg Shipyard, Houma, La. With the delivery of this vessel in September 1978, the company will have taken delivery of five tug/supply vessels in 1978, at a total cost of approximately 13 million dollars.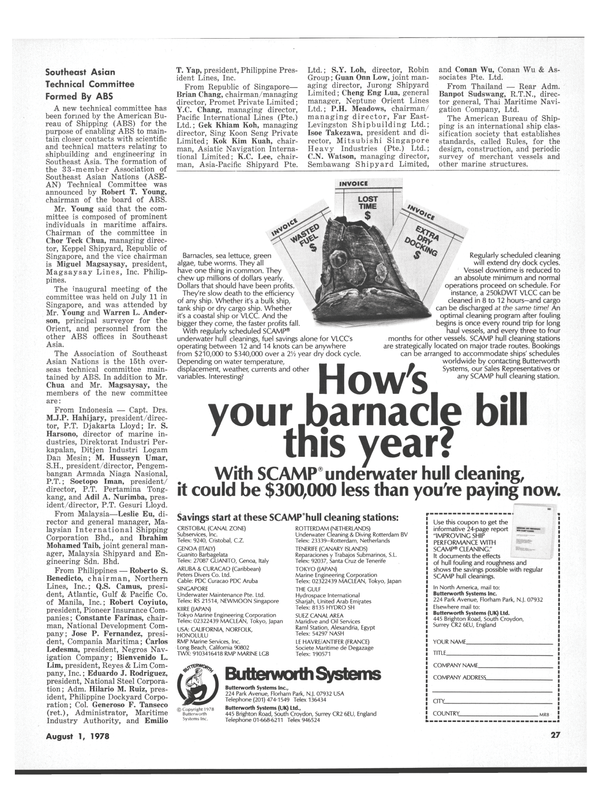 Read McDermott Delivers Tug/Supply Vessel To Int'l Mooring & Marine in Pdf, Flash or Html5 edition of August 1978 Maritime Reporter
Other stories from August 1978 issue
Content