H i l l m a n D e l i v e r i n g 14 N e w Chemical Barges To PPG
PPG Industries has begun the launching of 14 new Hillman chemical barges, customed designed to carry caustic soda shipments from PPG's expanded plant in Lake Charles, La. The first barge was launched recently, and all the r e m a i n i n g v e s s e l s are scheduled for delivery before the end of this year.
Hillman Barge & Construction Company of Brownsville, Pa., designed and built the barges to specifications p r e p a r e d by the PPG marine engineers. Hillman worked closely with PPG, making modifications to meet the company's product needs and design specifications.
The double-skin barges are of single tank design with swash bulkheads for stability during towing. Each of the 195-foot by 35-foot by 12-foot barges will hold 1,500 tons of 50-percent caustic soda solution. Other features include double continuous full penetration welding, external heating channels for all-weather operation, and stern flooding provisions for unloading and trimming.
Approved and inspected by the American Bureau of Shipping and the United States Coast Guard, the Type II hull barges are classed for river, bay and sound service.
Upon completion by Hillman in Brownsville, each barge will be lined and insulated with PPG Columbia #7 lining at Busch & Latta Marine Coating, St. Louis, Mo.
Hillman Barge & Construction Company, a major inland shipyard, manufactures custom-designed barges, each modified and constructed to customer specifications.
Robert Kenny, president of Hillman Barge, said: "Hillman is oriented toward custom barges, each individually designed and constructed to handle either specialty materials or different applications and situations. This flexibility of design and construction permits modifications to meet the customer's specific operating requirements.
"Hillman barges have a reputation for sturdiness," Mr. Kenny added. "For instance, strategic areas are beefed-up with additional steel reinforcement to provide longer life and less maintenance when the barges are used in larger tows with larger horsepower boats. The value of equipment after 10 years is as important as the initial purchase price to today's sophisticated operators.
Therefore, the added values of rugged construction today are weil worth the investment." Mr.
Kenny said: "Our philosophy is offer value. This value can be seen in the number of rake and stern trusses, corner construction, the size and number of steel members, as well as the detail, fitting, and welding of each component in a Hillman barge." According to Mr. Kenny, Hillman has set a ceiling at 500 employees.
"This has resulted in a s t a b l e w o r k f o r c e , " Mr. Kenny said, "with an average of 9 years of marine service. Supplementing this experience, is our constant program of education, testing and upgrading for all personnel.
This is essential to the construction of custom application barges, particularly the more sophisticated tank barges Hillman is called upon to construct." Besides chemical barges, Hillman also produces standard and jumbo coal barges, grain, cement, sand, and gravel barges, floats, and other specialty-type marine equipment.
The purchasers and operators of the most recent Hillman barge feet, PPG Industries, is one of the largest producers of chlorine and caustic soda. Its expanded Lake Charles plant, which the barges were designed in conjunction with, is scheduled to come on-stream in mid-1980, adding a capacity of 300,000 tons of caustic soda annually.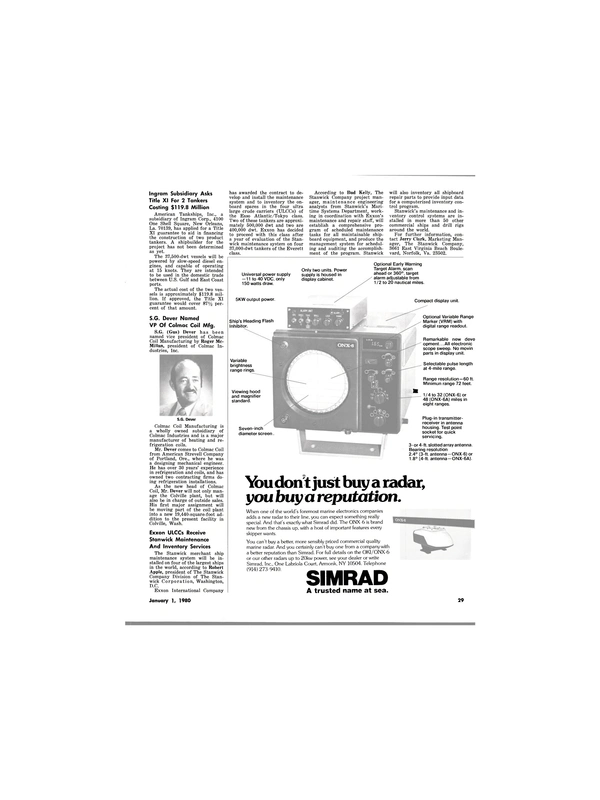 Read H i l l m a n D e l i v e r i n g 14 N e w Chemical Barges To PPG in Pdf, Flash or Html5 edition of January 1980 Maritime Reporter
Other stories from January 1980 issue
Content