Advanced Design Product Tanker Launched At Sun Ship
The Philadelphia Sun, second of a new class of fuel-efficient, dieselp o w e r e d coastal tankers under construction for Sun Transport, was launched recently at the Chester, Pa., yard of Sun Ship.
A cheering crowd of more than 8,000 guests, employees and their families looked on as Mrs. Pat Green, wife of Philadelphia Mayor William Green, smashed the traditional bottle of champagne against the bow of the new product carrier.
The launching ceremonies included remarks from William G.
Kay Jr., executive vice president of the Sun Company; Samuel B.
Nemirow, Assistant Secretary of Commerce for Maritime Affairs; and Joseph J. Kleschick, vice president of Sun Ship.
The launching address was given by Sun Ship president Robert H. Campbell, and included a special tribute to the 4,000 shipyard workers whom he described as "shipbuilders in the Philadelphia tradition . . . the finest tradition." Sun Transport's design for the Philadelphia Sun and sister ship New York Sun, (See MARITIME REPORTER issue of October 15, 1979, page 22.), which is now being outfitted prior to sea trials, anticipated the regulatory changes that have evolved since construction of these vessels began. The new ships incorporate many of the environmental and safety features that succeeding legislation was to make mandatory for tanker designs in the future.
Outstanding features of the Philadelphia Sun include a high level of automation, permitting control of engine speed and direction from the bridge; air conditioned crew quarters; and an elevator connecting the four superstructure decks with the engine room. Six pumps will discharge the tanker's 247,000-barrel cargo in 15 hours.
The 34,400-dwt ships have an overall length of 612 feet, beam of 90 feet, depth of 49.5 feet, and draft of 36.75 feet. Propulsion is provided by a single 14,200-bhp Mitsubishi,/Sulzer type RND-M slow-speed diesel engine, providing a service speed of 15.5 knots.
Each vessel is capable of carrying six different types of refined petroleum products at once, including gasoline, k e r o s e n e , j et fuel, heating oil, and naphtha.
The P h i l a d e l p h i a Sun is equipped with a wide array of modern navigational aids, including a collision-avoidance radar system, a satellite navigation system to enable the ship's crew to pinpoint its exact position at any given time, and a weather facsimile system that provides up-tothe- minute weather reports to the ship's officers.
A segregated ballast system has a total saltwater capacity of 12,000 long tons. With this system, several of the vessel's tanks are used only for ballast. This means that when the tanker's ballast water is pumped out during the deballasting cycle during savcargo loading, only clean salt water will be released.
In contrast to general practice in older tankers, ballast is not introduced into tanks that also carry the various petroleum cargoes.
Should conditions at sea necessitate additional ballast water being pumped into any of the ship's cargo tanks, an oil-water separator removes petroleum residue from the ballast water before it is pumped overboard.
A sewage storage and treatment plant has been installed to insure that raw sewage cannot be discharged at sea.
The Philadelphia Sun will be assigned to various U.S. intracoastal trade routes. She is the first vessel named for the City of Philadelphia in the history of the Sun Company fleet.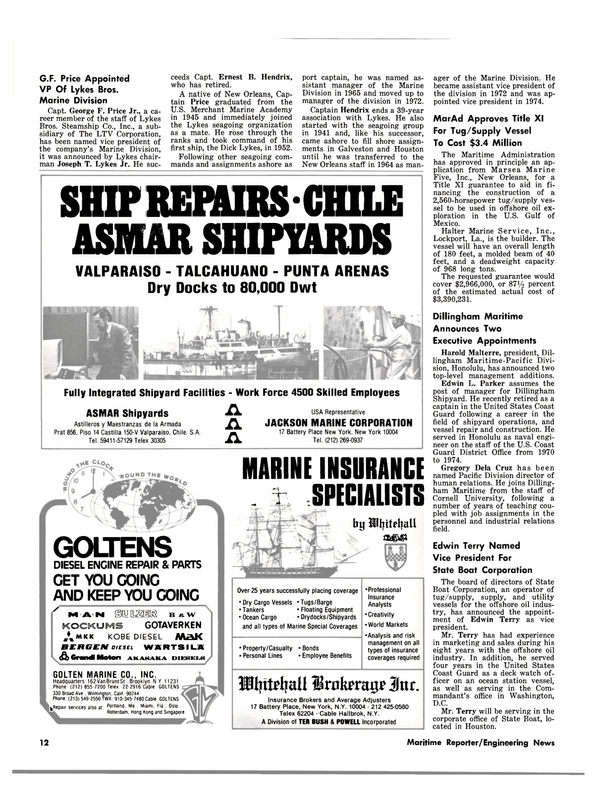 Read Advanced Design Product Tanker Launched At Sun Ship in Pdf, Flash or Html5 edition of August 1980 Maritime Reporter
Other stories from August 1980 issue
Content