Halter Delivered 30 Big Commercial Vessels In First Half Of 1980
Halter Marine, Inc., New Orleans, delivered 30 large commercial vessels during the first six months of 1980. For that period, Halter president Floyd J. Naquin reported deliveries of 17 supply vessels, seven crewboats, five tugs, and one utility/fireboat from the company's six commercial shipyards.
Mr. Naquin said the production figures reflected a considerable increase in Halter's construction of crewboats and tugs. Halter Marine is already the world's largest builder of supply boats for the offshore petroleum industry.
"Efforts to strengthen our product mix in the marine market are now being realized. In fact, Halter Marine is building more types of vessels now than ever before, especially innovative designs like diesel-electric supply boats, giant catamaran tugs, and surface effect ships," Mr. Naquin explained.
He said the firm's two consumer boat divisions had also delivered 20 fiberglass fishing boats, and 27 high-speed offshore racing and pleasure boats built by the Cigarette Racing Team, a wholly owned subsidiary of Halter. Commercial and consumer production figures were reported separately to give a more accurate picture of the company's output.
Prominent among the 52 vessels under construction at Halter's six commercial shipyards are seven large CATUGS, six of which Halter is building as a subcontractor to the Bethlehem Shipbuilding Division of Bethlehem Steel Corporation.
The first of the $20-million vessels was launched July 3, and construction of the second and third vessels is well under way.
Although the CATUGS are under construction at Halter's Chickasaw, Ala., division, all of the steel is cut and fabricated in New Orleans at the company's central steel cutting facility on the Industrial Canal. Mr. Naquin said the Industrial Canal Division is able to serve all of Halter's commercial divisions because of the use of high-speed plasma arc cutting machines, which are computer-directed.
"With these machines," explained Mr. Naquin, "we can cut just about all of the steel for a vessel, with far greater accuracy, mark and kit it for shipment to the erection site in far less time than it would take to do it on site.
As a matter of fact, these machines are so efficient, we now cut steel for other non-competitive shipyards." He added that centralizing this phase of construction also standardizes the vessels while improving on modular construction techniques.
Halter has also initiated a design, construction, and test program for bulk mud tanks that are included in nearly all supply boats serving the offshore oil and gas fields. The new Halter-designed tanks promise more efficient discharge with less waste. The Industrial Canal tanks are built to the rigorous standards of the American Society of Mechanical Engineers (ASME), and have undergone extensive testing before being offered to the industry.
Halter recently received its ASME code certification for pressure vessels, and now holds one of only two such code stamps issued to Gulf Coast area shipbuilders.
Mr. Naquin announced that Halter is also now ready to enter the ship repair business with the completion of one of the largest drydocks on the Gulf Coast. Located at Chickasaw, Ala., the new 4 , 0 0 0 - t o n deadweight-capacity drydock is 160 feet long and 120 feet wide. It can presently accommodate two supply boats simultaneously or a large derrick or pipe-lay barge, and vessels with drafts up to 30 feet. In the near future, this same dock will be extended to over 500 feet in length.
Adding to Halter's healthy backlog is a new contract for the construction of four surface effect ship "dashboats" that Halter builds in a joint venture with Bell- Aerospace Textron. The 110-foot vessels for Command Marine, Inc.
of Lafayette, La., offer high speed, stability, and a 2,000-mile range.
They will be the first of their type to serve the offshore oilfields, and company officials feel that their leadership in these new vessels will help maintain Halter's position as one of the most innovative shipbuilders in the nation.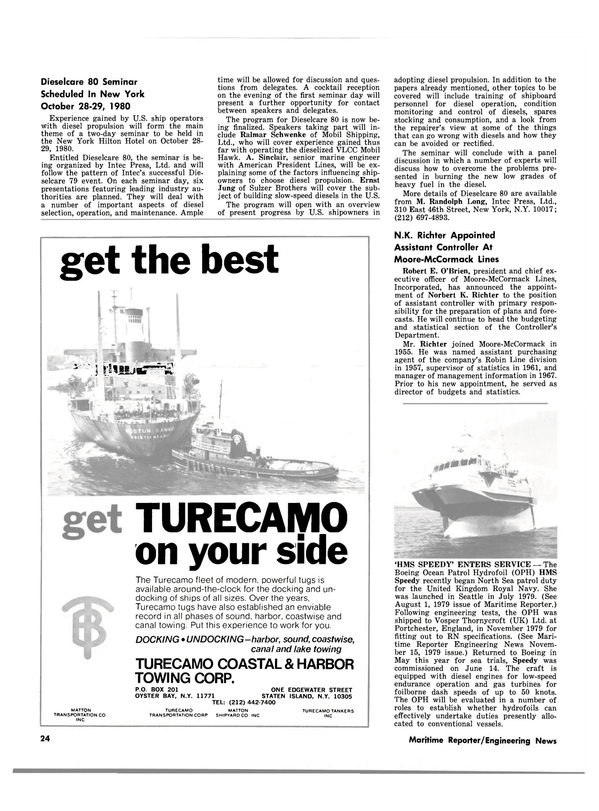 Read Halter Delivered 30 Big Commercial Vessels In First Half Of 1980 in Pdf, Flash or Html5 edition of August 1980 Maritime Reporter
Other stories from August 1980 issue
Content