CSSRA Urges Adoption Of Canadian Building Policy
The Canadian Shipbuilding and Ship Repairing Association (CSSRA) recently held its semiannual general meeting in Ottawa.
The CSSRA represents 25 shipbuilding and ship repair firms and 72 allied industries from coast to coast. Meetings of the board of directors and allied members were also held.
The board of directors noted that Canada's new shipbuilding policy is now two years and five months overdue. During the same period over $1.1 billion (Canadian) worth of domestic shipbuilding work has gone to foreign shipyards. With a sensible shipbuilding policy in place during that period, the CSSRA noted, most of that lost work would have stayed in Canada and instead of adding to the unemployment rolls, shipbuilding would now be helping to solve the problem.
The CSSRA urged the government to delay no longer on a positive shipbuilding policy, otherwise it is likely that further orders will go abroad to seriously damage the viability of the industry to respond to the exciting possibilities for shipbuilding in the longer term, e.g. Beaufort and East Coast offshore developments, the Polar 8 icebreaker, and the Canadian patrol frigate program.
The association believes that Canada should receive a greater measure of industrial benefits as a result of the export of natural resources now being shipped almost exclusively in foreign bottoms.
There is great potential for shipbuilding and allied industries in filling the need for the carriers of these resources whether they be wheat, coal, liquefied natural gas, and other renewable or non-renewable resources. The CSSRA recommended that the government, as well as private sector exporters, examine the potential for shipbuilding sales and industrial benefit offsets, when negotiating export sales of Canadian natural resources.
The association discussed a report regarding Minister of Fisheries and Oceans Pierre DeBane, in which he is quoted as reviewing the issuance of new fishing licenses on the East Coast. To the astonishment of CSSRA members, it was reported in the press that he is considering the opening of the door for Nova Scotia and other Atlantic Canadian fisheries interests to acquire some used fishing trawlers now available in Europe at knockdown prices.
The CSSRA stated it trusts that this report is inaccurate because the association deplores the dumping of foreign vessels into Canada and its seeming support by a Minister of the Crown.
The Canadian shipbuilding and allied industries need work now, the CSSRA noted, adding "There has been enough exportation of jobs in shipbuilding over the last 21/) years without more negative policy initiatives such as bringing in used fishing trawlers." The CSSRA also reported that the Canadian Department of Fisheries and Oceans is considering the purchase of a Japanesebuilt fishing freezer trawler, the M.V. Callistratus, for conversion as a fisheries research vessel. The Association asked the government that it honor its commitment and policy to build in Canada for Canadian Government ship requirements.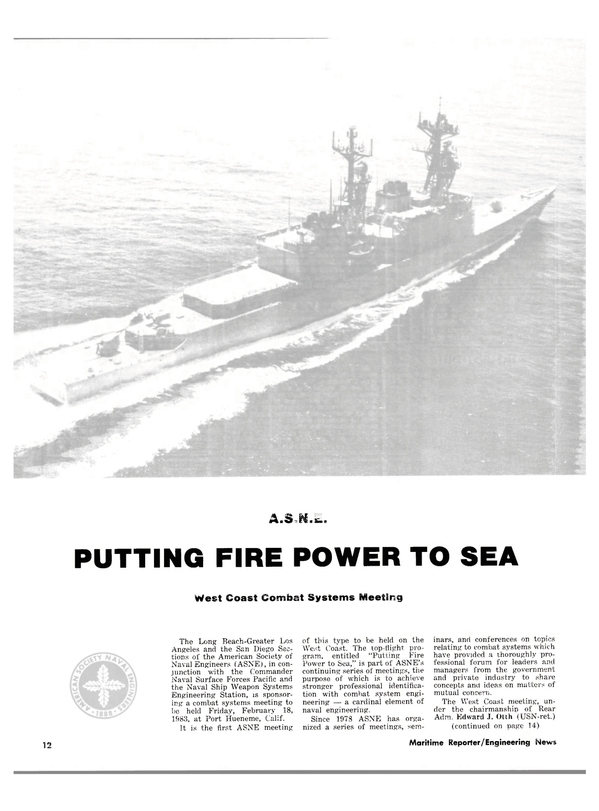 Read CSSRA Urges Adoption Of Canadian Building Policy in Pdf, Flash or Html5 edition of January 15, 1983 Maritime Reporter
Other stories from January 15, 1983 issue
Content