Joseph Farrell Selected As New AWO President
Joseph A. Farrell III has been selected as the next president of The American Waterways Operators, Inc. (AWO), the national trade association for the U.S.
barge and towing industry.
Mr. Farrell comes to AWO from Pullman Power Products Corporation, where he served as senior vice president. His experience also includes eight years as administrative assistant to Senator Charles H. Percy (111.), five years with the Peace Corps, and a 12-year career as an officer in the U.S. Navy.
"The breadth and quality of Joe Farrell's background will be assets to the association as it faces some crucial tests in 1983 and beyond," AWO chairman Thomas L. Gladders said. "His experience in management and Congressional affairs—combined with his dynamic nature—make him the right man for the job." Mr. Gladders headed a search committee that undertook an extensive review of candidates for the position. The selection of Mr.
Farrell was ratified by the AWO board of directors at its recent quarterly meeting in New Orleans.
Mr. Gladders said that the barge and towing industry "is battling for its economic life right now. We face not only the adverse consequences of poor economic conditions, but also the threat of increased user taxes, as proposed by the Reagan Administration.
The association must have the best possible leadership during this period." As senior vice president for Pullman Power Products Corporation for the last two years, Mr.
Farrell was responsible for the development and implementation of long-range planning for the company, which is headquartered in Williamsport, Pa. From 1977 to 1980, he served as vice president- government affairs for Pullman, Inc., and handled its Washington operations, including review of Congressional and federal agency activities.
Mr. Farrell served as Senator Percy's administrative assistant from 1969 to 1977. His work with the Peace Corps, from 1964 to 1969, included one and one-half years as director of the program in Honduras and, later, administrative positions with the agency in Washington, D.C.
As a naval officer from 1952 to 1964, Mr. Farrell served on six warships—a destroyer, a cruiser, and four submarines, three of which were nuclear powered. He served as chief engineer of the submarine "Seadragon" on the first Atlantic to Pacific polar transit.
Mr. Farrell is a graduate of the U.S. Naval Academy and also attended Brown University.
He succeeds Anthony L. Kucera, who resigned last month. Mr.
Farrell assumed his new position in early January.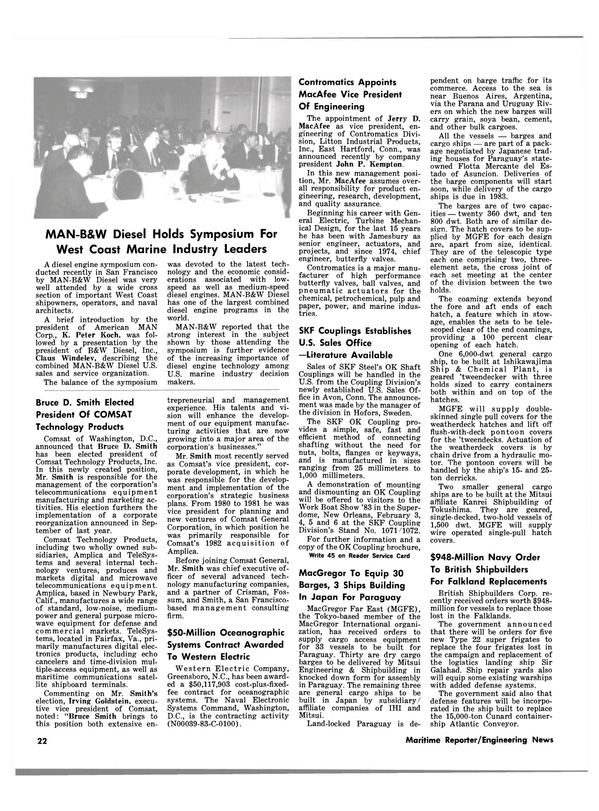 Read Joseph Farrell Selected As New AWO President in Pdf, Flash or Html5 edition of January 15, 1983 Maritime Reporter
Other stories from January 15, 1983 issue
Content