Norshipco's Floating Drydock Titan' Aids In Tunnel Construction Project
Norfolk Shipbuilding & Drydock Corp. (Norshipco) of Norfolk, Va., recently used its 950- foot floating drydock "Titan" in a unique operation to help in the construction of a new tunnel under the Elizabeth River — in addition to the drydock's normal ship repair function. The Titan has a lifting capacity of 58,000 tons.
The tunnel, to be used by vehicular traffic between Norfolk and Portsmouth, Va., is being built in eight sections by the Chicago Bridge and Iron Co., in Corpus Christi, Texas. The 300- foot-long by 40-foot-wide sections are hauled to Norfolk by barge, two at a time at a total weight of 5,500 tons.
In the past, tunnel sections have been launched, similar to new ships, and towed to a construction site under their own buoyancy, but the proximity of the Titan permitted a barge to be used to tow the tunnel sections to the Elizabeth River site.
This was the first time tunnel sections have been transported by barge and the first time a drydock had been used to float the sections.
The two tunnel sections are huge: 300 feet by 40 feet by 40 feet together weighing some 5,500 tons. This was no problem for the Titan, which has a lifting capacity of 58,000 tons.
The barge with the two tunnel sections aboard was floated into the drydock. The drydock was then raised, lifting the barge with the tunnel sections out of the water. The barge was then filled with water, and, when the drydock was re-submerged, the barge sank with it allowing the sealed tunnel sections to float free.
Consideration had been given to sinking the barge directly into the river. But because the sections were side by side on the barge and were of unequal weight, the barge would have rolled as it sank. By sinking the barge in the drydock, the barge's motion was controlled and the tunnel sections were floated without a problem.
With the tunnel sections delivered, the barge was refloated and towed back to Corpus Christi for the next delivery. Each succeeding delivery will be handled in the same way. The first section is scheduled to be sunk into a special trough in February. The tunnel is scheduled for completion in 1988.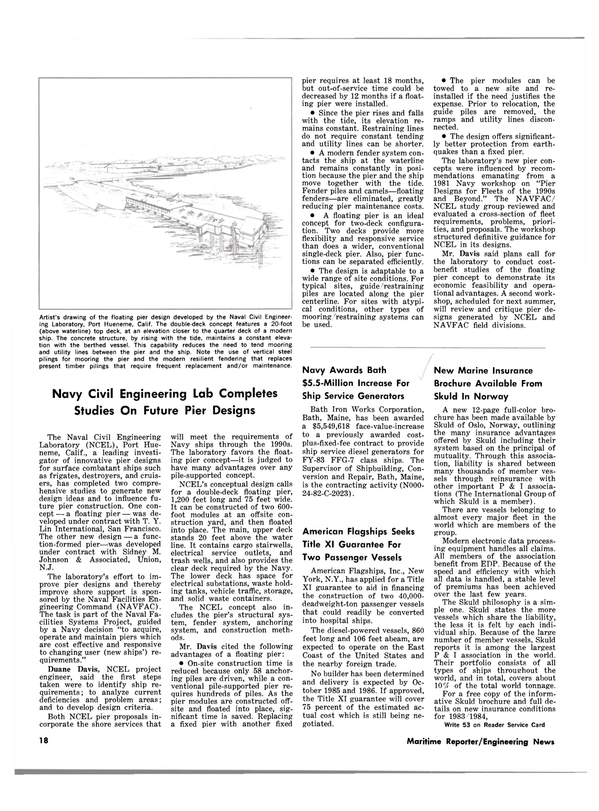 Read Norshipco's Floating Drydock Titan' Aids In Tunnel Construction Project in Pdf, Flash or Html5 edition of January 15, 1983 Maritime Reporter
Other stories from January 15, 1983 issue
Content