Battleship New Jersey Is Recommissioned
The battleship New Jersey (BB-62) was recommissioned recently at the Long Beach Naval Shipyard, Long Beach, Calif.
President Ronald Reagan was the commissioning speaker.
The New Jersey's recommissioning marks the fourth time the ship has become part of the active fleet. Originally commissioned May 23, 1943, it earned nine battle stars in World War II. It was recommissioned November 21, 1950, and earned four more battle stars for action in Korea. The battleship was last recommissioned April 6, 1968, at the Philadelphia Naval Shipyard for service during the Vietnam conflict. The New Jersey received two more battle stars and one Navy Unit Commendation for Vietnam service.
The New Jersey's nine 16-inch and twelve 5-inch guns complement its newly added offensive armament of eight armored box launchers for Tomahawk cruise missiles; four quad launchers for Harpoon cruise missiles; and Vulcan-Phalanx close-in-weapons systems for self-defense against aircraft and missiles.
Other modernization changes to the New Jersey include modern electronic countermeasures systems; a cruiser-style communication system; aviation facilities and operating stations for SH-60B helicopters; updated air and surface search radars; and conversion of the fuel plant to burn Navy distillate fuel. Modernization of the New Jersey began in 1981.
The New Jersey is 887 feet long and has a beam of 108 feet.
It has a displacement of 57,355 tons and a draft of 36 feet. The ship has a crew of 67 officers and 1,460 enlisted personnel.
Capt. William M. Fogarty, a native of Des Moines, Iowa, will command the New Jersey.
The U.S. Navy plans to modernize and bring four battleships back into service. These include the USS New Jersey, the USS Iowa, the USS Missouri, and the USS Wisconsin. The first modernization, the USS New Jersey, is now completed at a cost of approximately $326-million.
Modernization of the second ship, the USS Iowa, is being con- ducted by Ingalls Shipbuilding of Pascagoula, Miss., and Avondale Shipyards, New Orleans, La.
It is estimated the project will take 27 months. The total cost of the Iowa refurbishing project has been put at approximately $400- million. Approximately $200-million of this figure is for shipyard work, the balance will be for new weapons.
The other two ships, the Missouri and the Wisconsin, remain in the reserve fleet at the present time.
(See MARITIME REPORTER Engineering News, April 15, 1982, August 15, 1982, November 1, 1982 and November 15, 1982 issues.)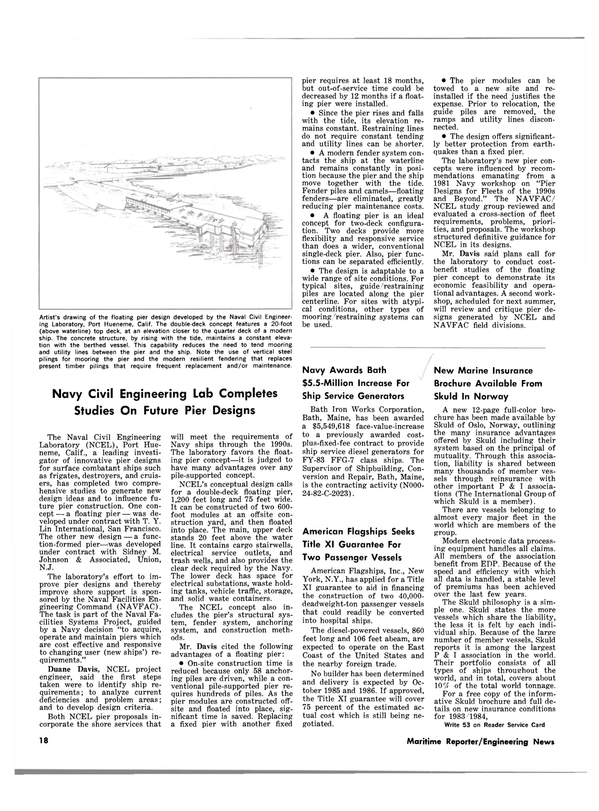 Read Battleship New Jersey Is Recommissioned in Pdf, Flash or Html5 edition of January 15, 1983 Maritime Reporter
Other stories from January 15, 1983 issue
Content