Kockums Completes Advanced Car/Truck Carrier For Wallenius
The pure car/truck carrier Isolde has been delivered by Kockums AB of Malmo, Sweden, to Wallenius Lines of Stockholm. With a capacity of 6,230 passenger cars or a combination of 2,930 cars and 540 heavy vehicles, the new ship has an overall length of 649.6 feet, beam of 105.9 feet, depth to weather deck of 103.35 feet, and scantling draft of 38.7 feet.
The main engine is the latest model low-speed Sulzer 7RTA68 diesel rated 18,100 bhp at 106 rpm, providing a service speed of 20 knots. Isolde is a unifuel ship, with the main and auxiliary engines burning the same heavy fuel oil of up to 600 cSt. Direct-reversing and driving a fixed Lips propeller, the main engine is remote-operated from the bridge or the engine control room; machinery fulfills the UMS requirement of Lloyd's Register of Shipping for unattended engine room.
Electrical power is provided by three 1,600-kw alternators driven by Wartsila-Vasa 6R 32 diesel engines installed in a separate compartment.
Heavy vehicles are loaded on the 4th, 6th, and 9th decks, which are reinforced to carry heavy loads. The 5th, 7th, and 10th decks, and part of the 8th, are divided into hoistable sections that allow vehicle heights of up to 20.34 feet.
The 6th deck is normally the car entrance deck, but at higher berths the middle outside ramp may also be attached to the 7th deck. Two outside loading ramps are positioned at the starboard side; the aft one will be rigged with a 25-degree aft angle to accommodate long vehicles.
Internal ramp systems between decks to doors and to openings in transverse bulkheads make it possible to load/discharge the entire ship via only one of the outside ramps.
Fifty-three fans evenly distributed along the entire ship's length have the capacity to change the hold air volume 25/50 times per hour.
They are operated individually or in sections from a separate control room on the upper deck; ballast pumps and valves are operated from the same room.
All navigation equipment is of the latest design. The Raytheon radar plant has anti-collision computer with free choice of picture presentation and other features. The Kockumation autopilot is of the totally adaptive, fuel-saving type with setradius steering for turns. In addition to a Decca Navigator, a Magnavox satellite navigation system is installed.
The speed log equipment is duplicated, a Jungner pressure log for deep waters and a Krupp-Atlas doppler log for more restricted waters. Other equipment includes a Raytheon weather facsimile recorder, Simrad echo sounder, Plath magnetic compass and gyrocompass, and Ramanteen radio direction finder.
The radio station, VHF radiotelephones, telex, and lifeboat radios were supplied by Televerket.
Deck machinery includes two Brattvaag combination windlass/ mooring winches and six common mooring winches, two of them situated on the forecastle deck and four aft on the mooring deck. Stores, provisions, Suez Canal dingies, etc.
are handled by four Maritime cranes on the upper deck.
Crew accommodations, placed on the upper deck far from the engine room and propeller, are outfitted to a very high Scandinavian standard.
Other crew facilities include a hobby room, combined cinema/conference room, gymnasium, outside swimming pool, sauna, and a room for trade union matters.
The Isolde operates with a crew of 23 persons. Two 50-person Fiskars covered motor lifeboats and four 25- person Viking life rafts are provided.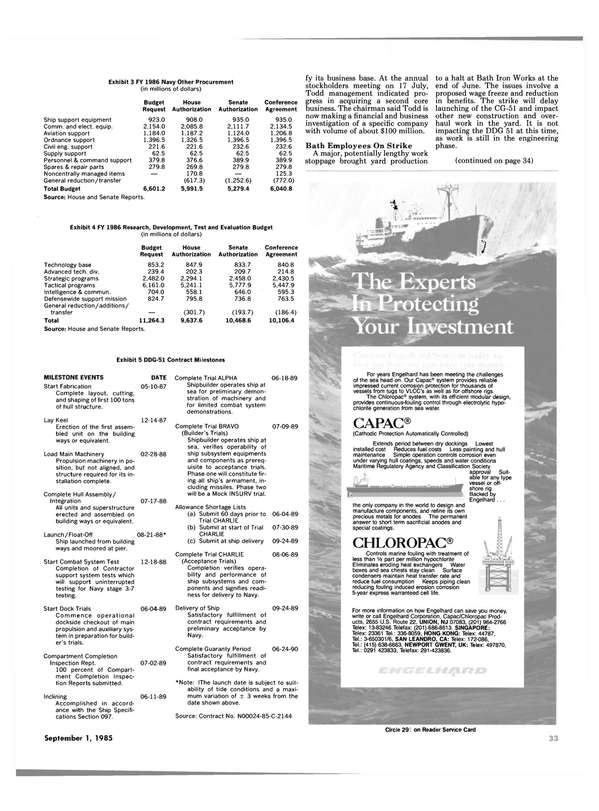 Read Kockums Completes Advanced Car/Truck Carrier For Wallenius in Pdf, Flash or Html5 edition of September 1985 Maritime Reporter
Other stories from September 1985 issue
Content