Three Major Beth Steel Programs Highlight New Offerings To The Offshore Industry
Bethlehem Steel Corporation officials recently provided an update on three major programs in which the company's marine construction group is involved: • A 64,000-ton-capacitv sectional drydock that will be installed at the firm's new 100-acre repair yard on the Sabine-Neches Ship Channel in Port Arthur, Texas.
• A new generation mat-supported offshore jackup rig, named The Bethlehem 600, that can drill in 600-foot water depths.
• A tension leg platform (TLP) design incorporating highly advanced offshore oil production technology.
David H. Klinges, vice president of marine construction at Bethlehem, noted that modification work at the company's Beaumont, Texas, yard is nearing completion for the 64,000-ton-capacity drydock, one of the nation's largest, and that the initial construction phase is well underway for the new Sabine Yard where the drydock will be moored.
Work required by Bethlehem to prepare the site at the Sabine Yard included dredging some two million cubic yards of material from Pleasure Island in Port Arthur, erection of an office facility, rerouting of two miles of Texas Highway 82, developing a parking area and construction of an electrical power substation.
The eight-section, ex-U.S. Navy drydock (built during World War II) was transported from Pearl Har- bor, Hawaii, to the Gulf aboard the heavy-lift vessels Dyvi Tern and Dyvi Tial, each carrying four sections.
The sections were then brought by tugboat to Bethlehem's Beaumont yard for modification and reactivation. Following completion of the work, the drydock sections will be towed downriver to the Sabine Yard where they will be joined in a configuration to meet customer requirements. The drydock is now owned by the Port of Port Arthur, with whom Bethlehem has an operating agreement.
During the 40 years the drydock was idle it was kept in a state of preserved lay-up. A dehumidifying system kept all interior space moisture- free to prevent the formation of rust, and all machinery was coated with a protective compound.
Cathodic protection was provided for the hull of the drydock sections below water and paint was applied to the above-water portions of the units.
For rigs, the eight sections can be arranged in two side-by-side batteries of four sections each. This provides a clear docking area of 413 by 362 feet. To accommodate drillships, as many as eight sections can be lined up in tandem for a clear docking area of 829 by 122 feet.
The new drydock will have enough lifting power and size capacity to service any mobile offshore unit working in the Gulf, including jackups (mat-supported or indepen dent-leg), semisubmersibles, submersibles and drillships. If needed, the Beaumont Yard's 500-ton-capacity derrick barge can be placed into service at the Sabine Yard as a supplement to the smaller cranes that are part of the drydock units.
In addition to electrical generating equipment, utility capacity, and cranes, the dock is equipped with machine, carpenter and electrical shops, and has more than 28,000 square feet of potential office and shop space in the wing walls.
Mr. Klinges said the new Sabine Yard will have greater flexibility than any other rig repair facility in the Gulf area. Since it is located only eight nautical miles upstream from the anchorage at Sabine Pass and there are no bridges to restrict marine traffic, it will provide easy access from and to the Gulf of Mexico.
Employment at the new yard could grow to approximately 750 in the initial development phase, according to Mr. Klinges, with additional employment opportunities as phases two and three are implemented.
The Bethlehem 600 Since introduction of The Bethlehem 600 last year, a number of modifications and refinements have been made in response to customer requirements expressed during Bethlehem's presentations to representatives of oil companies and drilling contractors.
The cantilever mat jackup, the world's largest unit of this type, is designed for work in hostile environments and for long periods in remote areas where resupply may be difficult. It has been estimated that The Bethlehem 600 will be able to work in more than one million square miles of prospective oil producing regions throughout the world, with water depths ranging from 250 to 600 feet (an area nearly double that of the Gulf of Mexico, spread out along the coastlines of the world).
TLP Program Bethlehem entered the TLP (tension leg platform) market with the signing of a licensing agreement with Fluor Engineers, Inc. that assigns Bethlehem exclusive rights on TLPs designed by Fluor for installation on the Gulf and East Coasts of North and South America and the Caribbean. In commenting on the agreement, Mr. Klinges said: "Our objective is to work together to design, fabricate, outfit and install a TLP in the Gulf of Mexico." Assisting Mr. Klinges at the news update were Sherman C.
Perry, general manager of Bethlehem's Beaumont, Texas, yard; Richard E. Blackinton, general manager, operations and facilities; Frank Richardson, manager of the new Sabine Yard under construction on Pleasure Island, Port Arthur, Texas.
Mr. Klinges concluded that despite current depressed conditions in the industry, "We're confident that we are in a good position to service our customers with the facilities and the technological know-how that they require. As business improves we will be able to build to satisfy the special requirments of the oil patch." For free literature on Bethlehem Steel's new programs, Circle 14 on Reader Service Card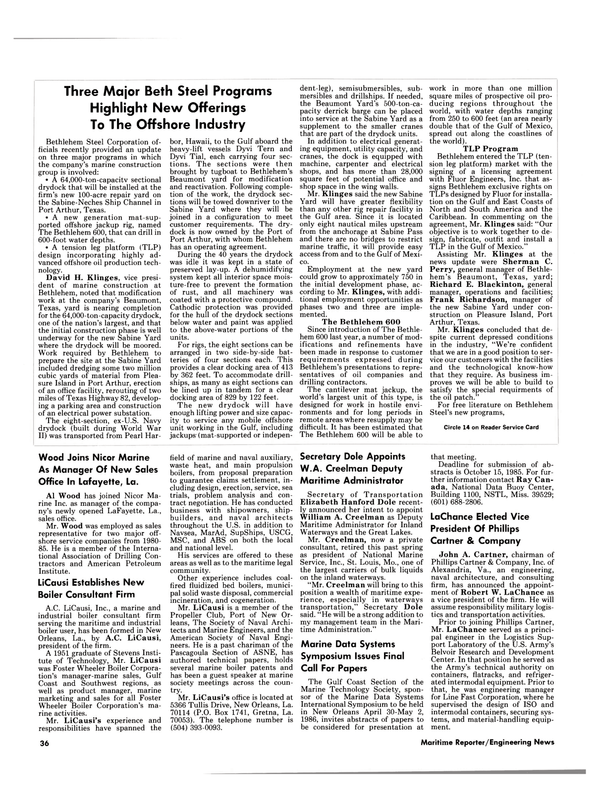 Read Three Major Beth Steel Programs Highlight New Offerings To The Offshore Industry in Pdf, Flash or Html5 edition of September 1985 Maritime Reporter
Other stories from September 1985 issue
Content