West Coast Manly Shipyards Delivers Fisheries Patrol Vessel Leonard J. Cowley
The latest addition to the Canadian Department of Fisheries and Oceans' fisheries patrol fleet, the Leonard J. Cowley, is the largest and most sophisticated vessel of her type in Canada. Operating out of St.
John's, Newfoundland, her major function will be the surveillance of the offshore fishing fleet within the Canadian 200-mile exclusive fisheries zone as far as 75° N and within Northwest Atlantic Fisheries Organization waters outside the zone.
This activity requires precise navigation, excellent boarding facilities and superior communications as well as seakindliness in all weathers, substantial capability in ice and helicopter facilities. All of these requirements are fully met. The vessel is also well equipped for search and rescue response.
Built by West Coast Manly Shipyards of Vancouver, B.C., a division of Rivtow Industries Limited, the ship's principal particulars are: gross tonnage, 2,244; displacement, 2,086 tons; overall length, 72 meters (about 236 feet); maximum beam, 14 meters (about 46 feet); and mean draft, 4.5 meters (about 14% feet).
Main engines are two 12-cylinder Polar Nohab F312A diesels, and propulsion is 3,120 kw, single-screw, variable pitch. She is classified Lloyd's 100 A.I., Ice Class 1*, LMC.
Designed by Cleaver and Walkingshaw of Vancouver, the Leonard J. Cowley has numerous innovative features, representing the leading edge of technology in navigation systems, communications, machinery, electrical monitoring and control, accommodation, helicopter facilities, maneuvering, wheelhouse design and boarding facilities.
The navigation system consists of two Sperry true motion MK-340 radars, one X Band (with a C-P antenna) and one S Band, that are fully interswitchable, combined with a CAS II ARPA, with the Channel Navigation Option. This system in turn is linked to a Sperry/TRAC IVB Qubit fully integrated navigation computer that is capable of filtering sensor information for maximum probability computations, using the INSQUA technique. This system includes high resolution color graphics, twin disc drives, a plotter, printer and a remote display.
The sensors include twin Sperry Gyros (MK227 and MK37), Magnavox 1107 RS dual channel SATNAV, INTERNAV LC 720 Loran C receiver, and a Raytheon DSN 450 dual axis doppler log.
The communications system by Navitron Communications of Vancouver includes an ITT Mackay 1-kw PEP HF/SSB radiotelephone, two Skanti 400-watt PEP HF/SSB radiotelephones, three VHF/FM transceivers, two VHF/AM transceivers, a watch receiver, an MF/HF radio direction finder, a VHF radio direction finder and radio telex facilities.
The vessel is also fitted for future installation of SATCOM and a Glenayre H.F. data terminal.
The machinery and electrical control and monitoring system is fitted to Unmanned Machinery Space requirements.
The electrical system includes 3 x 450-kw Stamford main generators powered by Caterpillar 3412 diesels and a 140-kw emergency generator with Siemens switchboards.
The ASEA monitoring and control system provides for full monitoring of all machinery systems, including shaft torque and fuel consumption. An interface to the doppler log provides for fuel consumption information based on units of either time or distance.
Modern helicopter facilities have been provided, including an aft helicopter deck and a DAF Indal retractable hangar. For navigation, an Aqua-Signal helicopter strobe beacon and VHF homing transmitter is provided. The vessel is fitted with a Brabazon fueling system that includes provisions for fuel maintenance onboard and can handle all grades of aviation fuel. Twin agent and foam systems are installed for firefighting on the helicopter deck.
For maneuvering, the vessel is equipped with a Wagner MK-6 autopilot with adaptive steering, Wagner radial steering gear, a Schilling rudder and an Ulstein bow thruster. The rudder is one of the largest of its type ever installed and is capable of being put over to 72° in either direction to produce transverse thrust. The bow thruster is a 250-hp constant speed, variablepitch tunnel thruster. The hull and machinery are reinforced to Lloyd's Ice Class 1* for operations in ice.
The wheelhouse design is unique and designed to maximize visibility in all directions. Shaped like a trapezoid with extended wings, it provides for six distinct yet interdependent workstations.
The boarding facilities are provided to meet the principal mission of the vessel—boarding offshore trawlers at sea in winds to Beaufort 7. The craft themselves are of the Watercraft RI-22 type, built by Crockett McConnell Inc. of Bridgewater, N.S., and are propelled by jet drives powered by Ford Mermaid diesel engines. The port craft is launched by a Miranda davit and the starboard craft by a HIAB 180 Seacrane.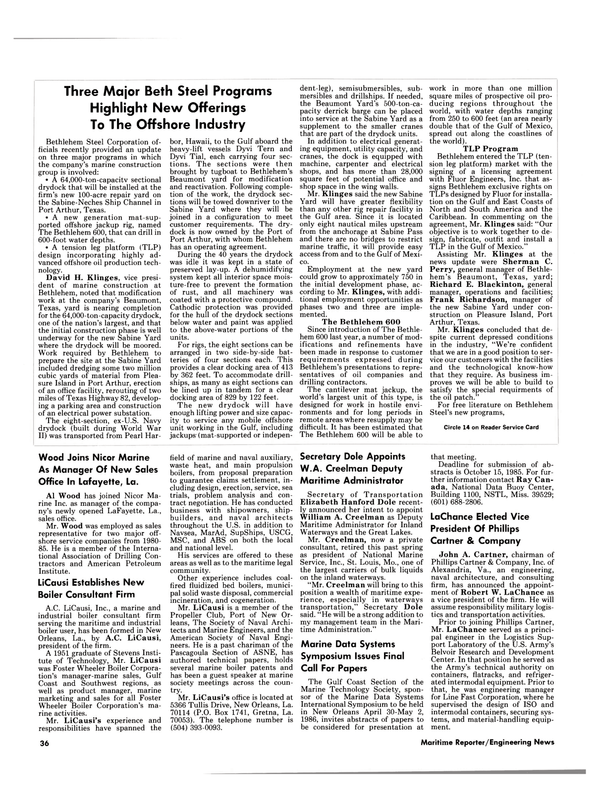 Read West Coast Manly Shipyards Delivers Fisheries Patrol Vessel Leonard J. Cowley in Pdf, Flash or Html5 edition of September 1985 Maritime Reporter
Other stories from September 1985 issue
Content