U.S. NAVY SHIP PROCUREMENT
by James McCaul, President International Maritime Associates
— An Update — This article is an excerpt from the first quarterly update to International Maritime Associates' report on U.S. Navy Ship Procurement. It is divided into five sections: • legislative action • program developments • industry activity • projected market • revised Navy points of contact Information is current as of 1 August, except as noted.
1. LEGISLATIVE ACTION House/Senate conferees in late July reached a compromise on the FY 1986 defense authorization bill.
The compromise provides defense spending authority of $302.5 billion.
This compares with the administration request for $322.2 billion.
The Senate adopted the conferees' compromise on 30 July. House Democrat leaders put off a decision until September. An appropriations bill is still required to actually fund the program.
Shipbuilding and Conversion The authorization bill provides $10.0 billion for shipbuilding and conversion in FY 1986. This compares with the Administration request for $11.4 billion. Data showing House, Senate and Conference actions are provided in Exhibit 1.
Very little change in the program is imposed by the authorization bill.
The House agreed in conference to accept the Senate reduction of two mine countermeasure ships (MCM).
Four MCM's had been requested in the budget. Congress deferred approval of the lead torpedo range tender proposed for next year. The Senate agreed in conference with the House to add $25 million for strategic sealift. Other changes involve minor funding reductions in specific programs, a general overall program funding cut of $100 million, and transfer of funding from prior years.
Weapons DOD proposed to spend $5.6 billion next year for missiles, torpedoes and other Navy weapon systems. As shown in Exhibit 2 Congress cut several programs by a small percentage— but generally left the procurement plan intact. Additional funding was authorized for Sidewinder and Sidearm missiles. The Senate added $60 million for 150 MK-60 Captor mines—and the House agreed in conference. DOD had not requested funding for Captor mine purchases. As a result of these additions authorized spending for Navy weapons slightly exceeds the DOD budget request.
Other Navy Procurement A budget of $6.6 billion was proposed for Navy electronics and support equipment. House/Senate conferees agreed to authorize $6.0 billion.
As shown in Exhibit 3 some minor changes were made. The House added $12 million to buy eight AN/BLD-1 microwave intercept receivers. Navy had not planned to buy these units until FY 1988. The Senate added $13 million for communications equipment and civil engineering support equipment for the 9th battalion. Navy had not requested this funding. An additional $35 million was authorized the House to purchase 150,000 lowcost sonobuoys and $12 million was added for seashed procurement.
Research and Development DOD proposed an $11.3 billion budget for research, development, test and evaluation programs. Congress authorized $10.1 billion for these programs. A comparison of the budget request and Congressional action is shown in Exhibit 4.
Congress refused to authorize the full budget request in 76 RDT&E programs. It added or increased spending authorization for 14 programs.
Several Navy missile programs cut by the House were partially reinstated by the conferees. The House had refused to authorize development of the advanced surfaceto- air missile (ASAM), the rolling airframe missile (RAM) and the advanced medium range air-to-air missile (AMRAMM). Each of these programs was authorized by conference agreement, but at a lower figure than requested by DOD.
2. PROGRAM DEVELOPMENTS Detail design work has begun on DDG 51, the first T-5 tanker was delivered, and MSC has issued an RFP for contract operation of range instrumentation ships.
DDG 51 Engineering Work Begins At Bath Bath received a $322 million contract on 2 April to build the lead Aegis destroyer. Fabrication is to begin in May 1987. Delivery is scheduled in September 1989. Contract milestones for the DDG 51 are shown in Exhibit 5.
First T-5 Tanker Delivered Tampa delivered Paul Buck, first of five T-5 tankers to Ocean Product Tankers (who has a charter with MSC) in early April. The remaining four ships are due for delivery over the next ten months: Darnell 15 August 1985 Cobb 11 November 1985 Mathieson 10 February 1986 Gianella 12 May 1986 Extensive subcontracting was employed to build the ships and major start-up problems were encountered.
Avondale built the bow and midbody sections. Alabama Drydock built the deckhouses. Stern modules were built at a Florida facility owned by Westinghouse.
Bond restrictions prevented Tampa from using its existing graving dock for new construction. Tampa is understood to have invested $25 million in new facilities to assemble the ships. Yard top management has changed several times since the program began.
MSC Solicits Bids To Operate Two Range Instrumentation Ships The Military Sealift Command has issued a request for proposal to operate the instrumentation ships Observation Island and Redstone for three years. This solicitation is part of a cost comparison study (called an A-76 study) being made under guidelines specified by the Office of Management and Budget.
Prices obtained from prospective contractors will be compared to government operation costs. If found more cost-effective the ships will be switched to contract operation.
Interested firms should contact Frances Gapp at (301) 427-5694.
The solicitation number is N00033- 85-R-4003. Closing date is 30 October 1985.
3. INDUSTRIAL ACTIVITY The U.S. shipbuilding business continues to be driven by Navy work. Competition for available projects is intense.
NASSCO Backlog Down, Prospects Limited As of 30 June, NASSCO's backlog was $547 million, down from $610 million one year ago. Management reports that "prospects for significant additions of new work in the near and midterm appear to be limited." GD To Close Quincy In late July, GD announced plans to close the Quincv shipyard in 1986. The yard employs 4,200 people. Quincy is completing the five ship T-AKX contract it won from MSC in 1982. The final blow appeared to be losing two recent Navy contracts (T-AO and TAGS).
GD to Cut Employment At Electric Boat GD said 700 to 900 jobs (out of 26,000) will be eliminated at the Electric Boat division. Trident and attack submarines are built at this facility. GD management attributed the job reduction to cancellation of submarine contracts in 1981.
Tacoma Skirting Chapter XI At the annual stockholders meeting in July, the new co-chairman of Tacoma Boatbuilding said he "hopes financial and managerial reorganizations underway will enable the concern to avoid filing under Chapter XI of the Federal Bankruptcy Code." Tacoma had a first quarter loss of $4 million on revenue of $26.3 million. Former Rear Admiral E.T. Westfall has been named president of the company, with a $350,000 per year employment contract for five years. The firm is building 12 T-AGOS ships for Navy, seven of which are still under construction.
Ogden to Sell Avondale Ogden in July announced plans to spin off Avondale. A new company will be formed called Avondale Corporation.
Ogden will sell the shipyard and industrial products businesses to an employee stock ownership plan for $375 million in cash and preferred stock. $270 million will be raised by sale of common stock to the ESOP. The remaining $105 million will be raised from convertible preferred stock held by Ogden.
Todd Said On Verge Of Acquisition Todd is actively trying to diversi- fy its business base. At the annual stockholders meeting on 17 July, Todd management indicated progress in acquiring a second core business. The chairman said Todd is now making a financial and business investigation of a specific company with volume of about $100 million.
Bath Employees On Strike A major, potentially lengthy work stoppage brought yard production to a halt at Bath Iron Works at the end of June. The issues involve a proposed wage freeze and reduction in benefits. The strike will delay launching of the CG-51 and impact other new construction and overhaul work in the yard. It is not impacting the DDG 51 at this time, as work is still in the engineering phase.
Marine Transport Awarded Oceanographic Ship Operating Contract MTL received a $79.6 million fixed-price contract with cost reimbursables to operate 12 MSC oceanographic ships. The contract extends over a three-year period.
MTL was one of four bidders for this contract.
Avondale Awarded Three Additional T-AO's In June the yard received a $321 million fixed-price incentive contract to build up to three T-AO 187 fleet oilers. Avondale had already received contracts for four ships in this class. Four shipyards competed for this contract.
Pennship Awarded Two T-AO's In early May Navy awarded a $222.5 million fixed-price-incentive contract to Pennship for two T-AO 187 fleet oilers. The firm is now the second source for this class of ship.
Five firms competed for this contract.
Bethlehem-Sparrows Point Awarded Two T-AGS Navy in late June awarded a $132.8 million fixed-price contract to Bethlehem Steel to build two TAGS oceanographic survey ships. It was one of three bidders for the contract.
Without this work it was hard to see how the yard could survive.
According to industry sources, Bethlehem Steel's offer was 17-25 percent lower than competing bids.
Halter Marine Awarded Six Ship T-AGOS Contract In April Halter received an $85.5 million fixed-price contract to build six ocean surveillance ships. The first 12 ships in this class were contracted to Tacoma Boatbuilding.
Thirteen firms competed for this contract.
4. PROJECTED MARKET The shipbuilding program will continue to throw off business opportunities for many types of companies.
New DOD Industry Forecasts Exhibit 8 of the Complete August Update shows projected demand to be directly or indirectly generated in specific industry sectors by the Navy shipbuilding program. These numbers are based on the FY 1986 budget request and accompanying five year shipbuilding plan. They update data shown on pp. 63-64 in the IMA May report.
Use of These Data Readers should treat these projections with caution. Their accuracy depends on the assumptions used in the I/O modeling technique. It is recommended that a copy of "Defense Purchases: An Introduction to DEIMS" be obtained and studied.
This booklet describes the methodology used to make these forecasts.
It can be obtained from the DOD Office of Industrial Base Assessment, 5203 Leesburg Pike, Falls Church, Virginia 22401.
5. REVISED NAVY POINTS OF CONTACT Two changes have been made in the business-end of the Navy organization and some new names appear among the key contacts.
Naval Material Command Eliminated For years the Naval Material Command has been regarded an unnecessary organization layer. In April the issue was resolved by its elimination.
Many of the Material Command functions were absorbed into a new organization—the Office of Naval Acquisition Support. Each of the five systems commanders now report directly to the Chief of Naval Operations for progam execution, and to the Secretary of Navy for policy.
NAVELEX Renamed The Naval Electronic Systems Command was renamed the Space and Naval Warfare Command.
New NAVSEA and NAVELEX Commanders VAdm. Rowden was named commander of NAVSEA. He had commanded the MSC. VAdm.
Clark was selected to head the Space and Naval Warfare Command.
He had headed the Strategic Systems Program Office.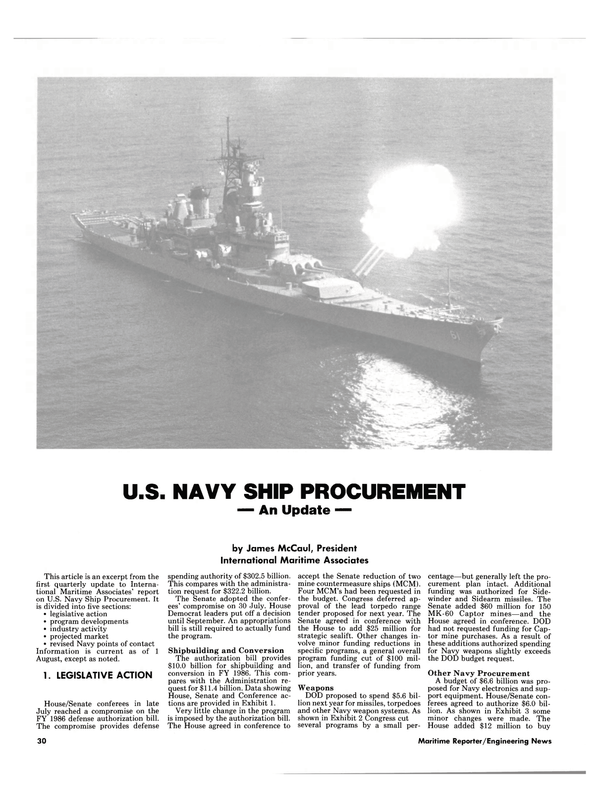 Read U.S. NAVY SHIP PROCUREMENT in Pdf, Flash or Html5 edition of September 1985 Maritime Reporter
Other stories from September 1985 issue
Content