Gladding-Hearn Shipbuilding To Build Large, Fast Passenger Catamarans On The East Coast
Matt Nichols, president of Nichols Brothers Boat Builders, Inc., and George Duclos, president of the Duclos Corporation that operates Gladding-Hearn Shipbuilding, have announced an agreement under which the two companies will share the task of building large, fast, passenger-carrying catamarans in the U.S.
Nichols Brothers, located on Whidbey Island, Wash., holds the U.S. license to build catamarans designed by International Catamarans Pty., Ltd., of Sydney, Australia.
Under a sublicensing agreement, Gladding-Hearn will join with Nichols Brothers to promote and build the catamarans in the U.S. Gladding- Hearn, located in Somerset, Mass., will build those vessels that are headed for the East Coast and contiguous areas. Nichols Brothers will build those vessels generally destined for the West Coast, Alaska, and Hawaii.
Nichols Brothers' catamarans are now in service along the U.S. West Coast and in Alaska. Recent deliveries include the 400-passenger, 30- knot CataMarin, now in scheduled commuter service, and the Gold Rush, in excursion service, both in San Francisco Bay. Nichols Brothers will christen a similar vessel in this month whose service will be split between San Diego and southeast Alaska. A catamaran designed to carry overnight diving parties to the Bahamas is now under construction in Florida. Nichols has also negotiated a contract for a 30-meter catamaran fitted with cruising accommodations, the seventh catamaran ordered since the program began in 1984.
The line of catamarans is based on designs developed by International Catamarans. The Australian firm some years ago originated its basic design for vessels in ferry and excursion operations in several areas of Australia, including the Great Barrier Reef. In addition to passenger carrying versions, the basic catamaran design has been applied to work and utility craft, fire and patrol boats, and offeshore oil well service boats.
Catamarans designed by International Catamarans span a range between 12-meter utility boats to boats longer than 30 meters and capable of carrying upwards of 500 passengers. They have also been designed for economy and simplicity of operation, maintenance, and overhaul.
Among other features, passenger cabins are mounted to the twin hulls with the use of rubber and steel shock connections. This method sharply reduces noise and vibration.
The symmetrical, fine displacement hulls have been tested for speeds up to 40 knots, and for operation in heavy sea states.
Gladding-Hearn was founded in Massachusetts in 1955, with George Duclos as one of the founding partners. Over the years, the yard has specilized in aluminum fabrication, according to Mr. Duclos.
"We feel particularly fortunate in associating with another, strongly family-oriented enterprise in the Nichols Brothers firm," Mr. Duclos said. Mr. Duclos's wife, Pauline, is office manager.
Their son, John, a graduate of the Kings Point Maritime Academy and holder of a master's degree in naval architecture from the University of Michigan, manages the shipyard's operation.
Mr. Duclos said that about half of his firm's present business involves 60-foot aluminum yachts. He said that the yard will bring its experience in fine yacht finishing to building passenger-type catamarans.
Galdding-Hearn also builds aluminum structures used on an OEM basis by Boston Whalers.
The yard has made a name for itself with pilot boats, recently delivering the Sandy Hook Pilot Boat.
Mr. Duclos said that two similar boats are under construction in the yard—a 55-foot search and rescue boat for Bermuda, and a 52-foot pilot boat for the Corpus Christi Pilots in Texas.
Other recent passenger vessels turned out by Gladding-Hearn include a vessel operating in Newport, R.I., and a vessel operated by Cornell University, New York.
For further information, Circle 17 on Reader Service Card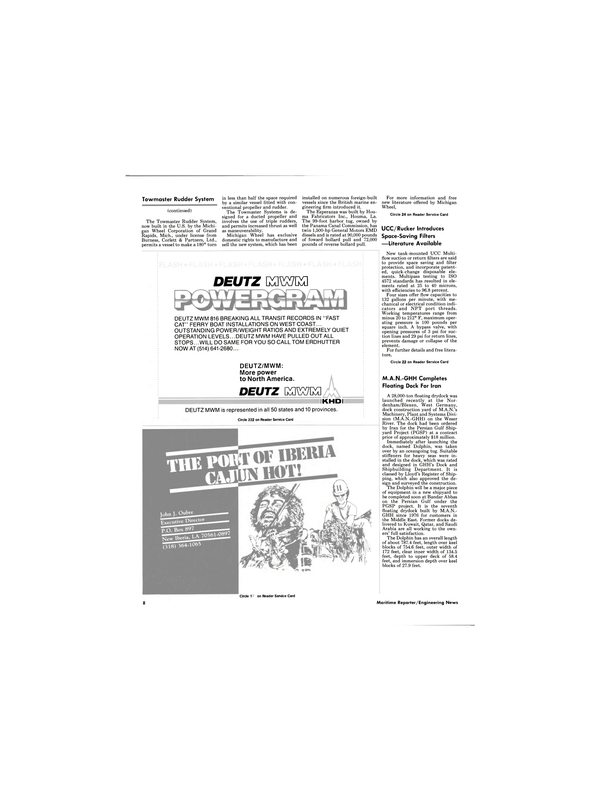 Read Gladding-Hearn Shipbuilding To Build Large, Fast Passenger Catamarans On The East Coast in Pdf, Flash or Html5 edition of January 1986 Maritime Reporter
Other stories from January 1986 issue
Content