OUTSTANDING INLAND/OFFSHORE VESSELS AND RIGS OF 1985
A portfolio of some important inland and offshore shallow-draft vessels and rigs built during 1985—selected for their high standards of design or performance ANDREW FLETCHER Offshore Shipbuilding The passenger vessel Andrew Fletcher was delivered during 1985 by Offshore Shipbuilding of Palatka, Fla. Designed for inland waters, the new vessel is being operated on corporate and other charters as well as excursion trips by Seaport Line out of a newly refurbished pier at South Street Seaport in New York City. She is approved by the U.S.
Coast Guard for carrying 400 passengers, and is registered under Chapter T Rules for passenger vessels.
Propulsion is by two side paddlewheels, each driven by a GM Detroit Diesel engine via hydraulic pump and hydraulic motor. The hydraulic system has cross-connectors, with an automatic control valve in the event of an engine failure. Direction of rotation of the paddlewheels is controlled from the pilothouse or port and starboard stations by reversing the speed and flow direction of the pumps. Because of the midship location of the paddlewheels port and starboard as well as a steering rudder aft, the vessel has a high degree of maneuverability.
For further information on the Andrew Fletcher's operations, contact Seaport Line, 19 Fulton Street, New York, NY 10038; (212) 406- 3434.
BAY QUEEN Blount Marine Blount Marine Corporation of Warren, R.I., early this year completed the dinner/cruise vessel Bay Queen, designed to accommodate dinner dances, luncheons, private charters, Bay Island cruises, and other day and evening tours on Narrangansett Bay.
Owned by Blount Leasing Corporation, the new Bay Queen is operated by Rentacruise, Inc., also of Warren. She replaces the Bay Queen built in 1984, which has been sold to interests in Toledo, Ohio, and renamed Arawana Queen.
The new vessel is powered by two Detroit Diesel 8V92 engines and has two 99-kw Detroit/Delco generators.
Admeasuring just under 100 tons, she can attain a speed of 11 knots.
Capable of seating more than 450 at dinner, the Bay Queen is certified by the U.S. Coast Guard to carry a maximum of 600 passengers. With an overall length of 145 feet, beam of 32 feet 4 inches, and depth of 9 feet 4 inches, the vessel has two fully enclosed decks and a third open deck that provides unrestricted viewing. The bridge deck, which has exterior seating, also affords passengers a panoramic view.
The vessel can accommodate two separate charter groups simulta- exterior seating, also affords passengers a panoramic view.
The vessel can accommodate two separate charter groups simultaneously, and provides a second deck embarkation point made possible by a Blount-designed bow landing system.
For passenger entertainment, a stage and dance floor are installed on the second deck.
CATALINA EXPRESS Westport Shipyard The fiberglass passenger vessel Catalina Express has been delivered by Westport Shipyard, Inc. of Westport, Wash., to Catalina Channel Express Lines for service between Los Angeles and Catalina Island.
The owner, already operating other Westport-built craft, serves Avalon and Two Harbors on the resort island in southern California. The new boat can carry 149 passengers at speeds of up to 30 knots.
Main propulsion is provided by two Detroit Diesel 12V92TA engines, each rated 850 bhp at 2,100 rpm, driving Michigan Wheel propellers via Twin Disc/Niigata reduction gears. A 25-hp Wesmar bow thruster aids in dockside maneuvering.
Electric power is provided by a 12-kw Northern Lights generator set. Spencer Fluid Power supplied the hydraulic system, which is arranged so that an additional hydraulically driven generator can be added to the system.
The deckhouse and interior arrangements include airline type seating in the main cabin. A VIP lounge is installed aft in the wheelhouse, and the top deck has open seating.
The vessel's navigation electronics, suppled by Kettenburg Marine, include two Furuno radars, Wagner autopilot and rudder angle indicator, MicroLogic Loran C, Impulse depth sounder and speed log, and Ritchie compass.
CATAMARIN Nichols Bros.
Nichols Bros. Boat Builders of Freeland (Whidbey Island), Wash., last year completed the 85-foot catamaran named Catamarin for Harbor Carriers of San Francisco, a subsidiary of Crowley Maritime. The owner is using the 30-knot, 400-passenger vessel in commuter and charter service between San Francisco and points in Marin County across the Bay. She was the third in a series of catamarans built by Nichols based on designs originated by International Catamarans Pty.
Ltd. of Australia. The yard holds the exclusive license for production of these craft in North America.
Main propulsion for the Catamarin is provided by twin KHD Deutz B/AM 816 diesels, driving Coolidge propellers via Reintjes WVS 832 reduction gears supplied by Karl Senner, Inc. of New Orleans. Electric power is provided by two 50-kw generators supplied by Alaska Diesel Electric of Seattle.
Other companies that supplied equipment included Harris Electric and PSI for electronics, Systems Engineering for propulsion controls, Hough Marine for the steering system, Cascade Machinery and Pacific Pump for pumps, and Fisheries Supply Company for lifesaving gear and marine hardware.
The Haller Company supplied valves, North Coast Electric motor starters, Hardware Specialties for wiring and light fixtures, Everett Steel for anchor and rope, Pacific Coast Marine for doors, and Alaskan Copper and Brass for piping.
Nichols Bros, last year signed a sublicense agreement with Atlantic and Gulf Boatbuilding of Fort Lauderdale, Fla., for construction of a catamaran of the Australian design.
The 72-foot vessel for Bottom Time Adventures will contain staterooms and be used for overnight trips to the Bahamas on diving expeditions.
CHALLENGER 27 Boston Whaler Boston Whaler, Inc. of Rockland, Mass., continues to expand its presence in the commercial market with the introduction of the Challenger 27. This model follows a smaller 25- foot version, where aluminum topsides are joined to Whaler's fiberglass- reinforced hulls.
The Challenger's superstructure was designed by C. Raymond Hunt Associates of Boston, and built by Gladding-Hearn Shipbuilding of Somerset, Mass. Boston Whaler completes the vessel with the installation of engines, electronics, and other gear to suit individual owners' requirements.
Challenger hulls are the proven 27-foot design, more than 200 of which are currently in offshore use.
Extra fiberglass has been added to strengthen the boat for commercial and military service. Like other Boston Whalers, the Challenger uses a foam core method of construction providing 8,000 pounds of reserve buoyancy, even with all compartments flooded.
The cockpit floor, cabin assembly, and bulkheads are constructed of Xfi-inch 5086 aluminum. Roof structures are Vi-inch aluminum plate, reinforced to accept radars and mast assemblies. Painted aluminum surfaces are finished with International's Interthane.
Electronics aboard the Challenger include a Furuno 803D radar, Furuno FCV 501 color video sounder, two Raytheon Ray 78 radios, Northstar 800 Loran C, a Datamarine S200 DL digital depth finder, and a Datamarine S100KL speed log.
The specially built outboards were supplied by Johnson Motors, and utilize a 160-cubic-inch powerhead mated to a heavy-duty lower gear case. Propellers are 15- by 16- inch stainless steel, which have been double-capped. Engines turn at 5,500 rpm at full throttle and cruise at 4,400 rpm. Horsepower of each engine is 105. Optional power plants for the Challenger 27 include OMC Seadrives, Mercruiser V-8 inboards, and Volvo Penta diesels.
Cruising speeds range from 22 to 27 knots, and the boat has a top speed of 38 knots. Standard fuel capacity is 173 gallons in one centerline tank, providing an operating radius of 200 miles. Additional fuel can be carried in two 70-gallon wing tanks.
COLONEL Moss Point Marine Designed to provide historical excursions and dinner cruises on Galveston Bay, the 152-foot sternwheeler Colonel was delivered by Moss Point Marine, Inc. of Escatawpa, Miss., to the Colonel Museum, Inc. of Galveston, Texas.
The Colonel has a beam of 40 feet and depth of 8 feet 6 inches. She is powered by two Caterpillar 3408 diesel engines, each with an output of 365 bhp at 1,800 rpm. They drive stainless steel propellers via Caterpillar 7221 reverse/reduction gears.
The EMI electrohydraulic steering system has control stations at three locations. Maneuvering is enhanced by a Propulsion Systems bow thruster.
To provide for passenger comfort year-round, 56 tons of Carrier air conditioning and heating equipment is installed. Electric power for the air conditioning and other ship's services is provided by Caterpillar 3306 diesels driving two Delco 135- kw generators.
The Colonel can accommodate up to 500 passengers for dinner, and is outfitted with catering facilities, bars, dance floors, and bandstands.
Her two main salons, the Galveston Room and the Texas Room, each seat 250 diners and can host two separate parties. Large windows afford unobstructed views, while allowing more passengers to use them.
The vessel also has a large, open promenade deck at the upper level.
The new sternwheeler is operated by New Orleans Paddlewheels (Texas) Inc., whose parent company operates the Creole Queen in New Orleans.
FARALLON Bollinger Shipyard Bollinger Machine Shop & Shipyard, Inc. of Lockport, La., recently delivered the patrol boat Farallon (WPB-1301), first of 16 vessels of the Island Class the yard is building under an $80-million contract awarded by the U.S. Coast Guard.
These boats will be used for offshore patrol work involving law enforcement, surveillance and boardings, and when necessary, search and rescue.
Bollinger offered the Coast Guard a design that had been developed bv Vosper-Thornycroft (UK) Ltd. Differences between the original Vosper design and the USCG vessels include the deckhouse and internal configuration, which were altered to meet CG requirements.
Built with a steel hull and aluminum deck and superstructure, the Farallon has an overall length of 110 feet, beam of 21 feet, and depth of 7.3 feet. She is powered by twin Paxman Valenta 16-cylinder diesel engines, each rated 3,000 bhp continuous and 4,000 bhp sprint. However, they will be rack-limited to 2,900 bhp. The 32 engines for the Island Class vessels, plus 16 spare engines, are being supplied through Paxman's U.S. distributor, Alco Power Inc.
These boats have a continuous operating speed of 26 knots. The main propulsion engines drive through ZF reverse/reduction gears.
Electric power is provided by two 99-kw generators driven by Caterpillar 3304T diesel engines.
The superstructure features both open and enclosed steering positions, and a separate communications center. The sophisticated electronic gear is mostly governmentfurnished.
Commercial equipment includes: a Raytheon radar with ARPA and a Raynav 750 Loran C; a Tracor model 11 Omega receiver; and Sperry gyrocompass, autopilot, and doppler log. Also aboard are Sunair HF transceivers and receiver, two Triton and one Regency VHF transceivers. The MF/HF direction finder was supplied by Sitex.
Accommodations are arranged with one section aft of the engine room, and the galley, mess, and petty officers and crew quarters forward of it. Officers' cabins are in the deckhouse. Above the weather deck is one level of superstructure with the wheelhouse above it. Manning calls for two officers, two petty officers, and 12 enlisted men (with space for two more).
GENERAL JACKSON Jeffboat Jeffboat, Incorporated of Jeffersonville, Ind., at mid-85 delivered the sternwheeler General Jackson to Opryland USA Inc. of Nashville, Tenn. The 274-foot vessel can accommodate up to 700 passengers for banquet seating and more than 1,000 for theater-style presentations.
The showboat, named for the first steamboat to operate on the Cumberland River, will cruise from Opryland, linking that entertainment complex with downtown Nashville. The sternwheeler makes daily excursions to the Old Hickory and Cheatam Dams on the Cumberland River, offering passengers the experience of an authentic southern steamboat trip. The cruises include entertainment, meals, and sightseeing from the large open deck areas.
With a beam of 62 feet, the vessel is constructed with four decks. Main and upper decks provide access to the theater and banquet room. The theater auditorium is two decks high with a balcony at the mid-level.
Below the theater in the hold is a storage area with a scissors lift to transport chairs and tables utilized during the banquet/theater arrangement.
Elegant fixtures, bright Persian carpeting, and brass railings create a turn-of-the-century atmosphere.
The Texas Deck incorporates a gift shop, cocktail lounge, snack bar, and crew quarters. The Hurricane Deck is designed as a passenger observation area and is fitted with a steam caliope.
The propulsion system of the General Jackson is a stern paddlewheel driven through a three-stage Morse reduction unit. The dieselelectric plant consists of two Caterpillar 3512 diesels driving KATO 4P6-1825 alternating-current generators, which then drive variablespeed General Electric DC motors through silicon-controlled rectrifiers.
Ship's service power is also provided by GE's SCR system.
The power system for the specialized electronic equipment aboard the vessel incorporates a KATO model 25L16060 motor-generator set. This power specifically serves the theater audio equipment, entertainment system, and computers for lighting controls.
An EMI model DE25 electrohydraulic steering system with pilothouse controls located at three stations on the bridge will steer the vessel through three flanking rudders and three monkey rudders. To assist in maneuvering, a Michigan/ Jastram model 20 200-hp bow thruster is installed.
The General Jackson, at 1,500 grt, is the second largest sternwheeler in the world, the largest being the Jeffboat- built Mississippi Queen.
GULF SERVICE Quality Shipyards The first of Zapata Gulf Marine Corporation's "super-size" anchorhandling tug/supply vessels, the Gulf Service, was delivered recently by Quality Shipyards in Houma, La.
With an overall length of 222 feet, beam of 46 feet, and depth of 20 feet, the U.S.-flag vessel is one of the biggest in the offshore marine service industry.
The vessel's innovative "father/ son" propulsion plant features four Stork-Werkspoor diesels of two different sizes for maximum power, fuel efficiency, and reliability. The engines are SWDiesel's 8SW280 models, each developing 3,200 bhp at 1,000 rpm; and two 6SW280 models, each with an output of 2,400 bhp at 1,000 rpm. When needed for heavy-duty anchor-handling and towing duties, the full output of 11,200 bhp will be used. During normal supply functions, the vessel will operate on only two engines, reducing fuel consumption to the equivalent of a 3,000-bhp supply boat.
The vessel is fitted with controllable- pitch propellers in nozzles, and a 720-hp bow thruster powered by a Detroit Diesel 16-V-92 engine. Twin Becker rudders are operated independently for better maneuverability and station-keeping.
The Gulf Service is powered and equipped to moor new-generation semisubmersible rigs as far north as 60 degrees latitude in the Bering Sea. Certified to Ice Class A by the American Bureau of Shipping, she is built with special ice-strengthening said to exceed that of any other anchor-handling tug/supply vessel under the U.S. flag.
The anchor-handling system minimizes rig mooring time and enables the vessel to transfer the rig's mooring system. The vessel's system includes chain lockers and pendant storage reels, with the capacity to store more than 12,000 feet of 3-inch anchor chain and 12,000 feet of 21 a-inch pendant wire.
The towing winch is a Fritz-Culver low-pressure, hydraulic, doubledrum waterfall type, with 586,000 pounds of line pull at stall, and a capacity for 5,900 feet of 212-inch cable on each drum. Other deck machinery includes two 10-ton electrohydraulic tuggers above deck and two 5-ton units below deck, and two 10-ton hydraulic capstans.
"HARVEST A' RIG" McDermott Shipyards McDermott Shipyards in New Iberia, La., at mid-85 completed construction of a specialized, twinpackaged drilling rig for Helmerich & Payne International Drilling Company, for contract drilling on Texaco's Harvest " A " platform in the Santa Maria Basin offshore California.
The rig was disassembled at the McDermott yard and shipped to the West Coast by rail.
The ability to disassemble a rig in modules small enough to ship by rail represents an advantage for the owner and adds a flexibility lacking in typical modular rig packages. As these packaged rigs can be broken down into smaller components than conventional modules, they can be shipped by rail or truck. The smaller packages can be handled without the heavy equipment modules require; the ordinary lifting equipment available on platforms can handle them. On the other hand, if using heavy-lift equipment is desirable, the packages can be consolidated to make full use of the lifting capacity available.
The complete rig can be assembled with approximately 50 lifts using platform-mounted, materialhandling cranes to lift packages of 40 tons or less, and about 10 lifts, depending upon completeness of package consolidation, using a derrick barge to lift units of up to 500 tons.
The Helmerich & Payne rig was designed by Hudson Engineering, a McDermott subsidiary located in Lafayette, La. The complete structure, which weighs about 1,000 tons, was designed to meet criteria for the Zone 4 seismic area and 100-year storm, as defined by API RP2A.
Subassemblies are equipped with individual lifting eyes, and are bolted together using more than 3,000 bolts made of steel meeting these seismic and storm requirements.
INDEPENDENCE Halter-Moss Point The rocket booster recovery vessel Independence, built by the Moss Point, Miss., shipyard of Halter Marine, Inc., was delivered at mid-85 to Lockheed Space and Operations Company, for whom the vessel was constructed under a contract from Lockheed Shipbuilding. The 200- foot Independence will perform the key role in the recovery of rocket boosters launched from Vandenberg Air Force Base in California as part of the space shuttle program.
Main propulsion is provided by two Cummins KTA50-M diesel engines, each rated at 1,250 bhp at 1,850 rpm, driving Lips propellers via Niigata reverse/reduction gears and Halter shafting. Two other Cummins diesels, model KTA19-M, power the Elliot White Gill bow and stern thrusters.
The vessel is fully equipped to handle all necessary diving requirements; in addition to complete diving equipment, she is fitted with air refilling systems and a hyperbaric decompression chamber. As a safety percaution, the bow and stern thrusters will be used for propulsion when divers are in the water.
Exceptionally complete electronics systems for navigation and communications have been installed.
These include Magnavox satellite navigation and Loran systems, Dec- ca position plotter, two Krupp Atlas radars, Simrad depth sounder and ADF, Alden weather facsimile recorder, -Junger speed log, Magnavox satellite communications system, King HF/SSB radio, and Texas Instruments VHF radio.
The divers aboard the Independence will be retrieving partially submerged rocket boosters for reuse on later missions. The boosters separate after the space shuttle has reached a certain altitude and float down to the ocean on parachutes.
Divers will quickly connect special air hoses to the boosters and, using powerful air compressors aboard the vessel, purge the boosters of any water and refloat them.
MISSOURI RIVER QUEEN Marine Builders The 600-passenger excursion vessel Missouri River Queen was delivered by Marine Builders, Inc. of Utica, Ind., to Richard Lynn of Kansas City, Mo. The new boat is operating daily excursion trips along the Missouri River in the Kansas City area.
The vessel has an overall length of 95 feet, beam of 31 feet, depth of 6' 2 feet, and draft of 31 •> feet. Main propulsion is provided by two Cummins NT855M diesel engines, each rated 290 bhp at 1,950 rpm, driving Columbian Bronze four-bladed, stainless steel propellers via Twin Disc reduction gears.
The engines are cooled by Fernstrum Gridcoolers mounted on the hull. The engine controls, designed by Marine Builders, feature full pilothouse instrumentation including low oil pressure, high water temperature, and gear oil pressure alarms. Steering controls are located on each wing of the bridge as well as in the wheelhouse.
Electric power is provided by two 85-kw I.E.C. model G415GAD generators driven by Cummins 6BT5.9GC diesel engines.
ORIOLE Aluminum Boats The 115-foot crew/utility vessel Oriole, built by Aluminum Boats.
Inc. of Crown Point, La., was delivered recently to A&P Boat Rentals of Cut Off, La. The all-aluminum, triple-screw boat can haul 63 persons, 30 long tons of cargo, and 12,000 gallons of rig water. She can also light off-ship tires using a 700- gpm monitor mounted aft. When not carrying rig water, the vessel can haul up to 80 tons of cargo on her spacious aft deck.
The Oriole has a beam of 24 feet and depth of 9 : -1 feet. She is powered by three Detroit Diesel 12V71TI engines developing a total of 1,530 bhp. They drive Federal 36- inch propellers via Twin Disc MG- 514 reverse/ reduction gears with a ratio of 2.5:1. Two Delco 40-kw generators driven by Detroit 3-71 diesels provide electric power for ship's service and wheelhouse electronics.
Compressed air for starting the main and generator engines, and for the Morse engine control system, is provided by two Qunicy 208 VAC units. A Crane/Deming pressure set supplies the galley, heads, shower, drinking fountain, and deck and en- gine room taps. A Raritan masserator sanitation system is installed for pollution control.
The pilothouse is equipped with two electro-hydraulic steering stations, with one facing aft for backing down on rigs. Stainless steel hydraulic tubing is used throughout the boat.
The off-ship firefighting system, unusual for a crewboat, consists of a keel-cooled Detroit Diesel 3.53 engine driving a Hale 700-gpm pump at 150 psi feeding an Elkhart 292 monitor. A feature of this system is its portability; when not in use the monitor can be stowed to avoid damage during cargo-handling operations.
It features an easy-on/easyoff coupler to allow quick response to any emergency.
OTTO CANDIES Halter-Lockport The Lockport. La., shipyard of Halter Marine, Inc. recently delivered the innovative triple-screw tug Otto Candies, first of two ordered by Otto Candies, Inc. of Des Allemands, La. The 140-foot, $5-million vessel, described as a go-anywhere, do-anything tug, combines conventional and azimuth drive technology in one boat.
The Otto Candies, with outboard Niigata Z-Peller drive units and conventional center-line propeller, all in nozzles, will provide her owner with both domestic and international towing capabilities. This design allows for routine engine maintenance even when carrying payloads by shutting down either outboard engine while running the center-line engine. In any condition, the vessel can continue under way with excellent maneuverability.
With the outboard Z-Pellers in nozzles, the joystick control may be moved forward, aft, port, or starboard and the vessel will respond almost instantly in any direction.
This system will allow for the handling of tremendous loads in the tightest of spots, eliminating the need for multiple tugs in many offshore applications.
The Candies tugboat has a beam of 42 feet, depth of 20 feet, and loaded draft of 19 feet. She is powered by three GM Electro-Motive Division 16-645 E6 diesels with a total output of 5,850 bhp at 900 rpm. The centerline engine has a Reintjes WAV-2250 reduction gear supplied by Karl Senner, Inc. of New Orleans.
The towing winch is a Markey TDSDS-36 driven by a GM Detroit Diesel 8V-92 engine. The hydraulic windlass was also supplied by Markey.
The firefighting system includes a 2,000-gpm pump and two monitors—a 1,000-gpm unit with local control and a remote-controlled 1,000-gpm unit. Fuel capacity is approximately 85,000 gallons and fresh water 35,000 gallons. Accommodations are provided for a crew of 14.
Without the house top, the Otto Candies at launching weighed 500 tons; a comparable conventional tug would weight some 150 tons less at this stage. The difference is Ice Class "C" construction and a heavier stern that contribute to both stability and versatility.
OUACHITA Twin City Shipyard The 3,850-cubic-yard trailing hopper dredge Ouachita was completed in late 1985 by Twin City Shipyard (TCS) in St. Paul, Minn., and delivered to Gulf Coast Trailing Company of Kenner, La., a joint venture of T.L -James & Company, Hollandsche Aanneming Maatschappy, and Dredging International.
The new dredge has a BP length of 278 feet, beam of 55 feet, depth of 24.5 feet, and draft of about 21.3 feet. Main propulsion is provided by two Deutz KHD S/BV16M628 diesels, each rated 4,270 bhp at 1,000 rpm, driving Lips propellers via Philadelphia Gear reduction gears.
A Schottel bow thruster is installed to enhance maneuvering. The steering system was supplied by Wagner Engineering, and shaft bearings by Waukesha. Caterpillar generators provide electric power.
Designed by TCS, the Ouachita was constructed using the latest modular and zone construction techniques. Modules weighing up to 125 tons are fabricated in the yard's large erection hall, moved out by hydraulic walkers, and lifted into place using a heavy-lift Ring Horse crane.
Twin City has become one of the leading U.S. shipyards in the design and construction of hopper dredges and dump scows, in addition to its standard line of hopper barges, deck barges, and Portabarges™.
RACE POINT Eastern Marine Eastern Marine, Inc. of Panama City, Fla., recently delivered the passenger/vehicle ferry Race Point to the Fishers Mand Ferry District, Fishers Island, N.Y. Designed by the naval architecture and marine engineering firm of SAS Designers in Mobile, the ferry has an overall length of 162 feet, beam of 33 feet, depth of about 10 feet, and loaded draft of approximately 7.5 feet.
The Race Point is powered by twin Caterpillar 3412T diesel engines each with an output of 540 bhp at 1,800 rpm, driving Columbian propellers via Twin Disc MG 518 reverse/reduction gears and Armco Aquamet 22 stainless steel propeller shafts. Two PSI bow thrusters are driven by Detroit 6-71 diesels. Electric power is produced by two 20-kw generators powered by Detroit 2-71 engines.
The vessel will operate primarily between Fishers Island and New London, Conn, in all types of weather.
She meets all the applicable regulations of the U.S. Coast Guard, the Public Health Service, and the Environmental Protection Administration, as well as New York State rules for operation on lakes, bays, and sounds. The ferry has a capacity of four 35-ton trucks or a mixture of smaller trucks and cars, and a maximum of 250 passengers. Diesel fuel capacity is 10,000 gallons, and 500 gallons of fresh water. Speed when half loaded is approximately 11 knots.
Eastern Marine is engaged in the design and construction of cruise vessels, ferries, inland and offshore tugs, barges, offshore support vessels, commercial fishing boats, and specialized military and other government vessels.
ROWAN GORILLA III Marathon Built by the Vicksburg, Miss., yard of Marathon LeTourneau for Rowan Companies, Inc. of Houston, the drilling rig Rowan Gorilla III left Belle Chasse, La., in 1985 under tow of the 22,000-bhp oceangoing tug Smit London for the 2,000-mile trip to offshore Nova Scotia, Canada.
During the voyage the tug received propulsion assistance from the operation of the rig's twin 112- inch propellers in Kort nozzles driven by eight electric motors with 6,800-hp total output.
The new unit is the third in a series of the largest self-elevating jackups built by Marathon LeTourneau Offshore Company for Rowan.
They are of a new and heavier class intended to drill up to 30,000 feet in water depths up to 328 feet in any ice-free hostile environment in the world. In less hostile environments, they are capable of drilling in water depths of more than 400 feet.
These 15,000-ton rigs require twice the amount of fabricated steel used in the previously largest jackups.
At 297 feet by 292 feet, the Gorilla Class rigs are nearly 40 percent bigger than the Marathon 116 Class jackups.
SANDY HOOK Gladding-Hearn The Sandy Hook Pilots Association of New York and New Jersey recently took delivery of the 64-foot dispatch boat Sandy Hook. The allaluminum, twin-screw vessel was built by Gladding-Hearn Shipbuilding/ The Duclos Corporation of Somerset, Mass., and designed by C.
Raymond Hunt Associates of Boston with a deep " V " hull.
The new vessel is powered by two M.A.N.-B&W D2452 V-12 diesel engines, each developing 545 bhp at 1,800 rpm, providing a top speed of 24 knots and cruising speed of 20 knots. The power train includes Columbian Tetradyne propellers, Armco Aquamet-22 shafting, and L&S Marine reverse/reduction gears with a ratio of 2:1.
Topside, the Sandy Hook has a spacious midships cabin divided into pilothouse and salon areas.
Both are electric baseboard heated and fully air conditioned with Marine Air Systems equipment. In the well-equipped pilothouse, the center helm has a vertically mounted, 30-inch destroyer type wheel controlling a Hynautic hydraulic steering system. Lexan skylights over the helm area and double-hung windows in the aft bulkhead provide added ventilation when the air conditioning is not in use.
The salon area provides a roomy and comfortable space for commuting pilots. Six reclining chairs on a raised platform occupy the starboard side, and two more are located forward on the port side. Windows and ports in the salon are of tinted glass.
Below-deck quarters offer accommodations for 10, with six bunks in the midships area and four bunks forward. There are two toilet compartments, one of which includes a shower, located between the berthing spaces.
On deck, walkways from the engine room forward, as well as handrails from the cabin doors forward, are hot-water-heated for safety in winter weather. Hull guards include Johnson 7-inch-diameter tendering and slanted strakes of D-section rubber.
SANTA CRUZ Hope/Progressive The 67-foot patrol boat Santa Cruz de la Sierra was delivered during 1985 by the Hope/Progressive shipyard in Houma, La. The dieselpowered vessel, ordered by the Naval Forces of the Republic of Bolivia, was built under contract with Napco International of Minneapolis, an international marketing firm that supplies a full line of defenserelated products to the U.S. Government and the governments of more than 60 countries around the world.
Hope/Progressive is an established group of companies specializing in fabrication of offshore structures, oilfield equipment, and living quarters modules, and in construc tion of high-performance aluminum vessels.
Main propulsion for the Bolivian Navy boat is provided by twin Detroit Diesel engines driving Michigan propellers via Twin Disc reduc- tion gears. The alarm system was provided by E.M.T. Electronics.
Electric power is supplied by two generators driven by Detroit engines.
Electronics include Furuno radar, Cybernet VHF/FM radio, Impulse depth sounder, Cybernet loudhailer, and Hose-McCann sound-powered telephones. The coatings system is by Glidden, and air conditioning by Carrier.
SPEED TIDE Bell Halter Tidewater Marine Service, the marine subsidiary of Tidewater, Inc.
of New Orleans, recently took delivery of the Speed Tide, a 110-foot Surface Effect Ship (SES) on longterm charter from the vessel's owner and builder, Bell Halter, Inc., also of New Orleans.
As this vessel represents a new dimension in offshore support services for Tidewater, its performance will be closely monitored and evaluated in order to determine the feasibility of adding equipment of this type to the Tidewater fleet in the future. The new vessel will work in the Gulf of Suez for the Gulf of Suez Petroleum Company, a joint venture of Egypt's national company and Amoco.
The Speed Tide's principal characteristic is that it is air-supported, with catamaran type, rigid side hulls. A cushion of air trapped between the side hulls and flexible bow and stern seals lifts a large part of the side hulls clear of the water to reduce drag, thereby producing greater efficiency and higher speed.
The lower parts of the side hulls remain in the water to aid in stability and maneuverability.
The SES is powered by twin Detroit Diesel 16V149TIB engines that develop 1,650 bhp each and produce a cruising speed of 33 knots. The two Detroit 8V92 lift fan engines each have an output of 350 bhp and create the air cushion for the vessel.
The Speed Tide will deliver support crews and supplies to drilling rigs and production platforms within a 50-mile radius in the Gulf of Suez, consuming roughly the same amount of fuel as a conventional crewboat on a per-mile basis.
"TWR CLASS" Marinette Marine The first of 10 Torpedo Weapons Retrievers (TWR) under contract at Marinette Marine Corporation in Marinette, Wise., departed the shipyard recently for delivery to the U.S. Navy's Naval Sea Systems Command in Charleston, S.C.
The TWR Class is an entirely new design developed by Marinette in cooperation with the Navy to meet stringent mission requirements.
The new vessels will replace the aging TWRs now in service. They are used by the Navy for recovering spent torpedoes, missiles, small drones, and mobile targets fired during weapons systems tests of all submarines and surface combatant ships. The new TWRs will be capable of staying on station for a week in support of these tests; the smaller existing boats have to return to base at night and return to the test site the next day.
The new TWR is 120 feet long with a beam of 25 feet, depth of 12 feet, and an approximate displacement of 213 tons. The vessel is allsteel construction with 2,000 bhp of propulsion power on twin shafts driving fixed-pitch propellers. It has a design speed of 16 knots, range of 1,700 nautical miles, and accommodations for a crew of up to 18 men.
WALTER D. JOHNSON Keith A. Record The 42-foot, 50-ton pushboat Walter D. Johnson, built by the Keith A. Record shipyard of Portland, Ore., for Johnson Bros. Corportion, is performing a demanding job on the Columbia River—that of spotting bridge construction barges in tight quarters and rapid river currents For this tough assignment, the Minnesota-based owner selected twin Cummins KT19-M diesel engines for main propulsion. Each of these six-cylinder turbocharged engines develops 510 bhp at an intermittent rating of 2,100 rpm. Most pushboats of this size do not have this much horsepower, but the owner wanted reliable propulsion, with plenty of power in reserve, for the variety of bridge-building functions it is performing, including construction of cofferdams, maneuvering crane barges, and transporting cement trucks on a service barge.
Johnson has a $16-million contract to build a 3,365-foot-long bridge across the Columbia River at Umatilla, Ore.
The vessel has a beam of 18 feet, depth of 7 feet, and operating draft of 6 feet. Operator eye level in the pilothouse is 25 feet above the waterline. Each Cummins engine drives a stainless steel propeller supplied by HDF Propellers of Seattle. Air controls are American Standard, and the hydraulic steering system, making use of Parker cylinders, valves, and pumps, was supplied by Western Fluid Power of Portland.
The main engines are cooled by a Fernstrum keel cooling system that is mounted on the sides of the hull. Fuel filters are by Racos and mufflers by Harco. A 20-kw Northern Lights generator was supplied by Alaska Diesel Electric of Seattle.
Rodgers Marine Electronics of Portland supplied the Raytheon radar, Standard depth sounder and VHF radio, and Horizon loudhailer. Other suppliers, all in Portland, included Apollo Marine Services, electrical components; Western Metals, aluminum windows; and Devoe paints.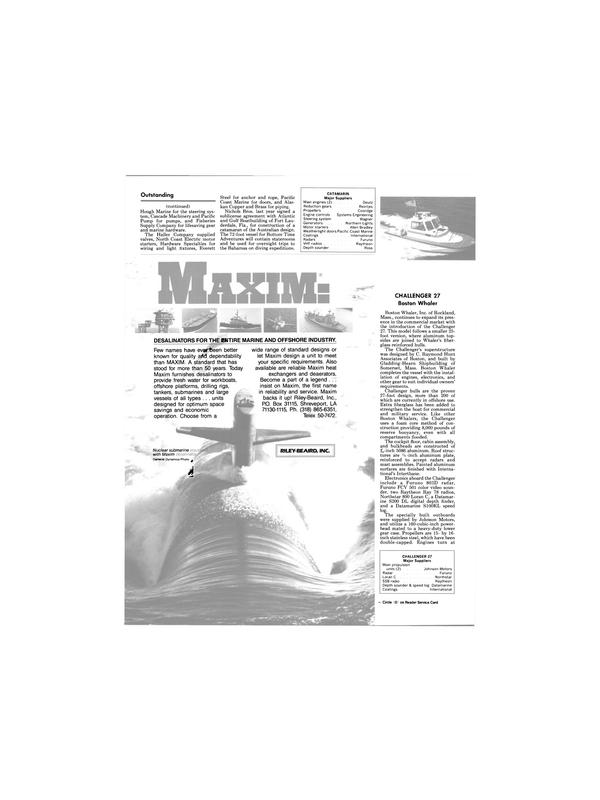 Read OUTSTANDING INLAND/OFFSHORE VESSELS AND RIGS OF 1985 in Pdf, Flash or Html5 edition of January 1986 Maritime Reporter
Other stories from January 1986 issue
Content