DIESEL POWER REVIEW
Selecting the appropriate propulsion or auxiliary power system for a vessel is one of the most difficult and important tasks facing the naval architect, marine engineer and vessel owner. With so many marine diesel engines on the market—low-speed, medium-speed and high-speed units; two-stroke and four-stroke cycle designs; cross-head- and trunk-piston types; loop-scavenged styles; and conventional and opposed-piston machines—the editors of MARITIME REPORTER asked the major makers of marine diesel engines to provide information on their latest developments and advancements in the propulsion and auxiliary power field.
Free product literature is available from the manufacturers included in this review. To obtain copies of brochures and technical literature from the companies, circle the appropriate Reader Service Number(s) on the postpaid card bound in the back of this issue.
ALASKA DIESEL ELECTRIC C i r c l e 6 8 on Reader Service Card Alaska Diesel Electric, Seattle, Wash., manufacturer of Lugger marine diesel and Northern Lights generators, will introduce several new propulsion diesels for the 1990 season.
The first will be a low profile version of its model L6140A. The 600 horsepower, 15-liter, turbochargedaftercooled in-line six has been well received by owners of charter, work and fishing vessels. The new model is aimed at high performance vessels with smaller engine compartments.
The popular L6125A now has a new liquid-cooled, high efficiency turbocharger and other improvements which increased power output to 460 horsepower.
The new Lugger L6108A will be available in January 1991. This turbocharged- aftercooled, seven-liter diesel features four-cycle operation for smooth, quiet, fuel-efficient service.
Power ratings for this new model have not been released but, according to Alaska Diesel Electric, it will compete in the 250 to 350 horsepower class.
Furthermore, Alaska Diesel Electric is developing a new 31-liter, V- 12 marine diesel engine. With an expected output of 1,200 horsepower and a high power-to-weight ratio, the engine will target the high performance passenger vessel market.
Alaska Diesel Electric also expects to market a heavy workboat version of the engine.
At present, Alaska Diesel Electric offers nine diesel models ranging from 61 to 600 hp. Extremely com compact, in-line Luggers are excellent choices for small engines. All are direct injected four cycles and can be customized with everything from front PTOs to flexible engine mounts.
BERGEN DIESEL C i r c l e 1 2 8 on Reader Service Card One of the latest designs from Bergen Diesel of Norway, the Type BR, is a four-stroke, turbocharged and intercooled engine with a bore of 320 mm and stroke of 360 mm. It is available in an in-line configuration with six, eight, or nine cylinders, with maximum continuous ratings of 425-500 bhp per cylinder at engine speeds of 720/750 rpm.
Type BRM for main propulsion has engine ratings of 3,000-4,500 bhp at 750 rpm. Ratings of the Type BRG for power generation range from 2,015 to 3,020 kw at 720 rpm/ 60 Hz, and 2,100-3,150 kw at 750 rpm/50 Hz. Backed by more than 20 years of experience with heavy fuel operation, Bergen's BR series is an engine design that aims at very high reliability and long intervals between overhauls, even when running on the poorest qualities of heavy fuel. Excellent access is provided for all maintenance work, and special tools such as hydraulic tightening jacks for the important bolt connections further ease and reduce maintenance time.
The cylinder block is a one-piece design with underslung crankshaft, a very rigid structure in nodular cast iron. Cylinder liners are centrifugally cast, with bore cooling only for the upper part where needed. The cylinder head is a bore-cooled design with thick bottom for good control of mechanical and thermal loads. The fully forged crankshaft with continuous grain flow has a large diameter journal and pin for low bearing loads.
Connecting rods are forged in alloy steel and machined all over.
Bearings are steel-backed with lead/ bronze bearing material and soft overlay. Pistons are of two-piece design, with three compression rings and one oil scraper ring, all chromium- plated to insure low wear rates.
The fuel injection system of L'Orange make was developed for 1,400 bar injection pressure and has constant pressure unloading for cavitation- free operation at all loads/ speeds.
COLTEC C i r c l e 1 2 7 on Reader Service Card Fairbanks Morse Engine, a division of Coltec Industries, Inc., manufactures some of the largest engines in North America and has built a strong market by specializing in the production of engines for U.S.
Navy ships and power generating utilities.
The parent company of Fairbanks Morse Engine recently changed its name from "Colt Industries" to "Coltec Industries," reflecting the withdrawal of the company from the firearms business.
However, the name change has no effect on Fairbanks Morse Engine or the commitment of Coltec Industries to ensure that Fairbanks Morse Engine remains a world leader in diesel engine production.
Fairbanks Morse Engine has two basic product lines: Colt-Pielstick engines that generate between 4,400 and 29,000 horsepower and opposed- piston engines that range from 680 to 4,200 horsepower.
Colt-Pielstick engines propel the Navy's T-AO Class oilers, which transport fuel, cargo and personnel to ships at sea, and the LSD (dock landing ship) class of fast, modern assault vessels. They also generate power for electric utility companies.
A dual-fuel version of the engine operates on a mixture of natural gas and diesel fuel.
The smaller opposed-piston engines generate power aboard ships and serve as backup propulsion power plants on nuclear submarines.
A version fueled by natural gas pumps natural gas and oil in the petroleum industry.
Fairbanks Morse Engine products are being upgraded with higher horsepower and engine efficiency as the company's technology improves.
Less expensive versions of the opposed- piston engines are being developed for niche markets, and new products are being built that produce lower emissions as air quality standards continue to toughen.
The six-liter TAMD61A remains unchanged at 306 hp at 2,800 rpm for light applications and 228 hp at 2,500 rpm for medium duty.
C U M M I N S C i r c l e 9 1 on Reader Service Card One of the first vessels built in the Pacific Northwest with Cummins' new 6BTA5.9-M2 engines is the aluminum workboat Lucinda Rose.
Built in 18 days from start of construction to delivery by B&H Metal Products, Lewiston, Idaho, the bowramp, shallow-draft vessel was immediately hired by Exxon for the Exxon Valdez oil cleanup effort.
Coast Guard certified to carry 49 passengers, the Lucinda Rose ferried beach cleanup crews until the spill cleanup effort was discontinued last fall. The twin Cummins 6BTA5.9-M2 engines, coupled with Kodiak 303 waterjet propulsion units, are rated at 300 horsepower at 2,800 rpm. In a light-boat condition, the Lucinda Rose achieves a speed of 28 to 30 knots at a cruising rpm of 2400 to 2600.
In addition to excellent performance, fuel consumption on the initial trial amounted to only 7.3 to 7.8 gallons per engine at 2400 to 266 rpm. The vessel's fast, economical performance is attributed to the hull's flat-bottom design and the Cummins/Kodiak package.
The Lucinda Rose, designed for a variety of cargo transportation and fishing applications as well as carrying passengers, can haul six tons of cargo at 30 knots and carry up to 20 tons of payload off plane at 10 to 12 knots. The boat's bus-type seats are mounted on skids and can easily be removed so that the deck can be converted to carry commercial cargo, or fitted with a reel for gillnet salmon and herring fishing.
DEUTZ M W M C i r c l e 6 9 on Reader Service Card The cornerstone of the Deutz MWM line-up for the commercial marine market is the BVD 628 Series medium-speed diesel. Conceived and built in Germany to rigid specifications, and with some of the world's most resilient and durable components, the 628 has been logging some impressive statistics in engine longevity, performance, reliability, and fuel efficiency.
Deutz MWM first introduced their engines in the U.S. in 1863.
From New England to the West Coast, and from the Gulf of Mexico to the Beaufort Sea, the 628 has found a strong niche among commercial fishermen, tugboat operators, and the general marine industry.
Abroad, this engine, ranging from an inline six to a V-16 at 10,000 bhp, may be found in virtually all types of marine systems, including some of the world's most luxurious motor yachts.
There have been several published cases where after more than 20,000 hours between overhauls, certain 628 Series parts have been tested at new factory tolerances.
To answer the needs of the luxury, recreational, and high-speed naval and customs markets, Deutz MWM is offering two lightweight, high-speed models.
The 604B Series fits up to 2,600 hp at 1,800 rpm in its V-16. This engine is relatively small, very smooth operating, offers mechanical and technological advances un- thinkable a decade ago, yet is amazingly simple in design. Its two outstanding features are access ports to the crankcase (for inspection of pistons, liners, and big end bearings); and a Hallo-swirl® design that virtually eliminates white smoke at low load and during acceleration. Except for information-feeding systems, electronic controls are kept to a minimum, thereby reducing potential problems that cannot be dealt with on board.
The "baby" of the water-cooled diesel family at Deutz MWM is the 234 Series. It carries the best of all the features that have made Deutz MWM one of the most respected names in the business. Neat, trim, and mean, the 234 is in great favor with sportfishermen and on yachts from 49 to 70 feet. It has an output of 1,100 hp at 2,300 rpm.
Best of all, though, is Deutz MWM's reputation for painstaking thoroughness and professionalism in all its installations. And its parts and service support are fast, efficient, and thorough.
ELECTRO-MOTIVE C i r c l e 7 0 on Reader Service Card In 1985, Electro-Motive Division of General Motors Corporation introduced the 710 G Series of medium- speed diesel engines. The larger displacement of the 710 engine as compared to the previous 645 model is a result of increasing the stroke by one inch.
This year, EMD introduced the first upgraded model of the new engine series. It has been designated the 710 GA. Whereas the 710 G provided as much as a 4 percent fuel economy advantage over the latest 645 model, the GA Series offers an additional 1.5 percent savings over the 710 G engine model.
The GA engine package includes new power assembly components, improved aftercoolers, and newly matched turbocharger and fuel injector components. The new components represent a further optimization of the air and fuel management resulting in increased combustion effiency, and therefore improved fuel economy performance. The upgraded components are a result of state-of-the-art analytical and experimental methods used at EMD.
Currently, performance improvements can be investigated through the use of computer simulations and qualified mechanically by other analytical means such as finite element analysis. Different designs can be evaluated before money is spent on expensive prototype hardware.
While performance improvement is the driving force behind engine design, changes are not acceptable if they compromise engine reliability.
The present 710 engine averages a mean time between failures (MTBF) of approximately 400 days.
The GA engine components have all been subjected to extensive experimental testing to guarantee the end product remains highly reliable.
EMD calls the 710 engine the most efficient, most powerful, and most reliable diesel engine in its class.
GE A L C O POWER C i r c l e 7 1 on Reader Service Card The ALCO 251 four-cycle diesel engine, which has proven its capabilities in the marine sector, as well as in power generation, locomotive and special-purpose applications around the world, is now part of General Electric's product offering.
The ALCO 251 is a four-stroke diesel engine, available in five sizes—six-cylinder in-line and eight-, 12-, 16-, and 18-cylinder V configurations. Maximum operating speed is 1,200 rpm for the six-, 12- and 16-cylinder models and 1,000 rpm for the eight- and 18-cylinder units. All of ALCO's 251 Series engines have the same bore (9 inches) and stroke (10.5 inches), and employ the same operating principles.
According to GE, several thousand ALCO 251 diesel engines are in operation throughout the world, with some delivering more than 25,000 hours of service between major overhauls. GE believes that the design simplicity of the 251 diesel is the key contributing factor in the engine's reliability, low-operating cost and ease of field maintenance.
Also, a new redesigned cylinder head will shortly be available for the 251 series diesel. Preliminary indications from GE ALCO are that under testing these new heads (called 251 Plus) have outperformed the older design by a factor of two, and some aftermarket replacement heads by a factor of ten.
General Electric of Canada signed an asset purchase agreement in 1989 with Bombardier, Inc. to acquire its Rail and Diesel Product Division.
ALCO was included in the acquisition.
The company's manufacturing and international distribution is handled through Montreal, Canada, while its distribution in the U.S. is handled by a network of five distributors located throughout the country.
The ALCO business and GELC are part of GE Transportation Systems in Erie, Pa., which is also responsible for GE's locomotive, transit, off-highway truck systems and 7FDL diesel engine line.
G M T C i r c l e 7 2 on Reader Service Card Fincantieri's Diesel Engine Division, with the collaboration of specialized shipyards and technical experts, has designed and is ready to supply complete propulsion and power generation systems to meet the different requirements of various international navies, shipbuilders and ship designers.
The GMT (Grandi Motori Trieste) Model B/BL 230 diesel is the typical "naval" engine used in the Italian Navy. Its wide selection of models (six to 20 cylinders) and power ranges (1,000 to 5,600 kw) provides the possibility to use a standard cylinder for all types of vessels, ranging from minehunters, patrol craft and corvettes to frigates, destroyers and cruisers.
The engine is classified as a medium- speed unit, in accordance with the U.S. Navy specification MIL-E- 23457. The main characteristics of the B/BL 230.8M (low magnetic signature and short stroke version) are: a piston bore of 230 mm, piston stroke of 270 mm, and engine speed of 1,200 rpm in an eight-cylinder, turbocharged and intercooled model.
The long-stroke version of this engine has a piston stroke of 310 mm and an engine speed of 1,050 rpm.
The use of low magnetic permeability materials in the occupied engine volume provides the optimal technical engine design, thus maintaining the same power level end TBO of the standard commercial engine, and at the same time, fulfilling the magnetic signature imposed by the Italian Navy.
In order to minimize the overall dimensions of the propulsion plant, the engine can be directly flanged to the reduction gear forming a rigid monoblock. The power transmission is connected via a flexible coupling and a friction clutch that can be located inside the engine—red gear connection housing. The whole propulsion set is designed to be installed on an anti-shock and antivibration elastic mounting system.
H E D E M O R A DIESEL C i r c l e 7 3 on Reader Service Card During the 25 years since the completion of its first prototype submarine diesel engine, Hedemora Diesel AB of Sweden has made impressive progress not only in engine design, but also in the specialized field of exhaust turbocharging. The company's latest design is the twinturbocharged VB 210 series 18- cylinder engine.
Their submarine background has given Hedemora engines an image of sturdy reliability. This image was successfully transferred to the general merchant marine and offshore market and the compact nature of the engines found favor in the oil drilling rigs which during a decade starting in 1974 provided the core of Hedemora's marine business.
For over two decades, the Hedemora VA 185 mm range of engines has provided the power for generator sets on Swedish coastal submarines.
At present, 12-cylinder VA 185 engines are providing propulsion for the Swedish Navy's Vastergotland Class of submarines.
Hedemora first introduced the VA 185 Series of diesel engines in the early 1960s and since has added the VB 210 Series of diesel engines.
With the addition of the new 18- cylinder VB 210 Series, Hedemora diesels now have a power output range of 500 kw to 3,200 kw (670- 4,291 hp).
There have been power improvements throughout the VA and VB ranges. One of the most notable recent developments is the availability of a new 2,100-kw (2,816-hp) model of the VB 210 12-cylinder engine.
Hedemora Diesel was selected to be the supplier of the main engines for the new Type 471 submarine for the Royal Australian Navy. The new submarines will each be equipped with three Hedemora VB 210 18- cylinder diesel generator sets with a combined output of more than 4 mw electrical power. Hedemora will supply a total of 19 engines under the contract.
Type 471 submarines, which will replace the older Oberon Class, will be harder to detect, have greater range and speed and more endurance than their predecessors.
ISOTTA FRASCHINI C i r c l e 7 4 o n Reader Service Card Fincantieri's Isotta Fraschini ID 36 diesel engines are designed to achieve maximum power-to-weight ratios, maintaining the original characteristics of reliability and long TBO.
The compactness of the engine permits its utilization in small engine rooms. The engine also exhibits very low noise emissions.
In fact, the propulsion or power generation sets driven by ID 36 engines can be easily contained in acoustic enclosures and fitted on a double system of elastic mountings.
The extremely compact engine architecture, along with its reliability, are the main reason for the ID 36's selection for propulsion aboard corvettes, fast patrol craft, harbor tugs, firefighting vessels, etc.
The engine is classed as a highspeed engine, in accordance with the U.S. Navy specification MIL-E- 24455.
The main characteristics of the ID 36-AM (low magnetic signature model) are: a piston bore of 170 mm, stroke of 170 mm and engine speed of 1,200 rpm.
The original compact design of the engine and the selection of proper low magnetic permeability materials give the ID 36 engine low magnetic signature characteristics.
The modular design of the ID 36 engine series makes for simple installation as a propulsion or power generation unit.
Fincantieri's Diesel Engine Division produces low-magnetic signature engines covering a power range from 160 to 4,050 kw (215-5,431 hp), with a wide range of power selections combined with varying rpm.
Shock testing on ID36SS8V-AM diesels was recently successfully completed on behalf of the U.S.
Navy. One propulsion and one generating set utilizing ID36SS8V-AM engines will be installed aboard the Navy's new minehunter ship USS Osprey.
J O H N DEERE C i r c l e 7 5 on Reader Service Card Deere & Company's Engine Group will begin to market John Deere marine engines for commercial applications in 1991. The company announced its plans to enter the marine engine business last fall at Fish Expo in Seattle, where they unveiled two prototype engines.
According to Deere, two marine models, rated at 80 and 250 hp (propulsion), are slated for introduction in early 1991. Three more models will be available later in 1991, with the final engine coming about a year later. The engines will be used in propulsion, genset, and auxiliary power applications for fishing craft and workboats.
Fred Thorne, Deere's director of engine marketing, explained that the company's decision to enter this market is based on several factors including Deere's experience in designing and manufacturing reliable, durable, heavy-duty diesel engines.
"We plan to leverage our expertise and success in heavy-duty diesels to help address the types of problems and concerns voiced by marine engine users we've interviewed," said Mr. Thorne. He also cited a moderate rate of growth in the market and requests from Deere engine distributors as ther reasons for the company's action.
Deere plans to begin testing its marine engines in fishing boats and a variety of workboats this fall. A network of marine servicing dealers is being established to support the engines. Mr. Thorne emphasized that these dealers will receive comprehensive training on Deere marine engines and will be served by the John Deere parts system—a computerized network of 11 regional depots supported by a central parts distribution center near Deere's corporate headquarters in Moline, 111.
After showing the two prototype engines at various shows (a 240-hp, 7.6-liter, aftercooled, six-cylinder diesel with a Twin Disc marine gear and a 80-hp, 3.9-liter, four-cylinder diesel attached to a 20-kw Lima generator), designs have been revised to reflect customer suggestions.
"We want to ensure these engines address the specific needs of the commercial marine market. And the best way to accomplish that is to listen to those who will depend on these engines for their livelihoods," said Mr. Thorne. "Equally important is the feedback we receive from commercial boat manufacturers." Although the company's announcement marks Deere's official entry into the marine business, John Deere engine distributors have been sending marinized engines to work on the water for several years. This means Deere will enter the marine market with several experienced marine distributors. Deere also brings 40 years of diesel design and manufacturing to the marine market.
KRUPP M AK C i r c l e 6 5 o n R e a d e r S e r v i c e C a rd Krupp MaK diesel engines have been utilized in a wide range of propulsion and auxiliary power applications, from pushboats operating on the inland waterways to large luxurious oceangoing cruise ships.
When American Commercial Barge Lines (ACBL), one of the largest inland barge operators in the U.S., decided to refit new engines aboard its pushboat M/V Bill Elmer, three new Krupp MaK 6M 453 engines were selected. Since commissioning, the three diesels, each rated at 1,800 kw (2,414 hp) at 600 rpm, have run for 45,000 hours in heavy fixed-pitch propeller operation, with speed reduction and frequent load changes.
According to Krupp MaK, upon their latest overhaul, the condition of wear on the parts confirmed the excellent heavy oil capabilities of the model M 453 engines. The piston crowns were exchanged after 36,500 hours, although their replacement was not required. After 25,000 hours, the residual chromium layer still existed on the piston ring and the liners showed a wear rate of 0.01 mm per 1,000 hours of operation.
In a recently delivered 220-foot Canadian trawler, the Cape Adair, Krupp MaK supplied the entire propulsion and auxiliary power package. The economic and flexible propulsion and power package included a model 9M 453C, rated at 3,300 kw (4,425 hp) at 600 rpm, for main propulsion and a model 6M 332 diesel, rated at 1,280 kw at 900 rpm, for auxiliary power. The flexible system has three operating modes—(1) in sea operation, without the refrigeration system, ship's power is supplied by the shaft-driven generator (PTO); (2) in sea and trawling operation, ship's power is supplied by the shaft driven generator (PTO) and power is supplied to the refrigeration system by the diesel auxiliary unit; and (3) emergency operation with diesel-electric propulsion, power is supplied for propulsion (and the refrigeration sys- tem, if required) by the 1,280-kw diesel auxiliary unit. The shaft driven generator drives as a motor (PTI) the variable pitch propeller with nominal speed and reduced pitch.
The ship's power supply is provided by a harbor diesel.
Two cruise ships being built at Rauma Shipyard for Discoverer Reederei GmbH of Bremen, West Germany, will each be fitted with two Krupp MaK model 8M 453C diesels and two 6M 332C engines.
The two larger 8M 453Cs, rated at 2,940 kw (3,943 bhp) each at 600 rpm, will provide main propulsion, while the smaller 6M 332Cs, rated at 1,200 kw each (1,609 bhp) at 900 rpm, will provide auxiliary power.
Of particular note is that both the main and auxiliary engines operate on heavy oil IF 380. With these two vessels, now there are 30 "One Fuel Ships" with Krupp MaK engines.
In addition, the main and auxiliary engines are provided with resilient mountings to reduce the structure- borne noise as much as possible, a priority on board cruise ships.
M A N B & W DIESEL C i r c l e 7 6 on Reader Service Card More than 100 engines developing a total of 1 million horsepower have been sold in the newly-formed family of MAN B&W Diesel mediumspeed, four-stroke diesel engines.
This is convincing proof of the early success of the new family, which consists of the three in-line models L40/54, L48/60 and L58/64 in the power output range of 5,300-16,300 hp.
The design principle behind the engine family—a concept which represents a consistent response to the demands of the operators of freight and passenger vessels—has proved its soundness in more than 600,000 hours of operation. A number of original- and license-built plants have accumulated in excess of 30,000 operating hours.
The wear and lube oil consumption rates now available in a considerable body of figures confirm the soundness of MAN B&W's design considerations and expectations regarding the service lifetime of the key components.
Liner wear at top-dead-center position of the first ring is in the area of between 0.01-0.02 mm/1,000 hours. The wear of the first ring lies in the range of between 0.01-0.02 mm/1,000 hours.
Based on this, the lifetime of the liner can be calculated to be approximately 80,000 operating hours and for the first ring about 12,000 operating hours. In the case of the piston rings, it proved possible to even exceed these expectations in 58/64 engines in some cases.
The lube oil consumption rate showing consistently low values in the range of 0.7-1.0 g/kwh (0.5-0.7 g/hph) after more than 30,000 operating hours, also confirms the soundness of the design concept of MAN B&W's medium-speed engines.
The method of cylinder lubrication employed by MAN B&W has played a major role in achieving these favorable wear and lube oil consumption rates. This method of cylinder lubrication brings the correct volume of oil to where the oil is needed at the correct time. The result is cleanliness and perfect functioning of the ring package, even after lengthy operating periods.
Even at ignition pressures in the range of 160 to 180 bar in the L40/54 and L48/60 engines, a composite piston featuring a GGG piston skirt results in optimum piston running behavior and in a very low level of coke deposits at the fire lands.
Based on the experience to date with MAN B&W's state-of-the-art series of medium-speed four-stroke engines indicates that the service lifetimes of the key components first targeted have been achieved, and in some cases, surpassed. The picture emerging is that, with the MAN B&W design concept, it has been possible to achieve these values despite the firing pressure level.
In fact, most of the service intervals lie within the range of time intervals between two dockings sought by operators.
With the exception of the piston rings and the injection nozzles, the lifetimes of all major components are in excess of 20,000 operating hours.
No doubt it is that these figures are dependent upon the variety of conditions the engine is operated in and whether or not it has been well maintained. All the claims made above assume that the requirements laid down by the manufacturer for service, maintenance, operating media, etc., have been adhered to rigidly.
In addition to long component life and long maintenance intervals, a simple, and, to the greatest possible extent, fault-excluding maintenance concept, possibly in connection with an effective diagnosis system, make a significant contribution to the overall economy of the engine plant.
Based on the accumulated data, the new MAN B&W Diesel engine family has established new standards of excellence.
M T U C i r c l e 7 7 on Reader Service Card In late 1989, MTU introduced its TE-designated split-circuit cooling system which now has been applied across the range of the company's popular Series 396 marine diesel engine program.
The most important feature of the TE designation is a controlled, internal charge-air cooling system (using engine coolant to cool the charge air), which adapts the temperature of the combustion air to match the various operating conditions.
At idle and during low-load operation, the charge-air temperature is kept high, while in the medium- and full-load ranges, high engine power output with uniformly low thermal loading is ensured.
This coolant-temperature variation is achieved through the use of a thermostat which alters the amount of coolant passing through the heat exchanger. At full power, the entire flow of charge-air coolant is directed through the heat exchanger—the temperature drops from approximately 85 degrees C to 50 degrees C (185 degrees F to 122 degrees F). At idle speed, the coolant bypasses the heat exchanger and remains at the engine outlet temperature of approximately 75 degrees C to 85 degrees C (167 degrees F to 185 degrees F).
As already employed in MTU's Series 183 engines, Series 396 TE engines use plate-core heat exchangers rather than traditional tube-type units. As the plates are constructed of titanium, they are both light and corrosion-resistant.
And, since raw (sea) water no longer passes through the intercooler, corrosion and resulting leaks are eliminated.
Additional advantages include improved heat-exchanging characteristics and ease of maintenance, as the plates are easily accessible for disassembly and cleaning.
Additional improvements to the TE engines are provided by MTU's R 082 electronic governor, a torsionally resilient steel-spring coupling (Geislinger system) and MTU's sequential turbocharging, which adds or deletes turbochargers depending on the amount of power required.
The oil system, exhaust system and crankshaft bearings also have been subjected to further design developments.
MTU Series 396 TE engines are rated from 680 kw (925 hp), the model 8V396TE64 engine, to 2,240 kw (3,050 hp), the 16V396TE94 unit. Of special note for applications with higher horsepower requirements, MTU will continue to produce the 12V396TB94 (1,920 kw/ 2,610 hp), the 16V396TB84 (2,240 kw/3,050 hp) and the 16V396TB94 (2,560kw/3,480 hp). A complete listing of MTU marine diesel engines from 52 kw/71 hp to 7,400 kw/10,060 hp is available from MTU North America.
P A X M A N DIESELS C i r c l e 7 8 on Reader Service Card Paxman Diesels Ltd., one of the United Kingdom's principal manufacturers of high-power, high-performance diesel engines, has been a major supplier to the British Royal Navy for well over a half century.
Paxman has supplied low magnetic signature marine diesel engines for the Sandown Class singlerole minehunters, developed and built for the Royal Navy by the U.K.'s Vosper Thornycroft. These GRP-hulled vessels are each powered by two Paxman Valenta 6RP200E propulsion engines. These Valenta six-cylinder engines, which were chosen for their overall reliability, economy of operation and high-shock resistance, have a continuous rating of 500 kwb (670 bhp) at 1,200 rpm. When installed in minesweepers, the power rating of these engines is raised to 755 kwb (1,012 bhp) at 1,460 rpm.
The advance of magnetic signature ranging techniques has allowed the basic Paxman Valenta engine to be developed for MCM applications.
Significant advantages are gained in using Valenta RP200E engines for MCMs, according to Paxman, including: extended periods between overhauls, increased reliability and ease of maintenance.
These are all major factors when considering propulsion machinery for MCM vessels.
The RP200E is available in six inline and 8- and 12-cylinder V configurations, with continuous ratings from 560 kwb (750 bhp) at 1,000 rpm up to 1,510 kwb (2,024 bhp) at 1,460 rpm.
In other work for the British Royal Navy, Paxman has provided diesel power modules for the combined diesel and gas turbine (CODLAG) propulsion system in the new Type 23 Antisubmarine Warfare frigates. Twelve of these ships are now under construction or on order.
The first of the class, the HMS Norfolk, is due to be commissioned shortly.
Four Paxman Valenta 12RP200CZ power modules each having a continuous power output of 1.3 mw 440/600 v at 1,200 rpm, provide the power for the propulsion system and ship's electrical supplies aboard each frigate.
Besides its work on Royal Navy MCMs and frigates, Paxman has supplied diesel engines to more than 50 navies from around the world.
STEWART & STEVENSON C i r c l e 1 2 9 on Reader S e r v i c e Card Stewart & Stevenson Services, Inc., with branches in Harvey, La., and Houston, Texas, is one of the world's largest distributors of Detroit Diesel and General Motors- EMD engines from 50 to 4,300 hp.
With a normal inventory of hundreds of diesel engines and generators, a staff of experienced mechanical, electrical, and marine engineers, along with 24-hour worldwide parts and service, Stewart & Stevenson offers an excellent support network to its customers.
Full service branches, two remanufacturing plants, and over 200 dealers are ready to provide full service to customers, from financing a vessel to training and technical support.
Stewart & Stevenson can provide custom-engineered power systems for all marine applications.
SlILZER DIESEL C i r c l e 6 t i o n Reader Service Card Sulzer Diesel Ltd. is the new name for the diesel engine company of Sulzer Brothers Ltd. The decision to change from MBS Diesel Engines Ltd. arose early this year when the West German Government vetoed the proposed takeover of the company's diesel engine activities.
Sulzer Brothers Ltd. will adhere to its strategic intention of seeking a partner to participate in its diesel engine subsidiary. Sulzer Diesel Ltd. is continuing diesel activities as before and maintaining the same high level of research and development.
Sulzer Diesel recently introduced a new low-speed engine type, the RTA84C, tailored for large contain- erships. The first engine was demonstrated at the Aioi engine works of Diesel United in Japan.
Already there are orders for 14 of the model RTA84C engines with six, eight, nine and 10 cylinders and a total power output of 615,000 bhp.
The RTA84C provides up to 3,820 kw per cylinder (5,200 bhp per cycle) at 100 rpm. Thus, with up to 12 cylinders, the RTA84C can supply a maximum continous output of 45,840 kw (62,400 bhp). It responds to the trend towards larger, faster containerships that require much more propulsion power.
The first RTA84C will be installed on a 3,600-TEU containership under construction at the Kure shipyard of Ishikawajima-Harima Heavy Industries Co. Ltd of Japan.
The unit will be a nine-cylinder model of 33,100 kw (45,000 bhp) at 100 rpm.
Sulzer RTA Series engines have been very successful in the propulsion of large containerships, particularly with the 840-mm bore RTA84 and RTA84M models. Of the 117 engines of these models ordered so far, 55 have been for containerships.
However, in discussions for newbuilding projects in the past two to three years, there have been increasing indications towards the need for higher shaft speeds and higher power outputs.
VOLVO PENTA C i r c l e 7 9 on Reader Service Card Volvo Penta of America recently announced that it has increased horsepower ratings for most of its marine diesel models.
Leading the way is the 16-liter TAMD162B, producing 612 hp at 2,100 rpm, for pleasure or light-duty application. The 162B is turbocharged and aftercooled and features four valves per cylinder all contributing to highly efficient combustion and low emission levels. The TAMD162 is also available in a medium- duty rating of 490 hp at 1,900 rpm and a heavy duty version rated at 470 hp at 1,800 rpm.
Volvo Penta's popular 12-liter TAMD122 is now available in a higher output, lower profile "D" model with 480 hp at 2,050 rpm.
Other versions of this engine include the light or medium-duty TAMD122A, developing 450 hp at 2,000 rpm and 400 hp at 1,900 rpm, respectively. The continuous (heavy) duty 122A produces 380 hp at 1,800 rpm.
Suited for smaller vessels are the 10-liter model TMD102A and the 12-liter TMD122A. Available in continuous ratings of 238 hp at 1,800 rpm (102A) and 300 hp at 1,800 rpm (122A). These turbocharged (non-aftercooled) diesels provide reliable, economical propulsion or auxiliary power in all types of installations.
The turbocharged, aftercooled TAMD71 and TAMD61 represent the very latest development in marine diesel technology. The sevenliter model TAMD71B is an in-line six-cylinder power plant that produces 380 hp at 2,600 rpm and is suited for high performance fishing and pleasure boats. Its counterpart, the TAMD71A is available in light, medium and heavy duty versions.
Horsepower ratings are 350 hp at 2,500 rpm, 286 hp at 2,500 rpm and 218 hp at 2,000 rpm.
The six-liter TAMD61A remains unchanged at 306 hp at 2,800 rpm for light applications and 228 hp at 2,500 rpm for medium duty.
W A R T S I L A DIESEL C i r c l e 6 7 on Reader Service Card Wartsila Diesel Inc., the U.S. subsidiary of Wartsila Diesel, has acquired the Power Systems division of the Morrison-Knudsen Corporation, Rocky Mount, N.C. The company will be renamed MKW Power Systems Inc. Both Wartsila Diesel Inc. and MKW Power Systems supply diesel engine packages to the power plant and marine propulsion systems in North American market.
Operations include service and spare parts sales.
The acquisition will expand the U.S. market for Wartsila Diesel heavy oil and gas engines. MKW Power System Inc. will also use Wartsila Diesel engines in its power system packaging.
According to C l a s - E i r ik Strand, president of Wartsila Diesel Inc., the company acquired is one of the leading diesel engine system packagers in the U.S.
"The company also designs and manufactures first-class control systems," said Mr. Strand. "Thanks to the acquisition, we will be able to offer our customers more competitive products with an extremely short turnaround time." Pentti-Juhani Hintikka, president of the Wartsila Diesel Group, explained that in the future, the company will concentrate more on comprehensive packaging for modular and standard power plant types and on ready solutions in general.
"We will be investing more and more in ecofriendly gas and multifuel engines," said Mr. Hintikka.
Wartsila Diesel is one of the world's leading manufacturers of diesel engines, with production plants located around the world.
The company recently acquired a 60 percent share in Dutch Stork- Werkspoor Diesel, now Stork-Wart - sila Diesel. The engine manufacturer now offers one of the most complete medium-speed engine lines on the market. Both the wide product range and the combined market positions of the two companies enhance the competitiveness of the new venture.
Wartsila Diesel's product range includes the well-known Vasa 22, 32 and 46 engine series. The Vasa 22 and the Vasa 32 are widely used in the marine market as main and auxiliary engines in a variety of vessel types.
The Stork-Wartsila Diesel engine line reinforces Wartsila Diesel's product range for both marine and land-based installations. The SW 280 complements the Vasa main engine range, and is suitable for various small and medium-sized vessel applications such as tugs and dredgers.
The TM 410 and 620 engines have excellent operational records in a wide scope of marine propulsion applications. Both engine types are suitable for diesel power plants, a growth sector for Wartsila Diesel. •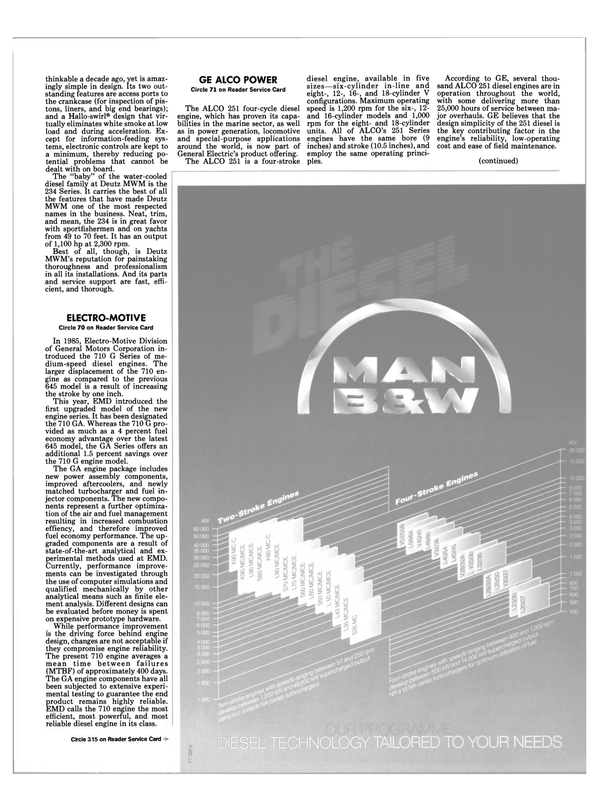 Read DIESEL POWER REVIEW in Pdf, Flash or Html5 edition of July 1990 Maritime Reporter
Other stories from July 1990 issue
Content