Overview Of Coast Guard's Fiscal Year 1991 Request
As tensions ease abroad, the U.S.
Coast Guard's role in defense readiness increases in importance. In addition, the service has a central role in several of the most crucial topics facing the U.S. today—marine safety, oil spill prevention and drug smuggling. The following is an overview of the Coast Guard's Fiscal Year 1991 Budget Request.
Search & Rescue Operations Search and Rescue (SAR) is one of the Coast Guard's oldest missions.
Rescuing those in peril at sea has priority over all other Coast Guard peacetime missions. The Coast Guard keeps a nationwide system of boats, aircraft, cutters and rescue coordination centers on 24- hour alert, ready to respond to vessels in distress.
The Coast Guard operates a mix of cutters, boats, helicopters and fixed-wing aircraft. Table 1. shows the present fleet of vessels operated by the Coast Guard in U.S. coastal, harbor and inland waters.
As a result of Coast Guard SAR efforts between 1984 and 1988, more than 29,000 lives and $4.8 billion in property were saved.
The Coast Guard has requested $505.9 million for operating expenses for SAR, $70.9 million for acquisition, construction and improvements (AC&I), and $5.9 million for research, development, test and evaluation.
Items of particular interest listed by the Coast Guard to effectively conduct its SAR operations in FY 1991 are: motor lifeboat replacement acquisition, the 378-foot heavy endurance cutter (WHEC) FRAM (Fleet Rehabilitation and Maintenance), and 210-foot medium endurance cutter (WMEC) MMA (Midlife Maintenance Availability).
Environmental Protection Perhaps the hottest topic in the news, marine environmental protection is one of the Coast Guard's top priorities. Marine environmental response and port safety and security are the two major missions of the Coast Guard's marine environmental protection program.
As part of marine environmental response, the Coast Guard must minimize damage caused by pollutants released in the coastal zone and reduce the threat of spills of oil or hazardous substances.
Besides safeguarding shoreline property and facilities as part of port safety and security, the service must monitor oil transfer and hazardous cargo operations to prevent spills.
The Coast Guard has requested a total of $222.3 million for operations, acquisition, construction and improvements and research in this area. Among the topics under discussion are the acquisition of National Strike Force equipment and research into pollution response.
Law & Treaty Enforcement Between 1984-1988, the Coast Guard confiscated nearly 4,300 tons of marijuana, 42,800 pounds of cocaine, seized 854 drug smugglers' vessels and issued more than 2,500 citations for fisheries law violations.
The Coast Guard has requested $1.07 billion in operating, acquisition and research funds for FY 1991.
Among the main areas of interest are the patrol boat capability replacement, the WHEC FRAM, WMEC MMA, and the development and evaluation of electrooptical sensor systems for USCG vessels.
Ice Operations In the area of polar and domestic ice operations, the Coast Guard has requested $112 million in the FY91 budget. Polar icebreaker reliability improvement project, boat and cutter survey and design, C3 systems development and design (shipboard tactical information systems and local area network for cutters), the development of covert telecommunications and encryption systems and video sensor data transmission systems are among the major areas included in this program.
Aids To Navigation The Coast Guard has requested a total of $546.4 million in the FY91 budget for the aids to navigation program. Under AC&I, the service hopes to replace its current coastal and oceangoing buoy tender fleet.
Marine Safety The Coast Guard's marine safety program consists of two major activities: commercial vessel safety and recreational boating safety. The service has requested a total of $165.7 million to support such programs as marine fire research and development and fire safety engineering methodology in cutter design and modification.
Defense Readiness The service has requested a total of $138.8 million for defense readiness.
Some requested funds would be put toward WHEC FRAM, WMEC MMA and a WHEC weapons system installation, as well as coastal defense support and port safety and security research.
Summary The 1991 budget strategy provides sufficient resources for the Coast Guard to maintain current operations. AC&I resources for continuation of the renovation and modernization programs for the 378-foot and 210-foot cutters, and C3 systems upgrades are intended to maintain the Coast Guard's capability to track, intercept, and apprehend smugglers. A number of initiatives are proposed in OE to support operation of equipment provided in previous budget years.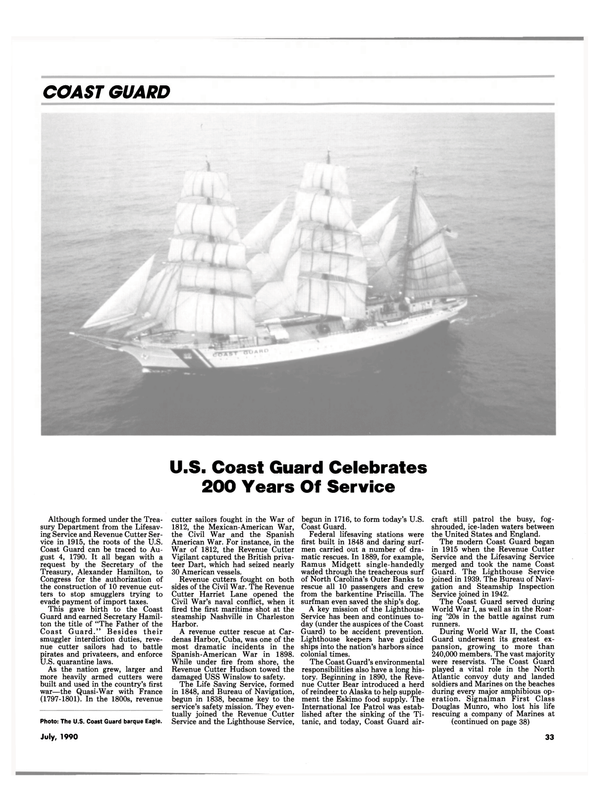 Read Overview Of Coast Guard's Fiscal Year 1991 Request in Pdf, Flash or Html5 edition of July 1990 Maritime Reporter
Other stories from July 1990 issue
Content