Largest Aquastrada High Speed Ferry Under Construction At Rodriquez
Currently under construction at Rodriquez Cantieri Navali SpA's Pietra Ligure shipyard is a TMV 115 high-speed passenger and vehicle ferry for the Spanish ferry operator Balearia Eurolines Maritimes. The contract for this vessel was signed in January 2000 and delivery is expected in May 2001.
Though very similar in size and capacity to the previous TMV 114 delivered to Spanish operator Armas Ocean Jet in April of this year, there are notable differences.
The reasons for these differences between the two vessels are due to owner preferences, including the choice of hull material. The additional truck lane meters of the TMV 115 have been obtained by using hoistable central and outboard car decks to allow for these taller vehicles. The car decks may be quickly hoisted upwards in a variety of configurations depending on loading requirements.
The maximum passenger and vehicle capacity of the TMV 115 is 210 cars and 884 passengers.
Other details are outlined in the attached technical specification data sheet.
As with the majority of Rodriquez's Aquastrada Fast Ferries, TMV 115 will again incorporate a ride control system manufactured by Rodriquez Marine Systems, a wholly owned subsidiary of Rodriquez Cantieri Navali SpA. Based on almost five decades manufacturing foil systems, Rodriquez Marine Systems has a vast experience in the design and engineering of foil-based stabilization system.
Therefore, the TMV 115 includes T-Foils both fore and aft as well as four lateral fins for roll control.
In addition, active Interceptor tabs are mounted on the transom with the added benefit of reducing roll and creating a hydrodynamic wedge thereby reducing resistance and increasing vessel speed.
The entire system is centrally controlled by a single system that is optimized to provide the maximum passenger comfort under the most demanding sea conditions. A further benefit of the Rodriquez Marine System SMS (Seaworthy Management System) ride control system is the incorporation of small rudders into the T-Foil's vertical struts to provide directional control at full speed thereby maintaining maximum forward thrust from the wateijets. In addition to the ride control system for the TMV 115, Rodriquez Marine Systems is also supplying: Central vessel alarm and monitoring system; Start / stop / alarm / monitoring system for the propulsion equipment; Bow thrusters (tunnel and retractable type) and Hydraulic systems for all car decks and ramps.
Rodriquez is presently constructing 30 82 ft. (25- m) patrol boats for the Italian Coast Guard and a 213 ft. (65-m) yacht for a U.S.-based owner.
Circle 2 on Reader Service Card Rodriquez Cantieri Delivers Aquastrada TMV 114 Rodriquez Cantieri Navali delivered another Aquastrada TMV 114, Volcan de Tauro, to its owner Armas Ocean of Messina, Italy.
The 374 ft. (114 m) vessel, which was delivered this past spring, successfully met or exceeded all owner specified contractual obligations, which were confirmed during sea trials. The vessel demonstrated a maximum speed of 45 knots and a service speed of 40 knots was maintained at 90 percent MCR and a full load. Both speeds were achieved via Rodriquez's Seaworthiness Management System (SMS) Stabilization System. Comprised of four lateral fins and two T-Foils, the system is designed entirely by Rodriquez. Upon departure from the shipyard, the vessel steamed to the Canary Islands to commence service between Las Palmas and Tenerife.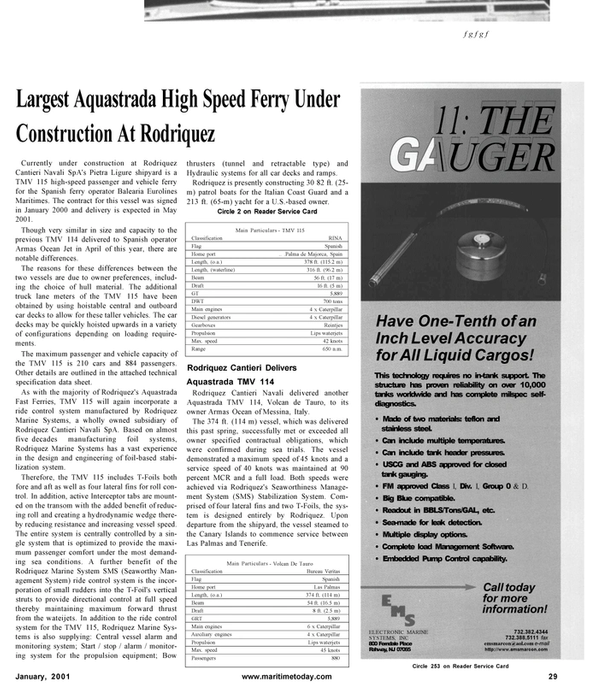 Read Largest Aquastrada High Speed Ferry Under Construction At Rodriquez in Pdf, Flash or Html5 edition of January 2001 Maritime Reporter
Other stories from January 2001 issue
Content