International Appeal With Local Customer Service Feel
A tlantic Marine Inc and Atlantic / 1 Dry Dock Corp have forged an enviable reputation around the JL JLglobe in all aspects of vessel construction, conversion and repair. The yards offer ship owners modern physical facilities, technical capabilities and organizational experience, and are conveniently located on 81 acres of property on the St. Johns River and Intracoastal Waterways in Jacksonville, Florida. The yards are well positioned to the U.S. East Coast, South Florida and Caribbean trade routes.
To ensure success continues well beyond the new millennium, Atlantic Marine Inc.
and Atlantic Dry Dock Corp. are committed to a program of investing considerable resources to add to and upgrade its already impressive facilities. Capital investments are primarily focused on reducing the cost of production while maintaining quality and reducing construction time, and increasing capacity for both new building and repair.
For example, a 14,600 LT (14,833.60 MT) floating dry dock was recently added to Atlantic Dry Dock Corp's arsenal. While shipyard upgrades are sizable, investment does not stop there. The company counts its employees - craft workers through top management - as the foundation upon which the company is built. To this end, the company takes great measures to ensure it recruits and retains top talent, and outfits them with the best technology available. "You can attribute our quality work, in large part, to our conscientious workforce," said Kevin E. Wilson, sales and marketing manager for Atlantic Marine Inc. and Atlantic Dry Dock in Jacksonville.
Atlantic Marine Inc. originated in Jacksonville in 1964, specializing in new construction. Atlantic Dry Dock Corp. was the result of Atlantic Marine's fast growth, and is a ship repair company which has developed a reputation for high quality and on-time, on-budget repair and conversion jobs in the commercial market, and an expert in complex military vessel overhauls.
"Our strength is, of course, our quality of work, but equally our ability to schedule and finish work on time or ahead of schedule." said Mr. Wilson. "The key is to get that vessel back to work making money for our customers." New Construction Atlantic Marine, Inc., a subsidiary of the Atlantic Marine Holding Company, builds custom vessels for the domestic and international markets. Previous deliveries include oil support vessels, ferry boats, tugs, dinner vessels, casino boats, and oceanographic vessels.
Atlantic Marine Inc. has found itself popular among buyers of high technology, high quality tonnage. "We will give you a quality ship, and you will get it on time. When we make a commitment, we keep it." Said Edward P. Doherty, president, Atlantic Marine Inc. The yard recently launched two 300 ft. coastal cruise boats built for Delta Queen Coastal Voyages. The first of the two, CAPE MAY LIGHT is scheduled for delivery in March 2001, while the second, CAPE COD LIGHT is scheduled for delivery in June 2001. Mr. Doherty attributes the yard's success with unique vessels to its adherence to modular construction techniques, and its investment in technology, particularly in the areas of steel cutting and handling, as well as CAD systems, as a means to this end. In January 2001 construction started on a SWATH oceanographic research vessel that upon its completion will be operated by the University of Hawaii.
Repair & Conversion Atlantic Dry Dock Corp. saw the back to back commercial ship dry-docking availabilities on their 14,600 LT (14,833.60 MT) floating dry dock for the cable layer, WAVE VENTURE; container ship, AURORA; Dredge, COLUMBIA; jack-up barge, KARLISSA B; and bulk carrier, GYPSUM KING. Their 1,300 Ton (1,321 MT) marine railway schedule has been busy drydocking the tugs ZEETIJER, SAMAND, APOLLO, CECROPS, gaming vessel, STARDANCER; dinner cruise boat, RIVER QUEEN; and research vessel, SES- 200; to name a few.
Atlantic Dry Dock's 4,000 Ton (4,064 MT) marine railway underwent an extensive maintenance refit and is now fully operational again. Atlantic Dry Dock had an increased number of topside availabilities that were accomplished along-side Atlantic's 1,300 ft. (396.24 M) of full-service bulkhead and pier space. Among those jobs were the converted OSV to Ferry, SEABULK MINNESOTA; the RoRo, CROWLEY SENATOR; Dredge, SUGAR ISLAND; Tug, SEA TERN; Barge, HUGH; and Dredge, GL-54.
This past year, Atlantic Dry Dock Corp., added the following agents to their sales force: • M.I.E. Services Ltd. - Cyprus • Marindustry Worldwide - Northeast Region, U.S.A.
• James L. Taylor & Associates - Gulf Region, U.S.A.
• Hellenic Industrial & Marine Agencies Ltd. - Greece They are actively searching for representation in the following countries / regions: • Turkey • Bahamas • South America • West Coast, U.S.A.
Certified Quality With intense price pressures and competition, shipyards must prove their quality to compete. Atlantic Marine Inc is certified to ISO 9002 quality standards for shipbuilding and ship construction services by Lloyd's Register Quality Assurance and by the following national certification bodies: ABS (U.S.); TGA (Germany); and INMETRO (Brazil). Atlantic Dry Dock Corp. was ISO 9002 certified in 1995.
Circle 198 on Reader Service Card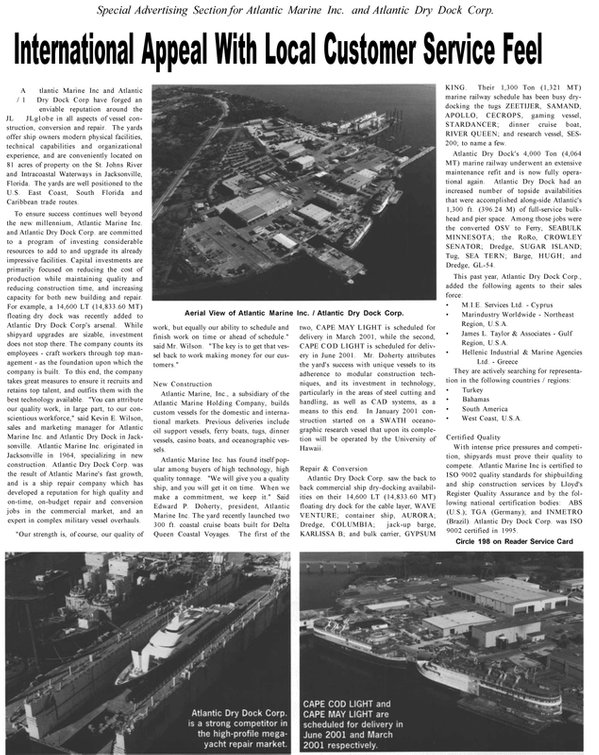 Read International Appeal With Local Customer Service Feel in Pdf, Flash or Html5 edition of January 2001 Maritime Reporter
Other stories from January 2001 issue
Content