Blount-Barker Shipbuilding Formed
Blount-Barker Shipbuilding Corporation was recently formed and James A. Barker has been named the President and CEO. Blount-Barker, based in Warren, R.I., specializes in the design and shipbuilding of tugboats, cruise ships, high-speed ferries and dinner and passenger vessels. The new company takes over the activities of the Blount Marine and Blount Industries entities, and operates as a separate corporation. As part of the new venture, Mr. Barker assumes management of Blount's shipyard and personnel, with the option to purchase the operations should they be sold in the future.
"Jim Barker brings complementary experience that will greatly enhance the capabilities of the new Blount- Barker venture," said Luther H. Blount, founder of Blount Marine and Blount Industries. Blount, 84, will remain active in the day-to-day shipyard operation for Blount-Barker. "Through this new venture, we intend to maximize the superior naval architecture design and shipbuilding capabilities of Blount Marine and Blount Industries," said Jim Barker. "We also plan to expand into larger commercial vessels in the coming years," he added.
Blount Marine was founded in 1949 by Luther Blount, and today extends over six acres in Warren with a staff of more than 50. Blount Marine has been an innovator in the shipbuilding industry for more than half a century. Luther Blount holds 21 U.S patents for numerous inventions, including the stern trawler and the net/drum technology.
Before forming Blount-Barker Shipbuilding, Barker worked for Interlake Steamship Company, Richfield, Ohio. His most recent project was as the construction supervisor for a 7,200-hp Z-drive tug and a 600-ft. selfunloading barge for the Great Lakes. Barker joined Interlake in 1987 as a supervisor of unlicensed personnel, managing all of the company's unlicensed crewing for vessels. Barker was soon promoted to director of personnel, responsible for 350 people and 10 vessels.
Barker also explored and organized new business opportunities to help diversify Interlake. In 1996, after earning his MBA from Case Western, Barker was promoted to assistant vice president and was responsible for all aspects of a $25 million tug/barge project. This endeavor provided many new opportunities for Interlake.
Barker received his undergraduate degree from Franklin Pierce College in Newton, N.H.
Blount: 1949 to Present In 1949, Luther H. Blount decided to try his hand at shipbuilding by designing and constructing a 77-ft.
steel catamaran. Using this same design, he bid and won his first contract to construct a fuel oil service vessel which used two cylindrical floats, dubbed the "twin tube." This twin tube was succeeded by progressively larger and more complex vessels, resulting in a quantum expansion of the shipyard and demolition of the Blount home on the Warren River in Rhode Island. New facilities were constructed in its place including a slipway, two building sheds and a lift dock configured for launching and drydocking. Over the past 50 years, Blount has designed and built more than 300 vessels of all types. The company also provides operational sup- port for Bay Queen Cruises, a dinner/excursion line, and the American Canadian Caribbean Line that operates three overnight passenger cruise ships.
In 1952, Luther Blount was approached by Frank Barry and Gerald O'Driscoll to negotiate the design and construction of a 130-ft., 600-passenger vessel.
Barry's business, Circle Line, was subsequently awarded the National Park Service's contract to handle tourist excursions to the Statute of Liberty.
The Miss Liberty remains in operation today, and has carried more than 60 million passengers from Manhattan to the Statute of Liberty. This vessel is believed to have carried more total passengers than any other in the world. Blount Industries went on to design and construct a total of seven vessels for the Circle Line Statute of Liberty Ferry.
In 1955, Blount Industries used U.S. Coast Guard (USCG) T-boat regulations and designed "Blount 65" vessels which are just under 65-ft. long. Typically they carry some 250 passengers and can reach 10 knots on about 10 gallons of fuel per hour. This design gained immediate success and various ferry, commuter and excursion operators throughout the world still use these vessels today.
In 1962, Blount designed and built the Narragansett, the world's first small stern trawler.
Although Blount garnered three patents from this invention, the design was widely copied by fisherman without charge. This net/drum technology remains popular worldwide, with virtually every small trawler using this rig design.
Cruise, Ferries, Dinner Vessels In 1964, Blount expanded the capacity of the shipyard to build the M/V Uncatena, a 150-ft., triple screw passenger/vehicle ferry for the Woods Hole/Martha's Vineyard/Nantucket route. This popular mini-cruise boat design was eventually extended to 200-ft., and later applied to Blount's American Canadian Cruise Line. Today this line consists of three larger cruise ships with varied itineraries including the Maine coast, Newfound- land and Labrador, intra-coastal waterway to Florida, eastern and western Caribbean, and the northern coast of South America.
Blount expanded its cruise ship fleet in 1998, with a new line of 183-ft., 100-passenger Grande Class small cruise ships. During the 1980s, Blount's "Spirit Class" three-deck dinner boats began cruising U.S. harbors such as Baltimore, Norfolk, Philadelphia, Boston, New York, Chicago and Los Angeles. These stylized vessels are still in use today, giving 400 to 600 lunch or dinner passengers views of harbors and Broadway-style entertainment. In March 2000, the 600-passenger M/V Horizon was completed, marking the 20th dinner boat built by Blount and the sixth Blountconstructed dinner boat to operate in New York.
Innovations Luther H. Blount currently holds 21 U.S. patents.
Technical and production staff has greatly contributed to the success of Blount's business over the years. The company has employed various naval architects including Preston Gladding, Fendall Marbury, Warren Sherburne, Bob Henry, A1 Bates, Chris Melo, Darren Preston and William Jordan.
By effectively combining its resources, Blount has developed various marine construction techniques and designs. Highlights include: • Three-dimensional lofting, a technique now widely used throughout the industry, eliminates the need for mold loft and allows the builder to follow the designer's exact requirements.
• High horsepower stern drive propulsion with whalefin skeg helps increase available payload space. With Blount's stern drive, the engine is turned around and placed well aft over the propeller shafting. The shaft is driven by toothed belts.
• 400-ton lift dock, designed and patented, accommodates hulls up to 150-feet long. This air controlled, electric-powered lift dock operates with a single lever and is powered by just one 50-horsepower motor.
Circle 36 on Reader Service Card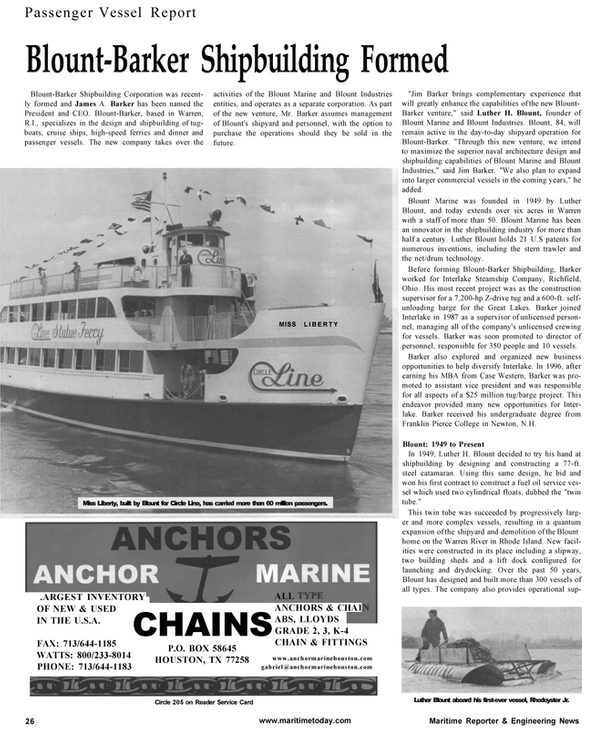 Read Blount-Barker Shipbuilding Formed in Pdf, Flash or Html5 edition of January 2001 Maritime Reporter
Other stories from January 2001 issue
Content