First Of New Destroyer Class Commissioned At Ingalls Yard
The first of a new class of U.S.
Navy guided-missile destroyers, the most formidable surface ships of their size now joining the Navy, was commissioned recently at Ingalls Shipbuilding Division of Litton Industries, Pascagoula, Miss. The USS Kidd (DDG-993) (shown above) officially joined the Navy fleet at the ceremony.
Three additional ships of the class, the Callaghan (DDG-994), Scott (DDG-995), and Chandler (DDG-996), are also scheduled for delivery to the Navy by Ingalls Shipbuilding this year.
Based on the proven design of the Ingalls-built Spruance-class destroyers, which began joining the fleet in 1975, the Kidd-class destroyers are multimission, able to operate offensively or to defend against simultaneous air, surface and subsurface attacks. The ship is 563 feet long, with a 55-foot beam and displaces 9,200 tons.
Four gas turbine jet engines propel the ship at speeds in excess of 30 knots. The crew consists of 28 officers and 320 enlisted men.
Weapons include two Mark 26, dual-rail guided-missile launchers, two 5-inch/54-caliber lightweight guns, two Harpoon missile 4-cannister launchers, two triplebarrel torpedo tubes, as well as close-in weapons system, decoy system, and two antisubmarine helicopters. Designed and built to be exceptionally quiet, and with the most powerful sonar available, the Kidd can operate offensively against submarines. The ship also carries the most sophisticated medium-range air defense system now active in the fleet.
Ingalls, long a builder of destroyers, cruisers, and amphibious ships, is also building the U.S. Navy's new class of Ticonderoga guided-missile cruisers.
When deployed in early 1983, the first of these ships will carry the Aegis weapons system, the most sophisticated air defense system in the world. The first ship, the Ticonderoga (CG-47), was christened by Mrs. Ronald Reagan in May.
The Kidd is the second U.S.
Navy ship named for Rear Adm.
Isaac C. Kidd Sr., who was the senior Naval officer present afloat during the Japanese attack on Pearl Harbor. Admiral Kidd died on the bridge of his flagship USS Arizona during the attack, and was posthumously awarded the Congressional Medal of Honor for his bravery in action.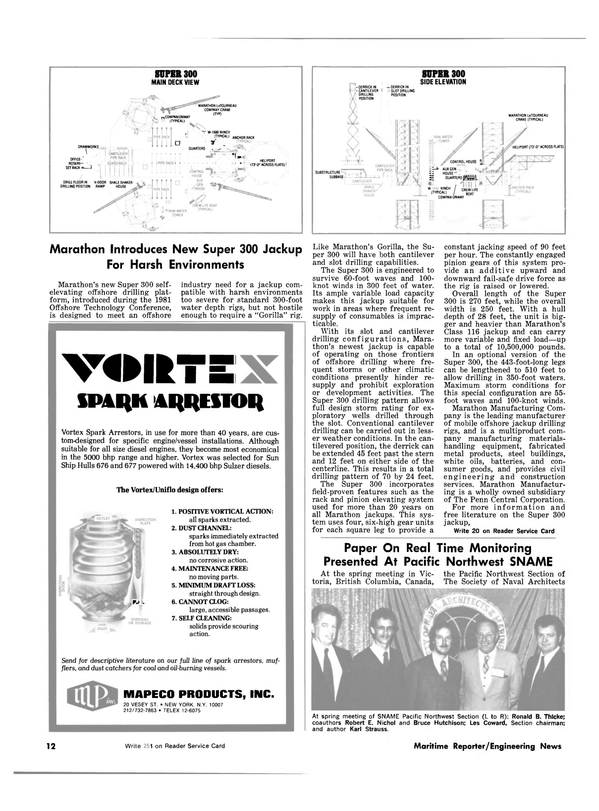 Read First Of New Destroyer Class Commissioned At Ingalls Yard in Pdf, Flash or Html5 edition of July 1981 Maritime Reporter
Other stories from July 1981 issue
Content