SHIPBOARD AUTOMATION & MONITORING SYSTEMS
With the cost of marine fuel up about tenfold during the vast eight years, efficient operation of shipboard machinery has become a must in today's merchant fleets.
Manufacturers of automation and monitoring equipment have responded to the challenge with ever more sophisticated hardware to improve fuel efficiency and safety, and to provide reduced manning.
We surveyed the major manufacturers and distributors of marine monitoring and automation equipment to find out about their latest products, applications, and results. The follotving review is based on the replies we had received at press time.
ALNOR INSTRUMENTS A series of continuously-monitoring digital temperature analyzers, incorporating advanced microprocessor technology for continuous protection of diesel, natural gas, or gasoline powered reciprocating engines, has just been introduced by Alnor Instrument Company of Niles, 111. The new instruments feature highspeed scan rates, temperature averaging and deviation analysis, and extensive alarm capabilities for immediate detection of abnormal engine operating conditions.
Available in single- and dualengine models, the Micro 5300 temperature analyzer is designed to monitor and analyze cylinder exhaust temperatures and other critical engine operating temperatures f r om engine startup through peak load.
The 5300DE dual-engine model, which monitors a combined maximum of 32 inputs from two engines, is designed primarily for marine applications involving port and starboard engines, and other dual engine systems. The 5300DE features a complete set of functions for both port and starboard sides.
The Micro 5300 scans temperature zones at the rate of 60 inputs per second, providing nearly instantaneous detection of alarm conditions. As each new thermocouple input is processed, the instrument automatically recom- putes average cylinder temperature and the greatest deviation of any one cylinder from that average.
Temperature deviation is critical because too great a deviation indicates potentially serious engine malfunction and component damage.
In both the single- and dualengine models, 32 inputs may be monitored. The 32 inputs can be divided into two groups — averaged zones and extra zones. The averaged zones are monitored individually, then an average is calculated as well as deviations from average. The extra zones are only monitored, and are not used in averaging or deviation calculations.
Inputs that are not used for averaging cylinder temperatures up to the maximum number allowed may be used to monitor other internal temperatures, such as turbine or water inlet/outlet, and bearing or oil temperature conditions. These "extra zones" are selected by internal switches, and one of the zones is provided with a HI-TEMP alarm and separate thermocouple relay.
The selection of averaged zones and extra zones is programmed with simple selection switches inside the instrument. If an error is made by the user in the programming, e.g., programming for more than the maximum allowable zones, the instrument will display ERR and a number (the number identifies the type of error so the user quickly knows where to make the correction).
The unit is completely solidstate, designed with fewer component parts than previous models for greater reliability. It incorporates an Intel 8085A microprocessor, 4K of programmable read-only memory (PROM), and IK of random-access memory (RAM).
Engineered to maintain accuracy in the presence of noiseproducing equipment typical of engine rooms, Micro 5300 is equipped with advanced shielding and filtering features. This provides noise rejection of more than 50 db in the normal mode and 100 db in the common mode. The unit is completely self-contained in a single enclosure; standard thermocouple alloy wire leads connect directly to the instrument at the rear panel.
Write 70 on Reader Service Card AUTRONICA Autronica A/S of Trondheim, Norway, designs and manufactures a wide range of shipboard monitoring and alarm systems.
Its KM-1 integrated alarm and monitoring systems is intended f o r monitoring temperatures, pressures, and on/off alarms. Different types of transducers may be connected to the same panel.
The analogue value can be read on a moving coil instrument or on an optional digital display with automatic identification.
Panels can be supplied in a wide range of sizes.
The KM-2 is a new version of integrated alarm and monitoring system, with two points per channel and digital reading as standard.
Simplicity of channel design has been achieved by adopting thick film technic. This model is available with panel sizes from 12 to 120 points, and has outputs to alarm printer and mimic.
The MN-4 temperature monitoring and alarm system is for temperatures in the 0-100 C range, such as bearings and cooling media. It has high and low alarms with individual settings, and grouped alarm outputs optional.
Panel sizes are available with 9, 14, 24, 34, 39, and 54 points. Tailormade sensors and installation material are available for all types of diesel engines.
The MX-5 model is a temperature monitoring and alarm system for exhaust gas in the range of 0-600 C. It has alarms for high temperature and abnormal deviation from average temperature, and common setting for all cylinders.
Channels with separate high alarm adjustment and alarm output are available for turboblowers.
Panel sizes available for 9, 14, and 24 points. This system is based on thermocouple sensors.
The KB-6 central alarm system is for on/off alarm switches, with cassette sizes for 12, 20, 30, or 40 points. Systems with any number of channels can be supplied. Group alarm units and off/test units are integral parts of the cassette. A range of sub-alarm panels for cabins and wheelhouse is also available.
Among Autronica's diesel condition and monitoring alarm systems is the MJ-1, a thermal load analyzer incorporating an alarm function for each measurement point as well as averaging over four hours for the same points.
Capacity is up to 30 points in one panel. This system is based on two measurement points in the cylinder liner (0-300 C) and one point in the top cover (0-600 C).
The MlP-calculator NK-3 is a pressure analyzer with calculation of mean indicated pressure (MIP). This system is based on one piezo electric pressure transmitter to be moved from cylinder to cylinder, on scavenge air pressure transmitter, and one inductive pick-up for piston position information.
The analyzer is connected to an oscilloscope for indication of the time-pressure curve. Optional is a pressure transmitter for injection pressure, also intended to be moved from cylinder to cylinder.
Write 71 on Reader Service Card GENERAL ELECTRIC General Electric's Integrated Turbine Control (ITC) provides complete and instant control— from both the bridge and engine room—of steam flow, shaft speed, and other essential i n t e r f a c es with its marine steam plant components.
The system meets today's control needs and anticipates future ship control automation and unmanned engine room requirements.
GE's Medium Steam Turbine Department in Lynn, Mass., makes the ITC, and is the only single-source supplier in the industry of both geared marine steam turbines and their controls.
Because of its instantaneous reaction time—an important benefit that cannot be achieved manually— ITC makes it possible to operate more efficiently and safely with the smaller crews commonly found on ships today.
ITC's electro-hydraulic design incorporates proven solid-state components. The system's miniature electronic components fill only nine circuit boards, one-tenth of what is found on some other types of similar equipment. Plugin boards can be removed quickly for system checks, maintenance, or replacement with a backup unit.
Malfunction Proportional Control (MPC) is an integral part of ITC. MPC is adjusted to operate between the alarm and trip set points of the monitored conditions.
It is designed to suppress normal and maneuvering throttle valve response rates, close down valves as quickly as necessary to track the malfunction, and activate alarms on both bridge and engine room control panels. It also is designed to restrict turbine speed to a level proportionate to the severity of the conditions during abnormalities such as high drum level, overspeed, turbine vibration, or low boiler pressure—and it reacts to these abnormalities faster than the human eye and hand can function.
General Electric operates an ITC t r a i n i n g school in Lynn, where actual shipboard operations are simulated by special classroom equipment. Ship crew members from around the world attend the school, where they learn to operate and maintain the ITC system.
Write 72 on Reader Service Card HENSCHEL Henschel C o r p o r a t i o n , headquartered in Amesbury, Mass., has long been a supplier of equipment for ship control, interior communication, automation, and monitoring systems. Commercial marine products include engine order equipment, throttle control levers, bell loggers, digital master clock systems, shaft speed and rudder angle indicators, soundpowered telephones, audible signals, alarm/indicator panels, automatic whistle timer, and fire alarm system.
The latest Henschel product for use in automated marine systems is a new generation of bell loggers, the 10-2550 series. These m i c r o p r o c e s s o r - b a s e d devices monitor, record, and display ship's control data acquired from existing ship's signals. Henschel's new bell logger may be programmed to acquire and record any userdefined input to satisfy particular automation/control requirements.
Henschel has supplied most of the ship control consoles for the U.S. Navy. Development efforts have produced the first programmed control levers to combine propeller pitch and throttle coordination into a single unit.
Other naval products include synchro signal amplifiers, submarine steering giving instruments, and switchboards for power distribution and combat systems.
Henschel equipment is manufactured to applicable MarAd and U.S. military specifications. As appropriate, it meets U.S. Coast Guard requirements and is certified by the American Bureau of Shipping for AC/ACCU classifications.
Write 73 on Reader Service Card HYDE PRODUCTS The Hyde Henschel rudder failure alarm and steering gear monitoring system is designed to actuate an audible and visual alarm in the pilothouse when the rudder differs more than five degrees from the position ordered by the helm for more than 30 seconds for ordered rudder position changes of 70 degrees, or five seconds for ordered rudder position changes of 1 degree.
This system will also actuate audible and visual alarms if the rudder fails to move within four seconds in the correct direction for the ordered command, or if after seven seconds the rudder is moving at a rate of less than two degrees per second. This mode is non-operative for ordered rudder position changes of less than five degrees. The alarm is operative in both the auto and hand electric mode of steering, but is deactivated in the non-followup mode.
The system is comprised of three units: rudder failure alarm panel, rudder angle transmitter, and helm-mounted sensor. The failure alarm panel is for bulkhead mounting in the pilothouse and contains an alarm bell and indicating light. A conventional rudder angle transmitter is provided for mounting at the ship's rudder. The third element of the system is a sensor that will be mounted in the steering transmitter in such a way that it is rotated by the operation of the helm wheel or autopilot. All devices are "self-checking" so that a fault in the devices will be indicated.
The Hyde automatic power transfer system is designed to provide automatic pilothouse control of steering systems that currently use manual power unit transfer procedures.
A typical manual transfer procedure consists of: sending one of the ship's crew to the steering gear room; shutting down the active power unit; shifting the transfer valve to the idle power unit; and energizing the idle power unit. In an emergency, precious minutes could be lost in such a procedure. The Hyde design provides an actuator on the transfer valve plus all the necessary electrical logic to perform the transfer in less than 15 seconds.
When a decision to transfer power units is made, a selector switch is rotated in the pilothouse, the t r a n s f e r valve is shifted automatically, and the appropriate power unit energized.
Detection devices monitor the transfer. If the total cycle is not completed within 15 seconds, an audible and visual alarm is energized in the pilothouse and the control room. The existing manual means of transfer is maintained.
The electrical logic in this system can be adapted to interface with a Hyde steering failure alarm and steering gear monitoring system to automatically transfer power units should the active unit fail.
Write 74 on Reader Service Card MAGNAVOX Interfacing with any shipboard navigation, logging, or measuring device having a Baudot or ASCII output, the Magnavox MX I l l - VMS automatic vessel monitoring system is a complete data transmission arrangement for vessel monitoring via MARISAT. Any such data acquired aboard ship can be transmitted to any shoreside telex number at programmed intervals or upon request. The automatic transmissions are made without interrupting the normal communications of the Magnavox MX 111 MARISAT shipboard communications terminal.
Changing weather conditions at sea can be monitored by a shore station without involving shipboard personnel. Cargo conditions, engine performance, and fuel consumption, as well as ship's speed, heading, and position can be obtained at will from a shoreside office.
Data acquired by two independent sensors can be transmitted to different telex numbers from separate schedules. The system can be o p e r a t e d in three modes: schedules (automatic transmission), polling/rescheduling, and conventional.
Write 75 on Reader Service Card MARCON Marcon's Series 6000 Performance Monitor System (PMS) provides an integrated system to monitor, track, record, log, and display parameters of shipboard machinery. It can be described as a linked series of microprocessors with input and output hardware controlled by highly flexible software programs. A typical system could include sensor transducers, switches, and rpm inputs feeding data to nearby Data Remotes. The Data Remote processes information and transmits it to the main processor.
Processed data is displayed in page format on CRT displays, printed out, recorded on digital tape cassettes and is available for transmission via telemetry to shore or centralized stations. Operators can select and edit the page displays through the operator keyboard.
The Series 6000 PMS is said to have a number of features that set it apart from other types of monitoring systems, and represents a quantum advance in state of the art monitoring. It provides remote inspection of equipment and monitoring of operating parameters.
Sensors installed in key locations within the machinery and spaces track performance and alert the operator to malfunctioning equipment. An alarm sequence warns the operator of machinery hazards and guides him through acknowledgement of alarm conditions.
Marcon recently introduced a new low-cost series called the Micro-Mate. These systems will provide automatic monitoring displays and logging for up to 136 points at a cost competitive with conventional alarm panels but with added features such as reduced wiring and installation cost, data logging either by printer or magnetic tape, connection to microwave of satellite communication link, and second display keyboard.
Write 84 on Reader Service Card MEGASYSTEMS Megasystems has been installing its distributed microprocessor- based Seamatic II condition monitoring and trend analysis systems aboard vessels since 1976.
The company, headquartered in Boca Raton, Fla., now utilizes the same type of proven electronics to provide USCG-approved fire alarms, ABS unmanned engine room automation, cargo monitoring and control, data and bell logging systems, dredge automation and controls, tugboat automation, and generator control automation.
Megasystems recently delivered its second complete automation system for a split-hull oceangoing hopper dredge. This ship will have eight intercommunicating microprocessor stations. Each local unit features c o n t i n u o us LED digital display of measured parameters. Only a single multiconductor cable is required to transmit complete data from one unit to the other, thus drastically cutting the cabling expense one normally would require. Dragtending functions will also be performed by microprocessor.
The company is introducing a new generation of solid-state, individual c o n t r o l loop modules.
These highly reliable, self-diagnosing units will fit standard Eurocard type modules. Megasystems' solid-state logic control modules and microprocessor instrumentation are being installed in a new Lloyd's Class icebreaking ferry to be delivered to CN Marine later this year.
Megasystems will soon be introducing its new Direct Optical Tuning (DOT) into the market.
This new product is said to represent a significant advance over current products on the market, and will be the simplest to operate, the company says. It offers advanced features due to the advances in electronic design that were employed.
The DOT system can monitor several different engine types, be made portable, provide complete injection and waveform displays including the ability to "freeze" and "expand" significant areas, provide exact pressure values for exact points of crankangle position, and provide the first truly practical cylinder load-balancing capability.
Write 76 on Reader Service Card METRITAPE, INC.
A recently i n t r o d u c e d tank gauging system from Metritape provides c e n t r a l i z e d shipboard monitoring of liquid level and temperature using standardized plug-in modular components. The new Metrimodule system features individual digital displays, measuring about 3.5 inches high, 7 inches wide by 5.5 inches deep (89 by 178 by 140 millimeters), that provide level, temperature, and multiple alarm indications plus operational controls for each tank. The displays can be easily recessed into an existing console or panel box mounted in a bowup tank plan pattern (up to 23 displays plus system control module).
Continuous tank ullage is shown to the nearest centimeter, tenth foot or inch, and product temperature in degrees C or F at the press of a button. Three adjustable audible and visual alarms are for high, overfill and low levels.
Low alarm also monitors deck cables for open circuit. The Metrimodule system includes Metritape Level/Temp electric sensors, intrinsic safety barriers, Metrimodule- digital displays and Multifunction- 4 circuit cards. These standardized components are separate for each tank, interchangeable and plug-in. They insure that most component failures will affect only one tank and simplify service by shipboard personnel— maximizing system reliability.
For more information, Write 85 on Reader Service Card NATIONAL MARINE SERVICE A diesel-powered vessel may have a complete safety watch and control system tailored to its specifications at economical cost.
The key to customizing with economy is the use of standardized components to build the system.
National Marine Service of St. Louis designs customized consoles with standardized pushbutton controls and switches, organized into control panels to fit a specific vessel. The monitoring systems permit unattended or reduced manning under U.S. Coast Guard and American Bureau of Shipping regulations.
Modular design with solid-state electronics are said to provide exceptional reliability with low system cost. Included with monitoring and control systems are standard features that eliminate common operating problems. For instance, the system discards normal variations in operating parameters to eliminate false alarms. It also contains controls to activate and deactivate alarm circuits and eliminate nuisance alarms when engines start or stop. An alarm memory feature insures that alarms are not lost when engines are shut down. A front panel test allows testing of all system electronics whether engines are running or not.
The system includes all alarms and controls for a total engine safety watch: engine control console to bridge consol to a monitor panel in the chief engineer's quarters.
Write 77 on Reader Service Card PAN AMERICAN SYSTEMS Pan American Systems Corporation of Belle Chasse, La. is a leading manufacturer and developer of the marine industry's automation, monitoring, control, and instrumentation equipment. Principal products include unattended engine room automation systems, monitoring- and read-out systems, digital tachometer units, generator automatic t r a n s f e r , and many others.
PAS equipment can be found in all corners of the world onboard many types of vessels, such as an 80,000-dwt tanker; a 200-foot offshore supply vessel; a 140-foot, triple-screw river towboat; a 50- foot, twin-screw pushboat; a 200- foot jackup barge; 65-foot, twinscrew pilot boats; 100-foot, triplescrew, high-speed crewboats; 140- foot oceangoing tugs; and numerous other types.
Starting some 14 years ago in the 650-square-foot garage of its founder's home, PAS was launched into the manufacturing of its first monitoring and alarm panel intended for a dredge. This was to become a total disaster.
This failure furnished the management of PAS with many important facts, and renewed its determination to become a leader in the industry.
Many new directions were set by PAS products, among them the philosophy that "if you make the electronics sound and simple enough, it should need no maintenance." To prove that point, in 1970 PAS started manufacturing equipment with the electronic circuitry that carried a five-year unconditional operating warranty.
Write 78 on Reader Service Card ROCHESTER INSTRUMENT Series 4644 manufactured by Rochester Instrument Systems (RIS) of Rochester, N.Y., is a f a m i l y of vibration-monitoring equipment consisting of: primary sensing elements that detect vibration levels and movements; signal conditioning devices that amplify and transmit sensor inputs ; and plug-in, electronic modules that continually report these signals as useable data and initiate warnings and/or shutdown when preset limits have been exceeded.
Single- and dual-channel monitoring modules and a common system control module provide the operator's interface with the system to monitor the radial vibration, axial position, and phase reference of rotating machinery.
RIS high-density systems offering eight to 20 rack positions are available in seven standard configurations. All of them conform to, and in many areas exceed, the requirements of API 670. For instance, these systems occupy only about 50 percent of the panel space needed for conformance.
Standard features of a Series 4644 system include a "power-up inhibit" feature to prevent false alarms; a flashing LED to identif y first out alert or danger alarms; and field-selectable switching to permit on-site selection of such operating modes as latch/nonlatch danger alarms, time delays, shutdown logic, and relay energize/ de-energize for shutdown.
Series TM-2480 from RIS is a line of self-contained thermocouple and RTD temperature monitors capable of monitoring from six to 30 points. The units provide independent alarm and shutdown functions, and incorporate three-channel, plug-in modules to provide high-density packaging.
Three models are available: TM- 2481 for monitoring up to six points; TM-2482 for up to 12 points; and TM-2485 for up to 30 points.
Each series TM-2480 unit incorporates a meter/common service module that includes the digital readout, optional integral calibration facilities, plus comrnm alarm and common shutdown relays for all channels. These monitors are intended for use with primary sensors that are T/Gs and RTDs, but they can also accept and condition analog input signals from other types of sensors.
Another feature of the units is their ability to detect sensor failure without shutting down the monitoring function.
Write 79 on Reader Service Card SMITH-MEEKER ENGINEERING Smith-Meeker Engineering Company (SMECO) of New York City, established in 1908, has a reputation in the marine industry for quality engineering design and systems manufacture. A natural spin-off from its experience in switchgear was the shift to automation and monitoring systems in the 1960s.
SMECO expertise in vessel machinery and electrical requirements, coupled with the knowledge of electronics designers, has resulted in a highly flexible and extremely reliable solid-state control and monitoring package to meet the regulatory requirements for reduced manning and unattended engine room classification.
This flexibility has now been extended to the design of dredge machinery control and inert gas control systems. All automation and machinery control systems are custom-tailored and are offered with either electro-mechanical sensors or with RTD and LVDT transducers and electronic meters offering 1-percent accuracy.
All proposals are fully itemized and are accompanied by a preliminary arrangement drawing, eliminating the possibility of hidden factors. Installation documentation is so detailed that, when accurately followed by an installing activity, systems can often be checked out and demonstrated in three working days.
For servicing, each system is accompanied by technical manuals, and installation and logic drawings. With the exception of SMECO-designed and manufactured plug-in, solid-state circuit cards and meters, all console components, sensors, and solenoids are commercially available from other sources, though a large stock is maintained for customer convenience and immediate delivery.
Seminars on operation and service can be arranged upon request, and SMECO field personnel are available if needed. The company is proud to note that most problems can be resolved by verbal communication. SMECO has made extreme efforts in developing its design and selecting components that have been proven most reliable.
Since entering this field, nearly 100 vessels have been equipped with SMECO systems on a nationwide basis. Numbered among Smith-Meeker clientele are major oil companies, dredging companies, offshore supply vessel operators, towboat companies, and the U.S. Navy's Military Sealift Command.
Write 80 on Reader Service Card SOLIDSTATE CONTROLS A typical uninterruptible power power system from Solidstate Controls, Inc. (SCI) of Columbus, Ohio provides a continuous and dependable supply of ac power to critical loads, and consists of a rectifier/battery charger, battery, s t a t i c inverter, static transfer switch, and manual bypass switch. SCI has standard UPS systems in stock for immediate c o n f i g u r a t i o n and delivery in three inverter kva sizes — 3, 7.5, and 15—with electrically matched rectifiers/chargers in 50-, 75-, and 150-ampere sizes. For applications where batteries/charging equipment already exists, standalone inverters can be specified; for installations where no backup power source exists, SCI can provide most any type of battery.
An SCI static inverter provides extremely accurate, regulated voltage output generated by a ferroresonant transformer. It converts dc power from the rectifier/ charger or the battery to ac power for the load. The automatic static transfer switch protects the integrity of power to the load even if the system malfunctions or overloads, while the manual bypass switch enables an operator to bypass the electronic portions of the UPS for maintenance purposes. Typical SCI configurations for uninterruptible power systems include float type, rectifier input type, and redundant systems.
Write 81 on Reader Service Card SPERRY The Sperry division of Sperry Corporation, Lake Success, N.Y., has developed several systems that provide increased automation and monitoring capabilities for commercial ships. Sperry has developed an integrated bridge system that allows all bridge functions to be combined into a single, computerized console area, effectively permitting a decrease in necessary manpower requirements.
The division also has developed an engine control and monitoring system for use on dieselpowered ships. Three such systems have been delivered to Levingston Shipbuilding Company in Orange, Texas, for use on the Pride of Texas and her two sister ships.
The system on the Pride of Texas, a 36,000-dwt dry bulk carrier, permits fully automated control of the unmanned engine room. The system is fully approved by the U.S. Coast Guard for unmanned operations. The engine control and monitoring system permits full display of all engine parameters on a main console, which is also used to control the engine operation. In addition, the Pride of Texas system has seven remote alarm panels placed in key areas of the ship to provide warnings of an engine malfunction.
Write 82 on Reader Service Card WAGER Photoelectric smoke indicators m a n u f a c t u r e d by Robert H.
Wager Company of Chatham, N.J. automatically monitor, detect, and accurately measure stack emissions, both to help the vessel operator comply with smoke regulations and to monitor combustion for fuel economy.
For sensitive, automatic readout of smoke conditions, these Wager photoelectric monitors employ a light sensor in the stack that detects and measures the opacity of the emissions to within within one percent accuracy full scale.
Differentiation between black and white smoke is also possible. New models, ideal for diesel and gas turbine emissions, give precise readouts without i n t e r f e r e n ce from ambient light.
These precise readings are relayed by cable from the light sensor to an amplifier cabinet that may be conveniently located on or near the main control console in the engine room. On the cabinet panel a meter displays the smoke readout on a scale of 0-100 percent, with a d d i t i o n al scales available for even more precise readings. Panel lights also alert personnel to the presence of smoke, indicate black or white smoke, and show the zone in which the monitor is operating.
Specifically designed to operate in a rugged marine boiler environment, Wager p h o t o e l e c t r ic monitors are shock and vibration tested to insure continuous operation and minimum maintenance, with complete reliability for five years or more in m o n i t o r i ng smoke conditions.
W a g e r PSIs meet MarAd's "Standard Specification for Merchant Ship Construction," December 1972, Section 70. They also conform to U.S. Coast Guard smoke alarm requirements for reduced manning.
Write 83 on Reader Service Card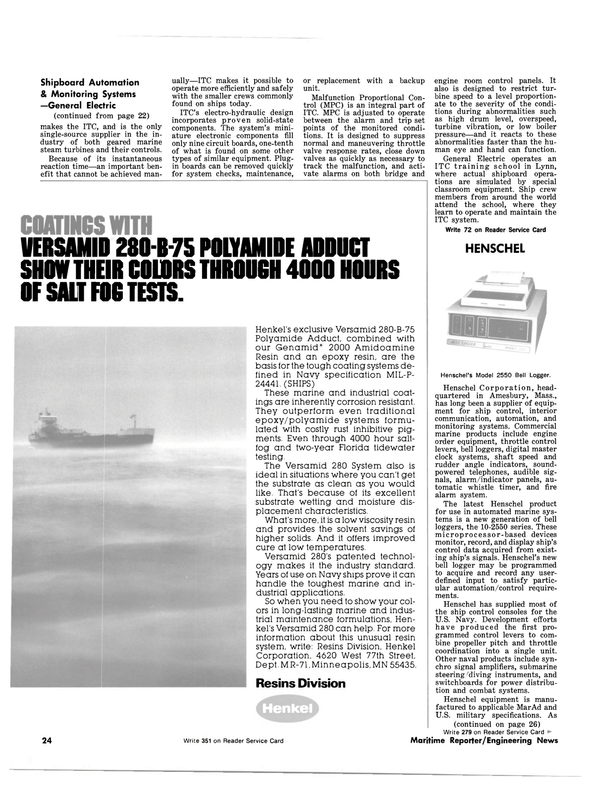 Read SHIPBOARD AUTOMATION & MONITORING SYSTEMS in Pdf, Flash or Html5 edition of July 1981 Maritime Reporter
Other stories from July 1981 issue
Content