Marine coatings & corrosion control
Manufacturers and suppliers of marine coatings and other corrosion- prevention measures continue to improve their products and services. In the important area of reducing fuel consumption, a new generation of self-polishing, antifouling hull coatings, and improved methods of underwater hull cleaning have been introduced.
New high-performance epoxy and polyurethane coating systems are now available that provide superior protection for tank interiors, decks, and other areas. These are but a few of the many new products developed to fight the multimillion- dollar problem of corrosion in the marine environment.
The editors of MR/EN asked the manufacturers of coatings and other corrosion-control products to tell us about their latest developments in products and services.
The review that follows is based on replies that we had received up to press time.
FOR MORE INFORMATION If you wish to receive additional information on any particular products in the following review, circle the corresponding reader service card number(s) on the reader service card in the back of this issue.
If you wish to receive information from all the manufacturers and suppliers of marine coatings and corrosion control equipment included in this review, Circle 20 on Reader Service Card AMERICAN ABRASIVE Circle 21 on Reader Service Card American Abrasive Metals of Irvington, N.J., manufactures Epoxo, a safety coating that provides surefooted, non-slip, long-lasting traction.
Originally developed for use by the U.S. Navy, Epoxo has been used on the flight decks of all aircraft carriers since 1962. It provides vital, non-skid safety for helicopter landing pads on offshore rigs. The safety coating is also suitable for use on ramps, passageways, engine rooms, equipment storage rooms, and shop areas—wherever slippery surfaces exist.
Epoxo's tough epoxy binder resists gouging, impact, and chipping.
It locks in the coating's near diamond-hard abrasive granules, preventing them from being loosened or kicked out. Epoxo is said to maintain its highly effective non-slip properties five times longer than sand and paint.
It is unaffected by seawater, oil, gasoline, grease, and chemicals, and can be rolled, troweled, or sprayed on. A two-man team can roll up to 1,000 square feet per hour. Epoxo is available in a variety of colors and in 1- and 5-gallon containers.
AMERON Circle 22 on Reader Service Card Ameron Protective Coatings Division of Brea, Calif., provides a full line of high-performance marine primers and coatings developed and tested in marine research laboratories worldwide.
They effectively protect vessels from corrosion and from animal and plant growths (bottoms) under dynamic and static conditions.
Products introduced recently include: Amercoat® 2438, an ablative antifoulant; Amercoat 2161 and 2162, the most recent inorganic antifoulants and a bold advance into a new technology; and Amercoat 346, a high-performance tank lining for marine chemical carriers.
Amerlock®/400 was introduced in 1983. This is a new, high-solids, self-priming topcoat specifically developed for the maintenance of steel surfaces. According to Dr.
Raymond Foscante, technical director of the Ameron Protective Coatings Division, "Years of company research and development have culminated in the Amerlock concept whereby the advantages of epoxy resin chemistry can be fully realized in a coating composition that facilitates one-coat, high-build application. The formulation is not only designed to maximize corrosion protection where surface preparation is rigorous, but also to provide extended performance on minimally prepared surfaces." Ameron introduced the inorganic primer Dimetcote® to the marine industry 40 years ago. Today, its revolutionary protection of steel surfaces in corrosive environments continues with a variety of formulations available to suit a wide range of corrosion-resistant marine applications.
Ameron continues to expand its international network of qualified marine representatives, worldwide manufacturing operations, and warehousing facilities. Most recently, the Sam Hua Paint Industrial Company, Ltd., Republic of Korea, joined the list of licensed coatings manufacturers, and the Ameron-affiliated company, Oasis- Ameron, Ltd., began production on the Gulf Coast of Saudi Arabia in 1983. Fifty countries have Ameron representatives supporting the marine coatings industry.
ARNESSEN Circle 23 on Reader Service Card The Arnessen Corporation's Corrosion Dynamics Division of Roselle, N.J., provides a complete line of heavy-duty descaling and high-pressure air/water cleaning devices for removal of rust, scale, and old paint from ships, barges, offshore rigs, storage tanks, and other structures.
Among the quality tools and equipment offered by Arnessen are chipping hammers, deck scaling machines, needle scalers, and water/air cleaning machines.
The company's SSS high-pressure water cleaning system solves the problem of cleaning the holds of both large and small bulk carriers and similar vessels, as well as the insides of land-based steel storage tanks and other interiors.
The system is based on the use of compressed air to increase the speed and throw of a water jet. It is simply connected to a ship's water-on-deck line and the service air line. A new nozzle design feeds the compressed air so as not to split and spread the water column.
The Model SSS-100 Mini-Gun is small, light, and specially designed for deck, superstructure, and hold cleaning in ships and other enclosures where headroom does not exceed 35 feet. The Model SSS-200 Combi-Gun is primarily intended for the hose cleaning of high holds, tall superstructures, ships' sides, etc., but is equally effective for other cleaning. Its powerful jet and high washing efficiency make prior sweeping unnecessary. Hot water can be used to speed removal of greasy deposits and stubborn dirt.
ATLANTIC SANDBLASTING Circle 24 on Reader Service Card Atlantic Sandblasting and Coatings, Inc. of Tampa, Fla., has been in business for more than 25 years, and is the largest marine sandblasting and coating company performing internal tank coating. Last year numerous ships, including the aircraft carrier USS Nimitz, were sandblasted to SA 2% or SA 3 standard and coated with inorganic zincs, epoxies, phenolines, and chlorinated rubbers. On all systems Atlantic applies a stripe coat to all rat holes, lightening holes, edges, etc. This coat insures adequate mil thickness and added protection to hard-to-reach areas.
Atlantic uses suspended cable type, expanded metal staging. This allows complete ventilation, better illumination and visibility, which insures uniform coating application.
This type of staging also provides complete protection of blasted surfaces by allowing the de-humidified air to reach all surfaces.
By varying the blasting abrasive and pressures to suit the condition of the steel, coupled with pre-cooled and dried compressed air, de-humidification and dustcollection equipment, Atlantic achieves the optimum quality in surface preparation.
Atlantic's Tampa facility has been operational for more than IVi years, and offers 2,000 feet of berthing at a 26-foot draft; 3,000 amperes of 440/480-volt, 60-cycle ac electric power; and complete water, air, and sewage services. During this time the facility has serviced more than 50 vessels in Tampa for lay-up, sandblasting and coating, and topside ship repair.
Increased productivity at the Tampa facility enables Atlantic to perform sandblasting and coating work, including all associated services, at an approximate savings of $1.00 per square foot less than prices offered by ship repair facilities.
These savings are passed directly to the owners.
Atlantic maintains that in the more than 25 years of operation it has never had a coating failure nor has it ever failed to meet a delivery schedule.
AURAND Circle 57 on Reader Service Card An improved, low-cost method for removing corrosion, paint, scale, rust, and other accumulated coatings from steel or any other hard surface in a marine environment is offered by Aurand Centrifi-Clean Tools, of Cincinnati, Ohio.
The exclusive Centrifi-Clean system combines the Aurand technique, proven over more than 35 years, with a new modern design.
The cleaning and chipping power is delivered by a patented bundle of multi-toothed circular cutting wheels, loose-pinioned around a rotating head. The head revolves at high speed, using centrifugal force to throw the cutters' specially designed teeth against the surface to be cleaned.
The cutters are of high grade tool steel, specially heat treated and hardened. They feature a new design with increased cutting surface that means greater capacity and longer wear. In addition, Aurand cutter bundles are easily replaced and are interchangeable between d i f f e r e nt Aurand cleaning tools. The thoroughness of the Centrifi-Clean method also usually means less frequent cleaning.
All Aurand tools feature an adjustable depth shoe set by the operator to limit the impact of the cutters. This feature protects the surface being cleaned and insures uniform cleaning action, preventing excessive cutter wear. The tools are lightweight, easy to handle, and have durable cast aluminum housings.
The Aurand Centrifi-Clean equipment is available in both electric and pneumatic models.
Electric tools are available in 115 and 230-volt models, with y8 or x/2-hp AC or DC universal motors, and 15 feet of three-conductor cable.
The pneumatic tools feature rotary type air motors, in y2 or 2i/2 hp sizes, free from toggles, pistons, or reciprocating parts to eliminate vibration. Units operate on 70 to 100 pounds air pressure.
Models are available with cleaning areas 5-inches, 8-inches, or 13-inches wide.
BUTTERWORTH Circle 25 on Reader Service Card Butterworth Inc. of Houston, an Exxon affiliate, has designed a 20,000-psi Liqua-Blaster to take high-pressure water jetting technology from the laboratory stage to practical field applications. The 620 Liqua-Blaster allows one operator to control 130 horsepower of water using 10 gallons per minute.
The unit not only cleans more efficiently, it also removes deposits that could not be removed at all with lower pressure water jets or sandblasting. Using 20,000-psi water only, a "white metal" finish can be obtained free of corrosion cells and other impurities that interfere with paint life. And there is no dust.
The 20,000-psi blaster removes deposits two to three times faster than 10,000-psi units, and it is possible to achieve "near white" to "white" metal conditions on older steel and rusted surfaces. The Liqua-Blaster also removes refractory build-up, concrete, aggregate, and marine growth.
The blaster is powered by a 150- bhp GM Detroit Diesel 4-71 engine.
Safety features are built into every facet of the unit, from the 55,000-psi burst pressure hose to the 30,000-psi, proof-tested, stainless steel gun. All components have at least a 2.5:1 safety factor.
The heart of the system is the new Partek in-line pump. The inline cylinder is manufactured of stainless steel and the internal surface of the cylinder has passed a special treatment to eliminate fatigue failures under continuous 20,000-psi operation.
In independent field tests, Coastal Science Associates compared the Butterworth 20,000-psi Liqua-Blaster with abrasive-blasted surfaces. They reported, "At 20,000 psi, we got to white metal . . .
clean of hidder corrosion cells." Butterworth Inc. has been a leader in high-pressure water jetting technology for more than 20 years. With equipment offering pressures from 3,000 to 20,000 psi and a variety of flow rates, the applications are unlimited.
BYWATER COATINGS Circle 26 on Reader Service Card Bywater Coatings Company of Belle Chasse, La., is now a member of the Brink/Molyn Group of the Netherlands and its subsidiary, MCS Marine Coatings and Services. This came about through the recent acquisition of Bywater by Brink/Molyn Beheer N.V.
The Byco-MCS marine line will continue as before with the addition of MCS products, along with the availability of the combination on a worldwide basis.
Two new products of interest to the marine user are 316 epoxy mastic and 950 urethane/aluminum primer. Both products exhibited excellent adhesion to marginally cleaned steel surfaces (ST-3) along with a low moisture vapor transmission rate.
Byco-MCS 316 epoxy mastic is manufactured in two colors, red oxide and aluminum. It can be applied in a single coat to 16 mils dry, and does not need a primer.
Its high solids (84 percent) make it economical to apply. The 316 can be used in both ballast and cargo tanks.
Byco-MCS 950 is a single-package urethane/aluminum primer.
Topcoats of epoxies and urethanes make it a superior barrier coat system.
Byco-MCS Moluspeed 593 is the latest addition to the company's antifouling line. It was developed with the latest technology in copolymers and toxicants. The 950 is based upon the combination of slight paint-film solubility and leaching.
CHESTERTON Circle 27 on Reader Service Card The Industrial & Marine Products Division of A.W. Chesterton Company of Stoneham, Mass., has developed, over a seven-year period, the antifouling coating OMP, which effectively retards growth of marine organisms and algae on ship hulls.
Three different coatings have been formulated: #210 OMP, which has the slowest extraction rate. It is designed for strong currents and/or when a vessel is in continuous service. A thickness of 150 microns should be applied.
#220 OMP is designed for use in moderate currents and for vessels at sea half the time. A thickness of 245 microns is recommended. #230 OMP has the fastest extraction rate, and should be used where there is little or no current, and on vessels that are anchored most of the time. A thickness of 295 microns should be applied.
OMP coatings can be applied by brush, roller, or spray. Its effectiveness is traced to a controlled release of an organometallic antifoulant that is part of the product's binder system, and, unlike conventional coatings, is not mixed into the product.
CHUGOKU MARINE Circle 28 on Reader Service Card Chugoku Marine Paints, Ltd. of Japan recently introduced a new family of self-polishing, antifouling hull coatings. These new products are based on the formulation technology of the company's AFSEAFLO Z-100 paint that was developed five years ago and is now in service on more than 500 ships worldwide.
In AF-SEAFLO Z-100 HS, volume of solids has been increased substantially and dry film thickness up to 50 percent, showing the same antifouling performance and self-polishing action as the original formulation. Up to 150 microns per coat can be applied, and coverage is decreased by 10 percent.
A two-coat system is said to offer up to 36 months protection.
AF-SEAFLO Z-100 LE and AFSEAFLO Z-100 LE HS have a low eroding/polishing rate that insures good antifouling activity for a longer period. They can be applied without extensive hull blasting, in some cases over existing conventional paints.
C.I.E.
Circle 2 9 on Reader Service Card C.I.E. Sandblasting & Coatings Company of Sarasota, Fla., is a complete service sandblasting and coatings company, with mobility for on-site job services. C.I.E. offers coatings from a variety of manufacturers, meeting the demands of heavy-duty marine corrosion.
C.I.E. gives its customers specifications, application techniques, and inspection data, meeting the manufacturer's requirements on all coatings.
The company also offers a consulting service designed to give shipyards, drydocks, and other marine facilities complete information and techniques in sandblasting and coatings operations.
CLARK PAINTING Circle 30 on Reader Service Card Clark Painting Company of Concord, Calif., is a well-established firm with many years of experience in the industrial and nuclear field of corrosion control and coatings application. It recently expanded its operations into the marine market. Fred Cagle, president and CEO, has appointed David R. Talbot marine manager for the newly formed Marine Division.
Clark is expanding its services to include commercial and government vessels and offshore drilling platforms.
Clark Painting will be utilizing the latest state-of-the-art equipment available to the industry. It intends to offer its new marine customers the same consistent, ontime, on-budget services that it has provided for its many commercial and industrial customers, past and present.
The company has the capability and financial resources to provide the following: bonding and warranty; detailed estimating and proposal service; professional staff of managers and superintendents; quality work force; equipment inventory and resources to handle all jobs, large or small; and engineering, design, and construction of specialized equipment, blasting, and painting facilities. Services are provided worldwide, with offices throughout the U.S., and in Indonesia and Saudi Arabia.
CLEMCO Circle 3 1 on Reader Service Card Clemco Industries of Burlingame, Calif., recently announced an addition to its abrasive blast equipment line, a Wetblast Injector System that eliminates dusty blasting environments without detracting from abrasive cleaning speed.
A water-jetting design combined with precise metering improves abrasive velocity rather than causing abrasive flow interference.
The result is a hard-hitting, highvelocity blast force that will clean to white metal quickly.
A versatile function of the system is its ability to remove aged top layers of paint while retaining solid, tightly adhered base coats.
This cost-effective feature eliminates the necessity to apply new primer when existing primer is intact.
Another new addition to the Clemco line, after two years of research and development and field testing, is the PVR-400 pinch valve remote control for abrasive blast cleaning. With this control, one operator can stop blasting without depressurizing the blast machine; otber operators can continue to work off the same machine without interruption.
The PVR-400 features a normally closed grit valve and an air valve. Air pressure opens both to blast and a powerful spring closes them instantly when pressure is removed. Pilot valves or air pressure are unnecessary to close the valves. The danger of accidental blasting is said to be nonexistent.
The remote control systems are available in either pneumatic or electrical versions.
CONSOL Circle 59 on Reader Service Card M3 oil developed by Consol will restore the flexibility and resiliency of deteriorating wire rope with just one application.
Wire rope strands break as a result of undetected core rust, symptomized by loss of flexibility.
M3 oil penetrates to the core, restores memory to the rope, and provides long life rust control.
Consol Oil is available in three grades: Grade Ml is for use where immediate protection and penetration are required. This product is recommended to free frozen fittings and remove soot scale on the fire side of boiler tubes.
Grade M3 affords slower penetration but gives longer lasting protection. Ten to 30 days are required to condition a surface.
Since M3 will not gum up the moving parts, it provides an excellent protective treatment on anchor windlasses, deck winches, capstans, steering engines, and all other deck machinery.
Grade M4 is designed for maximum preservation with stopcorrosion action. Recommended for use in inaccessible areas such as winch platforms, chain lockers, floor plates, and the like, this product will also provide maximum protection and preservation for spare parts and other marine equipment stored for extended periods.
Consol oil will not congeal and will not emulsify in water; it also exhibits extended life when exposed to the elements.
Consol Rust/Kill Systems are available from Contact Paint of Baltimore, Md.
DAMPNEY Circle 32 on Reader Service Card Dampney Company, Inc. of Everett, Mass., has been supplying its Apexior" line of protective coatings to the maritime industry for more than 70 years. Two grades of the Apexior coating offer long lasting corrosion protection for metal exposed to fresh or salt water over a wide range of temperatures.
Apexior Number 1® is a heat-resistant coating for metal surfaces immersed in boiling water at temperatures to 700 F. Typical applications include the water-side sur- faces of such marine equipment as steam generator boilers and drums, economizers, water heaters, evaporators, and steam turbine rotors.
It is applied by brush and dries tack-free in 16 hours.
Apexior Number 3K offers lowcost basic corrosion protection for difficult-to-prepare metal surfaces that are frequently wet or immersed in water at temperatures up to 140 F. It is recommended for service conditions where the use of expensive high-performance coatings cannot be justified.
Typical applications include condensers, air receiver tanks, brine tanks, rudders and rudder posts, propeller blades and cones, and chain lockers. Apexior Number 3 can be applied by spraying or brushing; drying time between coats is 12 hours.
DEVOE PRUFCOAT Circle 33 on Reader Service Card Devoe Prufcoat of Baton Rouge, La., a major producer of protective coatings and linings for industry, recently introduced its Chemline* 546 WB, a high-performance, twocoat, water-based epoxy system to provide superior protection for tank linings. The new product may also be used for steel and masonry structures, and for plant and mill equipment.
According to Andy House, national sales manager, Chemline 546 WB offers excellent chemical resistance, high solids, low V.O.C., fast water insensitivity, and may be applied over clean, sound old paint without involved preparation.
Devoe Prufcoat is a division of Grow Group, Inc., one of the leading U.S. producers of specialty chemicals and paint.
DREW AMEROID Circle 34 on Reader Service Card Drew Ameroid Marine of Boonton, N.J., has introduced a noncorrosive marine cleaner designed for engine cooling systems, which, unlike other products available in the industry, performs three key tasks in one step. The new onestep cleaner removes oxides and other minerals and light oils, much like an acid, but without the need for pretreatment solvents, to remove oils, or neutralizers, to prevent flash rusting.
In addition to cleaning recirculating water systems, Ameroid onestep cleaner is suitable for parts such as exhaust valves, turbocharger parts, heat exchangers, piping, rotors, and filters. It is also an effective brightener for aluminum, brass, and copper.
The water-soluble cleaner works to clean surfaces by penetrating quickly to remove exhaust carbon, oils, mineral scales, and the oxide layer itself. Dispersants in the product help to prevent redeposits on the cleaned surfaces.
The cleaner may be applied by one of a number of methods, including dip or hot tank soaking, recirculation, spray/high-pressure washing, steam lancing, power washer cabinets, and foam methods.
Economically concentrated, it performs consistently in a 20-percent solution at temperatures of 140-180 F. It may also be used at ambient, but longer cleaning time is required.
A very slightly contaminated engine water system or chilled water system may use a lower concentration of the new Ameroid one-step as a system flush. Heavily rusted systems may require several cleanings at elevated temperatures with good agitation to achieve the desired results.
DUPONT STARBLAST Circle 58 on Reader Service Card DuPont "Starblast" of Wilmington, Del., markets an abrasive that is a blend of coarse and fine grains of staurolite mined from DuPont's heavy mineral deposit located in Starke, Fla.
Repeated demonstrations confirm that a ton of "Starblast" will clean three times as many square feet of metal surface as a ton of coal slag or silica sand.
Calculated another way, "Starblast" will clean 100 square feet of metal in two-thirds the time needed by the other two blasting materials. This translates into a labor saving for the shipyard.
Another plus factor is that nozzle life has been extended significantly since the switch to the less abusive "Starblast." A final plus in the "Starblast" column comes in the "dusting" comparison. Silica sand and slag generate clouds of dust that are troublesome from both an environmental and a visibility standpoint. By creating less dust, a blaster using "Starblast" can see the metal more clearly and, as a result, work more quickly.
Added up, all the advantages of "Starblast" include uniform blast pattern and profile, faster cleaning rate, lower equipment maintenance record, reduced labor investment and less dusting.
ENGELHARD Circle 36 on Reader Service Card Engelhard Corporation's Capac™ impressed-current cathodic protection systems have proven effective in the prevention of corrosion and pitting in well over 2,000 oceangoing vessels of all sizes and types—tankers, containerships, workboats, mobile offshore drilling rigs, fishing trawlers, tugboats, and many types of naval vessels.
Manufactured by Engelhard's Systems Department, the automatically controlled Capac systems have operated successfully for 20 years and more, the life of most marine vessels. Thousands of dollars can be saved by avoiding the need for replacing sacrificial anodes at each drydocking and by extending the time between each drydocking.
Designed to operate unattended in the automatic mode, Capac systems constantly adjust the impressed current emitted by the platinum-clad niobium anodes to account for changes in hull speed, water temperature, salinity, and loss of the protective coating. Hull conditions can be estimated by monitoring current output—a major increase in current demand at sea probably means that serious deterioration of paint on the hull has occurred, and allows corrective action to be planned in an economical way.
Capac systems are simple to operate.
No special training is required for the routine maintenance that leads to years of troublefree corrosion control.
Engelhard Corporation, headquartered in Edison, N.J., is an international leader in the technological development and manufacturing of high-performance performance specialty chemicals and catalysts, industrial minerals, and precious metals products.
ESGARD Circle 37 on Reader Service Card Esgard, Inc. of Lafayette, La., manufactures bio-compatible, vegetable- based corrosion coatings, Bio-Gel and Bio-Float, which are said to offer long life and economical, durable protection of wet and dry internal areas in all types of marine vessels. Common features of the Bio products include: absence of solvents or petroleum products, 450 F flashpoint, nonflammability, and resistance to a wide range of acids, alcohols, and hydrocarbons.
Bio-Gel provides long-term protection in areas of minimum surface preparation where a gel type coating is preferred. In addition to film thickness, it protects via rust inhibitors and an ability to "skin over," a natural occurence that requires no ventilation. The initial skin forms between six and 10 days after application. Film thickness is left to the customer's discretion, with the manufacturer's recommendations being 6—40 mils, Bio-Gel can be applied over firm, damp surfaces. Application is by airless spray methods, with coverage ranging from 40—200 square feet per gallon. Manual methods or hydroblasting are the best types of surface preparation. The coating's yellow color makes application and inspection easier.
Bio-Float is introduced as an alternative to petroleum-based "floatcoat" products. Bio-Float may be either floated on or sprayed. It does not readily skin. While providing superior protection, it possesses excellent penetrating properties and can be used to prepare surfaces for more permanent type coatings.
Bio-Gel and Bio-Float represent only two of the protective, rust-inhibitive coatings available from Esgard. Other products include self-priming enamels, wire rope and cable lubricants, removable inventory storage coatings, flange protection systems, and long-term tubular coatings.
EUREKA CHEMICAL Circle 3 8 on Reader Service Card Eureka Chemical Company of South San Francisco has been a leader in supplying quality soft coatings for the marine and offshore industries. Fluid Film™, Gel BW, for years has been used in ballast tanks to provide long-term protection at the lowest practical cost per year. Fluid Film Liquid AR, a new product, can be used where spray application of Gel BW is not practical. This new product can be hosed onto metal surfaces in ballast tanks or void areas with an absolute minimum of surface preparation, both for corrosion control and to soften heavy scale prior to descaling operations.
Following company policy of developing corrosion control for an expanding number of areas aboard ship, other new Eureka products continue to supplement ballast tank protection.
Fluid Film WRN-EP may be applied to standing or running rigging for both corrosion protection and lubrication. EP properties enhance its lubricating quality. For .users of pressurized wire rope lubrication equipment such as Dyna- Lube, Fluid Film WRL penetrates to the core of the wire rope without dripping as the rope emerges from the applicator.
Fluid Film aerosols, which contain no solvent and do not dry out, are convenient for small applications where penetration and lubrication are desired.
Eureka's Perma Film™ family of epoxies supplement the Fluid Film coatings. Perma Film WT-100 has been in use in potable water tanks for almost 20 years. Perma Film BT-200, for ballast tanks, does not require sandblasting but may be used over a surface conforming to SSPC-SP3. Perma Film PT-100 is the latest addition to the family, and is formulated for cargo tanks, particularly in tankers and bulk carriers.
GLIDDEN Circle 39 on Reader Service Card Glidden Marine Coatings of Harahan, La., has nearly 20 years of experience with a steel hull bottom system combining a thin-film barrier coat with an ablative, selfcleaning vinyl antifoulant. Normal performance of this system when properly applied is 4—6 years before spot blasting and coating repairs are required. Shipyards have complained that 6- and 8- year-old Glidden bottoms were difficult to blast to white metal as the old coating was still adhering tightly.
The Glidden bottom system has proven especially effective on vessels working overseas. An owner can confidently schedule two-, four-, and even six-year drydockings without bottom paint repairs being necessary except for major collision or catastrophic grounding damage. Of course, no matter where a vessel works there is significant savings in knowing that no blasting or painting needs to be done on the bottom until its sixth or eighth year of service.
Glidden's vinyl antifoulant allows little or no tightly adhering growth, even in badly polluted waters, and the system is resistant to delamination and to abrasion from repeated groundings on shallow bottoms. When repairs are required, turnabout is very quick.
Under normal conditions, total drying time for a four-coat system is eight hours. The vessel may then be launched immediately or left dry indefinitely with no reduction of antifouling protection.
HEMPEL'S Circle 4 0 on Reader Service Card Hempel's Marine Paints A/S, with headquarters in Denmark and 26 factories worldwide, recently announced a new approach to non-polishing antifoulings—a product area many sources estimate accounts for some 85 percent of the total world market for antifouling coatings.
In half a century of research and development of traditional, nonpolishing antifoulings, Hempel's has gained a thorough understanding of their effects. It is this know-how that now enables the company to introduce, under the name Classic, an optimized range of these traditional coatings.
The Classic line consists of four products: antifoulings 7611, 7633, 7655, and 7677, which together cover the full non-polishing spectrum by taking into account the degree of protection required by individual vessels for their particular trading pattern, activity level, and desired drydocking interval.
The versitility of the Classic range, through combining the products' variable film thickness and coating sequence abilities, provides no less than 13 alternate specifications. This, together with the easy-to-follow selection table, not only allows the shipowner the widest choice, but enables him to recognize and choose the optimum non-polishing system for each vessel.
HENKEL Circle 4 1 on Reader Service Card Henkel Corporation of Minneapolis provides Versamid® 280B75 polyamide resin and Genamid® 2000 amidoamine resin, the curing agents used by formulators to produce unique epoxy coating that meets the U.S. Navy's P-24441 (SHIPS) Specification and offers good adhesion to poorly prepared surfaces, low-temperature cure, and corrosion resistance without rustinhibitive pigments.
Laboratory tests conducted by Henkel reveal that coatings based on these resins "creep" into small cracks to displace water and foreign materials. There is also chemical absorption on metal surfaces to prevent corrosion, and no zinc pigments to inhibit welding.
INTERNATIONAL Circle 4 2 on Reader Service Card Replacing International Paint's Intersmooth SPC range, HISOL is the latest development of this tried and true SPC, being exactly the same as Intersmooth when dry, the only difference being in the product application. A prime feature in the engineering of this new coating is its greatly increased volume solids and its ability to be applied in a range of dry film thicknesses. For a typical paint scheme, fewer coats are now required.
Higher solids mean more square feet per gallon, less solvent in the air, and up to 30 percent savings in application and less time in drydock. HISOL is totally compatible with existing Intersmooth SPC systems.
The new coating is available in two forms: HISOL 200 series is a slow-polishing, smoothing copolymer recommended for application to all vessels over 15,000 dwt, and those operating permanently in warm waters. HISOL 900 series is a faster-polishing, smoothing copolymer than the 200 series, designed for vessels under 15,000 dwt, or low-activity vessels operating permanently in a severe fouling environment. It is particularly suited to vessels entering lay-up, allowing them to re-enter service without the need for substantial hull cleaning either afloat or in drydock.
The second antifouling introduced, Interswift, is an eroding, polishing copolymer that fills the performance gap between traditional antifoulings and HISOL. Interswift, which supersedes Interspeed Special, achieves up to 50 percent savings in application costs, as one coat is used instead of two.
When applied over approved substrates, a single 6-mil coat will give in-service protection for 24 months.
Such a specification costs little more than a two-coat traditional high-performance antifouling scheme when the reduction in labor costs are accounted for. Alternatively, two coats of 4 mils each will protect the underwater hull for 30 months.
A third new product range has been introduced, Intershield EG series, abrasion-resistant coatings.
Intershield has been engineered to reduce removal of the anticorrosive coating, which is the major cause of corrosion. Feedback from a large number of shipowners indicated that once mechanical damage exceeds three percent scattered over a given area, it is considered a serious problem requiring extensive and costly repair.
With twice the impact resistance and two to three times the resistance to erosive wear, Intershield's benefits include: reduced maintenance costs through improved protection against mechanical damage and reduced corrosion; improved cosmetic appearance; and minimization of mechanical damage sustained by the underwater hull, contributing to a smooth hull and fuel savings when used with Intersmooth HISOL.
International Paint has introduced these three new product lines as part of an ongoing worldwide program to offer shipowners cost-effective, high-performance marine coatings that will save time and money in both services and at drydock intervals.
JAEGLE PAINT Circle 43 on Reader Service Card Self-healing Cortec® finishes manufactured by Jaegle Paint Company of Havertown, Pa., are attractively colored coatings designed to obtain excellent durability when exposed to highly corrosive atmospheres and weathering conditions. Typical applications include: container rust prevention; various marine applications, including fresh and salt water ballast tanks, chain lockers, voids, and cofferdams; protection of overseas shipments; offshore drilling rigs; and many others.
These finishes are a specially blended formulation of an inorganic- organic complex that obtains its unique, virtually impenetrable moisture barrier by formulation of highly polarized microscopic platelets lying parallel to the coated surface. This multilayered effect, when combined with other highly resistant components included in Cortec finishes, results in one of the most durable coatings of its type currently in the field.
These products are not lanolin- based, require virtually no surface preparation, and acutually penetrate the substrate for maximum protection. They do not sag as do many products, can be applied uniformally, and can be manufactured to dry hard, remain tacky, or to remain soft.
A.B. Ferryl products are now available in the U.S. and Caribbean area through Jaegle Paint.
Ferryl's Ferrycid is a complex chemical liquid that works quickly to prolong the life of paint, remove rust stains from painted surfaces, cleans and bleaches wood decks, and removes chalk, stains, and rust from sanitary installations. It penetrates into steel surfaces and provides a rust-free, clean surface, improving adhesion of the coating with corresponding improvements in protection and durability.
Ferryl 202 is a specially manufactured anticorrosive grease that provides a semi-dry, tough film with excellent lubricating, rustprevention, and adhesion properties.
This product is easy to apply and has a very high melting point to eliminate grease "drips." JOTUN Circle 4 4 on Reader Service Card Jotun Marine Coatings, Inc. of Baltimore, an industry leader in self-polishing copolymer antifouling since the introduction of Takata LLL more than six years ago, now presents the next generation— Seaflex, Seamate HB33, and Seamate HB66.
Seaflex offers the flexibility of being applied in one coat on any previous traditional long life or self-polishing antifouling. It gives 24 months of protection in one coat. Seaflex contains Jotun-developed copolymer as binder. When drydocking time is limited, Seaflex offers an economical alternative.
Seamate HB (high build) is based on a specially formulated organotin copolymer as binder, which slowly dissolves in seawater so that fresh antifouling is continuously exposed. It can be applied as one coat up to a dry film thickness of 150 microns. It is available in two qualities, HB33 and HB66; the former polishes at a slower rate than HB66. Greater economy is achieved through the high-build nature of these coatings, as greater film thicknesses may be obtained with less costs.
As every shipowner realizes the importance of controlled fuel consumption, the new Seamate HB concept offers the owner the best and most economical system in relation to vessel speed, charter routes, and drydocking intervals.
In addition to the latest in copolymer antifoulings, Jotun now offers Safeguard, a two-pack, corrosion- preventing, coal tar epoxy paint for long-time protection of submerged steel and ballast water tanks. Safeguard is said to be an excellent choice where high-build, dry film thickness is required in a minimum of coats. It provides adequate corrosion control whether applied on tugs, barges, or oceangoing vessels.
KAISER CHEMICALS Circle 4 5 on Reader Service Card Kaiser Aluminum & Chemical Corporation of Oakland, Calif., is now manufacturing and marketing, in Asia and Oceania, aluminum anodes for cathotic protection in marine environments. The anodes are being produced in Taiwan by the Metal Products Division of Kaiser Chemicals, a division of Kaiser Aluminum. Kaiser Chemi-1 cals has been a major supplier of sacrificial anodes for the protection of steel in corrosive environments for 30 years.
Primary product for marine applications is KA95, a highly efficient, mercury-type aluminum alloy anode, with maximum current output. The company's Far East converter, Formosa Shinn Yaun at Kaoshiung, Taiwan, will produce flush-mount hull anodes, ballast tank anodes, platform, and multipurpose anodes. Kaiser Chemicals maintains the same manufactur- ing techniques and stringent quality- control measures at its new facility as it established at its modern, 12-million-pound-capacity manufacturing facility in Tulsa, Okla.
Since its start-up in the fall of 1983, the new Taiwan operation has already received orders for more than two million pounds of cast aluminum, including large orders from Daewoo Shipbuilding in Korea and Nippon Steel in Japan.
MAGNUS MARITEC Circle 46 on Reader Service Card Magnus Maritec International Inc. (MMI) of Palisades Park, N.J., has two major corrosion-control products—Magnakote® and Protecsol- 100.
Magnakote is a rust-retarding tank coating that is an inorganicorganic complex with a platelet crystalline structure similar to fish scales. These platelets are polar in nature and form a dense, tight coating that provides an effective corrosion barrier by allowing a low rate of vapor transmission. This coating is thermally stable and has a low odor. It is non-toxic in use and has a high flash point (325 F) for safety in application. It does not contain any ingredients that require special clothing or breathing apparatus for entry into the tank.
Magnakote has been tested in accordance with U.S. Milspec Mil- R-21006 (Ships) and it surpassed other products in immersion test, salt-spray test, and stability.
Spraying is the preferred method of application and requires the least amount of material. Application by the flotation method should only be used when the geometry of the tank precludes spraying. Magnacote should not be applied by roller or brush as these methods disturb the uniformity of the platelet formation.
MMI's Protecsol-100 is a liquid blend of organic and inorganic corrosion inhibitors specifically developed for the protection of ballast tanks filled, during lay-up, with sea or brackish water. If forms an adherent passivating film on bank surfaces that protects the steel from corrosion. This protective film is maintained on reballasting by subsequent minimal additions (50 ppm by weight). Exposure of steel to Protecsol-100 solution provides protection that remains even after the inhibited solution is replaced by uninhibited water.
The preferred method of treating salt water with Protecsol-100 is proportional metering during ballasting. An alternate approach is to pour a 55-gallon drum into the ballast tank for each 3,000 tons of ballasted salt water by controlled pour to achieve as close to proportional mixing as possible.
Protecsol-100 may also be used to provide an effective, economical solution to the corrosion problems found in cofferdams, bilges, voids, barges, and pipelines.
MUHLHAN GROUP Circle 47 on Reader Service Card The Muhlhan Group of companies of Hamburg, West Germany, a worldwide corrosion-protection organization for shipping and industry, recently announced the appointment of Field, Wigham & Company of Great Neck, N.Y., as its sales representative for the U.S. President of the firm is Sheldon B. Field.
Muhlhan specializes in steel and concrete protection work, such as high-performance tank, hull, and repair coating at shipyards, and shoreside coating work for oil refineries, conventional and nuclear power stations, and chemical plants. The Group is presently active in 17 countries on four continents.
Apart from the flexibility and mobility of its work force, Muhlhan operates the shot-blasting vessel Strahl-O-Matic, which is capable of performing work directly alongside a vessel at any site.
Muhlhan is presently recycling abrasive material in compliance [...] primer is a corrosion-resistant coating that creates an excellent adhesive bond between the deck and the PM-249 underlayment.
PM-249 is an ambient-curing, selfleveling polyurethane that produces a continuous elastomeric polymer. It is applied at a minimum of 70 mils. (PM-2490 is specifically formulated for cambered decks or other sloping areas.) After proper curing of the PM- 249, PM-1665 polyurethant nonskid is applied. This is a high-performance coating that was developed for use in areas where flexibility and toughness are required.
The non-skid is available in roll or spray versions.
PM-1315U is a two-part polyurethant sealer and dress coat designed for use with the PM-1665 non-skid. The dress coat can also be used to apply lines or other markings on the deck.
Palmer International also manufactures Chocktite Green, a pourable chocking compound that is approved by the American Bureau of Shipping, Lloyd's Register of Shipping, Nippon Kaiji Kyokai, and Det norske Veritas.
PERFORMANCE HULL CLEANING SERVICES Circle 4 9 on Reader Service Card Performance Hull Cleaning Services, Inc. of New Orleans and Menomonee Falls, Wise., provides customers with hull surface management technology. Using data from many Naval research facilities, the company has obtained hull cleaning and antifoulant reactivation procedures of the highest level available anywhere.
Remarkable savings are obtained by: proper reactivation schedules obtained by computer, individualized for each vessel; comprehensive underwater color video surveys; drydock extensions up to five years. The economies can be further increased by using special reactivatable paints that greatly reduce hull surface roughness.
Using data supplied by the customer on an easy-to-read survey, the Comtrax computer determines the hull surface management program for each vessel based on operational and geographical history.
The data is updated at every reactivation with on-site inspections.
Ship personnel can see for themselves, using the company's professional camera divers, how the job is being done and the condition of the hull by use of a TV monitor on the service vessel. Video tapes of the operation will be sent to the customer free of charge, upon request, so that the customer's own engineers can evaluate the operation.
Performance Hull Cleaning reactivates an average of about 24,500 square feet per hour. If necessity dictates, on larger vessels, the company can double that production rate by adding another sub.
PHILADELPHIA RESINS Circle 50 on Reader Service Card Philadelphia Resins Corporation of Montgomeryville, Pa., manufactures the Phillyclad® 1000 Series, a two-component, catalyzed epoxy protective coating designed for demanding marine and industrial requirements. It can be used on interior and exterior surfaces of steel, concrete, masonry, wood, etc., where there is a need for resistance to chemicals, moisture, abrasion, and impact.
Phillyclad 1000 Series offers long-term durability in the painting and protection of steel, concrete, and wood decks; steel fuel storage tanks, pipelines, and other steel structures. It is non-toxic when cured (3-4 davs at 72 F) and [...] tenance protective coatings not in direct contact with food, etc.
The 1000 Series is also available as an anti-slip deck coating where safety and durability are prime requirements.
When coating steel, blast cleaning to near white metal is recommended.
If that is not possible, water blast or mechanical preparation is an alternative if done carefully.
Prime coats are recommended to seal porous surfaces such as concrete and wood. When a prime coat is required, the first coat of the 1000 Series is reduced 30 percent with PRT-59 solvent; this improves first-coat penetration resulting in excellent adhesion.
Phillyclad 1000 Series epoxy coating without aggregate is easily sprayed, rolled, or brushed. For the final coat with anti-slip aggregate in the coating, a low-pile, mohair type roller is recommended.
PHOSMARINE Circle 51 on Reader Service Card Phosmarine Equipment S.A. of Marseille, France, provides the BRUSH-KART® underwater hull cleaning service. Diver-driven for greater efficiency and flexibility, the unit removes marine growth that eats up expensive fuel oil. It can do it in a matter of hours instead of days, while the ship is loading, unloading, or at anchor, causing no delays in ship scheduling.
With regular hull cleanings that can be performed between drydock cycles, BRUSH-KART more than pays for itself with impressive savings in fuel operating costs.
Because it is hydraulically operated, the device is said to be safer, faster, and more efficient than any other hull cleaning units available. As it travels underwater along the hull of a ship, it cleans with a thoroughness not attainable with hand-held brushes and scrubbers. It can also operate under sea conditions that are normally impossible for other methods.
BRUSH-KART's hydraulic power is supplied to the three brushing units by a single, 328-foot-long, coaxial floating hose. Power source is a 52-bhp diesel engine. The unit is fitted with safety gear that not only meets government and Lloyd's of London requirements, but also allows the unit to be used in the vicinity of unloading tankers.
When in use, the BRUSH-KART is positively buoyant in the water.
It clings to the hull surface with a clamping force of 1,390 pounds of suction. This holds the brushes tightly to the hull and provides grip for the driving wheels.
PRC Circle 52 on Reader Service Card Products Research & Chemical Corporation (PRC) of Glendale, Calif., manufactures Proreco11 deck coating systems that have been applied to more than one million square feet of exterior decks of commercial ships, military vessels, towboats, offshore rigs, and a variety of smaller vessels. The interior and exterior Proreco coating systems are fire-retardant, and resistant to acids, caustic chemicals, and petroleum products.
Proreco III exterior coating systems are used to virtually eliminate costly maintenance and downtime for working ships. These systems are specified by many naval architects and by the military due to their known track record for corrosion control, dependability, and long wear.
Proven to be effective, the Proreco III systems have an inherent flexibility to withstand normal stress caused by deck movement.
The fire-retardant systems provide the ultimate in corrosion control and are resistant to the heaviest abrasion and impact. The Proreco elastomeric base is not brittle and not subject to cracking, chipping, or spralling.
The Proreco I coating system is specified for habitability areas such as heads, galleys, and mess decks.
It has proved itself again and again as a low-cost, minimal maintenance system for living spaces. Proreco I polyurethane coating provides an attractive, high-gloss appearance coupled with the long-wearing capability and flexibility to withstand structural movement, impact and abrasion, with extended corrosion control.
PRC developed the first one-part polysulfide marine caulk many years ago. Through high technological research and development facilities, PRC continues to develop superior coatings and sealants to meet most high-performance requirements for such products above and below the waterline.
SEAGUARD Circle 53 on Reader Service Card Seaguard Corporation of Portsmouth, Va., continues to manufacture a complete line of high-qual- ity, high-performance marine paints for both commercial and government applications.
Some of Seaguard's more recent products include the following: Balcoat 2000 is an all-purpose, single-component, rust-inhibitive compound that can be applied to marginally prepared surfaces. Intended for use in dry voids and ballast tanks, it should not be used in tanks containing petroleum products.
No Rust 1000 HS is a high-solids, single-component, rust-inhibitive compound formulated to dry hard. It is said to be excellent for exterior/interior application over marginally prepared surfaces for extended protection.
Fire-retardant latex is a nonemissive, fire-retardant, general purpose paint that is both protective and decorative. It is intended for application as a fire-protective coating for steel, aluminum, and non-metallic substrates. Wherever possible, this coating should be applied over a surface that has been degreased, and primed to promote adhesion.
Silcoguard 600 Series is a highperformance, silicone alkyd gloss enamel that gives excellent weather resistance, gloss and color retention over long periods, and easily cleaned surfaces.
Seaguard also carries Seawash1, a water-based, biodegradable, nonflammable non-toxic cleaner for petroleum-based products. It takes on the toughest marine cleaning jobs, and is available in 55-gallon drums and a handy 5-gallon pail.
SERMATECH Circle 54 on Reader Service Card Sermatech International of Moss Point, Miss., is a producer and applicator of corrosion-resistant coatings for marine/offshore, aerospace, and industrial activities.
There are eight Sermatech processing facilities worldwide for rapid service delivery.
These coating systems for marine/ offshore and industrial uses are generally multi-layered, composite coatings comprising base coats of heat-cured ceramic-metallic material, overcoated with a sealant designed to meet the environmental conditions in which the part is to be installed.
Sermatech's 725 and 1141 systems have proven the equal of most exotic corrosion-resistant materials in the marine environment, but because they are sacrificial, have none of the corrosionpromoting properties of expensive CRES. Tested extensively by both Government and industry, Sermatech coatings typically withstand exposure to salt fog (ASTM B117) for periods in excess of 5,000 hours.
Similarly, the expected endurance in splash spray exposure tests is at least one year of rust-free service.
Because Sermatech can be applied at DFTs down to 0.0004 inches, the coating systems are widely used on fasteners and other assemblies with faying surfaces and close-tolerance fit. SermeTel 725 and SermeTel 1141 conform to MIL-C-81751B, and are specified for all Government-procured Level 1 fasteners.
Sermatech numbers among its customers Bath Iron Works, Ingalls Shipbuilding Division, Dover- Norris, Waeco Valve, Gleason Velan Valves, Chiles Drilling, General Electric, Dupont, United Technologies-Hamilton Standard, PPG Industries, and DAF-Indal.
For corrosion-resistant fasteners, valves, couplings, structural steel, electrical housings, overhead lighting fixtures, pipe hangers, or any other metal part subject to severe marine environments, Sermatech coating could be a cost-effective answer.
SIGMA COATINGS Circle 55 on Reader Service Card Sigma, one of the oldest of the world's traditional paint and coatings manufacturers, continues to emphasize through research, development, and in-service experience those products that will enable vessel owners and operators to extend recoat intervals, whether for drydock work, on-board maintenance, or to provide alternatives to present painting and coatings practices. Sigma Coatings, Inc. is located in Garfield, N.J.
Sigmaplane, Sigma's hydrodissolving or smoothing antifouling now provides 60 -I- months of services, yet is acceptable as a onecoat antifouling for short service experience. Sigma's TCP 7476 is a high-build epoxy that will outperform, according to the manufacturer, other high-performance coatings and paint systems when applied over surfaces where blast cleaning is neither practical nor permitted. As a bottom anticorrosive, TCP can replace, with equally excellent results, the highly controversial coal tar epoxies.
Sigma's Rust-Gone II primer and finish coat system will provide a hard, durable high-gloss finish that touch dries in 10 to 15 minutes.
The advantage of these products are that they are water-borne, and as such require no solvents for thinning or cleaning, display an unusual ease of application, and have an extremely long life.
In addition to an extensive product line, stocked and serviced at most principal ports throughout the world, Sigma provides a professional Technical Service Group that not only supervise all work in progress, but are available for consultation, inspection, and other services relating to the implementation of the "best" products and systems for the vessel or job.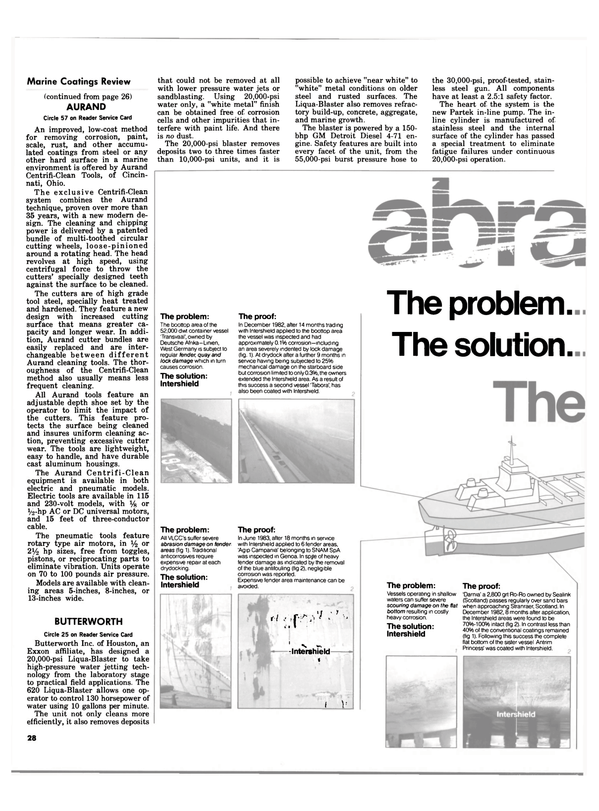 Read Marine coatings & corrosion control in Pdf, Flash or Html5 edition of May 1984 Maritime Reporter
Other stories from May 1984 issue
Content