First Of Five RO/RO-Containerships Delivered To ACL By Kockums Yard
The Atlantic Companion, first of five giant RO/RO-containerships scheduled to enter Atlantic Container Line's U.S. East Coast-U.K.
Northern European service in 1984 arrived in New York on her maiden voyage recently, ushering in what ACL calls "a new era in North Atlantic shipping." The 820-foot-long, 37,000-dwt Companion is the largest and most technologically advanced cargo ship ever built for the North Atlantic service, and like her sister ships to follow, was constructed to ACL design specifications. Designated as "G3s" by the company, they are the first new vessels built for ACL in 14 years, and will replace the fleet of five Second Generation steam-turbine-powered ships now in operation.
Designed by TransConsultants AB of Gotaverken and built in the Malmo, Sweden, shipyard of Kockums, the Atlantic Companion has a capacity for 2,130 TEUs as well as space for 600 automobiles in the stern superstructure. Among the major features of the vessel are a large, multi-lane quarter stern ramp; permanent cell guides on the weather deck so that up to 1,410 TEU of containers can be stacked easily and safely, four per tier; and three decks for normal, heavy RO/RO cargo or for the block stowage of containers. The cell guide structure, stern ramp, and other RO/RO equipment were supplied by MacGregor-Navire.
According to Daniel J. Kerrigan, president of Atlantic Container Line-U.S.A., the Atlantic Companion and her four sister ships to follow—Atlantic Concert, Atlantic Compass, Atlantic Cartier, and Atlantic Conveyor—-"represent the ultimate in design and cargo-carrying flexibility and efficiency." He added that the ships "will carry ACL into the 21st century as the premier carrier on the North Atlantic." The ACL-USA chief executive also stated that "the G3s are a continuation of ACL's successful strategy of operating mixed-configuration vessels rather than cellular- only ships. He adds that the G3s "are particularly flexible with their ability to carry various mixes of containers, cars, genuine RO RO, trailer-loaded cargo, and neobulk products." The consortium's vessels fly the British flag (Cunard), Swedish flag (Swedish American Line, Transatlantic Steamship, and Wallenius Line), Dutch flag (Intercontinental Transport), and French flag (Compagnie Generale Maritime). Of the four sister ships that will be delivered this year, Kockums is building an additional two, one is being constructed at Swan Hunter Ship- builders at Wallsend, U.K., and Chantiers du Nord et de la Mediterranee at Dunkerque, France, is building one.
Main propulsion machinery in the Atlantic Companion consists of a six-cylinder, slow-speed Gotaverken/ B&W 6L90GBE diesel engine developing a maximum continuous rating of 23,800 bhp at 97 rpm, direct-connected to a Stone Manganese Marine propeller.
Electrical power is provided by four Wartsila/Vasa diesel engines, two 8R32 and two 6R32, directly connected to Norsk Elektrisk/ Brown Boveri alternators of 2,310 kw and 1,722 kw, respectively.
Main and auxiliary engines are all capable of burning heavy fuel oil, providing a "single-fuel" installation.
The ship is fitted with two KaMeWa thrusters, one forward and one aft.
Considerable effort was expended in achieving a functional and economic bridge layout. The totally enclosed wheelhouse is arranged with control desks forward but having a walkway directly behind the windows. The bridge wing consoles are equipped for complete control of the main engine, bow and stern thrusters, and rudder, and have data readouts on all maneuvering functions.
For maximum safety, sophisticated equipment installed includes an integrated Sperry radar system with ARPA functions and position information connected on-line to the adaptive automatic pilot, and a satellite communications system making possible fast communications via telephone and telex and incorporating a high-speed data link for loading information.
Cargo control instrumentation, featuring a Kockumation Loadmaster computer, as well as the ship's safety instrumentation, is located in a separate control room on the starboard side of the superstructure, close to the lifeboats.
The location of this control room gives easy access from cargo compartments and the accommodations area, as well as convenient escape routes in case of an emergency.
Without detracting from the importance of the other items of cargo access equipment installed in the G3s, there is no doubt that MacGregor-Navire's weather deck cellguide system, named Stack- Cell™, is the most important advance made in container stowage since the cellular concept was first introduced in the mid-50s. Until now, the biggest drawbacks with fixed weather deck cell guides have been the high weight and the impossibility of utilizing them in conjunction with hatch covers.
Therefore, all weather deck cell guide systems have until now been mounted marginally above RO/RO spaces and odd deck areas without access to underdeck holds.
Utilizing the MacGregor-Navire side-rolling, piggy-back hatch cover, made possible by incorporating a moveable section of the cell guide in the area of the covers, cellular holds Nos. 1—5 can be loaded and discharged through the cell guides on the weather deck.
The twin hatches are fitted with two panels each, and open outboard.
After the inner panel is raised hydraulically and the outer panel rolled beneath it, both are moved outboard in one unit to expose the holds and the cells below.
Another important feature of the StackCell system on the G3s is the versatility of being able to accommodate either 20-foot or 40- foot boxes simply by utilizing a moveable insert frame that divides a bay into two 20-foot cells, or is positioned at one end of the bay, where its inner face becomes the end of a 40-foot cell. Flexibility is further improved by the frames being only three cells wide, giving four different 20/40-foot ratios in each 12-row bay.
Crew accommodations are designed and outfitted to an extremely high standard, even for a Swedish owned and built ship. The master and the chief engineer each have a suite consisting of large sitting room, bedroom, bathroom, and office. Roomy individual cabins are provided for each member of the crew, which will range from 18 to 21—remarkably small for a ship of this size and an indication of the extensive automation designed into the ship.
There is one large dining room/ lounge, with a duty mess alongside for those who wish to eat in their working clothes. The galley is equipped with a full array of the most modern equipment available, all supplied by Electrolux Marine.
For the crew's relaxation there is a dayroom divided into bar, library, and television corner. There is also a sauna, an indoor swimming pool, and sports room 17 feet high for badminton, volleyball, and other such activities. A projection room for showing movies is connected to the sports room.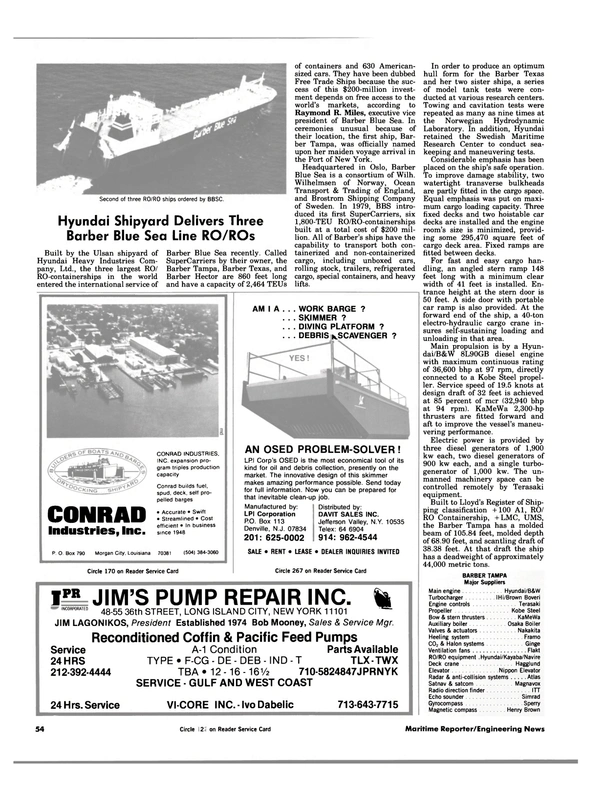 Read First Of Five RO/RO-Containerships Delivered To ACL By Kockums Yard in Pdf, Flash or Html5 edition of May 1984 Maritime Reporter
Other stories from May 1984 issue
Content