Seminar In New York Introduces New Heavy-Fuel M.A.N.-B&W Engine
64-Page Technical Report Available To introduce its new L58/64 heavy-fuel, four-stroke engine to the United States maritime community, M.A.N.-B&W Diesel recently hosted a seminar in New York City attended by shipowners, shipbuilders, and other industry representatives.
The M.A.N.-B&W executives who came to New York from the company's headquarters in Augsburg, West Germany, to address the large group attending the meeting were: Otto Voisard, chairman of the Executive Board, M.A.N. Maschinenfabrik Augsburg-Nurnberg; Folker Bohm, general manager, M.A.N.-B&W Diesel; Karl Wojik, head of Design Department, M.A.N.; and Werner Oehlers, regional sales manager, M.A.N.-B&W Diesel.
Personnel from American M.A.N.
Corporation in attendance at the seminar and the reception/luncheon that followed included: Werner Knapp, recently elected president; Claus Windelev, executive vice president; Ole Grunfeld, technical manager; Harry Falck, marketing manager; and Lars Thomsen, service manager.
The new four-stroke, heavy-fuel engine will be produced as in-line units with 6, 7, 8, and 9 cylinders developing 1,650 bhp per cylinder at 428 rpm, having a bmep of 20 x 15 bars (292 psi), providing a power range (mcr) from 9,900 to 14,850 bhp.
The L58/64 diesel is a logical upgrading of M.A.N, medium-speed engines that have rendered excellent service in operation on heavy fuel for almost 20 years. This early understanding of heavy fuel burning characteristics was further extened by the 40/45 engine type, which was launched on the market in the 1970s, introducing a modern concept with high firing pressure—the basis for low fuel consumption. The 40/45 engines with the longest service record have logged almost 30,000 hours of operation and have proved to be highly reliable in operation on the heavy fuel oil grades bunkered throughout the world. For this reason, this impressive engine type has "fathered" the major components of the L58/64 engine, as reliability is of particular importance for marine main engines.
During the development of the L58/64 engine, particular emphasis was placed on the following points: • low fuel consumption rates; • adaptability to varying operating and environmental conditions as well as fuel ignition qualities; • high reliability; and • simple and easy maintenance.
The L58/64 follows the same sturdy design philosophy as predecessor trunk-piston engines of M.A.N, design. Though the new engine is comparatively large, the frame consists of one sturdy casting, with an underslung crankshaft supported by bearings that are positioned and locked to the engine frame by both vertical and horizontal bolts. The shape of the resultant structure resembles a reinforced tunnel distinguished by very high stability of the main bearings during engine operation.
The significance of the injection system for low fuel consumption rates was taken into account by a great development effort in the design of the L58/64. Measurements taken on engines of different sizes, as well as theoretical investigations, have revealed that reductions in fuel consumption are obtainable with higher injection pressures. The injection system of the 58/64 engine has therefore been designed for pressures of 1,300 bars.
During the test of the 3-cylinder trial L58/64 engine, the low fuel consumption rate of 125 grams per horsepower hour (0.27 lbs/hph) measured after the first 100 hours of operation is particularly noteworthy because, at that time, combustion had not been optimized. It should be borne in mind that the mechanical efficiency of a 3-cylinder engine is comparatively low.
The turborcharger, which is smaller than that of production engines, negatively influences the fuel consumption rate as well. Considering these factors, the low fuel consumption rates aimed at for production 58/64 engines operating at different loads, including 123 g/hph at 85 percent of economy continuous rating, will definitely be reached and most probably even be undercut. M.A.N, estimates that the specific fuel consumption rate of the 9-cylinder 9L58/64 engine will be 121 g/hph.
The test engine has been operated from the very beginning on 7,000 sec Redwood 1 fuel.
In addition to high operating efficiency, the 58/64 engines will provide an excellent opportunity for high waste heat recovery. Exhaust gas temperature downstream of the turbocharger will be 660 F over a broad operating range.
In a number of marine applications, this means that the at-sea electrical load can be produced by the waste heat recovery system instead of operating an auxiliary diesel generator, an added fuel saving.
M.A.N.-B&W Diesel also produces a full line of two-stroke and four-stroke diesel engines with outputs from 500 to more than 56,000 bhp, heavy-fuel-burning auxiliary engine generator sets, complete propulsion systems with reduction gearing and controllable- pitch propellers, stationary power plants, and cogeneration packages.
An eight-page color brochure and a 64-page technical report on the new L58/64 engine are now available. These contain detailed technical data including specifications, ratings, performance data, test results, photographs, and cross section color drawings of the new engine and its key components.
For a free copy,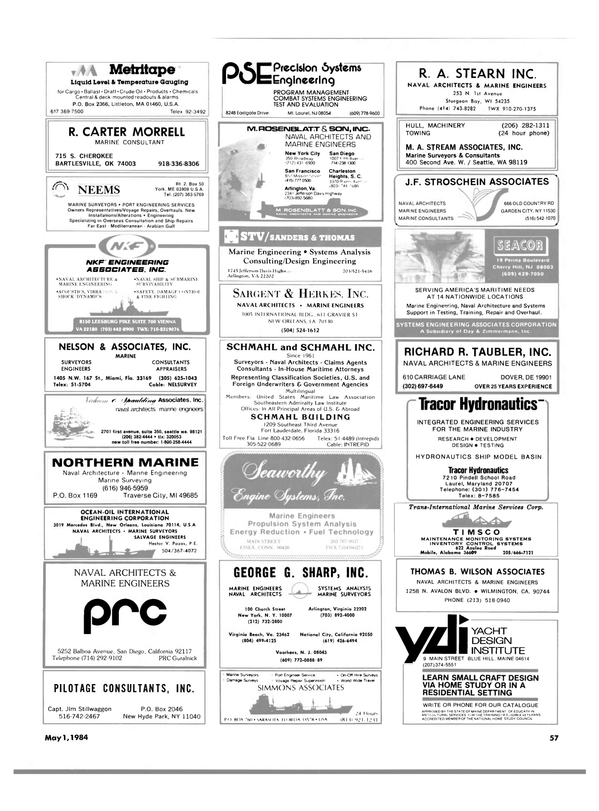 Read Seminar In New York Introduces New Heavy-Fuel M.A.N.-B&W Engine in Pdf, Flash or Html5 edition of May 1984 Maritime Reporter
Other stories from May 1984 issue
Content