Hyundai Shipyard Delivers Three Barber Blue Sea Line RO/ROs
Built by the Ulsan shipyard of Hyundai Heavy Industries Company, Ltd., the three largest RO/ RO-containerships in the world entered the international service of Barber Blue Sea recently. Called SuperCarriers by their owner, the Barber Tampa, Barber Texas, and Barber Hector are 860 feet long and have a capacity of 2,464 TEUs of containers and 630 Americansized cars. They have been dubbed Free Trade Ships because the success of this $200-million investment depends on free access to the world's markets, according to Raymond R. Miles, executive vice president of Barber Blue Sea. In ceremonies unusual because of their location, the first ship, Barber Tampa, was officially named upon her maiden voyage arrival in the Port of New York.
Headquartered in Oslo, Barber Blue Sea is a consortium of Wilh.
Wilhelmsen of Norway, Ocean Transport & Trading of England, and Brostrom Shipping Company of Sweden. In 1979, BBS introduced its first SuperCarriers, six 1,800-TEU RO/RO-containerships built at a total cost of $200 million.
All of Barber's ships have the capability to transport both containerized and non-containerized cargo, including unboxed cars, rolling stock, trailers, refrigerated cargo, special containers, and heavy lifts.
In order to produce an optimum hull form for the Barber Texas and her two sister ships, a series of model tank tests were conducted at various research centers.
Towing and cavitation tests were repeated as many as nine times at the Norwegian Hydrodynamic Laboratory. In addition, Hyundai retained the Swedish Maritime Research Center to conduct seakeeping and maneuvering tests.
Considerable emphasis has been placed on the ship's safe operation.
To improve damage stability, two watertight transverse bulkheads are partly fitted in the cargo space.
Equal emphasis was put on maximum cargo loading capacity. Three fixed decks and two hoistable car decks are installed and the engine room's size is minimized, providing some 295,470 square feet of cargo deck area. Fixed ramps are fitted between decks.
For fast and easy cargo handling, an angled stern ramp 148 feet long with a minimum clear width of 41 feet is installed. Entrance height at the stern door is 50 feet. A side door with portable car ramp is also provided. At the forward end of the ship, a 40-ton electro-hydraulic cargo crane insures self-sustaining loading and unloading in that area.
Main propulsion is by a Hyundai/ B&W 8L90GB diesel engine with maximum continuous rating of 36,600 bhp at 97 rpm, directly connected to a Kobe Steel propeller.
Service speed of 19.5 knots at design draft of 32 feet is achieved at 85 percent of mcr (32,940 bhp at 94 rpm). KaMeWa 2,300-hp thrusters are fitted forward and aft to improve the vessel's maneuvering performance.
Electric power is provided by three diesel generators of 1,900 kw each, two diesel generators of 900 kw each, and a single turbogenerator of 1,000 kw. The unmanned machinery space can be controlled remotely by Terasaki equipment.
Built to Lloyd's Register of Shipping classification +100 Al, RO/ RO Containership, +LMC, UMS, the Barber Tampa has a molded beam of 105.84 feet, molded depth of 68.90 feet, and scantling draft of 38.38 feet. At that draft the ship has a deadweight of approximately 44,000 metric tons.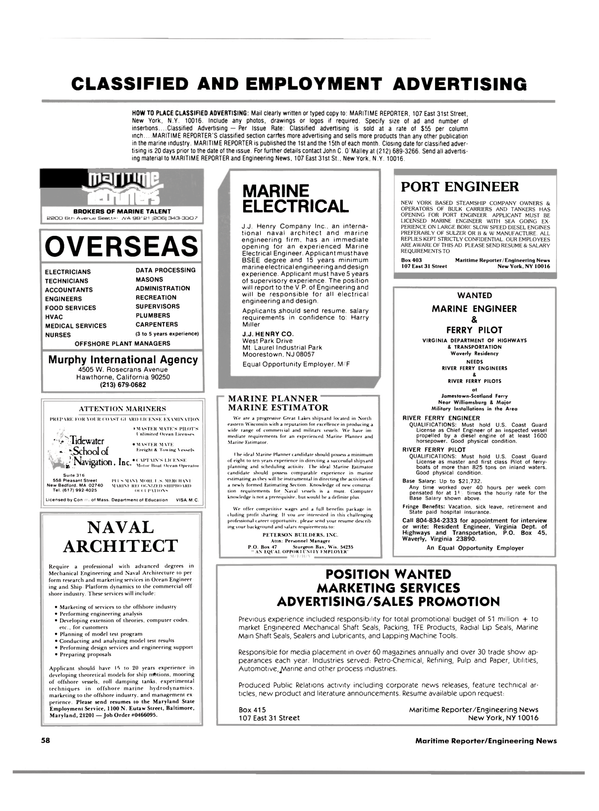 Read Hyundai Shipyard Delivers Three Barber Blue Sea Line RO/ROs in Pdf, Flash or Html5 edition of May 1984 Maritime Reporter
Other stories from May 1984 issue
Content