Bollinger Incat USA - Marking Its Territory
By Regina P. Ciardiello, senior editor
Known for its sleek, fast and high-performance wavepiercing catamarans, Incat Australia expanded its reach to U.S. shores with its decision last year to partner with Lockport, La.,-based Bollinger Shipyards for the construction and design of a new breed of high speed, aluminum fast craft for operation in the U.S.
Wanting to break into the U.S. military market, Bollinger Incat USA is poised to establish a new breed of fast ferry construction that will meet the needs of the U.S military forces. The company also plans to position its vessels as a means to alleviate traffic on highways with its plan for high-speed, high-performance freight vessels, which will be able to carry a mix of semi-trailers and freight vehicles. Currently, the company is eyeing a potentially lucrative prize, the award of the Theatre Support Vessels (TSV) contract, which will be utilized by the U.S. Army in times of battle.
— By Regina P. Ciardiello, senior editor It is safe to say that the construction of the aluminum fast ferries is by no means, a large part of the U.S. shipbuilding make up. While the recent strengths of U.S.
yards have lied mostly within the naval, workboat and offshore realms, the aluminum fast ferry market is one that is poised for a profitable and long run.
Last year was significant for this market as it marked the entrance of two major Australian competitors partnering with two top Gulf of Mexico shipyards. It was the alliance between Austal in Perth, Australia and Bender Shipbuilding in Mobile, Ala. to form Austal USA that initially raised eyebrows. More recently, however was the partnering of Tasmania-based Incat Australia and Bollinger Shipyards. Although no vessels have even been constructed yet by the new U.S.
companies, the competition is already at a boil.
A recent battle between the two companies has been for two charter proposals for the U.S. Military. The first, which was a two-month high-speed craft charter in Okinawa was granted to Austal USA. Incat however, is expected to garner a one year charter, (with an option for an additional year), from the military for one of its high-speed vessels to operate along the U.S. East Coast. The vessel, according to Incat's military marketing consultant, Richard Lowrie, will be used for "evaluation and demonstration trials to determine the use of future acquisitions." Lowrie, who is confident that the U.S. military will call upon Incat for this project, does not feel threatened by competition in the U.S. from its neighboring yard - Austal USA. "We (Incat) have been in competition with them (Austal) for several years in Australia," Lowrie said. "We focus on perfecting one product, which are our wave piercing cats." Lowrie added: "We are constantly trying to improve the Incat 'breed,' which encompasses more than 40 percent of the world market." While, according to Lowrie, the military charter "would be a massive development," Bollinger Incat USA is hopeful that the charter award will further propel the company into the development of its military vessel designs.
Development of Two Incat Australia, not be confused with Incat Design, which is a separate entity of the former, was created more than 20 years ago by Robert Clifford and Phil Hercus. Both men worked to develop the company's signature world-class wave piercing catamarans, which have graced the waters around the world with their sleek designs and ability to move at speeds over 40 knots. The former company, which has had relationships with yards, such as Nichols Bros, and Gladding Hearn, who until now could only build under license for Incat, made a strategic move in the late 1980s when Clifford and Hercus decided to part ways. Clifford continued with the operation of the construction arm of Incat, while Hercus went on to head up Incat Design, which sells designs to builders.
Clifford kept up Incat's pace with the wave piercing cats, and went on to introduce the wave piercing car catamaran in 1990. His innovation caught on, with increasing demand for the product over the years as Incat has continually improved its design.
While Incat the builder enjoyed the fruits of its labor, Incat Design, for the most part has performed profitably as well, but recently received a blackeye via its involvement in the BC Ferries Pacificat fiasco in Canada. As a result, according to Lowrie, the military was a bit skeptical at first when approached by Bollinger Incat USA, as they associated the failure of the BC Ferries project. Lowrie stresses that Incat Design - not the shipbuilder - played a role in this project, and as two distinct companies, the latter played no role in design of these vessels.
The U.S. took notice of Incat's 282 ft. (86 m) HMAS Jervis Bay, which was chartered to the Australian Navy for operation as a peacekeeping force during the East Timor crisis. The U.S. Military then opted to charter for evaluation purposes Incat's Black Cat, which normally operates from Nova Scotia to Bar Harbor, Me.
for Bay Ferries. In the southern summer season the vessel normally operates on what is the world's longest and roughest ferry route - the Bass Strait between Tasmania and mainland Australia.
When news of the U.S. Army's interest in high speed craft broke, Bollinger's interest was piqued. The company contacted Incat Australia in January 2000, specifically mentioning their interest in the Army's TSV project.
A meeting between Incat's Robert Clifford and Bollinger executives was set up at a ferry conference last year in Nice, France, at which time a deal was reached - joining the two companies in an alliance that is beneficial on both sides: Incat is waived of the Jones Act and Bollinger enters a market that it previously had little experience.
While a new Bollinger Incat USA facility has yet to be erected, the new headquarters, according to Lowrie, (who, at the moment is based in Lockport, La.), will be located somewhere in the Gulf of Mexico region. He stressed that the new facility will boast the same level of training and education that is present at Incat Australia.
The company's "aluminum school," which was initiated with the Tasmanian Government, could be compared to a small "college" for the education of Incat's employees. Upon completion of the training school, Incat employees receive certificates stating that they are accredited to work in a shipyard.
This allows them to in the future gain work at another international or domestic yard, and it also serves as documentation that they are certified to work in aluminum shipbuilding. "We will work to develop training for Bollinger Incat USA that is different from steel welding," Lowrie said.
Similar to Incat's high-speed cargo carrier, the TSVs will be able to transport tanks, trucks and cars on both the military and commercial sides. The vessels incorporate a high level of technology, and will be able to enter and unload supplies into a larger number of ports otherwise restricted by draft for conventional vessels. In the past, according to Lowrie, the military wanted a ship that could be everything to everybody.
"Most of these ships would be weighed down with heavy equipment and multifunction capabilities and not missionspecific," he said.
"For the first time, the American military is starting to realize the need for high speed craft and is now beginning to think of a design that is achievable," Lowrie said. "We do have the vessel designs and the capabilities to deliver what the U.S. Military wants." Bollinger Incat USA has presented its ideas to other arms of the military, including the U.S. Coast Guard and Navy Seals. The company aims to provide the USCG with high-speed craft that can deploy helicopters for rescue, as well as RIBs, while still moving at high speeds. According to Lowrie, each craft would be module specific allowing greater operational flexibility. Similar to Incat's 321 ft. (98 m) design, high speed craft meant for picking up illegal immigrants while on border patrol would contain detention cells, while a search and rescue craft would boast temporary beds and medical capabilities. These vessels, which have the ability to travel the high seas, are equipped to handle the rescue of passengers on a mega ship that can hold as many as 2,500 passengers.
With more than 24,000 sq. ft. of deck space, vehicle deck and passenger seating, the vessel is more than equipped to bring a full cruise ship of passengers to safety. "These vessels will cut down on assets and crewing, which are two issues that the USCG is struggling to meet right now," Lowrie said.
Moving Offshore and Beyond Bollinger Incat USA also plans to profit from the offshore market.
Bollinger Incat USA will bring a new breed of vessels into this arena with its High Speed Offshore Crew and Supply Vessels. Blending Incat USA's aluminum expertise with Bollinger's OSV construction know-how, the vessels will be able to transport a much larger quantity of crew and supplies to rigs at up to 40 knots in seas higher than 20 ft., seemingly an attractive feature given the fact that Exploration & Production continues to push further offshore to deeper waters. The vessels will offer a costeffective method of transportation as they will be able to complete a supply/crew run in half the time as OSV, as well as being able to visit five to seven rigs at one time - thus alleviating the amount of downtime for the rig crews, which inevitably saves operators money. "We will basically work to supply vessels to the Military, Coast Guard, oil industry and commercial freight and ferry market," Lowrie said. "We also hope to export that technology to other countries beyond the U.S. A lot of other militaries look to see what the U.S.
comes out with, and hopefully they'll take notice of what Bollinger Incat is developing for these operations."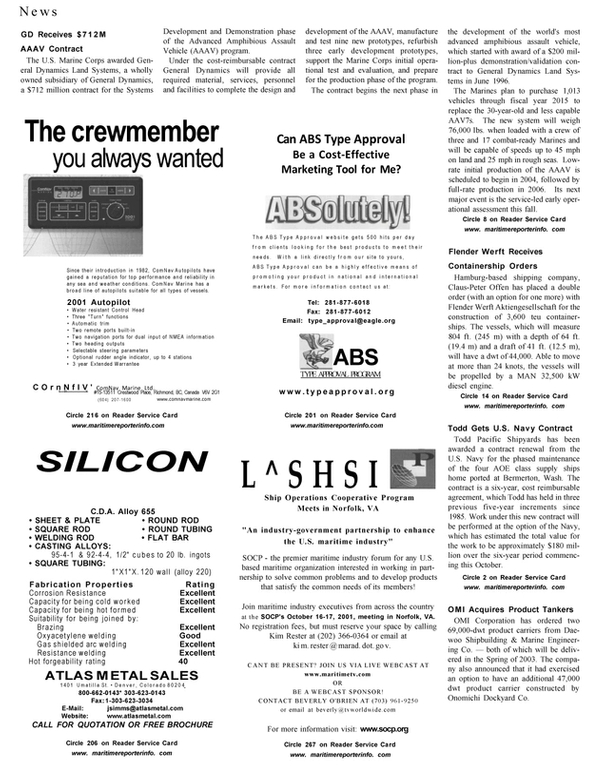 Read Bollinger Incat USA - Marking Its Territory in Pdf, Flash or Html5 edition of August 2001 Maritime Reporter
Other stories from August 2001 issue
Content