Shipping Internet: Where next?
The shipping dot.com epidemic will not be remembered for its abundance of straight talk. However, one unusually candid comment from a fraught CEO has stuck. Staring at the bleak prospects for his high profile start-up at the beginning of this year, the CEO shook his head - "It just seems amazing to me that everything we've built up over the past year will be wasted." If insiders have only a vague notion of what was actually achieved with their Internet millions, outsiders can be forgiven a little head scratching. Without a considerable shift in emphasis, it is difficult to see any of the class of 2000 taking early retirement. Taken in the context of the evolution of the Internet in shipping, however, the experience was certainly not wasted.
We like to think of last year as 'Shipping Internet Version 1.0', of the - build it, and they will come - school of thought. This approach relied on what was then believed to be the Internet's ability to transform old business models into revolutionary exchange processes.
The overriding goal was that of removing the middleman, regardless of the cost or benefit.
Shipping Internet 1.0 was an exploratory phase. It was characterized by multiple business plans, a nasty habit of dictating to customers and a blind race to market.
The end product was little more than a bundling together of market info, brochures, e-mail and auction models.
It turned out, rather unsurprisingly, that customers required significant incentives to upset their established business practices. None were offered. In fact the Internet was in most cases adding to the complexity of transacting. Independent shipping Internet hubs quickly dried up through an inability to generate liquidity.
The parallel development of consortia Internet hubs could at least guarantee a foundation of liquidity, but suffered from the same inability to develop a product capable of drawing in third party business.
There is no doubt that the survivors of the first round of shipping Internet have become wiser. They have, for a start, begun to listen to customers. They have ditched the idea that there is something magical about the global reach of the Internet. In Shipping Internet 2.0, as we will call it, companies treat the Internet as a means to an end, rather that the end in itself. They are exploiting the Internet as a tool to make huge quantities of data immediately available across the globe in a secure environment. More importantly, in version 2.0 more attention is being paid to business processes. The focus is now on seamless information processing and integration with back-office systems. The Internet players have realized the need to establish industry bodies to develop a set of standard industry-wide data definitions that will allow different databases to communicate with each other. Though we believe this may take longer than many expect, it opens the scope for huge business efficiencies and cost savings.
And with this new understanding of the shipping- Internet, dot.coms are once again testing the market.
The reaction? A broad acceptance that the past year has inspired some very clever applications.
Unfortunately for shipping-Internet version 2.0, this is all it has done. As frustrating as it may be for the ecommerce visionaries at their helms, shipping dot.coms are increasingly being viewed as little more than high cost software firms.
The problem is that, for all its clever technology, Shipping Internet 2.0 is still exclusionary. Highly centralized and rigid, these 'one-stop-shops' for shipping services and information deny the industry its ingrained 'ice cream shop' approach to picking a selection of products and services. By forcing trading parties to push their information through a gatekeeper, they impose a business structure that the industry is neither prepared, nor required, to adopt. In today's climate, technology is the servant, not the master, and shipping companies are less likely than ever to be dictated to.
This zero-sum game approach to e-commerce, in which there are winners or losers, is a major stumbling block of version 2.0. Backing the wrong horse costs shipping companies time and money and the market is in no rush to commit either.
More importantly, while they wait, technology is moving inexorably towards a pick 'n' mix system of web-services based on standard languages for transferring data over the web. In essence, these structures for 'common definitions', like XML and SOAP, minimize the software and data compatibility issues that once served as the rationale for one-stop-shop Internet companies.
We believe that a new breed of tech-savvy established industry players is already taking advantage of this flexible approach to information technology.
Enter Shipping Internet Version 3.0.
As we see it, the next phase in the evolution of shipping Internet involves handing control of information technology back to shipping firms. Rather than relying on individual Internet companies for all their information and transaction requirements, shipping companies prefer, given half a chance, to bring these services inhouse.
This gives them greater control over the source, integrity and use of information on which their transaction decisions depend, as well as over the process of transacting itself.
Version 3.0 will be based on bundling a range of complimentary internal and external web-based applications onto a private "peer-to-peer" portal-style web platform. Intranet or extranet portals are already well established in other sectors. The 'enterprise decision portal', as it is known, is one of the big growth areas in an otherwise lackluster tech sector.
The main attraction of the portal approach is its flexibility.
On a transactional level, firms can now choose the channels through which they deal with customers or suppliers - direct, through an intermediary, through an exchange. They can now control what information they divulge to whom in order to facilitate a transaction.
Unlike version 2.0, under version 3.0, companies are no longer reliant on the information services of one provider. This is of critical importance to energy companies that require multiple information sources for their day-to-day activities. They can now select from best-of-breed applications, historical data and thirdparty database maintenance. If standards on one or other of these data services slip over time, the portal administrator can now simply switch provider. Shipping firms can develop their own applications that aggregate feeds from multiple sources and integrate them with their back-office systems.
Most importantly, by licensing third party applica- tions, these firms become the beneficiaries of the often-heavy investment made by others. And by outsourcing the maintenance of selected applications and databases, they cut the cost of inputting data manually.
For information providers like Poten, this approach has the obvious advantage of allowing firms to concentrate on their core-competencies. Shipbrokers, for instance, are still the only source of realtime vessel and cargo position and fixture transparency in the market. As such, they are clearly in a strong position to maintain this information electronically as a service to others. Port information, on the other hand, is the realm of, say, the port agents, and should be maintained by them. Vessel databases, one would like to think, should be maintained by the ship owners. And so on.
For all the logic of Shipping Internet 3.0, we are not there yet. Standards such as XML lay the foundations for industrywide compatibility of information, but without common data definitions in the shipping industry, this means little. As the Internet comes to be viewed more as a servant of the bottom line than a revolution in business practices, service providers, shipbrokers among them, stand at an interesting juncture.
If the pain endured by Shipping Internet 1.0 has taught us anything, it is that the structure imposed by 'gate-keeper' Internet companies is too inflexible to satisfy the information and transaction needs of today's ocean transportation industry. Without undermining their own business models, Version 2.0 Internet companies will, we believe, fall at the same hurdle.
This article is one of a series of e-business opinions published by Poten & Partners (www.poten.com), a leading provider of brokerage, consulting and project development services to the energy and transportation industries.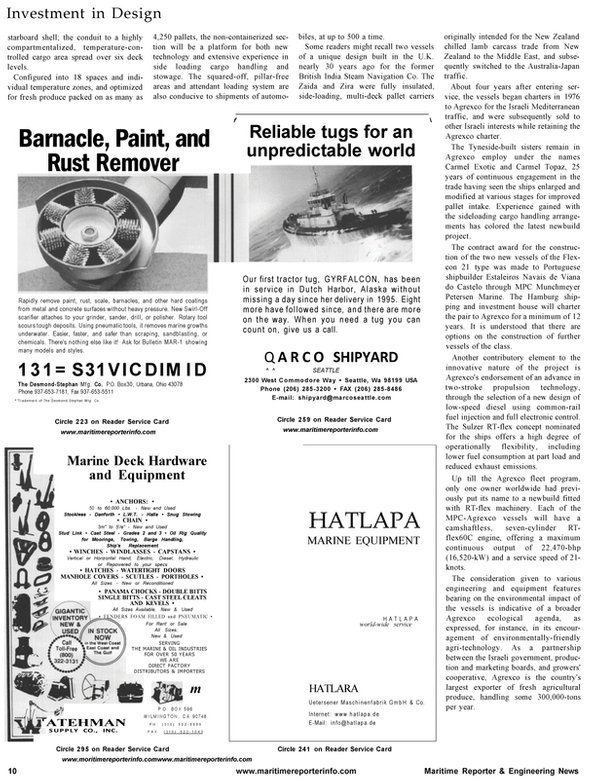 Read Shipping Internet: Where next? in Pdf, Flash or Html5 edition of August 2001 Maritime Reporter
Other stories from August 2001 issue
Content