Chartco: The Best of Both Worlds
Created just three years ago, Chartco embraces a small company's flexibility and innovative attitude but is supported by a big company bankroll. Dr. Andy Norris, Chartco's managing director, recently spent some time with MR/EN to discuss the present and future of electronic charts.
The realization of electronic charts replacing their paper brethren has been slow in coming, to say the least. For a number of technical, political and economic reasons, the fight to develop and implement a universally acceptable solution and standard has yet to be accomplished. This is not to say, though, that tremendous strides have not been taken, as the quantity and quality of electronic charting products and systems has grown exponentially in recent years.
Despite the numerous stops and starts, Dr. Andy Norris, managing director of the dynamic U.K.-based company Chartco, believes that the tide is surely turning and acceptance of the new technology is now, as the technical specifications are done and type approval for the equipment is imminent. In fact, Norris predicts that between 2002 and 2005 there will be a big push towards electronic charts, and that by 2007 electronic charts will have displaced paper charts in terms of maket share.
Chartco is a global broadcaster of marine information via satellite, launched in 1998 to broadcast updates for paper navigation charts to ships using the Inmarsat satellite Point to Multi-Point service. The company is small by many accounts, yet it is jointly owned by two corporate heavyweights; Smiths Group (which also owns Kelvin Hughes) owns 60 percent and Fugro owns 40 percent. At the helm, Norris delivers a careers of technology expertise, including eight years as the technical director of Kelvin Hughes.
In addition to its broadcast of chart updates - a crucial service which helps vessels comply with international standards, for example, by enhancing crew time management (STCW), and by providing a chart correction audit trail - the company has added a number of additional informational products for broadcast to ships at sea. For example, services now include packages such as MetManager weather forecasting and routing service. At the recent NorShipping exhibition in Oslo, the company also announced an agreement with Norway's Primar that allows ChartCo to provide updates to ENCs over its Inmarsat satellite broadcast service, direct to vessels at sea. The new service, dubbed oceanXpress, delivers updates to electronic charts for use in conjunction with Electronic Display and Information Systems.
The introduction is viewed as particularly significant because it ushers in the movement towards full adoption of electronic navigation charts at sea. The full operational service, following proof of capability via shore-based and sea trials, was scheduled to commence this month.
Primar is a European collaboration between national hydrographic offices that was set up to provide mariners with an official Electronic Navigational Chart service as sson as possible. Denmark, Finland, France, Germany, The Netherlands, Norway, Poland, Portugal, Spain, Sweden and the U.K. have all agreed to supply their S57 Ed. 3.0 ENC data through the European ENC Coordinating Center, or Primar.
Chartco has also expanded its product offering to include daily and weekly news services onboard ships at sea. "The matter of getting and keeping crew is critical, and the small cost of offering e-papers is modest, and need," said Norris." The electronic paper, though, is simply "toes in the water" as far as crew entertainment is concerned, and Chartco evidently has plans to expand its offering again in the future.
Circle 54 on Reader Service Card www. maritimereporterinfo. com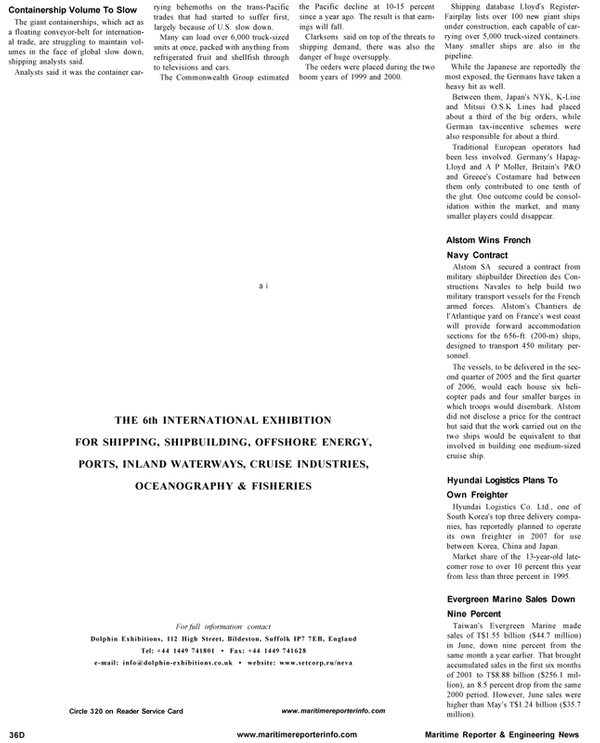 Read Chartco: The Best of Both Worlds in Pdf, Flash or Html5 edition of August 2001 Maritime Reporter
Other stories from August 2001 issue
Content