RIB Technology Makes Stronger, Faster Boats
The business of building better Rigid Inflatable Boats (RIBs) is a serious one, which utilizes and combines some of the world's most advanced materials technologies.
Comptetion in the market is stiff, as manufacturer claims and counter claims would indicate.
The RIBs of today are finding themselves used for a much wider spectrum of duty than perhaps just five or 10 years ago, due in large to advances in design, performance and load carrying capabilities.
Manufacturers have invested many hours and dollars to ensure that today's RIBs are constructed of increasingly better, stronger materials that enable them to dutifully perform the rigorous duty that owners demand.
A perfect example of how the use of RIBs has spread is seen in the U.S.
Navy's procurment of the boats for use in mine sweeping operations. The USN has developed a method that involves a Sokorski helicopter towing a catamaran sea skid equipped to detect and detonate mines. Each helicopter and sled unit is accompanied by a pair diesel-powered RIB. The RIBs tow the sled when disengaged by the helicopter and act as general support vessels. The 24-ft. (7.3 m) RIBs had been powered with 165 hp diesels powering Duo-prop outdrives.
The new vessels are propelled by Cummins Engines powering Konrad drives.
AB Inflatables is a good example of how the RIB market has expanded, as it has recently sold vessels capable of military duty and for service far offshore.
The company offers a wide range of products — six product lines in all — encompassing both rigid-hull (RIB) and foldable inflatables. The RIB lines include the lightweight Ventus models, luxurious Nautilus tenders, sporty Oceanus runabouts, versatile Navigo tenders and tough, aluminum-hulled Lammina boats. A recent boat built for Sea Tow craft is a modified Oceanus 7.40VST RIB inflatable. This 24-ft.
quick-response boat now cruises the Ft.
Lauderdale-area waterways seven days a week for 16 hours a day, towing stranded craft ranging from dinghies to 100-ft. yachts. It also performs rescues up to 35 miles off shore. To help the boat in these tough situations, a powerful, 200-hp outboard was installed on the transom. AB Inflatables altered the 7.40VST's standard 79-gallon fuel tank to take 105 gallons, allowing the boat to make longer trips more quickly and easily.
AB also installed an enlarged light arch that supports halogen floodlights, emergency flashing lights and radio antennas.
The boat that AB developed for the Venezuelan army was also a modified 7.40VST. To meet the army's needs, AB designed and built a boat that includes three gun turrets and is suitable for transporting armed soldiers quickly and safely along rivers and coastlines to protect their territory against drug trafficking and other offenses.
AB will be introducing a 28-ft.
Oceanus 8.50VST shortly.
Another manufacturer, albeit a relatively new one, which has made its mark by offering advanced technological solutions is Dominator. Dominator offers hulls in aluminum — or for those requiring no radar signature — hulls in carbon fiber. Dominator is working with aleading U.S. armorer to create fast, virtually unsinkable RIBs. Dominator's concept is a 20-ft. hull, a 25-ft. hull, and a 36-ft. hull as standards. Dominator will also build per a client's specific request, as long as it passes the company's marine architect's review. Dominator RIBs are engineered to provide rides that are dry, and not only easily handled in very rough water, but a ride which is very easily at high speeds in that same rough water.
Going Hollywood "Production companies can deploy us in almost any kind of water," said Captain Troy Waters, principal of Effensachs Marine of Hollywood, "and do, so we needed a tough, seaworthy boat with a group of useful mounts to take move footage on the water." North wind Marine answered this unique casting call with its latest Extreme Rigid Hull Inflatable (RHIB) is designed to be a rugged, aluminum boat that movie and TV producers can send out to carry a boom-mounted camera and other production gear in the roughest conditions. The 34-ft. (10.3-m) vessel packs a lot of equipment and can provide seating for 26 passengers as a crew or support boat. It sports a pair of 250-hp Yamaha outboard engines to drive the vessel to 45 knots. Capt. Waters operates 19 different boats, but contends that his newest vessel is "larger, faster, and more heavily built than our other boats." He is a licensed mariner who worked on commercial vessels before becoming involved with his current business.
Constructed of marine-grade aluminum in accordance with USCG subchapter T requirements, the boat received an extra strong deck on which to attach heavy equipment. The boat also carries special "speed rail" fittings for mounting a variety of production equipment. The boat is completed with a 3.5 kW Kubota generator, Standard Eclipse VHF radio and a Raytheon Pathfinder GPS/Radar/Chartplotter. Northwind Marine builds a range of Extreme RHIBs from 17 to 50 ft.
The RHIBs use poly urethane sponsons from Wing Inflatables of Areata, Calif.
Smoothing Out the Waves As RIBs are being used in increasingly rough waters further from shore, quality and stability of ride have become even more critical factors in selecting the appropriate solution. Ocean Technical Services Inc. (Otech) is a full-service shipyard and RHIB manufacturer located in the New Orleans metro area. The company's Ocean Sprint RHIB's unique hull is designed for exceptional performance, as the deep-vee hull flattens to a delta conic planning curve at the transom and con- Dr 28.
tains a series of concave spray chines that run the full length of the boat. Taken together, it is designed to provide a dry ride with exceptional handling in rough waters. The design was actually originated by Crompton Marine Ltd., who offered the design after 18 years of experience with RHIBs in the hostile North Sea conditions.
Licensed by Crompton, Otech has modified the series to incorporate a molded deck and quick tube replacement system. The inflatable collars are manufactured for Otech by Henshaw Inflatables.
The company's 23 ft. (7 m) RHIB can accommodate power up to 300 hp, carrying up to 20 crew and passengers, or a maximum load of 3,890 lbs. It features a fire retardant fiberglass hull and deck, and a quick change attachment system for easy tube replacement. The 7 m units, after considerable modification, were recently put on sea trials by the U.S. Navy, which will be purchasing an undisclosed number of boats for shipboard use.
The Revenger line of RIBS is also geared to handle the roughest of conditions in the smoothest of manners, based on a proven raceboat design. The deep-vee hull together with three wide spray rails is designed to offer superb tight handling, smooth rides and impressive speeds. All Revenger RIBS offer a solid manufacture, complete with longitudinal stiffeners, encapsulated in GRP running the full length of the vessel and supporting the bottom spray rails. In addition, a substantial transverse frame (also encapsulated in GRP) supports the hull's longitudinals, and an isophtalmic gel coat surface provides excellent resistance to osmosis.
Revenger currently offers four models, the 23, 25, 29 and 34.
Willard Marine, Inc. offers a full line of commercial Rigid Inflatable Boats (RIBs); SOLAS (Safety of Life at Sea) approved and offered through GSA (General Services Administration).
SEA FORCE RIBs are designed to act as a Fast Reaction Rescue and Boarding Boat that may be launched from a mothership while underway in critical seas. The SEA FORCE RIBs have a high level of stability in adverse operating conditions.
The SEA FORCE line has been designed for the needs of Commercial, Military, Coast Guard, Rescue, Law Enforcement, Fishery Protection and Large Yacht Tenders, and are available in sizes from 18 ft. models and larger.
Willard Marine, Inc. has manufactured and delivered large numbers of RIBs to the U. S. Navy for shipboard, shorebased and special operations support.
For additional information on the companies mentioned in this report, circle the number on the Reader Service Card in this edition or visit www. maritimereporterinfo. com.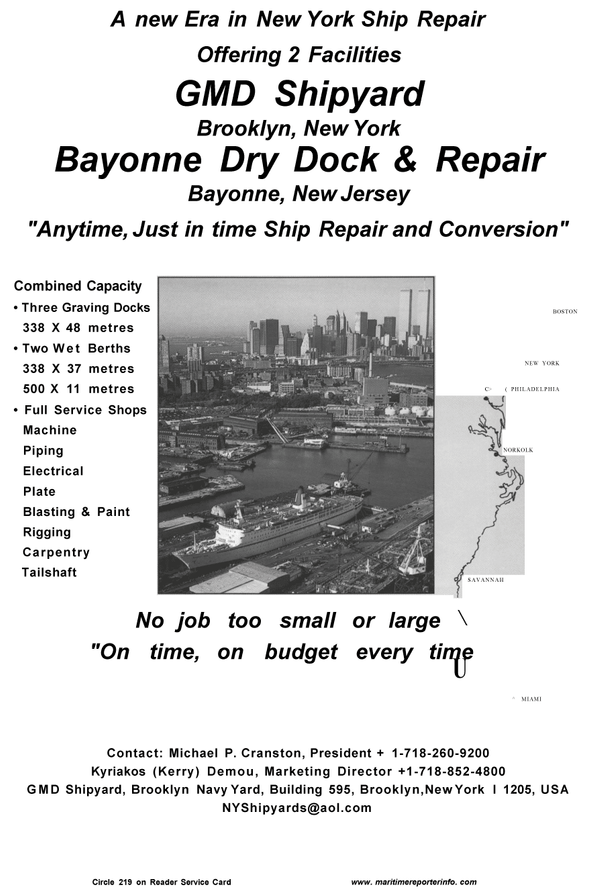 Read RIB Technology Makes Stronger, Faster Boats in Pdf, Flash or Html5 edition of August 2001 Maritime Reporter
Other stories from August 2001 issue
Content