Aluminum Gone "Bad"
By John W. Waterhouse, P.E., President, Elliott Bay Design Group
There has been a lot of discussion in the marine industry over the past year with regard to "bad" aluminum. To briefly recap, a number of boat builders purchased aluminum from a supplier that met the requirements of ASTM 5083 H321. This alloy is accepted by both Lloyds Register (Lloyds) and Det Norske Veritas (DNV) for building aluminum vessels. After the aluminum was used to construct some vessels, the operators began to observe surface pitting corrosion. Upon investigation, it was discovered that the purchased plate had been treated differently during manufacturing, with the result that manganese nodules were precipitating out of the alloy, thus making it susceptible to intergranular corrosion. The result was that newly-built vessels had to be rebuilt and their original hulls scrapped. Owners weren't able to use their new boats, shipyards incurred costs to investigate and rebuild, and the aluminum distributor and provider are faced with claims. Not good all around.
In response to the investigation, the ASTM International Committee B07 and the Aluminum Association have been meeting with the U.S. Coast Guard and industry members to review and improve the relevant standards.
Classification societies such as Lloyds, DNV, and ABS are also involved in the discussions. Beyond testing for chemical composition and mechanical properties, the standard will likely be expanded to include corrosion tests. Plates that have been tested and passed as suitable for marine use will also be marked clearly to prevent inadvertent mixing with non-marine aluminum. All of these measures should prevent a repeat appearance of unsuitable aluminum in high speed ferries and workboats.
As a designer of vessels, I am concerned that there is a more significant challenge that hasn't been addressed — namely the increasing use of third party standards in the marine industry. As vessels become more complex and more international in their design and construction, there is ample opportunity for misapplication of standards. Yet, there are increasing pressures on regulatory bodies such as the U.S. Coast Guard to use third party standards. For example, years ago the U.S. Coast Guard had developed a fire testing standard for marine interior materials. The problem for the industry was that this standard was different from the more common fire testing standards, thus forcing manufacturers to conduct expensive tests if they wanted to implement their products into the marine industry. The problem for the U.S. Coast Guard was to keep up with changes in materials and testing procedures so their standard did not become obsolete. Hence, as part of the rewrite of the Guide to Structural Fire Protection, NVIC 9-97, the U.S. Coast Guard now accepts Universal Laboratories, ASTM, and IMO standards for construction and testing of fire doors. Industry benefits by having more choice, manufacturers benefit by fewer tests, and the U.S. Coast Guard benefits by having others take on the burden of writing and updating standards.
I have been involved with several standards development committees, the ABS Americas Small Vessel Committee, NFPA 1925 - Marine Firefighting Vessels, and the Passenger Vessel Access Advisory Committee. It is both an enriching and a humbling process.
Enriching because you learn details about the subjects that you could never learn elsewhere. Humbling because standards often reflect compromises between strong opinions.
Therein lies my concern about third party standards. We often invoke them without really understanding what the standards say or, as in the case of the aluminum alloy specification, what they don't say (i.e. no corrosion test). Often there is no record of how the standard was chosen since committee discussions are seldom recorded. For example, the ADA minimum standard width for doorways is 32 in. Most people mistakenly associate that standard with wheelchairs.
Actually, the width was chosen because it is the minimum practical width for persons with crutches to readily pass through the doorway.
Designers, builders, and operators are dealing with an ever increasing number of standards. The alphabet soup of ASTM, ANSI, ICS, ABYC, IEEE, NFPA, ISO, IEC, etc. is confusing.
Obtaining copies of all of the relevant documents is aboth expensive and ongoing as the standards are revised.
Reading the standards takes time and lots of caffeine to stay awake. The natural tendency is to assume that the code writers knew what they were doing so "use the standards and don't waste time on researching the details." I don't have a solution to this challenge.
I certainly encourage industry members to get involved by working on a standards committee. As an industry, we shouldn't rely upon others to make decisions that will affect our future. We also need to share our discoveries with others so we are all smarter. Just think about crutches the next time you pass through a doorway...and read the fine print when you order aluminum.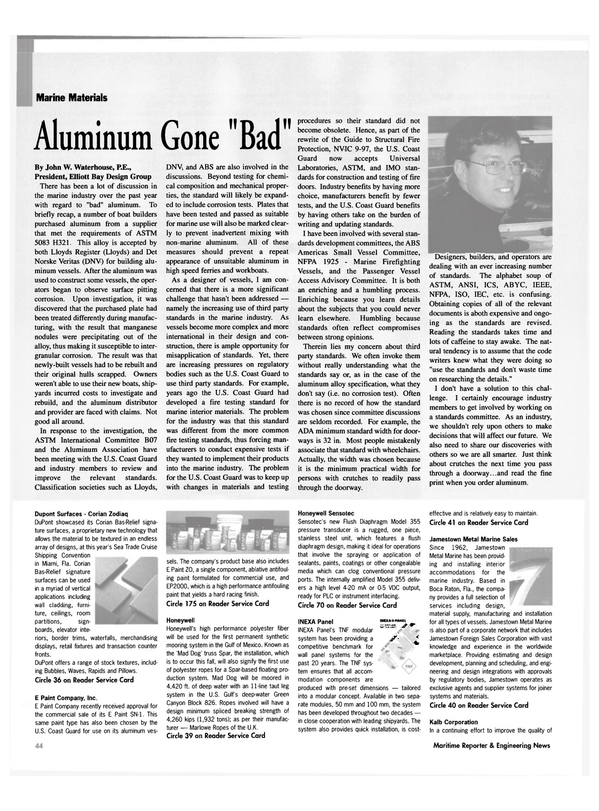 Read Aluminum Gone "Bad" in Pdf, Flash or Html5 edition of May 2003 Maritime Reporter
Other stories from May 2003 issue
Content