Robert Allan: Naval Architecture is in the Blood
— Regina P. Ciardiello
Since the beginning of the 20th Century when Robert Allan's grandfather emigrated from Scotland to Canada, he treated the concept of naval architecture as a "science" rather than a trade.
With little money but a lot of talent, the young man nurtured and grew a family business that would span three generations.
From the time he accepted his first job as manager of a Canadian shipyard in 1919, Robert Allan started moving ideas from his head to innovative vessels.
Armed with sketchbook and pencil, he opened his own naval architecture and marine engineering firm in his basement.
All along, it was evident though that Robert Allan was exceptional.
According to his grandson, Robert G.
Allan, who has run the firm since 1982, when his father, (also Robert Allan) fell ill with cancer, Robert Allan was not only a talented artist, engineer and designer, but also a classic scholar. As a student of the Scottish poet Robbie Burns, Robert Allan could recite at a moment's notice some of the most beautiful prose from the world's great literary masterpieces. Allan recalls that his grandfather particularly favored the works of William Shakespeare.
MR/EN recently spoke with Robert G Allan, who since 1982 has held the position of president of his grandfather's firm. He discusses everything from the beginning of his firm, to the recent delivery of a spectacular fireboat for Los Angeles, to the future of vessel design.
— Regina P. Ciardiello Maritime Reporter & Engineering News: What is your background?
Robert Allan: I am the third generation in my family to be a naval architect.
Our business was started by my grandfather.
He graduated from the University of Glasgow (Scotland) in 1907, in the very early days of this profession as a science rather than a "trade". He emigrated to Canada in 1919 to become the manager of one of the local Vancouver area shipyards, and then started in private practice as a consulting Naval Architect in 1930. My father started working in the business just after WW II, and he eventually incorporated the company as Robert Allan Ltd in 1962.
The base of our business has always been the design of specialized workboats of all types, especially those that dominate our local B.C. waters, such as tugs, barges, ferries, fishboats and other specialty vessels such as fireboats, research vessels and SAR vessels.
Having grown up around the water and in small boats all my life, I always wanted to be in this business from an early age, and never wavered from that plan. After high school I studied for a couple of years at UBC in Vancouver, then in 1968 transferred to my grandfather's Alma Mater, the University of Glasgow, graduating from there with an honors degree in Naval Architecture in 1971. After working in England for a couple of years I joined my father at Robert Allan Ltd. in 1973. In 1982 my father died rather prematurely at age 65, and I was left to carry on the business, with the help of an extremely capable staff. In the '50's and early '60's, the business was a very small operation of about six people, working out of the basement of my grandfather's house, and then eventually it outgrew that constraint.
Currently we have 33 employees in a 6,000 sq. ft modern office.
MR/EN: In your opinion, what are the 3 or 4 most significant changes in the business during your career?
RA: • Computer-based Design Technology. There is no question that the computer has totally transformed the way we do business in the 30 plus years of my professional career, especially in the past decade. In my early days this was still a "pencil-based" business, and the lines plan was sacrosanct. Once the lines were drawn then every aspect of the design revolved about it. Although in principle the same should still be true, now it is so much easier to both generate and then alter a lines plan that the whole design process has changed. Because of the ease of repeatability in CAD, and the general loss of technical capabilities within smaller shipyards (where the majority of our vessel designs now get built) we also now do a great deal more design definition in a project than was the case 20 or 30 years ago. Shipyard Design Capability. It used to be the case that nearly every shipyard we dealt with had at least a basic in-house engineering capability and, more critically, a wellestablished crew of journeyman tradesmen who could develop a basic design into a well-found ship. To a very large degree those capabilities no longer exist, and designers now must provide a much more detailed definition of the vessel in order to protect the interest of our shipowner clients. A major part of our business today is in the total definition of all steel parts and piping details for shipyard construction, something rarely con- templated in the pre-computer era. Now the software to do these tasks with almost 100 percent accuracy are readily available at competitive costs, and it makes it possible for us to offer these services with a high degree of confidence.
• Unitized construction/ Pre-outfitting.
The way in which ships get built has also changed into a much more manufacturing- based business than it was. It is now unusual to have a vessel built "from the keel up." Instead vessels of even quite small sizes are built in logical hull units, and often pre-outfitted prior to joining to the greater total assembly.
It is thus increasingly important that we design ships with this type of unitized construction in mind, and pre-define where the logical unit breaks should be, with structural detailing designed accordingly.
• I n t e r n a t i o n a l i z a t i o n / I n t e r n et Information Exchange. Robert Allan Ltd has been in the international market place for design services since the 1960s, but in general only in limited quantities. We had a small joint-venture operation in Singapore in the late 1970s, but closed that down when my father died, which also happened to coincide with a major global downturn in shipbuilding activity. However, in the past five years the Internet and related email technology has made it possible for us to provide design support to shipyards around the world almost instantaneously.
Instead of sending drawings by post or by courier, now almost every day we are transmitting drawings to shipyards in every corner of the world. Almost 90 percent of our business is outside Canada, and more than 70 percent is outside North America.
MR/EN: Discuss the one vessel, the one project, from which you have derived the most personal or professional satisfaction?
RA: A tough choice, but that would have to be ice-breaking Offshore supply vessels "Ikaluk" and "Miscaroo," (see photo on page 50) designed for Gulf Canada resources Inc in 1981. We won this contract just when my father was diagnosed with cancer, and he died shortly thereafter. It thus fell to me to deal with this very major project at a fairly tender age in my professional career. There was nothing like these vessels in the world at the time: Arctic Class IV, 15,000 bhp, (80 m) anchor-handling supply vessels. We developed a very unique design based on some prior experience with much smaller ice-class OSV's, and a lot of intuition. One vessel was built in Vancouver, and the other was built in Japan. Dealing with the Japanese Shipyard (NKK's- Tsurumi Yard) was an incredible learning experience for me, to see how well organized and efficient every aspect of their operation was. In the planning stages I would go to Japan for a week at a time with our Electrical Engineer and Gulfs Project Manager, and I had to meet alone with team after team of the shipyard engineering groups to resolve every detail of the ship, for hull form, steel, outfitting, piping and machinery. It was extremely challenging, but also extremely rewarding to see those ships take shape. In the final analysis these two ships have been extremely capable vessels, proving to be extremely capable ice-breakers and anchor-handlers. They are currently working in the offshore Sakhalin project under Smit's flag.
MR/EN: What do you count as your top three or four professional accomplishments?
RA: Managing to stay in business for all these years would be one (!), with the attendant growth of our business into an internationally recognized design firm a close second. However I could not have achieved any of this success without the incredible support of an exceptionally professional and capable staff. It is really important to emphasize how much a team effort this business is: I have two incredibly capable and talented lieutenants in Hans Muhlert (32 years at RAL) and Ken Harford (14 years), who are responsible for the day-to-day operation of the design office. I am also indebted to Carol Nilson (31 years) who as our office manager keeps every aspect of our personnel and financial dealings running smoothly. With the support of these three and the many other professional staff here, I am able to concentrate primarily on the further development of the business. Technically, I think my major accomplishment has been in the field of high-performance tug design. RAL has been fortunate to have a recent long run at developing some of the best performing tugs afloat.
We have done this by thinking "outside the box," performing applied research to tug performance, and developing hull forms that take maximum advantage of the modern omni-directional propulsion systems used, rather than simply emulating old twin-screw hull forms. We currently have more than 25 tugs under design development or under construction at various locations around the world, some of which will be among the most technically advanced tugs afloat for many years to come. I have also committed to writing numerous papers on the subject of tug design and performance, with the objective of sharing some of what we have learned with the next generation of naval architects.
Finally, in terms of unique project accomplishments, I rank the new Los Angeles fireboat as one of my career highlights, (See related story next page). 1 don't often have the chance these days to get deeply involved in the detail design of our projects. I still do a lot of concept development and preliminary design work, but then I have to hand off to the design staff. However the L.A. boat was such an interesting challenge, and such a high-profile project that I took a lot of personal interest in it and dealt with a lot of the design detail myself. The hull form is totally unique, as was the whole approach to the design, which emphasized FiFi system performance above all else. The whole project also proved to be one of those rare projects where every player in the process; Owner, designer, builder, and major suppliers shared a common vision and enthusiasm for a common objective. The vessel has exceeded all expectations in every respect, and all of us at RAL are extremely proud of our contribution to the project.
MR/EN: Vessel design is far from exact science. What do you consider the most challenging aspect(s) of your profession?
RA: Although not an "exact" science, in that there is no unique solution to most design challenges; ship design still is (or at least should be!) very much a science. There is so much information available to us to ensure performance in every aspect of design that there is really no excuse for not delivering a vessel that works as specified, provided of course that the shipyard implements the construction according to the design. The enemies of this result however are always cost and time. Many owners do not see a value to proper engineering at the early stages of ship design, and do not want to invest the time required to ensure that all design problems are properly resolved at the design stage. So our challenge is always to prove that a thorough design package, properly engineered, is good value. In every case where we have been given a thorough design mandate, and in particular where our senior engineers are then also retained to act as the Owner's Representatives during construction, (such as the Los Angeles fireboat), the end result has been highly successful, and the engineering costs result in very much larger savings in shipyard "extras".
After that, I take it as a personal challenge that every design issued under our name should be not only an efficient and well-planned workboat, but that it also should look good. I am always amazed how many really ugly, ill-proportioned boats still get built. A good-looking boat costs no more, and will generally offer a safer and better work platform, since the lines and house shapes that look best usually will result in better sightlines for the operator.
MR/EN: Do you have any "futuristic" vessel design ideas that you can share with us?
RA: There is little in the ship design world that is truly revolutionary; most developments are more "evolutionary", with progress measured in small increments of improved performance. The Owners in the workboat field seldom are interested in "futuristic", but are much more pragmatic and bottom-line oriented. However we are currently working on a couple of new designs that I believe will generate major interest, at least in the international tug sector. The first of these is the new "Z-Tech" tug design for PSA Marine of Singapore. This is a totally new concept that combines the best performance advantages of a Z-drive tractor tug with those of an ASD tug. The first two vessels of this class are currently under construction by Cheoy Lee Shipyards of Hong Kong for delivery at the end of the year.
The second is a new design of VSP Escort Tug. We did a major design for a 10.000 bhp Escort tug about four years ago for a Norwegian client that is currently one of the high est powered, best performing dedicated escort tugs afloat.
The new project will be similar, although smaller, but capable of generating the same level of indirect steering and braking forces.
MR/EN: If you could enact one change to make the marine business better/safer, what would it be?
RA: Magic wand time!! Given the chance I would eliminate Gross Registered Tonnage (GRT) and its derivative size measures from the rulebooks related to any form of workboat design or operation. No other single criterion in design or construction represents such inefficiencies in wasted time and effort for so little benefit. Tugs are built with inefficient proportions, excessive steel weight (read added fuel consumption!), and awkward and potentially unsafe spaces created, all in the interests of beating antiquated rules related to GRT hurdles for manning and crew qualifications. GRT has absolutely no relevance to a modern tug. Crew qualifications should be based upon the voyages a tug is licensed to undertake, and to the power/performance of the vessel, and nothing more.
MR/EN: How has the business side of your operations changed most significantly over your career?
RA: The biggest change has been the ability to serve a truly international clientele, electronically. At the moment we have active design projects in Canada, the U.S., Brazil, Chile. Singapore, Australia, Hong Kong, U.A.E., Turkey, Norway, Spain and the UK. Ten years ago it would have been impossible to contemplate such a client base. It means I travel a great deal, but in return I get to meet a lot of really nice people in this business, and see many corners of the world. Unfortunately my schedule usually doesn't permit spending much time in these places, so my "world album" tends to be full of pictures of shipyards and tugboats!
MR/EN: What tools do you and your staff use to stay current?
RA: Obviously we use the latest in CAD technology related to small ship design. This requires major investment on an on-going basis, but also results in significant gains in productivity and the technical capabilities we can offer.
MR/EN: What is your assessment of business prospects in the marine business today?
RA: We have been busier over the past two years than in any of the previous 15, and our order book is full until well into this year at present. So the current outlook is incredibly positive. However I have also been in the industry long enough to know it is very cyclical; the problem is the period and amplitude of those cycles are undefined!
Uncertainty in the middle east may well lead to increased opportunities in North and South America, especially offshore oil exploration in the Arctic and on the west coast, areas in which we have a great deal of experience.
Hopefully there will always be a demand for capable shipdesign professionals. This is generally a reactive business; and we respond by being ready to work hard and long hours to meet our client's requirements with innovative and efficient designs.
MR/EN: What are the keys to longevity and success in this business?
RA: Honesty, professional integrity, hard work, and a lot of good luck!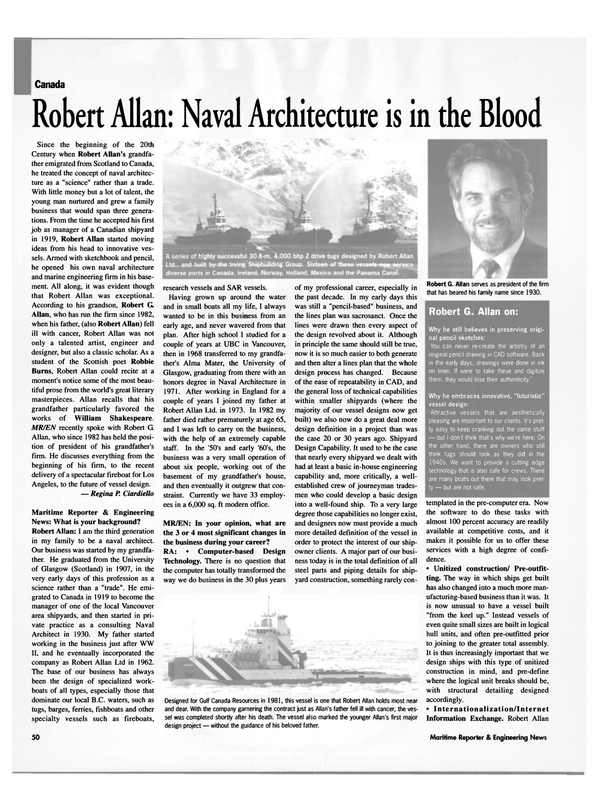 Read Robert Allan: Naval Architecture is in the Blood in Pdf, Flash or Html5 edition of May 2003 Maritime Reporter
Other stories from May 2003 issue
Content