Lube Oils on Test
By David Tinsley
Modern tools of research take many, increasingly high-technology forms, but large test machinery is especially apposite to the marine field, with its blend of applied science and solid, practical disciplines. Giving tangible form to a commitment to developing lube oils suited to evolving technical and operational needs, TotalFinaElfs maritime lubricants specialist Lubmarine has ploughed $2-million into a new, purpose- built test engine in France.
Derived from a five-cylinder medium-speed diesel of the MAN B&W 16/24 type, the Innovator-4C evaluation and research engine is due to be brought into service this month (May) at the TotalFinaElf Research Center (CRES) at Solaize, near Lyons. It will replace the single-cylinder, Elf-Optimizer test bench, based on a Pielstick PC2.6 engine, first installed at Solaize 20 years ago and extensively modified in 1994 in response to changing development requirements.
The Innovator-4C will be used for validating both two-stroke and four-stroke engine formulations prior to in-service trials, and for fundamental research, including experiments with new additives, synthetic and biodegradable base stocks. Lubmarine plans to run the engine for between 3,000 and 4,000 hours/yr., depending on test needs and schedules. The ultimate goal, of course, is the provision of lubricants engendering greater fuel economy, lower maintenance costs and longer engine life.
The five cylinders of the 16/24 base engine have been reconfigured into three separate lubrication circuits, two for testing and one for operational requirements.
This will allow two formulations to be compared simult a n e o u s ly under common conditions of temperature and pressure.
The capability to undertake two tests in tandem, in combination with the engine's very high safety margins, means that meaningful results will be obtainable faster, bearing favorably on project timeframes and on testing system productivity at Solaize.
— By David Tinsley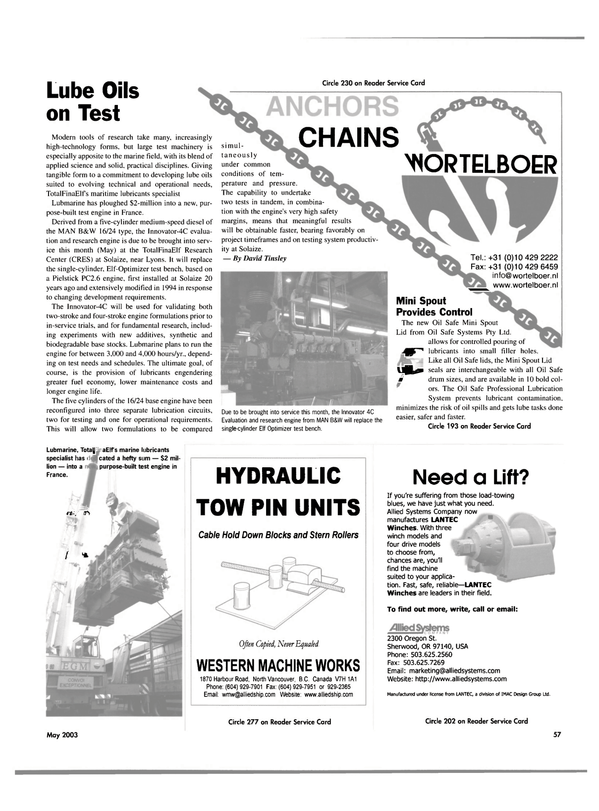 Read Lube Oils on Test in Pdf, Flash or Html5 edition of May 2003 Maritime Reporter
Other stories from May 2003 issue
Content