Knutsen OAS Shipping Leads Gas Shipping Charge
Knutsen OAS Shipping of Haugesund.
Norway, is no stranger to international shipping circles, with roots back to 1896 when the founder of the Knutsen company bought his first vessel. Today, the company operates one of the most sophisticated and modern fleets of purpose- built shuttle tankers, chemical carriers and product tankers in the world, and is presently operating the largest fleet of purpose-built DP class shuttle tankers in the world.
The company has adhered to a handson strategy, based on the development of total projects from design to operation.
The strategy has, throughout the last 10 years, been implemented with a program of 20 newbuildings worth more than $1 billion.
Naturally, this hands-on approach puts the company in a position as a leading developer of advanced technologies to enhance ship safety and efficiency, particularly evident in the area of gas ships. In 2001 Knutsen OAS Shipping launched a new method for transporting gas at sea, the Pressurized Natural Gas, or PNG Carrier.
Under development for three years now, an order for a PNG carrier is not yet signed, but progress is being made as the company is working with DNV for class approval, while simultaneously conducting talks with yards and customers regarding a contract to build the innovative vessel.
The new system requires "top notch" pipeline welding and inspection technology, and to this end the company has received unparalleled support from EuroPipe in Germany with development of the containment system. While Per Lothe, project director, Knutsen OAS Shipping was loathe to share per ship pricing information, he did admit that the PNG carrier would cost more than an LNG carrier today or greater than $160 million.
KVOC The environmental push from Knutsen OAS Shipping could emanate in part from the pristine environment from which the company hails. Dubbed KVOC, or the Knutsen Volatile Organic Compounds System, it is a system for the reduction of VOC emissions from tankers during loading and unloading.
This emission is not only an environmental hazard, but a loss of product and profitability as well. Knutsen has developed the system for two years and installed it aboard its own vessel for full scale testing. The company expects a payback, as the world increasingly tightens standards in regards to emissions, a move, which will eventually force owners to adopt or develop similar systems. The company will market the system to other shuttle tanker operators, and Lothe priced a refit cost in the area of $2 million. While the price may seem steep to traditionally tight shipping companies, Lothe estimates that the system payback, via cargo saved, could be fully realized by a VLCC in little more than a year.
Small Ships, Big Market?
Knutsen OAS Shipping has acted on the perceived potential for an exceptionally small LNG tanker intended to boost the coastal gas supply infrastructure. The company is also building a new 1,100 cu. m. LNG carrier for operation along the west coast of Norway, according to Lothe. He notes that the small LNG market is an "interesting new area," and that the ships cost an estimated $13 to $14 million to build.
The vessel is distinguished not only by its modest cargo containment volume of 1,100- cu. m., but also by its planned installation of a bi-fuel powering plant to permit operation mainly on LNG, in the form of cargo boil-off, with diesel oil as back-up.
Dubbed the 'Kyoto Tanker' due to the environmental benefits of its propulsion system, the tanker will feature four gensets to provide energy to the 900-kW frequency-controlled electric motors serving two azimuth propulsion thrusters. During normal service conditions, it is anticipated that cargo boil-off will be sufficient for propulsion needs, engaging the two 900 kW gensets driven by gas engines. Back-up and booster capacity will be available through a second pair of gensets of 640-kW output, using diesel prime movers. Construction has been entrusted to Scheepswerf Bijlsma, a shareholder in the Groningen-based sales, marketing and design engineering firm Conoship International.
Circle 174 on Reader Service Card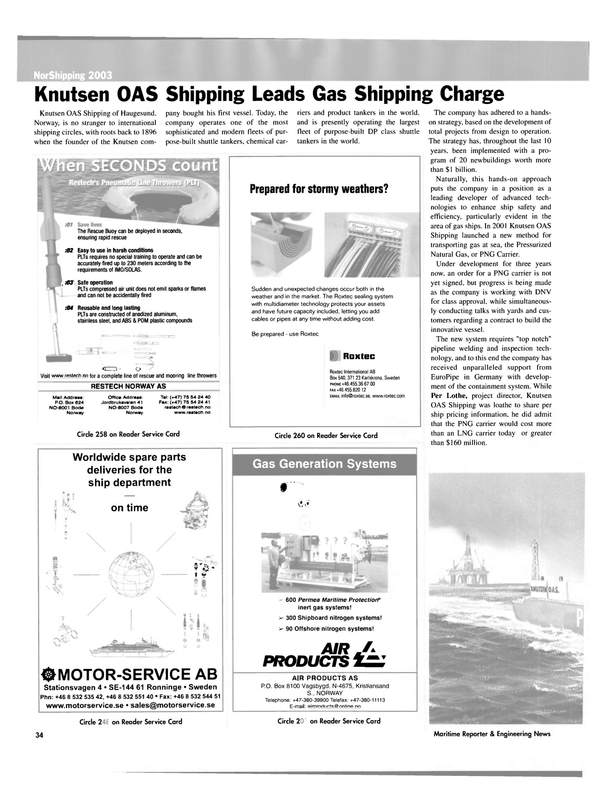 Read Knutsen OAS Shipping Leads Gas Shipping Charge in Pdf, Flash or Html5 edition of May 2003 Maritime Reporter
Other stories from May 2003 issue
Content