Suez Canal And Egyptian Ports Specialist Opens New York Office
Candia, the Piraeus-based shipping organization that has, during the past four years, gained international recognition for its Suez Canal Transiting Service, has just opened a branch office in New York City. The firm has been offering its services to American shipping operators for several years, but in the past always directly from its head office in Greece.
George Whitfield, international marketing manager for the Candia Group, explained that the decision to open a branch office in the U.S. was based on the increase of traffic from their existing American clientele. A greater p r o p o r t i o n of this increase in business is for vessels calling at various Egyptian ports, due to renewed interest by America in Egypt, and the c o n s e q u e n t i al A.I.D. cargoes that are finding their way daily to Egypt, particularly to the very congested port of Alexandria.
Mr. Whitfield also stated that Candia's services are unique in many ways, but particularly that the company's policy is to have a good working relationship with its customers. With this in mind, the New York office was a natural progressive move to enable the firm to keep its clients in the U.S.
well informed as to what is happening while their vessels are in Egyptian ports or transiting the Suez Canal.
This has been achieved by the installation of a direct telex leased line into its head office in Piraeus —where all operational work is carried out—as well as to its liaison office in Port Said. This telex line, which is solely for the use of Candia, is said to be the first of its kind between New York and Port Said. Local banking facilities also have been arranged.
Therefore, U.S. companies may now pay all transit or port call expenses locally in New York, avoiding the often risky business of transferring funds abroad on time. Lost funds, or late remittances, especially in Egypt, often hold up a vessel's progress and sailing date.
Candia represents more than 600 owners and charterers in 37 countries, handling approximately 200 ships per month either through the Canal or to any Egyptian port. The firm can demonstrate that it handles all aspects of a client's vessel transiting the Canal or c a l l i n g at a p o r t — from providing initial information, estimating expenses on-thespot, covering expenses locally in Egypt, communicating all instructions via its unique telex line, receiving and relaying reports, handling all requirements of the vessel, to collecting and auditing accounts and refunding any credit balances in U.S. dollars.
Candia is also the official agent and representative in Continental America (as well as Greece and the Far East) for MISR Petroleum, the giant state-run petroleum company. MISR supplies all grades of bunkers at the Suez Canal and any Egyptian port.
Candia can, therefore, offer its clients in the U.S. bunkers at very competitive prices and terms.
Details of Candia's full service may be obtained from Ward Lape, manager operations, Candia Shipping ( U S A ) Inc., One World Trade Center, Suite 1611, New York, NY 10048; (212) 466-1510.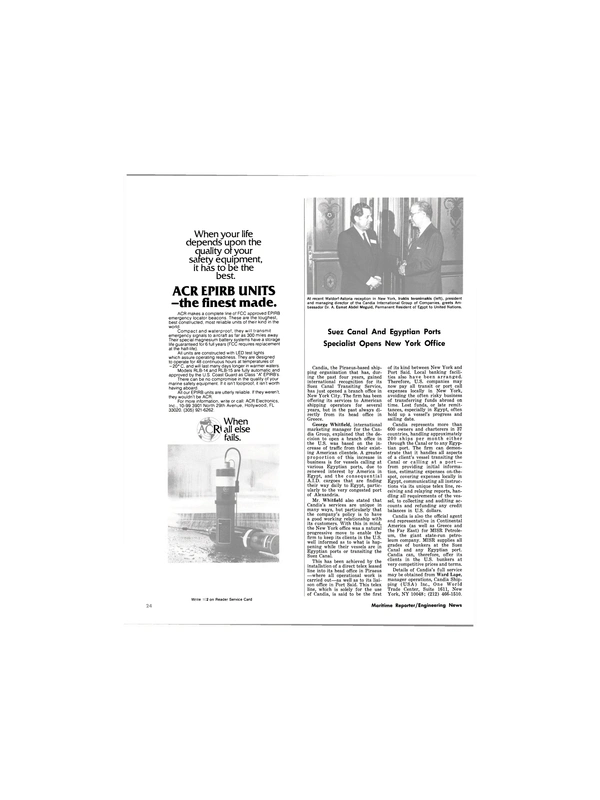 Read Suez Canal And Egyptian Ports Specialist Opens New York Office in Pdf, Flash or Html5 edition of November 1980 Maritime Reporter
Other stories from November 1980 issue
Content