International Paint Seminar Stressed Importance Of Smooth Hull
International Paint Company, Inc. of Union, N.J., recently sponsored a technical seminar concerning the economic importance of hull condition. It featured Dr.
Robert L. Townsin, professor in the Department of Naval Architecture and Shipbuilding at the U n i v e r s i t y of Newcastle-upon- Tyne, England, and was attended by representatives of shipowners and operators from around the U.S.
Dr. Townsin is a world-known authority on ship hydrodynamics, hull roughness, and ship performance measurement. He is a Fellow of the Royal Institution of Naval Architecture in the U.K. and a member of The Society of Naval Architects and Marine Engineers.
At the recent Shipboard Energy Conservation Conference '80 in New York Dr. Townsin, together with Tor Svensen, presented his most recent paper entitled Monitoring Speed and Power for Fuel Economy.
Among the topics covered at the seminar were: the causes of hull roughness; practical measurement of hull roughness — devices and techniques; the relationship between hull roughness and power; techno-economics of hull condition; and ship performance.
According to Dr. Townsin, fouling is an economic disaster because of the enormous additional fuel required to overcome the added drag it causes (five percent fouling requires about 10 percent more fuel). However, thanks to organotin copolymer antifoulings such as Intersmooth SPC, fouling is a thing of the past, Dr. Townsin claimed.
Physical hull roughness is more insidious, as it increases throughout the life of a vessel using traditional antifoulings under normal maintenance practices. Dr.
Townsin suggested a number of steps to take to reduce the severe economic impact of the physical hull roughness caused by, among other things, painting in the drydock and deterioration of spent traditional antifouling.
These steps included stricter attention to surface preparation, use of proper spray coating techniques, and coating the underwater hull with self-polishing copolymer antifouling to smooth the hull in service. Finally, Dr. Townsin spoke about the desirability of monitoring ship performance to insure economic operation.
International Paint Company, Inc. is part of a worldwide organization with operations in 23 countries. The company's principal business is the manufacture and sale of paints in the marine, yacht, and protective coatings markets. Worldwide sales in the year ending March 31, 1980 were more than $550 million. The company's U.S. manufacturing plants are located in Union, N.J., New Orleans, and San Francisco.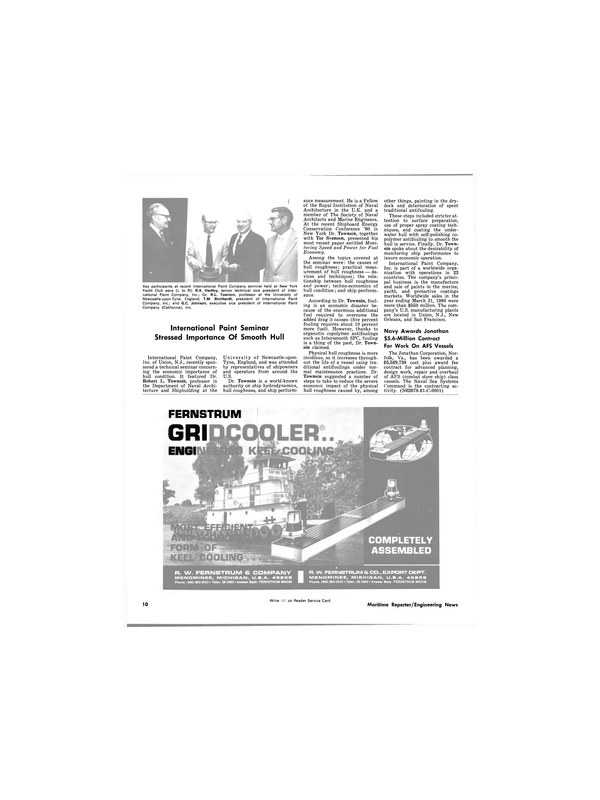 Read International Paint Seminar Stressed Importance Of Smooth Hull in Pdf, Flash or Html5 edition of November 1980 Maritime Reporter
Other stories from November 1980 issue
Content