EUROPORT '81
Europort '81 — the largest international maritime exhibition and conference—will be 20 years old this month. In terms of products, equipment, and technological presentations, this 20th anniversary show will be as young as tomorrow.
The exhibit will be held in Rai Halls, Amsterdam, Netherlands, on November 10 through 14, and a record number of shipping and shipbuilding executives as well as technical personnel from all over the globe are expected to attend.
Europort has grown in stature with the years, quickly becoming one of the leading maritime events. Almost since its inception, Europort has gained a reputation as an event that is welcomed by marine executives for the opportunity it provides to acquire and exchange information on a wide range of industry developments.
The show and technical sessions cover the spectrum of the maritime industry and are not limited to any particular sector.
The Europort '81 conferences, held in conjunction with the exhibition, will for the first time include separate commercial sessions in addition to the well respected technical presentations.
These commercial forums will provide additional opportunities for direct interchange between suppliers of equipment and services, and representatives of their markets.
Maritime-related companies from more than 19 countries will have exhibits at the show. Represented will be firms from Austria, Belgium, Canada, Denmark, Finland, France, East Germany, West Germany, Hungary, Italy, Japan, the host country — the Netherlands, Poland, Norway, Romania, Spain, Switzerland, United Kingdom, and the United States.
For the second consecutive year, shipping on inland waterways will be a special feature.
The inland waterways of the European continent are a well-integrated network that is constantly being upgraded. The network is an essential, cost-efficient part of Europe's transportation system.
As Europort officials note, inland waterways are assuming greater importance worldwide; it is one sector of the maritime industry that has enjoyed steady growth during recent years.
A separate conference on inland navigation will be held on Saturday, November 14, and Europort '81 has retained a special part of the exhibit that will, for the second consecutive year, be devoted to the waterways. It will be located in Amstelhal in the Rai center.
The two other conferences planned to coincide with the exhibit have been organized by the conference division of Lloyds of London Press. The programs will be concerned with "Merchant Ships — Construction, Maintenance and Operational Problems," and "Salvage, General Average and Marine Insurance." The merchant ship conference will be held on the morning of November 10, and in the morning and afternoon of November 11.
It is sponsored by the Society of Consulting Marine Engineers and Ship Surveyors.
On November 12 and 13, the marine insurance topic will be sponsored by Ernest Robert Lindley & Sons B.V. Both of these conference programs will be conducted in English.
Europort '81 officials anticipate a total attendance of more than 70,000 persons at the five-dayevent.
His Royal Highness Prince Claus of the Netherlands will officiate at the exhibition's opening ceremony.
"MERCHANT SHIPSCONSTRUCTION, MAINTENANCE and OPERATIONAL PROBLEMS" CONFERENCE PROGRAM* TUESDAY, NOVEMBER 10 Morning—"New buildings, Their Conception / Contract / Construction / Trials and Delivery." 9:00 a.m.—Registration.
9:30 a.m. — Chairman's opening remarks.
9:40 a.m. — Gerald Geddes: General Appraisal of Total Subject.
10:25 a.m.—Coffee 10:55 a.m.—Norman Hart: The Execution of a Building Program by a Consultant.
11:30 a.m.—H.R. Selby: The Development of Specifications in a Building Program by a Consultant.
12:00 noon—M.R. Knight: The Realities of Supervising a Building Program by a Consultant.
12:30 p.m.—Lunch 2:00 p.m.—His Royal Highness Prince Claus of the Netherlands Opens EUROPORT '81 Exhibition.
WEDNESDAY, NOVEMBER 11 Morning—"Operational Problems." Chairman: Gerald Geddes.
9:30 a.m. — Chairman's opening remarks.
9:40 a.m.—J.P. Taylor: Sale and Purchase— M.O.A.; A. Clapham: On and Off Hire Surveys.
10:55 a.m.—Andrew Sinclair: Surveys on Behalf of Underwriters by Specia'ists, Consultants and Classification.
11:40 a.m. — J.A. Duncan: Maintenance And Repairs; G. Lugg: General Advice to Average Adjusters.
12:30 p.m.—Lunch.
Afternoon — "Techno/Legal/Arbitration/ Expert Witness." Chairman: Andrew Sinclair.
2:00 p.m. — Chairman's opening remarks.
2:10 p.m. — Cedric Barclay: Arbitration Generally.
2:55 p.m.—Tea.
3:25 p.m.—Harry Miller: Expert Witnesses.
4:10 p.m. — Forum—Chairman: Cedric Barclay.
"SALVAGE, GENERAL AVERAGE and MARINE INSURANCE" CONFERENCE PROGRAM * THURSDAY, NOVEMBER 12 Morning—Chairman: Geoffrey Hudson, partner, Ernest Robert Lindley and Sons.
8:45 a.m.—Registration.
9:15 a.m. — Chairman's opening remarks.
9:30 a.m. — John Van Beuningen, managing director, Smit International Towage and Salvage Co. Keynote Address: "Is the Pen Mightier Than the Towrope?" 10:15 a.m.-—Robert Elborne, partner, Elborne Mitchell: The C.M.I. Draft Salvage Convention—What it Proposes.
11:00 a.m.—Coffee.
11:30 a.m. — Miss Ina Wilderboer, partner, Van Doorne and Sjollema: The C.M.I. Draft Salvage Convention—What it Omits.
12:15 p.m.—Terence Coghlin, partner, Thos. R. Miller and Son (Bermuda): The Attitude of P. and I. Clubs to Present and Future Changes.
1:00 p.m.—Lunch.
Afternoon — Chairman: Tony Wilbraham, president of the International Salvage Union.
2:30 p.m. — Gerald Darling, Q.C.: Lloyd's Form of Salvage Agreement — Past, Present, and Future.
3:15 p.m.—Geoffrey Hudson, partner, Ernest Robert Lindley and Sons: Application to General Average—The Adjusters Headache.
4:00 p.m.—Tea.
4:30 p.m.—Speaker to be Announced.
Hull and Cargo Insurers Exposure.
5:15 p.m..— Chairman's closing remarks.
FRIDAY, NOVEMBER 13 Morning—Commencing at 9:30 a.m., "New Policy Forms — Off the Peg or Tailor Made?" M.J. Shah, Chief, Maritime Legislation Section, Shipping Division; UNCTAD: The UNCTAD Proposals.
Speaker to be announced: Developments in the Traditional Markets.
1:00 p.m.—Lunch.
Afternoon—Commencing at 2:30 p.m., simultaneous discussion groups: Group 1—"The Provision of Security for Salvage, General Average, Collision and Pollution Liabilities"; Group 2—"New Policy Forms—Towards a Fully Integrated Insurance Cover." Followed by reports from each group and discussion.
(*As available at Press Time.)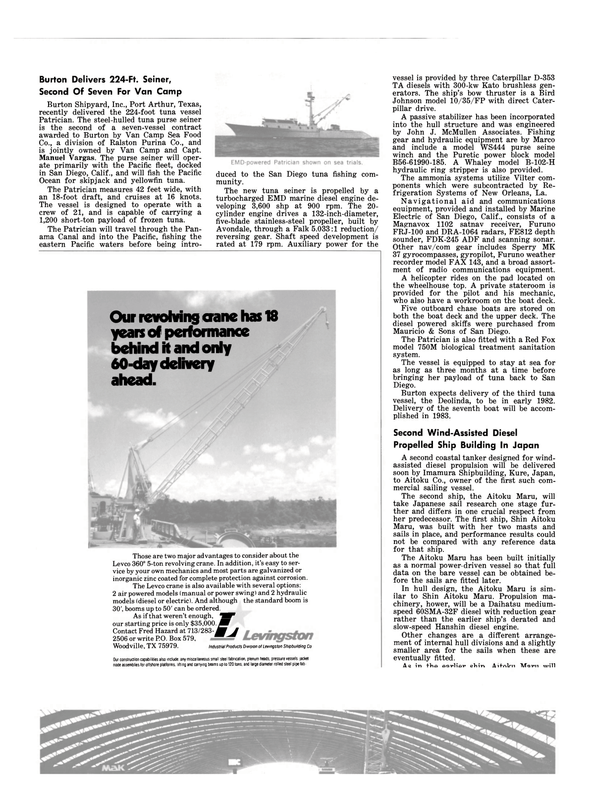 Read EUROPORT '81 in Pdf, Flash or Html5 edition of November 1981 Maritime Reporter
Other stories from November 1981 issue
Content