Innovative "Flexor" Barge Connector Allows Blue Water Barge Trains
"Trains" of freight barges crisscrossing the world's oceans, lakes and rivers, is the goal set by the Barge Train Division of American Metal Bearing, Inc., which has announced the introduction to the commercial market of its "Flexor," a flexible steel and synthetic rubber barge connector that makes barge trains possible and opens a new area of additional revenue opportunities for barge operators worldwide.
Free literature is available describing the entire concept in detail.
Making the announcement, Alan Ducommun, president of the Garden Grove, Calif., firm, stated that the introduction of the Flexor and the Barge Train concept to commercial shipping will, for the first time, bring the cost and convenience advantages of barging to blue-water transportation around the world.
Mr. Ducommun stated there are three basic types of barge linkages: single hinge, multiple articulated connectors, and flexible couplings. Single hinges have limited ability to absorb the ocean forces. Articulated couplings are a big improvement, but may not absorb enough force. Flexible couplings theoretically could absorb these forces, but no one had been able to perfect them until John Marriner did it in the 1970s.
American Metal Bearing purchased Mr. Marriner's firm, Barge Train, Inc., and its Flexor patents, earlier this year. It also retained Mr. Marriner to help launch the product commercially.
Flexor allows relative motion between coupled barges substantially reducing the forces between them. An additional feature is that the Flexor can be coupled and uncoupled very quickly.
Mr. Ducommun noted that the Flexor has been extensively proven in the United States Navy, which has more than 200 in use and 140 more on order.
Mr. Ducommun said that the commercial version of the Flexor will enable four to six 150- to 200- foot-long barges to be connected and either pulled or pushed by a tug. Compared to the Navy's Flexor, the commercial version will be approximately twice as long and eight times as heavy.
Important advantages offered to commercial barge owners by the Flexor and the Barge Train concept include: (1) Additional revenue opportunities from expanded areas of operation; (2) Additional revenue from more efficient operation; (3) Relatively low initial cost; (4) Simple and inexpensive installation; (5) Quick and easy coupling even in open water; (6) Enables barge sections to ride waves while absorbing the sea forces; (7) Enough rigidity to enable pushing four to six barges by tug—pushing is more efficient than pulling; (8) Almost continuous tug operation—picking up, moving, and dropping off barges—minimum time wasted, maximizing efficiency; (9) Flexibility—barges of 2,000 to 8,000-ton displacement can be used as temporary warehouses; (10) Fast uncoupling in emergencies; (11) Barge Trains move faster—close-coupling safely permits increased speeds; (12) Larger payloads and faster speeds reduce costs and increase profits.
The commercial Flexor is approximately 14 feet long, 30 inches in diameter and weighs 8,000 pounds. Each end consists of a hollow tapered steel casting with a circumferential groove that accepts a guillotine latch which falls into locked position when the Flexor assumes its position in a barge receptacle.
A thick steel cable, running through the center of the Flexor, is tightened so the unit is in compression.
The Flexor receptacle is a reinforced steel tube welded into position.
Both ends of a barge have two or four receptacles. Hand winches at the inboard ends of each receptacle pull hawsers attached to each end of the Flexor bringing the two vessels together and guiding the tapered tip of the Flexor into the receptacle.
The units also can be set up for remote uncoupling in emergencies.
When the barges are connected, they are approximately 30 inches apart. When disconnected, Flexor units retract and store in the receptacles.
Since 1970, American Metal Bearing has been a major supplier of bearings to the U.S. Navy and to more than a dozen shipbuilding firms.
For free literature containing full details on the Flexor and the Barge Train concept, W r i t e 2 0 on Reader Service Card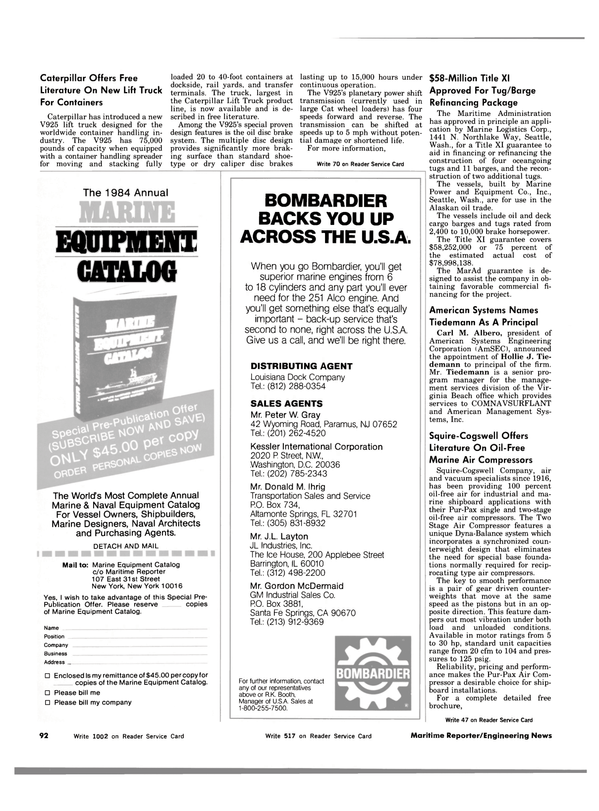 Read Innovative "Flexor" Barge Connector Allows Blue Water Barge Trains in Pdf, Flash or Html5 edition of November 1983 Maritime Reporter
Other stories from November 1983 issue
Content