Global Marine Introduces New Designs For New Generation Of Heavy Weather Jackups
The rapid expansion of offshore exploration into regions of hazardous environmental conditions has served to illuminate the necessity for improvements in drilling equipment, performance standards, and safety regulations. As a result, Global Marine Drilling Company has established design standards for bottom-supported drilling units operating in such hostile environments as the eastern seaboard of Canada and the United States, the northern portion of the North Sea, Alaskan waters, and the Australian continental shelves.
These design considerations include towing and jacking capability in heavy seas; continual operations in extreme wind and wave conditions; independence from frequent resupply; and a safe, comfortable and efficient working environment.
Following extensive research, Global Marine selected two bottom- supported designs that meet or exceed these standards. The drilling units, currently being constructed by C.F.E.M. Offshore in Dunkerque, France, represent an evolution in drilling technology for severe offshore environments.
The two drilling platforms have the highest classification issued by Det norske Veritas and conform to the U.K. Department of Trade, U.K. Department of Energy, and U.S. Coast Guard regulations. The first unit to be completed will be a C.F.E.M. T-2005 design. This drilling unit has been modified to meet the requirements established by the Canadian Oil and Gas Lands Administration and the Canadian Coast Guard. This rig will be christened the Glomar Labrador I.
A drilling unit is also being built to withstand more severe wind and wave conditions than any jackup yet envisioned. This unit, the only C.F.E.M. T-2600 currently under construction, has been designated the Glomar Moray Firth I.
Global Marine has modified the original C.F.E.M. structural and mechanical designs of both of these rigs to improve their heavy weather capabilities. The cantilever-type jackups are capable of operating at water depths of up to 300 feet while drilling to 25,000 feet. They are designed specifically to extend drilling operations into areas where other bottom-supported units must currently revert to the survival mode or withdraw completely during harsh weather seasons.
The Glomar Labrador I incorporates structural improvements to the original T-2005 design which permit continuous operations in shallow water where year-round activity has traditionally been prohibited by environmental forces.
Heavier cross-sectional bracing was added to three 50-foot sections of each leg structure. These leg modifications will enable the Glomar Labrador I to operate in water depths between 115 feet and 197 feet with 82-foot maximum wave heights concurrent with 100-mile per-hour winds and a 2.48-knot surface current.
The Glomar Moray Firth I, is intended to go one step further into the extremely hostile ocean environments.
The design environmental characteristics allow the unit to withstand 97 mile per hour winds accompanied by 97-foot waves in 300 feet of water. A significant structural innovation was the addition of stiffened plate steel bulkheads to the entire external surface of each jackhouse structure, greatly reducing the hull and jackhouse stresses associated with hostile ocean environments. The Glomar Moray Firth I will extend the year-round working range for offshore drilling programs in heavyweather exploration regions where water depths do not exceed 300 feet.
A unique design feature of these jackups places the leg wells cantilevered from the hull, thereby making available large deck areas and consumables storage spaces.
The platforms are supported in the elevated mode by three quadrangular truss legs, each with a spud can base. Jacking assemblies, employing three lifting units each, are utilized on two chords of each leg. The jacking units are floating electromechanical planetary gears with reaction transmitted to the hull by the jackhouses. These planetary units were chosen because of their light weight and efficient operation. The lifting units contain four motors and pinions per set for a total of 24 motors and pinions per leg. The system permits a jacking speed of 1.5 feet per minute and is equipped with out-oflevel warning devices. Maximum designed jacking loads are 9,900 short tons for the Glomar Labrador I and 13,200 short tons for the Glomar Moray Firth I.
To minimize problems in towing, jacking, and station relocation in heavy wind and wave conditions, a simple and effective innovation, the SLO-ROL motion suppression system, developed by Sea Tek Corporation, was added to both rigs. The system consists of open-bottom tanks around each leg well, interconnected by air ducts and charged by an air compressor to 6 to 8 psi. The SLO-ROL system reacts instantly to incident waves from any direction, reducing the roll and pitch normally experienced.
The ability to jack down depends largely on the maximum axial and bending loads exerted on the jackup legs at the time of sea bottom contact. In any given sea state, waves induce a roll motion to the hull which imparts an impact velocity to the legs. When this impact velocity exceeds the design tolerance of the leg structures, jacking operations must be suspended. The SLO-ROL system lengthens the pitch and roll periods and reduces the pitch and roll amplitudes. Bottom impact of the spud cans is decreased and the damaging forces on the platform legs are significantly diminished, permitting jacking operations in higher seas.
The Glomar Labrador I and the Glomar Moray Firth I are nearly equivalent in onboard features. A 4,000-kilowatt power generation system, strategically located mud mixing, charging, and transfer systems, and a BOP system pressure rated at 15,000 psi are typical examples. Unique to these units is a drillfloor substructure supported by two movable cantilever beams.
This hydraulically positioned substructure allows for transverse and longitudinal skidding of the derrick floor providing a live drilling area of 25 feet by 35 feet aft of the hull. The derrick substructure and cantilever beams can also be located centrally on the main deck to provide increased stability during field tows.
Global Marine modified onboard facilities of the Glomar Moray Firth I to meet the requirements for certification by the Norwegian Maritime Directorate. The heliport size has been increased and a visual flight control tower has been added. The derrick has been modified to accept a remote pipe handling system. Lifesaving equipment has been expanded and improved. The recreation areas have been increased and the 90 person crew quarters have been reduced to 74 to comply with the NMD requirement for two person staterooms with shower and toilet in each room. These modifications, and the numerous other improvements necessary to meet NMD/ NPD demands, make the Glomar Moray Firth I one of the safest and most comfortable jackup drilling units designed.
The Glomar Labrador Class and the Glomar Moray Firth Class jackup drilling platforms provide all weather exploration and development capabilities for operators working in harsh ocean environments.
They make bottom-supported drilling available to areas which were previously the exclusive domain of semibusmersibles.
Outfitted with the SLO-ROL motion suppression system and furnished with the best equipment available, these drilling units demonstrate state-of-the-art drilling technology for versatile, safe, and cost effective operations in severe sea states.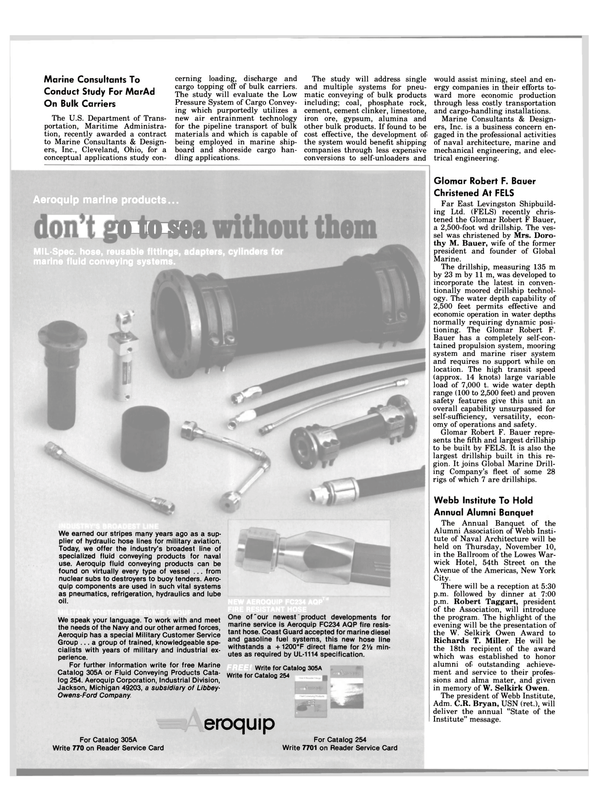 Read Global Marine Introduces New Designs For New Generation Of Heavy Weather Jackups in Pdf, Flash or Html5 edition of November 1983 Maritime Reporter
Other stories from November 1983 issue
Content