MarAd Awards $4,250,848 In Contracts To Improve Productivity of U.S. Yards
The Maritime Administration has awarded $4,250,848 in contracts for 10 projects designed to improve the productivity of U.S.
shipyards and to reduce the cost of building ships in the United States.
All projects are part of the National Shipbuilding Research Program.
Results will be shared throughout the U.S. shipbuilding community.
Summaries of the activities, including funding to be provided by the government, follow: • Shipbuilding Facilities Improvement Program, sponsored by Avondale Shipyards Inc., New Orleans, La. Projects include studying and reducing costs associated with moving personnel onto a ship and about a shipyard; investigating the storage of pipe in shipyards and developing and demonstrating new methods, if indicated; and developing and implementing an on-line material control system.
Contract amount: $561,848.
• Shipbuilding Welding Improvement Program, sponsored by Newport News Shipbuilding and Drydock Co., Newport News, Va.
Projects include developing a design and planning manual for costeffective welding; writing a specification for a shipbuilding robotic welding system; reviewing automated, recordable ultrasonic inspection projects; developing an acceptable Eddy Current inspection method for ferrous surface flaws; evaluating benefits of the new high-strength, low-alloy steels; and developing standard test methods and values for hydrogen deposited in weld metal. Contract amount: $545,000.
• Shipbuilding Design/Production Intergration Program, also sponsored by Newport News Shipbuilding and Drydock Co. Projects include briefing shipyards and design agencies on the efficient utilization of the recently developed "Design for Production Manual"; preparing a report on information needed from design/engineering departments by planning and production departments of shipyards; identifying information flow requirements for the design and procurement processes; examining the transition from system to zone production; and developing architecture and flow diagrams for a system which will produce piping arrangement and detail drawings.
Contract amount: $515,000.
• Shipbuilding Production Aids Program, sponsored by Todd Pacific Shipyards Corp., San Pedro, Calif. Projects include creating a publication on U.S. shipbuilding accuracy; studying and applying quality circles as production aids; and identifying a safety and health program to be used as an aid in zone-oriented production. Con Contract amount: $390,000.
• Shipbuilding Education and Training Program, contract awarded to University of Michigan, Ann Arbor, Mich. Projects include establishing a professional journal on ship production; continuing a microfiche preparation, indexing and distribution service; supporting the preparation of a video taped lecture course on basic naval architecture; improving shipyard communication skills; evaluating European training concepts; developing a course on supervision; developing a modular training system for new employees; and developing an instructional syllabus for use with the "Design for Production Manual." Contract amount: $470,000.
• Shipbuilding Industrial Engineering Program, sponsored by Bath Iron Works, Bath, Me. Projects include improving planning and ship loading in shipyard production shops; developing shipyard training packages on industrial engineering procedures; training shipyard personnel in the analytical techniques of methods engineering; reporting on the optimal use of industrial engineering tech- niques in shipyards; and analyzing manpower estimating and control procedures. Contract amount: $340,000.
• Shipbuilding Flexible Manufacturing Program, sponsored by Todd Pacific Shipyards Corp. Projects include reviewing flexible automation technology applications for shipyards and developing a device to mark plates cut by computer numerically controlled burning machines. Contract amount: $340,000.
• Surface Preparation and Coatings Program, sponsored by Avondale Shipyards, Inc. Projects include defining and standardizing requirements, testing and procedures for the certification of weld procedures through shop primers; determining the effect of contaminants on coating performance; studying the cost effectiveness of flame-sprayed coatings for shipboard corrosion control; and establishing the feasibility of the automated painting of pipe pieces, wire ways, hangers and other small parts. Contract amount: $499,000.
• Shipbuilding Standards Program, sponsored by Bath Iron Works. Projects include developing comprehensive drafts of cableway standards for surface ships and standard practice for the se- lection and application of marine deck coverings, and supporting a U.S. Navy document conversion program involving documents which have a high potential for conversion into industry standards.
Contract amount: $365,000.
• Shipbuilding Human Factors Program, sponsored by Bethlehem Steel Corp., Bethlehem, Pa. Projects include establishing problemsolving teams in shipbuilding; relating organizational innovation with shipyard safety; and planning, developing and testing prototype work groups in a productoriented work breakdown structure.
Contract amount: $225,000.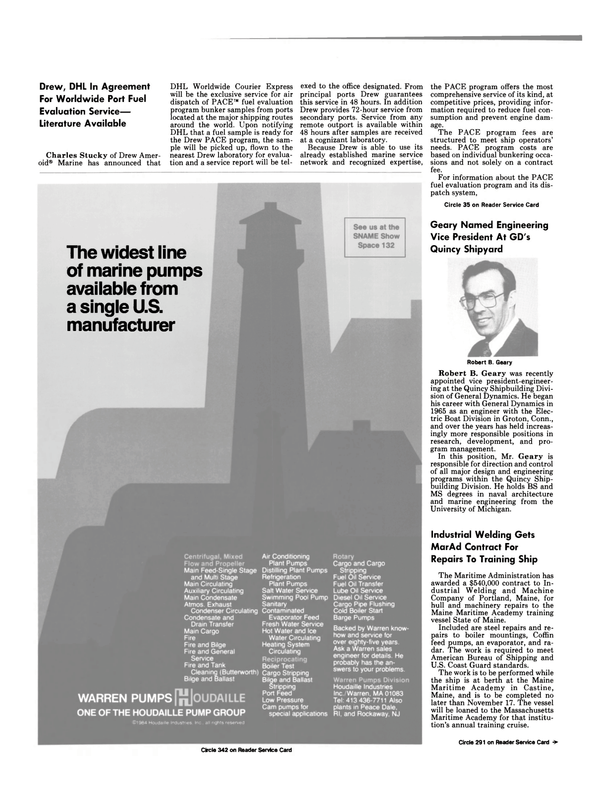 Read MarAd Awards $4,250,848 In Contracts To Improve Productivity of U.S. Yards in Pdf, Flash or Html5 edition of November 1984 Maritime Reporter
Other stories from November 1984 issue
Content