Aegis Cruiser "Valley Forge' Christened At Ingalls Shipyard
Deputy Secretary of Defense William Howard Taft IV was principal speaker at the recent christening ceremony for the U.S.
Navy's newest, most powerful warship, the Aegis guided missile cruiser Valley Forge (CG-50). Built by Litton's Ingalls Shipbuilding division is Pascagoula, Miss., the new ship is the fourth in a class that is revolutionizing the U.S. Navy's aircraft carrier battle groups defenses.
She is the second Navy ship named in honor of the area in Pennsylvania where General George Washington's Continental Army suffered through the bitter cold winter of 1777-78. The first Valley Forge, an aircraft carrier later redesignated as an amphibious assault ship, earned 17 battle stars and three unit commendations during a quarter century of fleet duty.
Julia Vadala Taft, a leading authority in the field of international refugee relief and resettlement and wife of Secretary Taft, served as sponsor of the new cruiser, smashing the traditional bottle of champagne across the bow. Patricia Goldman of Washington, D.C., vice chairman of the National Transportation Safety Board, was matron of honor.
Vice Adm. Harry C. Schrader Jr., USN, Commander of the U.S.
Pacific Fleet's Surface Force, which Valley Forge will join after commissioning in July 1985, said that "more than any other surface combatant since World War II, Valley Forge and her sister cruisers are designed to operate on the very cutting edge of our nation's maritime deterrent strategy. They have been given extraordinary capabilities that make them one of the most complex and sophisticated structures ever designed to sail on the ocean... the crew of this ship, if called into battle, will take with them the very best our nation has to offer." Aegis cruisers are large ships— 567 feet long, with a beam of 55 feet.
Four gas turbine engines power the 9,400-ton ship to speeds in excess of 30 knots. As elements of the most important surface shipbuilding program in America today, Valley Forge and other ships of the Aegis class will provide the primary protection for the Navy's battle forces well into the next century. With her Aegis weapons system, Valley Forge is designed to counter all present and projected missile threats to the Navy's battle forces.
Her Aegis weapons system, the heart of her warfighting capability, is a significant advance in fleet air defense. Four fixed array radar antennae, mounted on the four sides of the ship's superstructure, replace conventional rotating radars enabling the ship and her crew to "see" in all directions simultaneously. The Aegis weapons control system simultaneously fires and directs more missiles at more targets, with greater accuracy, than any other system.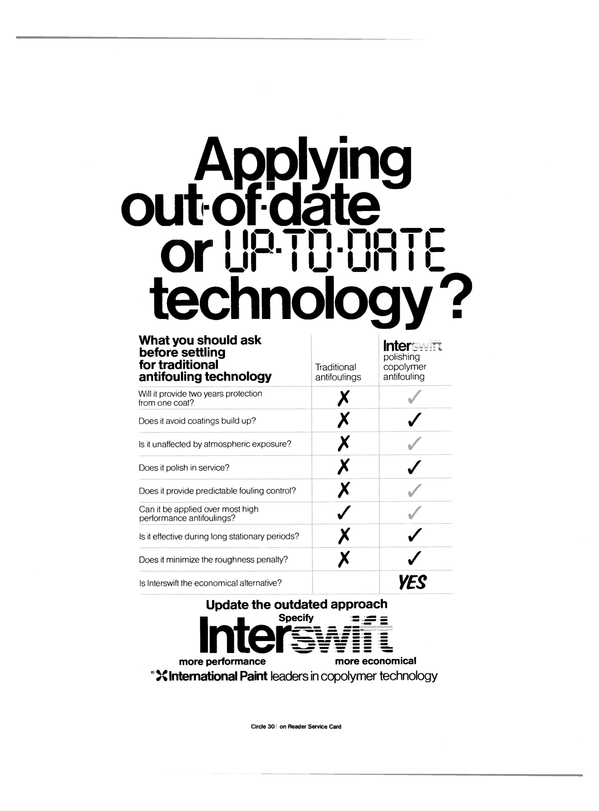 Read Aegis Cruiser "Valley Forge' Christened At Ingalls Shipyard in Pdf, Flash or Html5 edition of November 1984 Maritime Reporter
Other stories from November 1984 issue
Content