Mitsubishi Kakoki Offers New Products For Solving The Fuel Quality Problem
—Free Literature Available Mitsubishi Kakoki Kaisha, Ltd.
of Japan is offering free literature on three new products that the company recently placed on the market as a solution to the fuel quality problem—Selfjector Excellent-Series, e-HIDENS-System, and Marine Decanter Centrifuge.
The attractive 16-page brochure on the Selfjector Excellent-Series (SJ-E) explains that the SJ-E is a remodel of the original Selfjector (disc type centrifugal separator) that incorporates many new outstanding features such as a pilot valve mechanism and a high-tensile stainless bowl in a simple, compact and lightweight, yet durable body, and the introduction of a microprocessor into the automatic control system. Besides being able to handle marine fuel oil and lubricating oil, the SJ-E is suitable for use whenever superior oil purification is required, from electrical power generating stations, through the whole range of industrial applications.
Seven models of total and partial discharge oil separators are available so that the most economical for any particular main engine can be selected. The brochure contains cutaway color views, text and important data on the various models as well as the automatic control system component, and dimensions and space for installation.
Mitsubishi's six-page brochure on the e-HIDENS-System states that the deterioration of fuel oil for both stationary and marine diesel engines is steadily advancing on a worldwide scale and in light of this, the company has developed a high density fuel oil treating system—the e-HIDENS-System. The term HIDENS is an abbreviation of High Density Fuel Oil Treating System.
The pamplet contains an outline of what the system is, and discusses its features, actions, main components, and throughput capacity of Self-jector for e-HIDENS-System use. Several pages of drawings, charts and diagrams serve to complement the text.
The Mitsubishi Marine Decanter Centrifuge is the subject of literature that points out that it was developed in order to cope with the deterioration of marine fuel oils, and that it fully meets the requirements for the clarification of low grade fuel oils with high viscosity, high specific gravity and especially high content of sludges. The publication covers the principle and structure of Decanter Centrifuge, its features, the effect of two-stage purification through the combination of Marine Decanter KVZ-M and Disc Type Oil Purifier (Mitsubishi Selfjector), and specifications for the various models.
For copies of the brochures and literature on Mitsubishi's Selfjector Excellent-Series, e-HIDENS-System, and Marine Decanter Centrifuge, Circle 16 on Reader Service Card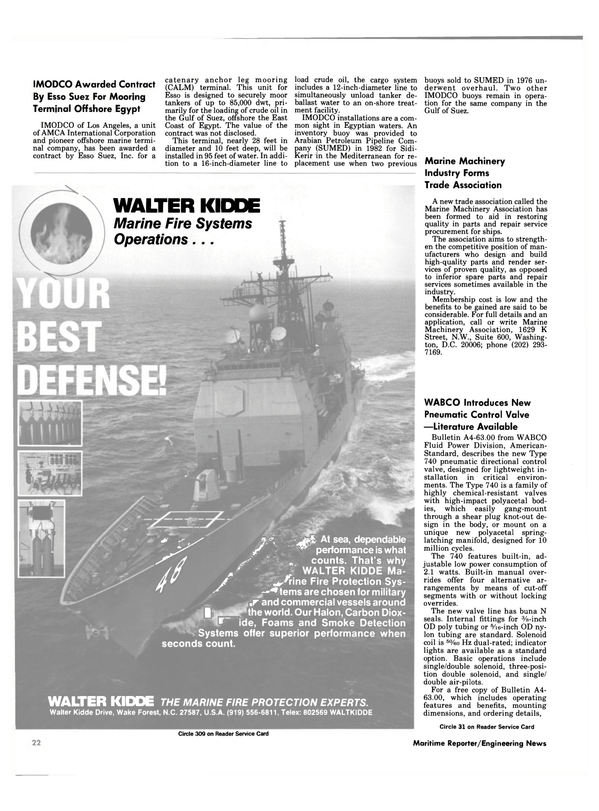 Read Mitsubishi Kakoki Offers New Products For Solving The Fuel Quality Problem in Pdf, Flash or Html5 edition of November 1984 Maritime Reporter
Other stories from November 1984 issue
Content