Radio H o l l a n d USA Announces N ew T h r a n e & Thrane Radiotelex Unit
— L i t e r a t u r e A v a i l a b l e— The Distributor Products Division of Radio-Holland USA of Houston, exclusive distributor in North America for Thrane & Thrane A/S of Denmark, has announced that as part of the Danish company's commitment to supply the latest in communications technology, and to serve both present and future radiotelex installations worldwide, it is the first radiotelex manufacturer to offer equipment with the newly passed CCIR Recommendation 625. All Thrane & Thrane standard and double-speed ATOR (Automatic Telex Over Radio) modems will henceforth be delivered with a new software package containing not only its high-performance, user-oriented feature package, but also the new CCIR Recommendation 625.
To fully utilize all the benefits that this new recommendation has to offer, automatic coast station systems delivered by Thrane & Thrane will also be upgraded to CCIR Recommendation 625, including Singapore Radio, Hong Kong Radio, Lyngby Radio, Scheveningen Radio, Bern Radio, and WLO Radio in Mobile, Ala.
Of equal importance, the new recommendation programs will be supplied as an upgrading kit for all earlier- delivered TT-1585 series of ATOR modems (more than 2,800 installed), including the very first versions delivered some four years ago.
The new recommendation, approved by CCIR at its May 1986 meeting in Dubrovnik, Yugoslavia, not only replaces the well-known CCIR Rec. 476-3, but it is also fully backwards-compatible, enabling existing modems to communicate with modems and coast stations following the new improved recommendation.
CCIR Rec. 625 includes nine-digit call codes in accordance with the future requirements of a common call code for all maritime communications systems, and a completely new scheme for exchange of station identification during initial calls and during rephasing procedures, preventing the annoying problems of a third station rephasing into an existing communications connection and possible receiving the rest of the message.
The 256 kbyte memory ATOR modems will interface with virtually any teleprinter, or supplied free of charge is the copyrighted XCOM program enabling both full control and operations of the modem from DOS-compatible computers, as well as free file transfer between the modem memory and the computer disk system. And for the discriminating user, a high-security telex cipher feature, provides total security against those eavesdropping on the radio circuits.
Free literature is now available completely describing the new Thrane & Thrane radiotelex equipment.
For your copy, C i r c l e 6 1 on Reader S e r v i c e Card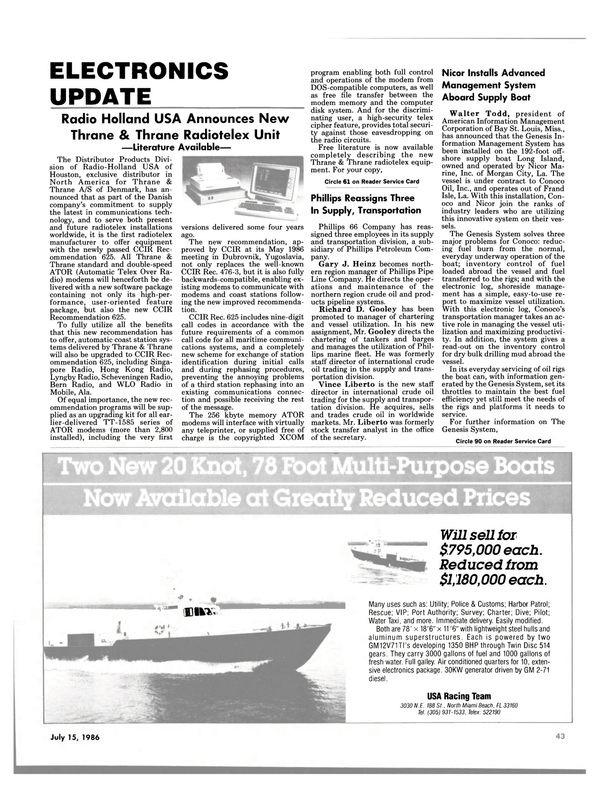 Read Radio H o l l a n d USA Announces N ew T h r a n e & Thrane Radiotelex Unit in Pdf, Flash or Html5 edition of July 15, 1986 Maritime Reporter
Other stories from July 15, 1986 issue
Content