DIESEL POWER REVIEW
Whether or not the current decline in oil prices is a temporary condition, most manufacturers of marine diesel engines are still concentrating on further improvements in specific fuel consumption, as well as on the ability to burn heavier grades of fuel. Regardless of availability, quality or price, fuel costs are and always will be a big ticket item for vessel owners. Diesel manufacturers know this and are continually improving designs.
Perhaps in the belief that the current decline in oil prices is a temporary condition, most manufacturers of marine diesel engines are still concentrating on further improvements in specific fuel consumption, as well as on the ability to burn heavier grades of fuel.
These enhanced capabilities are being accomplished by the redesign of critical engine components, including more efficient turbochargers, which is also increasing the power outputs for many engine models.
MR/EN asked the diesel manufacturers to provide information on their latest developments, accomplishments, and plans for the future in fuel-efficient engines. The following review is based on the replies that we had received at press time.
Product literature and technical reports are available free of charge from the manufacturers included in this review. Just circle the appropriate Reader Service number(s) on the postpaid card in the back of this issue.
ALSTHOM C i r c l e 1 0 on Reader Service Card The Alsthom Diesel Group of France manufactures a complete range of medium- and high-speed Pielstick diesel engines. The worldwide success of Pielstick engines is such that they now represent 35,000,000 bhp installed or on order.
The new PC 20, PC 30, and PC 40 series, introduced in 1985, are compact and powerful engines with low fuel consumption and the capability to burn heavy fuels of up to 6,000 Sec. Redwood. They provide easy access for maintenance and long service intervals between major overhauls.
The PC 20 type was successfully tested at Alsthom's plant in St. Nazaire at the end of 1985. Four of these engines, with a total output of 29,700 bhp, will power the cruise ship Sovereign of the Seas that is under construction for Royal Caribbean Cruise Line at Chantiers de l'Atlantique, Alsthom's shipbuilding division. These engines will be installed on a resilient suspension system to reduce noise and vibration in the 70,000-grt ship.
The Diesel Group has just announced the first order for PC 40 engines. Pielstick licensee Ishikawajima- Harima will manufacture four of the PC 40s, each with an output of 14,850 bhp, for installation in two car ferries that IHI will build for Shin Nihonkai Ferry.
The PC 40 is a very economical engine fitted with a power recovery turbine. The units aboard the Shin Nihonkai vessels will have a specific fuel consumption of 122 grams per bhp-hour. Delivery of the ferries is scheduled for the first half of 1987.
BERGEN DIESEL C i r c l e 1 1 on Reader Service Card The latest Bergen Diesel engine, Type B, has now completed the most extensive tests ever carried out before market introduction of a Bergen design. With no significant alterations and few adjustments resulting from these tests, it has been established that this design, with an output of 550 bhp per cylinder (with its basis the smaller K Type of 250 bhp/cyl), is a complete success and will be a market leader with regard to overall economy in modern diesel power.
At the same time, Bergen Diesel, working with the Technical University of Norway in Trandhjem, carried out research on alternative fuels. The specially adapted combustion chamber, together with the introduction of other relevant components, while burning a lean-gas mixture satisfied the most stringent demands set by the State of California for exhaust emissions.
At the other end of the scale, the K-type engine is operating on all commercially available fuel oils of up to 700 cSt, and has behind it successful operating tests on untreated California crude oil as well as on oil distillate residues particularly rich in undesirable components and with specific gravities of about 1.007.
Bergen standards for time between overhauls for operation on these alternative fuels are set to be comparable with those for operation on marine diesel oil—10,000-12,000 hours for exhaust valves and 15,000- 20,000 hours for piston ring packs.
With fuel oils consumption generally well below 145 grams per bhphour and lube oil consumption of 1 g/bhp-h (figures valid for both engine designs), and with both the K and B types having considerable development potential for higher loading, Bergen Diesel feels well equipped with products to face a marine market that is perhaps more demanding than ever before.
In addition to these latest engine designs, Bergen Diesel can offer highly qualified and advanced installation services, and has recently handled the increasing interest for resilently mounted propulsion engines.
The company has also supplied two-speed gearboxes for shaftdriven alternators, as well as hydraulic power transmission from auxiliary engines to propeller for emergency "take-home" propulsion.
BOMBARDIER/ALCO C i r c l e 1 2 on Reader Service Card Alco Power of Auburn, N.Y., now a subsidiary of Bombardier of Canada, manufactures the Model 251 diesel engine. Latest improvements to the series are said to reduce fuel consumption, lower maintenance costs, and enhance engine/component reliability. Major components involved are pistons, cylinder heads, and camshafts.
In order to establish viability of production tooling, Alco has been offering preproduction sets of deepbowl pistons in limited quantities, as well as cylinder heads and camshafts.
Full production of these components is expected during 1986.
With a 12.5:1 compression ratio, the pistons can be used in all Model 251 engines that are equipped with 123-degree or 140-degree overlap camshafts. In laboratory tests, up to six percent fuel savings were realized under controlled conditions.
While actual savings will vary according to engine ratings, average service throughout a typical duty cycle are predicted at about 2- to 2Vi -percent reduction in fuel consumption.
B&W ALPHA C i r c l e 14 on Reader Service Card B&W Alpha Diesel A/S in Frederikshavn, Denmark, a company of the M.A.N.-B&W Group, designs, manufactures, markets, and services complete vessel propulsion systems.
The company has completed the integration of the in-line and V versions of the 20/27 M.A.N.-B&W engine, and the in-line 32/36 M.A.N.- B&W engine with existing Alpha controllable-pitch propellers and gearboxes. This has resulted in fourcycle diesel propulsion systems developing as little as 680 bhp at 1,000 rpm, which can burn heavy fuel of up to 2,100 sec. Redwood 1 at 100 F.
Another series being offered is the 20/27-VO propulsion system. While the engine itself is not new, this system incorporates the new Alphatronic I and Alphatronic II, the Danish company's latest electronic remote control systems.
CATERPILLAR C i r c l e 15 on Reader Service Card Cat's 11 by 11.8-inch bore and stroke, 1,700-6,000 bhp, 4-stroke cycle, turbocharged-aftercooled 3600 family of in-line 6 and 8, Vee 12- and i6-cylinder models are establishing a track record for performance and fuel economy.
By mid-1986 there were 13 operating multi-cylinder 3600 engines with 31,500 operating hours. In addition, single-cylinder test engines have operated more than 35,000 hours, including development work on residual fuel configurations.
Both 3500 and 3600 engines have been qualified on 1,500 sec Redwood 1 fuel for 1986, with 3.5 percent maximum sulfur content by weight for the 3600s and 2.5 percent for the 3500s.
A 3612 repower of the Great Lakes freighter George A. Sloan has operated 3,500 hours at 4,500 bhp.
Just beginning its second season, the owner has been pleased with the engine's performance and reliability.
Replacing the original steam engine with the 3612 has transformed the Sloan from the least economical in the fleet to the most fuel-efficient, with fuel savings up to onethird.
A conversion package is now being designed for operation on blended fuel up to IF 320.
The 3600 family production began with four 3606 generator sets shipped during the latter part of 1985. Two of these have operated 1,200 hours providing power for a refinery and nearby towns. Another is operating 19 percent more efficient than the Caterpillar D398/ D399 it replaces, and has operated 3,800 hours. Another 3606 has operated for Brinco Mining in British Columbia for 2,900 hours, and is 14 percent more fuel-efficient than competitive units at the site.
A production 3606 rated 2,150 bhp at 900 rpm was installed in mid- May this year on a clamshell dredge to work initially at Government Island in the Oakland-Alameda estuary in California for Smith Rice. This 3606 barge-mounted electric shovel is the first dredge installation worldwide. Since beginning operation in March 1986, the engine has operated 1,100 hours. It will soon be joined by a pair of 3606s powering a new Belgian hopper dredge for Dredging International, operating on heavy fuel in Belgium.
Cat's 3500 family, with a bore of 6.7 inches and stroke of 7.5 inches, Vee 8, 12, and 16 cylinder models, continue successful operation in main propulsion and auxiliary applications due to their large displacement, conservative ratings, fast response, excellent fuel economy, and simple repair and maintenance.
Whether for repower or new application, the 700-2,000 bhp 3500 marine engines are being selected for pure economic reasons—lowest cost of operation.
Caterpillar marine propulsion systems are supported by a worldwide network of more than 200 Cat dealers, with parts and service locations in more than 140 countries.
To further support user financial needs, Cat Financial Services Corporation currently offers both tax and non-tax affected lease plans as well as installment sales contracts.
Many operators are evaluating the cost of repowering old, inefficient vessels rather than proceeding with new ship construction. With Caterpillar financial services rates for repower as low as 6.9 percent, the cost savings and increased productivity from a new engine can many times offset monthly payments for the new engine.
COLT INDUSTRIES C i r c l e 16 on Reader Service Card The construction, testing, and shipping by the Fairbanks Morse Engine Division of Colt Industries of the first two 10-cylinder Colt/ Pielstick PC4.2 engines rated at 16,500 bhp each marks a milestone in U.S. diesel engine manufacturing.
The largest diesel in horsepower ever manufactured in the U.S. is now being assembled in the U.S.
Navy's new T-AO-187 Class of fleet oilers, whose mission is refueling of ships at sea. Each of the vessels of this class will be powered by two PC4.2 engines.
Due to the engine's large size and weight, a special railcar had to be built, and special routing was required to reach its destination at Avondale Shipyards near New Orleans.
Several miles of local rail line had to be rebuilt or reinforced to handle the load.
The Fleet Renovation and Modernization (FRAM) program for the Hamilton Class Coast Guard highendurance cutters will require the remanufacture of Fairbanks Morse original parts to "as new" condition for the two engines in each of 12 vessels.
The engines in each cutter operate in a Combined Diesel or Gas Turbine (CODOG) arrangement.
Each engine will be dismantled and rebuilt to the current production engine configuration, using as many original parts as meet or fall within dimensional limitations.
Other ongoing contracts include the continued support for the Los Angeles and Ohio Class submarines, and continuing contracts that supply both the ship's service generators and main propulsion engines for the LSD-41 Class ships.
Further developments underway or completed at Fairbanks Morse include: completion of the new Diesel Training Center at the Beloit, Wise., factory; the new Regional Parts Distribution Centers at Indianapolis, Ind., and Sparks, Nev.; and additions to existing Service Centers in Norfolk, Seattle, San Diego, and Gretna, La. All parts and service centers are available to support marine diesels entering ports anywhere in the U.S., and are computer- linked to speed delivery of parts and assist in service to Colt's marine customers.
CUMMINS C i r c l e 1 7 on Reader S e r v i c e Card Cummins Engine Company of Columbus, Ind., recently announced the availability of its new VTA28-M diesel engine, said to be suitable for a wide variety of continuous-duty marine applications, from tugs and towboats to trawlers and draggers.
Rated 675 bhp at 1,800 rpm, the VTA28-M (28 liters) produces 55 more bhp than the former 1710 CID V-12 engine, a tried and proven marine industry standard.
By applying the latest technology in advanced turbocharging and design, Cummins developed the higher output while actually improving specific fuel consumption. In increasing the bhp from 620 to 175, the increase in total fuel consumption was held to less than one gallo per hour, and the bsfc was reduced by 10 points.
At this power rating, the VTA28- M is said to be lighter in weight and more compact than comparable marine diesels. In addition to the lighter weight-to-power ratio, this also means there is more walk-around room in the engine compartment for service and ease of maintenance.
The first marine models of its new B and C Series of lower-horsepower diesels, introduced in 1985, expands the Cummins marine product line to 61 bhp at the lower end.
The B Series consists of 4- and 6-cylinder models with displacements of 3.9 and 5.9 liters, ranging from 75 to 152 bhp at 2,500 rpm, rated 2,500 for intermittent duty and 2,800 for maximum duty. The B Series is capable of providing main propulsion in a wide variety of marine applications.
The C Series propulsion engines, which will be available in the second half of this year, comprise six-cylinder units with a displacement of 3.8 liters, ranging from 158 to 204 bhp.
Cummins has also increased engine horsepower ratings for its NT855-M and KT855-M marine models. The NT855-M is now available rated 360 bhp at 2,100 rpm, up from the former rating of 295 bhp at 1,950 rpm. Its continuous-duty rating has been increased from 270 bhp to 300 bhp at 1,800 rpm.
The KT19-M's intermittent rating of 510 bhp at 2,100 rpm has been available since 1984. Its continuousduty rating has now been increased from 365 bhp to 425 bhp at 1,800 rpm.
DAIHATSU C i r c l e 1 8 on Reader Service Card A new type of engine, the DL Series, which features low fuel consumption, low quality fuel burning capability, and low load operability, has been developed by Daihatsu Diesel Manufacturing Company Ltd. of Japan, represented in North America by Daihatsu Diesel (U.S.A.) Inc.
The DL Series engines—DL-20, DL-26, DL-28, and DL-32—are a medium-speed type of 600 to 1,000 rpm, with outputs covering the range from 750 to 3,000 bhp. They are suitable for both main propulsion and auxiliary generating applications.
Extensive testing under various conditions on all parts of these engines was carried out at the Daihatsu laboratory and factory in Osaka before they were placed on the market.
The company's traditional design concepts—simple and sturdy construction, easy maintenance.
and lower maintenance costs—are fully incorporated in the DL Series.
The company reports an increasing number of orders for the DL engines from shipowners overseas.
DETROIT DIESEL C i r c l e 1 9 on Reader Service Card Detroit Diesel Allison (DDA) recently introduced the 12V-92TA marine model, a turbocharged, aftercooled engine that incorporates "Forward Plan" components and features an increased horsepower rating of 545 bhp for workboat applications.
Forward Plan components feature a water-cooled turbocharger and exhaust system current with application regulations, two-pass aftercooler, and advanced air induction system combined to offer improved fuel economy at increased horsepower. Similar components will be incorporated into the Series 92 six-, eight-, and 16-cylinder models in 1987. The 8V92TA version will be rated at 365 bhp for workboat applications and will replace the currently offered 12V-71N model.
In addition, the Forward Plan components will be featured on the 1987 version of DDA's 12V71TA model, with improved fuel economy and an increase in horsepower to 400 bhp.
A current R&D project being conducted by DDA in conjunction with the Maritime Administration, U.S.
Department of Transportation, involves studying the benefits of Detroit Diesel Electronic Control as applied to the 149 Series for towboat applications. This system employs two Electronic Control Modules connected via a high-speed communication link to control injection and governing on the 16V- 149TIB engine. This, combined with turbocharger developments providing excess air flow for burst power and transient conditions with reduced parasitic losses, will allow DDA to offer smaller engines to replace larger engines in marine applications.
As with the Series 71 and Series 92, the naturally aspirated 149 Series engines will be replaced with Forward Plan models for the eight-, 12-, and 16-cylinder T and TI models.
DEUTZ/MWM C i r c l e 2 0 on Reader Service Card Two major West German diesel engine manufacturers, Klockner- Humboldt-Deutz AG of Cologne, and Motoren-Werke Mannheim AG of Mannheim, have merged to form Deutz/MWM, and now offer one of the broadest power ranges of diesel engines in the world.
This merger brings together two engine builders with a total of more than 230 years of experience, as well as a combined reputation for quality, reliability, and service excellence.
The KHD Group's Engine Division will be restructured with all activities involving the water-cooled engine business being combined at Mannheim. KHD will relocate its medium and big engine activities in development, sales, and parts manufacturing to Mannheim in combination with the engine program of MWM. The medium-sized and big engine built in Mannheim and Cologne will be manufactured and marketed under the trade name Deutz/MWM.
The formation of Deutz/MWM will offer an expanded range of marine and stationary prime movers, for propulsion and electric power generation, to world markets including North America.
The North American headquarters of the new company is located in Montreal, with a division based in Atlanta.
ELECTRO-MOTIVE C i r c l e 2 1 on Reader Service Card The latest diesel engine design from the Electro-Motive Division (EMD) of General Motors is the 710G Series, offering increased reliability, better fuel economy, and the potential for significantly higher horsepower in the future. The new design is an evolutionary development of EMD's turbocharged, uniflow- scavenged, two-stroke cycle engines.
The simplicity of design, maintainability, and high reliability of those engines have been retained in the new design.
The 16-cylinder 710G is rated 3,600 bhp at 900 rpm for marine applications. It has a bore of 9.06 inches, stroke of 11 inches, and displacement of 710 cubic inches per cylinder.
The design of the 710G is a logical outgrowth of EMD's current production series, the 645F engines.
The most recent version of that series, the 645FB, is the result of a succession of incremental improvements.
From 1980 to 1983, for example, the fuel efficiency of the 645F was increased by six percent and the compression ratio was raised from 14.5:1 to 16:1.
The 710G can also be viewed as a new dimension in engine design in terms of its potential for future development. Greater displacement and an advanced-design turbocharger give the 710G the capacity for significant increases in horsepower.
Thus, the 710G combines innovation with the proven technology of its predecessor, but its potential makes it more than just this year's model.
The 710G is EMD's most fuelefficient engine to date; full-load consumption has been improved by nine percent over the 1980 645F3 engine.
The longer stroke and added displacement of the 710G led to structural improvements in the engine, including: new Model G crankcase; larger-diameter plunger injectors; larger-diameter crankshaft; longer cylinder liner; and longer piston and rod assembly. Overall dimensions also increased; the 710G is 4% inches longer and 1% inches higher.
The added engine length is the result of a larger, extremely efficient turbocharger. Entry to the turbine was streamlined to improve gas flow, and an improved exhaust diffuser also reduces flow restriction.
The turbocharger is deeper to accommodate a larger annulus for a smoother and less restrictive discharge of exhaust gases. Overall, the turbocharger is said to be the most efficient ever produced by EMD.
The state-of-the-art G turbocharger provides a 15-percent increase in air flow for reduced thermal loading of critical engine components.
This higher air flow, combined with an increased injection rate from the new 0.56-inch plunger injector, accounts for the increase in fuel economy at rated output, with no increase in engine thermal loading.
A key concern in the development of a large-displacement diesel is reliability.
Throughout the development of the 710G, EMD used advanced laboratory techniques to analyze stress and predict performance.
Finite element analysis and comprehensive strain-guage testing were used extensively to take full advantage of EMD's broad experience with the 645 engines. Total development cost of the 710G was $60 million, and the tooling cost alone was $78 million.
GARDNER C i r c l e 2 2 on Reader Service Card The first-ever intercooled Gardner diesel engine was introduced to the marine market early this year in London. The manufacturer, L.
Gardner & Sons Limited, is a Hawker Siddeley company.
Designated the 6LYTi, the new engine is available in power ratings of 335 bhp at 1,700 rpm or 310 bhp at 1,600 rpm for propulsion duties, and 230 to 280 kva at 50 cycles for auxiliary duties. A logical development from the turbocharged 6LYT, the 15.5-liter intercooled engine has the highest power-to-weight ratio and fuel efficiency of any Gardner engine, yet the new model remains lightly stressed and has capacity for future development.
The 6LYTi engine shares the main features of the 6LYT, including cross-flow cylinder head, oil jet piston cooling, single-piece camshaft, externally mounted viscous damper, and a rear-mounted gear train.
Intercooling is provided by an airto- water tubular design intercooler that is included in the closed-circuit freshwater cooling system of the engine.
This system is suitable for combining with an externally mounted heat exchanger or keel cooling. Complete with a shallow case marine gearbox, the new 6LYTi weighs only 3,510 pounds.
The first production units of the 6LYTi intercooled marine engines will be fitted with Twin Disc reverse/ reduction gears, although gears from other manufacturers will be available as options. As with all Gardner engines, the new unit is approved by the American Bureau of Shipping, Det norske Veritas, and Lloyd's Register of Shipping.
The entire range of Gardner engines and spare parts is now available in the U.S. from Gardner Diesels (USA) in Houston. The range of the 6- and 8-cylinder covers power ratings from 62 to 335 bhp for propulsion applications, and from 48 to 252 kva at 50 cycles or 53 to 280 kva at 60 cycles for auxiliary service.
Supporting Gardner engines is a network of 18 distributors in the U.K., as well as overseas sales, service, and parts facilities. The British- built engine will eventually be marketed through several geographically spaced distributors in the U.S., in addition to the Houston operation.
GENERAL ELECTRIC C i r c l e 2 3 on Reader Service Card The fuel-efficient, four-stroke 7FDM marine diesel engines manufactured by General Electric's Diesel Power Products Division in Erie, Pa., now offer ratings from 1,525 to 4,000 bhp. Its 8-cylinder model has an output of 1,525 bhp at 90 rpm, and a rating of 1,800 bhp at 1,050 rpm. The 7FDM 12-cylinder engines are rated 2,550 bhp at 900 rpm and 3,000 bhp at 1,050 rpm. The 16- cylinder models carry ratings of 3,400 bhp at 900 rpm and 4,000 bhp at 1,050 rpm.
GE's three-ring piston design is said to reduce lube oil consumption significantly. This design, using two compression rings and one oil control ring, also reduces ring wear for longer periods between overhauls.
The development of turbochargers that operate more effectively in marine service is said to improve acceleration characteristics and further improve fuel efficiency. The life expectancy of connection rod bearings and their crankshaft journals has been increased with the development of a grooveless upper rod bearing half, while welded-in, stainless steel, 30-degree-value seats improve cylinder head life.
GEORGE ENGINE C i r c l e 2 4 on Reader Service Card George Engine Company's "bypass operation"—the upgrading of a Detroit Diesel 149 Series engine from its normally aspirated operation to a turbocharged, intercooled, blower-bypass configuration using the latest Detroit Diesel components— is said to provide a reduction in fuel consumption of as much as 11.5 percent. From its facilities in Baton Rouge, Morgan City, Lafayette, and Harvey, La., the company also provides custom power packages and a broad range of services for marine and offshore applications.
The blower-bypass is a simple butterfly valve arrangement that automatically diverts the incoming air around the Roots blower when turbocharger boost has reached a sufficient level. With the blower bypassed, it no longer imposes an accessory load on the engine; the horsepower that was previously re- required is now available at the flywheel to do useful work.
The TIB configuration, with a smaller fuel injector, produces the same horsepower at the same rpm as the NA arrangement, but does it with significantly less fuel. Alternatively, the owner may elect to use larger injectors to achieve greater horsepower output, and still at a competitively low specific fuel consumption.
GRANDI MOTORI C i r c l e 2 5 on Reader Service Card Grandi Motori Trieste, the diesel engine division of Fincantieri Cantieri Navali Italiani, will introduce a number of new engine designs this year and in 1987. Most of them will be for marine applications or stationary power plants.
One series is the GMT A320 medium-speed, four-stroke engine with outputs of 3,000 to 8,000 bhp at 720- 750 rpm, but with special features to insure improved performance at part loads. This range will use the latest bore-cooling technique for combustion chamber components, and utilize to best advantage the greater efficiency of the latest Brown Boveri exhaust gas turbo- chargers. This engine series, and the other commercial (non-naval) GMT diesels, are designed for operation on heavy fuel oil.
On extensive testbed trials is a longer-stroke version of the wellestablished B550 engine, with a bore of 550 mm the largest of the GMT medium-speed engine range. This higher-powered, more economical BL550 series covers a power range from 9,900 to 33,000 bhp for ship propulsion or electric power generation.
By increasing the piston stroke from 590 to 630 mm, the per-cylinder output of the BL550 has been increased to 1,650 bhp at 450 rpm with only a modest rise in mean effective pressure from 20.6 to 21.6 bar, and of the mean piston speed from 8.85 to 9.45 meters per second.
Following testbed results on a new 12-cylinder 420H engine, production has begun on this higherrated version of the GMT A420H with a bore of 420 mm. Output per cylinder has been increased from 700 bhp at 500 rpm to 800 bhp at 600 rpm. This series now covers an output range from 4,800 to 12,800 bhp, from in-lines with 6, 8, or 9 cylinders and V-form with 10, 12, 14, or 16 cylinders. Fitted with the Brown Boveri VTR ME4 turbochargers of the latest design and higher efficiency, this engine series has a lower specific fuel consumption of about 128 grams per bhphour compared with the original A420 engine.
Another major step for Grandi Motori will be taken this year when production of the supercharged A210SM naval engine begins. This engine is a further development of the naturally aspirated A210M engines installed in the Italian Navy's Sauro Class submarines. Redesign and other development work has resulted in an even more compact engine with 8, 12, or 16 cylinders in V-form, of low specific weight, and covering outputs of 2,575, 3,870, and 5,150 bhp at 1,500 rpm.
ISOTTA FRASCHINI C i r c l e 2 6 on R e a d e r S e r v i c e C a rd Isotta Fraschini SpA, a company of the VM Group in Italy, designs and manufactures a broad range of diesel engines for various applications.
The ID 32 Series for marine propulsion offers a power range from 180 to 400 bhp at 2,700 to 3,000 rpm.
The ID 38 Series is rated from 180 to 400 bhp at 2,700-2,900 rpm for workboat propulsion, and 500 bhp at 3,000 rpm in military applications.
The ID 36 Series has a power range of from 300 to 1,320 bhp at 1,650-1,800 rpm for workboats, and up to 1,600 bhp at 1,900 rpm for military vessels.
The ID 36 engines are available in V configuration with 6, 8, 12, and 16 cylinders; a 10-cylinder version is under development. All production engines in this series are available in amagnetic versions.
Isotta also manufactures, under license, the Paxman Diesel model PV2000 engine, which has a power range from 1,000 to 4,500 bhp at 1,600 rpm.
KRUPP MaK C i r c l e 2 7 o n R e a d e r S e r v i c e C a rd The latest marine diesel offered by Krupp MaK Maschinenbau GmhH of Kiel, West Germany, is the M 453 C series, a product of continuous development dating back to 1962. Each succeeding generation has been improved in technical design and fuel economy, with the M 453 C having a specific fuel consumption of 133 grams per bhphour under typical marine operating conditions.
The medium-speed, in-line M 453 C is available with 6, 8, 9, 12, or 16 cylinders. Bore is 320 mm and stroke is 420 mm. Output per cylinder is 442.5/402 bhp at 600 rpm. The M 453 C is capable of burning heavy fuel oil, and is suitable as a main propulsion engine in a single and multi-engine installations, with fixed or controllable-pitch propellers, and as an auxiliary engine.
The long stroke of the M 453 C means lower engine speed, reducing mechanical friction. It also permits favorable design of the combustion chamber despite a high combustion ratio. Thus there is ample height in the combustion chamber for the jet to diffuse unimpeded.
Special attention has been paid to the development of the cylinder head. This robust component of spheroidal graphite cast iron now incorporates an intermediate deck to make it highly rigid. The cylinder head can be removed with a pneumatic impact tool within 20 minutes.
Cylinder liners are supported in the engine housing immediately below the collar. The housing has been strengthened to insure that the increased forces can be absorbed safely.
Liners are hardened and precision- honed to provide low levels of oil consumption.
MaK medium-speed engines have been using heavy fuel oils with viscosities of up to 700 cSt for more than 20 years, with all of this experience embodied in the M 453 C. MaK has delivered some 2,200 diesel engines of the M 451, M 452, and M 453 series with a total output of about 4.7 million bhp. This includes some 1,000 engines of the M 453 range since 1972, and this series continues to figure prominently in MaK's annual production.
M.A.N.-B&W DIESEL C i r c l e 2 8 o n R e a d e r S e r v i c e C a rd M.A.N.-B&W Diesel, as the world's largest designer of marine diesel engines, has successfully developed engines with the highest thermal efficiency available, while at the same time maintaining a very high level of service reliability.
With the introduction of the MC low-speed series, M.A.N.-B&W has brought the fuel consumption down to 118 grams per brake horsepowerhour, which, compared with the 156 g/bhph 10 years ago, means a reduction of about 25 percent. At the same time the corresponding revolutions of the direct-coupled propeller have been reduced from 114 rpm to 60 rpm, which has led to an increase in the propeller efficiency of 12-15 percent. These factors combined mean a total saving in the fuel oil consumption on propulsion engines alone of up to 40 percent.
The new four-stroke, heavy-fuel L58/64 engine will be produced as in-line units with six, seven, eight, and nine cylinders, providing a power range (mcr) from 9,900 to 14,850 bhp.
The L58/64 is a logical upgrading of M.A.N, medium-speed engines that have rendered excellent service in operation on heavy fuel for almost 20 years. This early understanding of heavy fuel-burning characteristics was further extended by the 40/45 engine type, which in the 1970s introduced a modern concept with high firing pressure, the basis for low fuel consumption.
During the development of the L58/64 engine, particular emphasis was placed on the following: low fuel consumption; high reliability in unrestricted operation; simple and easy maintenance; and adaptability to varying operating and environmental conditions as well as fuel ignition qualities.
M.A.N.-B&W HOLEBY C i r c l e 2 9 o n R e a d e r S e r v i c e C a rd The 4-stroke diesel engines of B&W design manufactured in Holeby, Denmark, are used entirely for generator sets. The annual capacity of the factory is 170,000-200,000 bhp, of which the large majority is produced for marine installations.
The Holeby Diesel production is worldwide, and engines are manufactured under license in Sweden, Spain, Yugoslavia, Brazil, Japan, and Korea.
Engines are based on two designs: the 23/30 and the 28/32, designating the bore/stroke in centimeters, both running at 720/750 rpm. The capacity ranges from 500 to 2,000 kw for in-line engines, thus covering all market requirements for electric power generation in ships.
Exceptional cases, such as large passenger vessels, are covered by Vtype engines with a maximum of 18 cylinders per unit.
Based on operating experience with heavy fuel oil installations in service since the early 1960s, all engines are designed for burning of all commercially available fuel oils with viscosity up to 700 cSt at 50 C.
The Unifuel concept, in which auxiliary engines are operated continuously without any restrictions on the same heavy fuel as the main diesel engine, was introduced in 1980, and now constitutes the vast majority of gensets supplied to the newbuilding market. Integrated fuel treatment plants are developed and produced by Holeby, and are usually specified as part of the gensets.
Continuous development of both engine types is performed with a view to match in advance future market requirements, and have lately been concentrated on specific fuel consumption and environmental considerations with regard to emissions and noise control.
MIRRLEES BLACKSTONE C i r c l e 3 0 on Reader Service Card Mirrlees Blackstone, the Britisl diesel engine manufacturer, has its U.S. headquarters in Houston, where it warehouses spare parts and has service personnel as well as new engine marketing for the marine and industrial sectors.
The Mirrlees Blackstone line of diesels is manufactured at two plants in the U.K.—at Stockport, where the first British diesel engine was built by Mirrlees in 1897, and at Stamford, where the original Blackstone company was established in 1837.
The range of advanced-technology engines produced in these factories covers horsepowers from 330 to 17,624 bhp. The E and the ESL MK2 series cover outputs from 330 to 4,000 bhp at crankshaft speeds of up to 1,000 rpm. During the past year, an addition to the line of a 12- and a 16-cylinder V-form version has been made. The turbocharged and intercooled ESL MK2 can burn residual fuels of up to 3,500 sec Redwood 1. The MB 190 model is a heavy-duty high-reliability design built in 6- to 16-cylinder forms, with power outputs of 860 to 2,864 bhp at 1,500 rpm.
The medium-horsepower range offered by Mirrlees is covered by the MB 275, a heavy-fuel diesel built in 6- to 16-cylinder configurations with power outputs of 1,600 to 6,166 bhp at speeds up to 1,000 rpm. This engine is designed for heavy fuel burning capability with low specific fuel consumption and ease of maintenance.
The medium-speed Mirrlees K Major covers the horsepower range up to 13,000 bhp. This model is offered in a range from 6 to 18 cylinders and is designed to burn heavy fuel at speeds up to 600 rpm. The new MB 430 has recently been announced, with outputs up to 17,624 bhp. This range covers 6- to 18- cylinder versions at 500 to 600 rpm.
Mirrlees's research and development is continually upgrading existing engine designs and producing new models. Mirrlees Blackstone is a wholly owned subsidiary of the Hawker Siddeley Group.
MITSUBISHI C i r c l e 3 1 on Reader Service Card Mitsubishi Heavy Industries Ltd.
of Japan last year introduced its newly developed UE-LA Series of extra-long-stroke diesel engines to the marine market. With a specific fuel consumption in the economy rating of 119 grams per bhp-houi (116.5 for a derated engine) for the largest model in the series, Mitsubishi claims that the new UE-LA offers the lowest SFC for engines of their type.
In addition to the low fuel rate, other principal features of the new series include high propeller efficiency, high reliability, low-quality fuel compatability, easy maintenance, and compact design. The UE engine is the only low-speed diesel developed entirely in Japan.
The four models in the LA Series are each available in versions from four to eight cylinders. The largest engine in the series, the UEC60LA, has a bore of 600 mm and a stroke of 1,900 mm, and has a maximum continuous output of 2,100 bhp per cylinder at 110 rpm. The UEC52LA has a 520-mm bore and 1,600-mm stroke, with an output of 1,600 bhp per cylinder at 133 rpm. The UEC45LA model has a bore of 450 mm and stroke of 1,350 mm; output is 1,200 bhp per cylinder at 158 rpm.
The fuel consumption of these three models has been cut 5 g/bhph compared with the former L series.
The UEC37LA is the smallest engine in the series, with a bore of 370 mm and a stroke of 880 mm. Its output is 700 bhp per cylinder at 210 rpm. Fuel consumption for this model has been cut to 129 g/bhph at maximum rating and only 126 g/ bhph at economy rating.
For all of the LA Series engines Mitsubishi quotes what it calls "capable minimum fuel consumption rates." These range from the 116.5 g/bhph for the 60LA model to 123.5 g/bhph for the 37LA.
The Mitsubishi UEC-LA diesels appear to have excellent performance capabilities, high reliability, and economy, and should see widespread use as the main propulsion engines for bulk carriers, tankers, OBO carriers, containerships, multipurpose ships, and many other types of vessels.
MTU C i r c l e 3 2 on Reader Service Card MTU of North America, Inc. is the U.S. subsidiary of MTU-Motoren and Turbinen-Union of Friedrichshafen, West Germany. The German parent company is jointly owned by Daimler-Benz A& and M.A.N. AG.
The MTU diesel line covers a power output range of 440 to 10,000 bhp at rated speed between 1,000 and 2,400 rpm. Basic design features common to the series are: V-configuration, water cooling, exhaust gas turbocharging, and charge air cooling.
All engines are the result of the collective experience gained by Maybach, Mercedes-Benz, and M.A.N, in the development of costeffective, high-performance diesels.
The model 20V 1163 TB 93 engine, introduced in 1983, is evidence of MTU's continued success in its engine development program, which focuses on increasing engine power and power concentration to open new powering possibilities, reducing fuel consumption throughout the entire speed range, extending operating range through higher mean effective pressures, and improving partial-load performance characteristics.
MTU employs cylinder cutouts, cylinder charge transfer, and sequential turbocharging in some of its engines.
Power in the 1163 series has been increased from 349 to 496 bhp per cylinder, corresponding to an increase in mep from 305 to 426 psi.
MTU's two-stage turbocharging is also employed in addition to the other systems mentioned. This allows overall engine dimensions to be kept almost constant, and results in a power-to-volume ratio of 11.7 bhp per cubic foot, and a weight-to-power ratio of 4.4 pounds per bhp with the 20V 1163 producing 9,920 bhp.
Output of the 396 series engines has also been increased. With a maximum rating of 2,570 bph and a weight of 10,475 pounds, the 16V 396 penetrates a power range that could previously be served only by larger and heavier engines.
PENSKE C i r c l e 3 3 on Reader Service Card Since 1976, Penske GM Power, Inc. of Lodi, N.J., has expanded its facilities to include four sales and five service locations, including its newest on-water service operation in Monmouth Beach, N.J. Serving the requirements of both pleasure craft and commercial vessels, Penske's facilities are located throughout the metropolitan New York/New Jersey/Connecticut area.
More on-water locations are planned for opening this year and in 1987. In addition to Detroit Diesel Allison, Penske's product line includes Alco, John Deere, and Volvo- Penta.
Penske is engaged in various applications of diesel power, with divisions specializing in high-performance pleasure craft and commercial marine power; mobile, prime, and standby electrical generators; and transportation, firefighting, and industrial applications. The company is able to service all aspects of diesel engine applications. Penskeengineered marine propulsion is currently in use in military, commercial, and high-performance pleasure-boat applications throughout the world.
The next 10 years promise increased visibility for the Penskeengineered product, with new emphasis on the "Penske Advantage" concept. The "advantage" is raceproven engineering and technology, state-of-the-art production and manufacture, and the "Hot-line" service and parts response that Penske customers have come to appreciate.
The Penske development of a complete GM engine room allows one service technician to service both Penske-engineered propulsion engines and Penske-built on-board electrical generating units. Penske offers diesel engines rated from 56 to 4,000 bhp and gensets 35-2,800 kw.
PERKINS C i r c l e 3 4 on Reader Service Card Perkins Engines, Inc. of Wayne, Mich., is part of the worldwide Perkins Engines Group of Peterborough, U.K., which this year has added a powerful yet exceptionally compact diesel to its line of marine engines. A leading supplier of diesels in North America, Perkins offers marine engines ranging from 51 to 800 bhp, in four, six, eight, and 12-cylinder versions. These engines have a wide variety of applications, including main and auxiliary propulsion as well as generator sets.
The latest addition to the Perkins marine line, which was developed in conjunction with the British Royal Navy, is the 8-cylinder, V-form CV8 536(M) diesel that provides 536 bhp at 2,100 rpm. With low weight and low profile, this engine was designed for many commercial craft applications.
The compact size of the CV8 allows for smaller engine rooms, thus offering increased payload.
The CV8's light weight insures a good power-to-weight ratio, and its outstanding fuel consumption is a plus factor in commercial and fishing applications. Options for this engine include a power takeoff unit, keel cooling, and change-over filters.
The Perkins marine line is headed by the 12-cylinder, 800-bhp CV12 diesel. This heavy-duty, Rolls- Royce-designed engine is a 60-degree V-form water-cooled diesel.
The new CV8 is next on the power chart, followed by the turbocharged, eight-cylinder TV8.540 diesel with a rating of 350 bhp at 2,800 rpm. This engine weighs less than 1,700 pounds, offering an outstanding power-to-weight ratio.
Foremost in the Perkins line is the Range 4 family of four high-power, six-cylinder engines. The turbocharged, six-cylinder T6.3544(M) is the leading member of this family, offering 240 bhp at 2,600 rpm. Two other versions of this engine provide 165 bhp and 135 bhp at 2,800 rpm.
Perkins also offers four-cylinder diesels led by the popular 4.236(M) that provides 85 bhp at 2,500 rpm. The 4.154 (M) has an output of 62 bhp at 3,000 rpm, while the 4.108(M) provides 51 bhp at 4,000 rpm.
STORK-WERKSPOOR C i r c l e 3 5 on Reader Service Card Stork-Werkspoor Diesel BV (SWDiesel) headquartered in Amsterdam, is Holland's leading diesel engine manufacturer. Its production program covers an output range from 400 to 21,725 bhp, and consists of five models of four-stroke, medium- speed, heavy-duty engines, all capable of operating on heavy fuel.
The company's latest engine type, the SW280, is offered in an in-line configuration with six, eight, or nine cylinders, and in a 12-cylinder Vform version, with outputs ranging from 1,965 to 4,735 bhp.
Special attention in Stork's research and development program was given to the reduction in fuel consumption, resulting in lower figures for the SW280, F/SW240, and DR210 engines. R&D on the wellknown TM410 and TM620 engine types, of which more than 650 have been delivered, has also been successful in meeting market demands for reduced fuel consumption; a reduction in fuel consumption of up to eight percent can be achieved. On a number of 18TM410 engines, a spe- cific fuel consumption as low as 185 grams per kw hour has been recorded under full-load conditions.
These reductions in consumption have been achieved without increasing the combustion pressure. Further reductions are foreseen in the near future. This will be achieved by some increase in the maximum cylinder pressure. Major improvements on these engines include the application of new high-efficiency turboblowers, and valve timing, in injection systems to give higher injection pressures.
Operation on heavy fuel is one of the strongest points of SWDiesel engines. The poorest quality fuels have been tested in TM and SW engines. When installed as auxiliary engines, the SW models can use the same heavy fuel as the main engine.
SULZER C i r c l e 3 6 on Reader Service Card The well-established RTA lowspeed diesel engine program of Sulzer Brothers Limited of Switzerland was further augmented recently with the introduction of an additional bore size, the RTA72 (720- mm bore). With four to eight cylinders, the RTA72 engines cover a power range from 7,680 to 28,000 bhp at speeds of 66 to 91 rpm.
The RTA72 follows the RTA52, RTA62, and RTA84 models introduced in late 1984, and has a longer stroke/bore ratio than previous RTA engines. Its lower rotational speeds widen the range available in the RTA series for optimal engine selection.
The RTA series is said to present the most cost-effective solution for ship propulsion. Its superior overall economy combines the benefits of low fuel consumption, low engine speeds, good waste heat recovery, high reliability, long times between overhauls, capability to burn lowquality residual fuels, and low maintenance costs, all supported by Sulzer's worldwide service network.
The integral power takeoff of RTA engines provides for both main engine driven generators and efficiency booster exhaust power turbines.
With PTO and waste heat recovery, RTA engines are said to be ideal as integrated energy plants meeting all of the ship's requirements for propulsion, electrical power, and heating services in one simple prime mover.
Sulzer has also introduced a longer- stroke version of its 400-mmbore, medium-speed four-stroke engine.
The new ZA40S is a longstroke version of the proven ZA40 engine. By increasing the stroke from 480 mm to 560 mm, a significant improvement in fuel economy was achieved (4 grams per bhphour), while increasing the maximum continuous rating from 870 to 900 bhp per cylinder and lowering the engine speed from 580 to 510 rpm.
The longer stroke and resulting lower engine speed of the ZA40S have the advantages of: better combustion as the time available for combustion is increased; better mechanical efficiency due to lower fric- tional losses in the engine bearings; and improved combustion chamber geometry. All of these features contribute to the improvement in specific fuel consumption without increasing the maximum firing pressure above 155 bar as in the ZA40.
The ZA40S engine is available as an in-line version with six, eight, or nine cylinders, and in a V configuration with 12, 14, 16, or 18 cylinders, and ranging in output from 5,400 to 16,200 bhp at 510 rpm. At an economy rating of 750 bhp per cylinder at 510 rpm, the V engines achieve a specific fuel consumption of 129 g/ bhp-hr. By using an exhaust gas power turbine as an efficiency booster, the specific fuel rate can improved by three percent to 125 g/ bhp-hr.
UNI DIESEL C i r c l e 3 7 on Reader Service Card UNI Diesel is the new marketing name adopted by SACM (Societe Alsacienne de Constructions Mecaniques) of France for its entire range of medium- and high-speed, four-stroke, direction-injection diesel engines with power ratings of 200 to 10,000 bhp. UNI Diesel is represented in the U.S. by F.W. Donnelly Company of Houston.
UNI Diesel is a leader in the development of high-performance engines utilizing the RVR and Hy- perbar turbocharging techniques, and in nonmagnetic engine versions up to 2,880 bhp. The high-performance engines are used in such applications as the Bell Halter BH- 110 SES oil field supply boats, SAR 33 patrol boats, Westamarine catamarine passenger ferries, Statfjord B/C production platforms, ODOCO's Ben Ocean Lancer drillship, and Circle Class minesweepers.
It is UNI Diesel's philosophy to further the development of the performance qualities of its engine range without sacrificing the essential operational qualities, including low specific fuel consumption, long time between overhaul, and ease of operation/maintenance. This development philosophy has resulted in UNI Diesel's now well known RVR turbocharging technique. RVR (reduced volumetric ratio) engines provide significantly more power than conventional high-performance engines while maintaining or slightly reducing the engine's thermal and mechanical stresses. Additional attractive features of these engines include the wide ambient temperature range in which the RVR engines may operate without power derating, the simple single-circuit cooling system that is employed, and the elimination of condensed water formation in the air intercoolers.
VOLVO PENTA C i r c l e 3 8 on Reader Service Card Volvo Penta engineers have been working overtime to develop the most complete line of marine diesels ever offered. In the coming months, eight new marine diesels will be introduced, with more to come.
These new diesels show technical innovation in the further development of combustion characteristics, higher torque at lower engine speeds, lower emission levels, and extended operating life, providing sensible power for today's hardworking vessels.
Advanced computer technology and heavy investments in technological research have been the cornerstones for Volvo Penta's new 61 and 71 series engines, meant for applications ranging from light duty to heavy duty. Turbocharged and aftercooled, these precisely designed and manufactured engines can increase performance and engine life, are more adaptable to commercial duty, and are easier to install than ever before. Service is simplified, while exhaust emissions and noise levels are greatly re- duced.
The TAMD 61 generates from approximately 190 bhp at 2,200 for heavy load to about 306 bhp at 2,800 rpm under light load—up to a 20- percent increase in output without sacrificing engine lifetime or weight.
The TAMD 71 produces from 218 bhp at 2,000 rpm under heavy load to 358 bhp at 2,500 rpm under light load, a 17-percent increase in output.
These state-of-the-art engines are a preview of what the future looks like from Volvo's point of view.
For commercial workboat applications, the 238-bhp TMD 100C, the 300-bhp TMD 121C, and the 367-bhp TAMD 121C 6-cylinder, turbocharged, four-stroke engines are the mainstays of the Volvo Penta line. Their special alloy cast iron cylinder block and individual cylinder head, light alloy pistons with cast iron ring carriers, seven lead/ bronze main bearings, and direct fuel injection continue to prove themselves in daily use.
The larger, heavier-displacement vessels should perform well with new Volvo 4-cylinder MD31 series, which includes the 62-bhp MD31A, the 100-bhp TMD31A, and the 130- bhp turbocharged and aftercooled TAMD31A. All are direct-injected for lower thermal stresses and lower fuel consumption across a wide range of speeds.
The excellent mid-range power of the 150-bhp TMD41A and the 200- bhp TAMD41A, combined with Volvo's unique MS4A reverse gear, offers the latest technology available with minimal drive train power losses. The two new 6-cylinder, 4- stroke diesels owe their significant increases in horsepower and lower fuel consumption, in part, to excellent volumetric efficiency.
Volvo's new AQAD31A is a compact, 2.4-liter turbocharged engine producing 130 bhp. When linked with a 290A outdrive, this 4-stroke, direct-injected and aftercooled 4- cylinder diesel can produce lower than ever fuel consumption throughout the entire range of operating speeds.
For larger high-performance applications, the 6-cylinder AQD41A also links with the 290A outdrive to deliver 150 bhp with the same benefit of fuel economy across a wide range of operating speeds. Additionally, there is an aftercooled version of this 6-cylinder engine designated the AQAD41A, producing 200 bhp.
Efficient aftercooling lowers the temperature and increases the oxygen content of included air for more complete fuel combustion and lower consumption.
WARTSILA DIESEL C i r c l e 3 9 on Reader Service Card Wartsila Diesel, one of the world's leading manufacturers of mediumspeed diesel engines, is a part of the Finnish Wartsila Group, with more than 16,000 employees and 35 production plants in seven different countries.
Wartsila specializes in purposedesigned, heavy-fuel diesels for propulsion and auxiliary installations on different types of vessels; for power generation on offshore rigs; and in land-based installations. The primary objective of the company's product development is to create diesel engines with good economy and safe operation even in the most demanding applications.
As a result of these efforts, Wartsila has become very strong in re-engining, where less fuel-efficient engines are replaced by total economy diesels. The company has created a whole re-engining concept for this kind of application, which takes care of the entire process from technical planning to financing.
Special modular re-engining methods have been developed.
Thanks to this, the off-hire time for each ship is extremely short. The two main concepts are: "stop your ship for replacing the main engine" and "don't stop your ship for reengining the auxiliaries." The first concept should be part of the normal docking program. The second concept implies that the auxiliary engines are taken aboard during normal harbor time and installed while at sea.
Wartsila Diesel's heavy-fuel engine types are the Vasa 32 and Vasa 22 HF, covering an output range of 760 to 9,180 bhp in a speed range of 720 to 1,200 rpm. The main features of these engines are: starting, stopping, and running on heavy fuel over the entire load range, with no limitations; heavy-fuel operation with the same safety and realiability as when operating on distillate fuel; good economy due to built-in serviceability; low fuel and lube oil costs; and low spare parts consumption.
The technical features of the Wartsila heavy-fuel diesels, such as pressure lubrication of the piston skirt, load-dependent temperature control system, and a turbocharging system developed for good low-load performance, combined with a longtime severe-environment service experience, give an extra guarantee of reliable and economical operation.
The latest Wartsila Diesel development providing increased service reliability and economy is the company's engine condition monitoring system. Compared with previous engine monitoring systems on the market, the Wartsila system has been developed with an emphasis on reliability, price efficiency, and easy operation. By means of automatic temperature of the main bearings, pistons and cylinder liners, load balance and exhaust valves, the system provides protection against total breakdown. At the same time it functions as a reliable monitoring system. In addition to these advantages, the system's exhaust temperature control offers a new means of decreasing the fuel consumption of the engine.
WAUKESHA ENGINE C i r c l e 4 0 on Reader Service Card An ongoing product development program between Waukesha Engine Division of Dresser Industries in Waukesha, Wise., and Sulzer Brothers Ltd., Winterthur, Switzerland, will result in substantially improved fuel rates for the AT25 Series diesel now being produced at Waukesha.
The AT25 Series encompasses inline 6- and 8-cylinder units and V-12 and V-16 models rated from 1,620 to 4,800 bhp. These engines are capable of operating on heavy fuels up to 500 cSt at 50 C.
Recent A Series orders placed at the Waukesha factory included 8-, 12-. and 16-cylinder models, both for distillate and heavy fuel applications.
Other recent activity includes the addition of an 8.8-liter Scania 6-cylinder model, F517DS. The Scania product line now covers the range 167 to 450 bhp.
VHP Series diesel propulsion and auxiliary drive diesels offer a range of 404 to 1,636 bhp at speeds up to 1,215 rpm.
WICHMANN C i r c l e 4 1 on Reader Service Card Wichmann of Norway, represented in the U.S. by Wichmann Diesel, Inc. of Kenner, La., designs and manufactures diesel engines providing fuel efficiency, reliability, and high performance. Its latest model, the WX28, is a compact twostroke, medium-speed diesel designed for heavy fuel and simple maintenance. An integral block and crankcase with fully forged crankshaft are dimensioned for 50-percent future uprating from the initial output of 408 bhp per cylinder.
The WX28 is a trunk piston, 600- rpm diesel with a bore of 280 mm and stroke of 360 mm, supplied in versions from four to 16 cylinders to give outputs in the 1,600-6,435-bhp range. This spectrum offers great flexibility, and most components are interchangeable between the inline and Vee versions. As with other Wichmann engines, a low rpm makes this series particularly suitable for operation on heavy fuels down to 3,500 sec Redwood 1 at 100 F.
Use of the latest design techniques during development has resulted in a very simple valveless configuration. All main components are computer-analyzed for stress and temperature distribution. Another feature that distinguishes this series is the large, high-efficiency turbocharger and scavenging air fan, giving excellent low-load running ability.
The WX28 has a low weight/power ratio, and the compact design provides vessels with higher cargo capacity. The new design also offers improved environmental conditions on board, and more space in the engine room.
Providing fuel efficiency, reliability, and high performance, the WX28 has been designed specifically to offer maximum power with the lowest possible fuel consumption.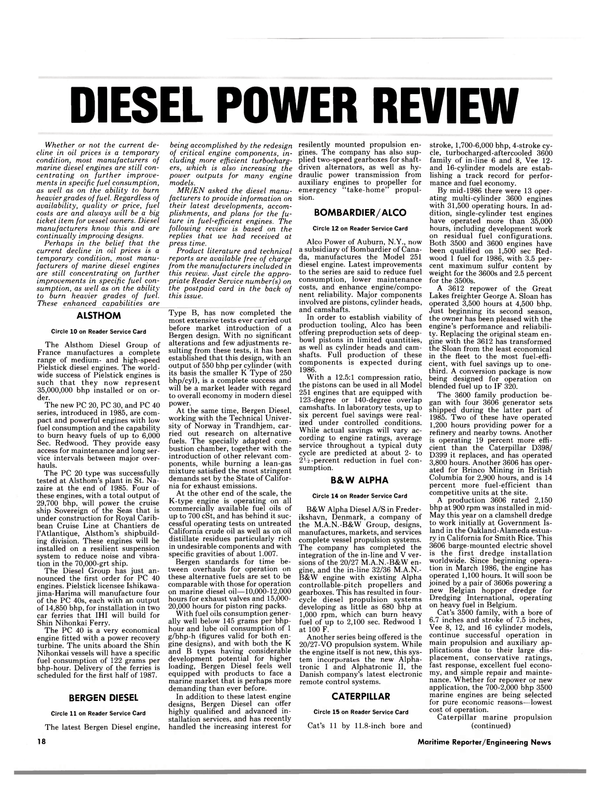 Read DIESEL POWER REVIEW in Pdf, Flash or Html5 edition of July 15, 1986 Maritime Reporter
Other stories from July 15, 1986 issue
Content